Fixit45 Seeks to Redefine Nigerian Auto Mechanics Industry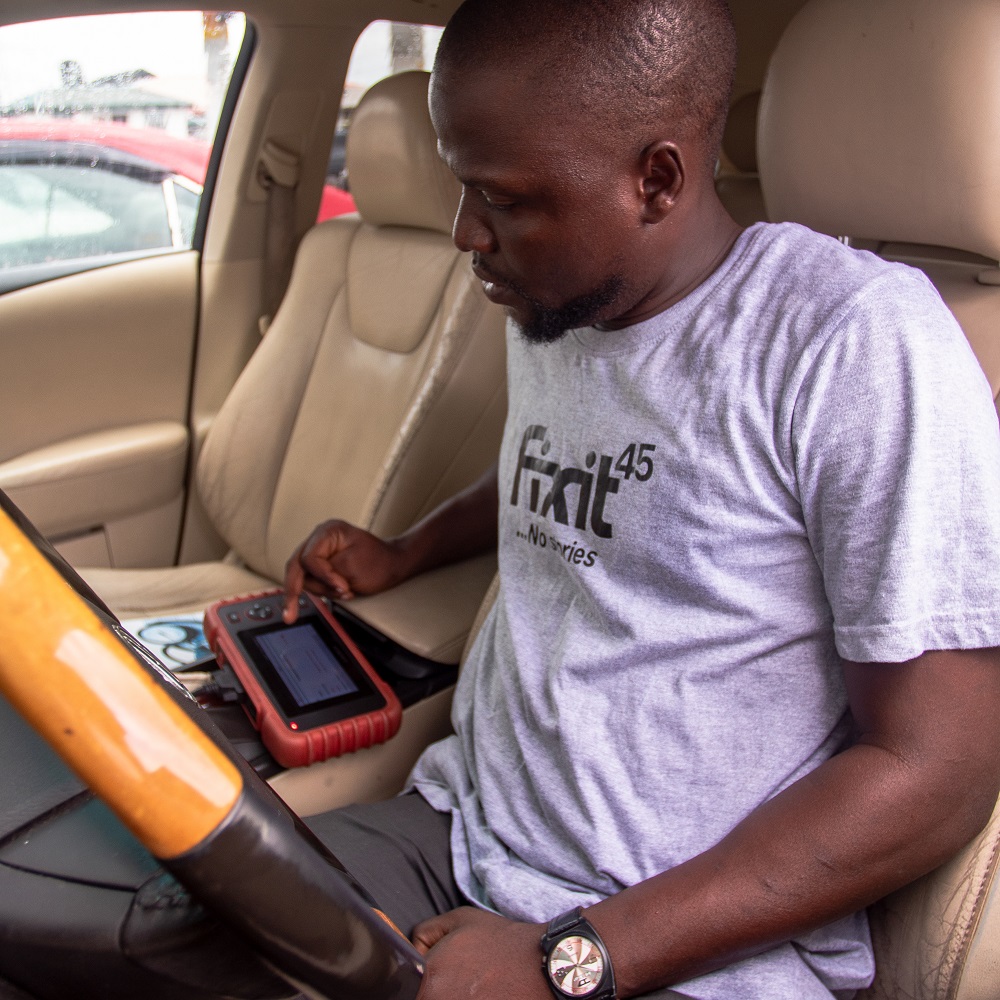 By Adedapo Adesanya
The Pan-African automotive aftermarket platform, Fixit45, has positioned itself to provide affordable repair and redefine service experience for corporate as well as individual car owners in Nigeria.
The company, according to a statement issued by Mr Bemigho Awala, its Public Relations Officer, intends to redefine the Nigerian auto mechanics industry as a result of the rising demand for quality automotive repair and maintenance services.
"This is occasioned by the increasing vehicle age and poor state of many Nigerian roads, Fixit45, a leading technology-enabled automotive aftermarket platform has declared its commitment to redefining service experience.
"We are also enabling value-creating interactions across stakeholders within the automotive aftermarket sector.
"A cursory examination of the automotive landscape in Nigeria will reveal a broken condition defined as a highly fragmented, mostly unregulated industry that is dominated by a lot of informal service providers who often lacked the technical competence and without the know-how to deliver quality service," he said.
The spokesperson noted that the industry was also besieged by the proliferation of counterfeit spare parts with a lack of warranty on repairs.
"The traditional service and maintenance industry has remained largely untouched by the digital revolution, with many individual cars and corporate fleet owners still going the non-transparent and time-consuming route.
"Fixit45 combines an online-to-offline strategy and unique approach of deploying digital technology with local expertise to deliver exceptional service that includes auto services, parts sourcing, auto care, refurbishment, roadside assistance and repair financing.
"Backed by a well-vetted and certified network of well-distributed multi-brand car service centres that specialise in vehicle diagnosis, repairs, maintenance, business owners and individuals are better empowered with information to reduce the cost of vehicle management and maximize their lifetime value," he added.
The founder of Fixit45, Mr Justus Obaoye, in the statement, was quoted as saying that the reason for establishing the company was the fact that quality repair and maintenance services ensured a fixed level of vehicular reliability which would improve economic mobility and productivity.
"Traditionally, individuals and corporates own new and used vehicles will need to be upgraded, repaired, serviced, and maintained.
"Following the pandemic, we are faced with a trend seeing many Caps referring to repair and or upgrade their existing vehicles to enhance their mobility assets and trade-in value, as opposed to buying new or foreign used cars.
"A quality repair and maintenance regime is pivotal to optimizing performance, service life and reliability of these vehicles.
"At Fixit45, we are leveraging technology to address fundamental issues in the fragmented auto aftermarket space and liberate people and businesses from the clogs that have prevented them from enjoying their mobility assets," Mr Obaoye said.
He further said that the organisation was empowering the market with data to drive decisions, building the much-needed trust and transparency in an opaque segment and layering a delightful customer experience bolstered by service excellence.
FIRS Proposes Road Tax to Shore up Dwindling Revenue
By Ashemiriogwa Emmanuel
In order to expand the tax net and shore up the dwindling revenue in Nigeria, the Federal Inland Revenue Service (FIRS) is proposing to the federal government the introduction of a road infrastructure tax.
According to the agency, the framework will help the government in actualizing adequate funding for road construction, rehabilitation, and maintenance, as well as security for roads by making the informal sector to contribute to building a modern society.
The Executive Chairman of the FIRS, Mr Muhammad Mamman Nami, said this on Thursday, October 21, when he received delegates of the Nigeria Union of Journalists (NUJ) led by its National President, Mr Chris Isiguzo, in Abuja.
"The only way to make the informal sector contribute to building a modern society is by making them pay when they use the roads. That is why we are proposing that government should consider introducing Road Infrastructure Tax in Nigeria," the FIRS boss disclosed.
He explained that the proposed road tax is viable and will not come as an additional burden to small business owners in the country given that, in many jurisdictions, these road users usually pay for the use of road infrastructure.
Stressing the potential dangers of tax evasion by some companies, the chairman said, "Without the tax that you pay, governments at all levels would not be able to fulfil their mandate to the electorates. Tax money also helps to ensure the roads you travel are safe and always in good condition."
In spite of this reality, coupled with the low revenue from the sale of crude oil, he was quick to note that the FIRS has implemented significant reforms that have been yielding positive impact on the service's operations, especially by leverage on technology.
He said, "Adopting technology in tax administration is crucial in improving domestic revenue mobilization in view of dwindling oil prices in order to avoid falling into a debt crisis.
"It is against this backdrop that the TaxPro-Max became the channel for filing Naira-denominated tax returns effectively from 7th June 2021."
Explaining the seamless features of the solution, he stated that the TaxPro-Max offers a single-view to taxpayers for all transactions with the Service including the filing of returns, payment of taxes, and automatic credit of withholding tax.
Lanre Bhadmus Vows to Maintain High Standards, Deliver Quality Products
By Ashemiriogwa Emmanuel
Manufacturer of car care, household, lubricants, hotel amenities and sanitiser products in Nigeria, Lanre Bhadmus Industries Limited, has reiterated its commitment to providing high-quality products and services for its consumers.
The company, which also prides itself as being a top in contract packaging with giant-sized types of machinery, recently celebrated 50 years in business as well as a key player in the Nigerian manufacturing sector.
About a week ago, the organisation received the Quality Product Service Award from the Institute of Oil & Gas Research and Hydrocarbon Studies for its Holts Dextron 11 ATF lubricant product.
Speaking at the event to commemorate five decades of manufacturing excellence, the company Chairman and Chief Executive Officer, Mr Lanre Bhadmus, noted that his company has been able to thrive in the Nigerian market by understanding customers, their needs, what they deserve, amongst others.
"This is an incredible milestone for the company. We have only been able to achieve this through hard work, passion, and dedication from all our team members, customers; and ongoing support from our families and friends.
"We have dedicated ourselves to 50 years of manufacturing excellence, product quality, and innovative formulations, to provide our customers with the highest quality products across our range of car care, household products, contract packaging, lubricants, hotel amenities, and sanitisers," Mr Bhadmus remarked.
He further disclosed that the firm has rebranded its logo on its range of products to the official anniversary logo "as a symbol of appreciation" to officially mark the milestone achievement.
Highlighting the opportunities advanced technology presents to the sector, he said the company has invested in new technology from manufacturing machinery to innovative research/formulations to meet the standards required by Original Equipment Manufacturers (OEMs).
He assured stakeholders that the organisation will continue to maintain high standards and come up with quality products that will not tear the pockets of consumers.
"Our customers deserve the best and as part of our efforts to ensure that we live up to expectations, we have invested in the latest manufacturing technology to continue to produce products that live up to world-class standards through technical innovation.
"The needs of manufacturing continue to evolve and it is important that we adapt to ensure effective delivery for the future," the Chairman said.
Lanre Bhadmus Industries, which started with car care solutions in 1971 in Lagos, now has about 300 lines of production, including liquid wash for households and variations of liquid/spray sanitisers.
NNPC Meets Stakeholders Over Road Network Challenges
By Adedapo Adesanya
The Nigerian National Petroleum Corporation (NNPC) has engaged critical stakeholders so as to find lasting solutions to the road network challenges and other lingering issues.
This is a follow-up to efforts in sustaining the current smooth supply and distribution of petroleum products nationwide within the festive period and beyond.
The state oil corporation had met with the Petroleum Tanker Drivers (PTD) branch of the Nigeria Union of Petroleum & Natural Gas Workers (NUPENG) to call off the planned strike action, agreeing instead to accept the dialogue option proposed by the corporation, a development that has sustained smooth supply and distribution of petroleum products nationwide.
On Tuesday, the Group Managing Director of the NNPC, Mr Mele Kyari, took a decisive step towards the actualization of his promise when he hosted a major stakeholders' meeting at the NNPC Towers.
The meeting was attended by the NNPC, the tanker drivers, the National Association of Road Transport Owners (NARTO), Department of Petroleum Resources (DPR), Federal Ministry of Works, Federal Inland Revenue Service (FIRS), Department of State Services (DSS), Federal Road Safety Corps (FRSC) and NUPENG.
During the meeting, the NNPC boss said stakeholders have agreed on a framework for the agency's intervention in critical road rehabilitation through the Federal Government Tax Credit Scheme.
"We are committed to utilising the Federal Government's Tax Credit Scheme to rebuild some of the affected roads in line with Mr President's Executive Order 7.
"Upon our fruitful deliberations today, the NNPC has pledged to support the PTD and NARTO in carrying out quick intervention fixes on some strategic bad spots identified to enable unhindered movement of trucks for transportation of petroleum products nationwide," Mr Kyari stated.
Established under FG's Executive Order 7 of 2019, the Road Trust Fund Policy/Tax Credit Scheme gives private sector operators an opportunity to fund critical infrastructure with the government.
Stakeholders also agreed to enforce mandatory installation of safety valves in all petroleum product trucks in the country effective February 1, 2022, with the full commitment given by NARTO.
The meeting also frowned at the abuse of axle load or tonnage limits, with the NNPC agreeing to engage the Nigerian Customs Service for enforcement of preventing the importation of tanks that exceed 45,000 litres capacity.
Latest News on Business Post