Lagos to Earn 10% from Uber, Bolt Fare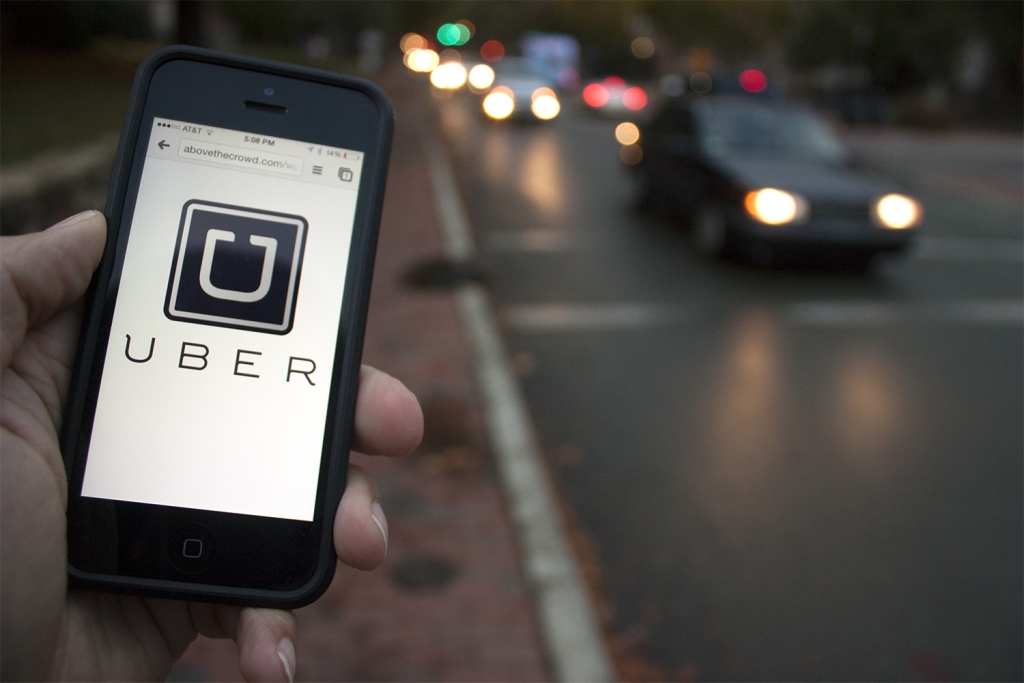 By Adedapo Adesanya
The Lagos State Government, in its pursuit to increase its internally generated revenue (IGR), is turning its attention to ride-hailing companies like Uber, Bolt, and others in the state.
The latest information is that the state government, headed by Governor Babajide Sanwo-Olu, is planning to earn about 10 percent of every fare charged by drivers for every ride.
Last month, there were reports that government was frustrating operations of Uber and other drivers after it restricted movements of motorcycles and tricycles on some roads and bridges across the state.
But in a report by Business Post, the state government denied clampdown on Uber drivers, stressing that officials of Vehicle Inspection Service (VIS) were only carrying out their normal duties.
It was said that in order to resolve all issues, government is planning a new regulation that will see ride-hailing companies, with third party operators, paying an initial licence fee of N10 million or N25 Million if they have more than 1000 drivers.
It was also suggested that for subsequent years, the ride-hailing companies will pay an annual renewal fee of N5 million or N10 million if they have over 1000 drivers.
On the part of transport companies that own their own branded cars with employed drivers, they are mandated to pay N5 million and if they have more than 50 drivers, they would be required to pay N10 million.
The new regulation will also mandate drivers to own Lagos State Drivers' Institute Driver Re-certification (LASDRI) cards as well as a drivers' badge to operate which will be issued by the department of public transport and commuter services of the state ministry of transport.
The new 10 percent is expected to be paid by drivers of these services, as companies like Uber reportedly already have between 20 percent-30 percent cost per trip.
In an interview with the Guardian Newspaper, the president of National Union of Professional E-Hailing Driver-Partners (NUPeDP), Mr Ayoade Ibrahim, said that he was aware that the government had a meeting with 20 operators, where they were told about the amount to be paid for the license and renewal fees.
He said the drivers have also started negotiating with the government to amend the regulations, saying that they will not be the ones to carry all the burden.
"We're negotiating with government and we will prove to them why we cannot have those documents. This is gig economy and we are gig workers.
"What we need is fair regulations that is commiserate with our incomes. We have forwarded our ideas to government on what they are supposed to do.
"All of these laws and licence are not for us and that is what we are trying to let them know," he said.
On the part of the state government, the spokesperson of the Ministry of Transport, Mrs Bolanle Ogunlana, said the state has not yet instructed any operator to pay license fees.
However, she confirmed that the Lagos state government and the operators were negotiating on the operational guidelines for ride-hailing and transportation in the state.
Lanre Bhadmus Vows to Maintain High Standards, Deliver Quality Products
By Ashemiriogwa Emmanuel
Manufacturer of car care, household, lubricants, hotel amenities and sanitiser products in Nigeria, Lanre Bhadmus Industries Limited, has reiterated its commitment to providing high-quality products and services for its consumers.
The company, which also prides itself as being a top in contract packaging with giant-sized types of machinery, recently celebrated 50 years in business as well as a key player in the Nigerian manufacturing sector.
About a week ago, the organisation received the Quality Product Service Award from the Institute of Oil & Gas Research and Hydrocarbon Studies for its Holts Dextron 11 ATF lubricant product.
Speaking at the event to commemorate five decades of manufacturing excellence, the company Chairman and Chief Executive Officer, Mr Lanre Bhadmus, noted that his company has been able to thrive in the Nigerian market by understanding customers, their needs, what they deserve, amongst others.
"This is an incredible milestone for the company. We have only been able to achieve this through hard work, passion, and dedication from all our team members, customers; and ongoing support from our families and friends.
"We have dedicated ourselves to 50 years of manufacturing excellence, product quality, and innovative formulations, to provide our customers with the highest quality products across our range of car care, household products, contract packaging, lubricants, hotel amenities, and sanitisers," Mr Bhadmus remarked.
He further disclosed that the firm has rebranded its logo on its range of products to the official anniversary logo "as a symbol of appreciation" to officially mark the milestone achievement.
Highlighting the opportunities advanced technology presents to the sector, he said the company has invested in new technology from manufacturing machinery to innovative research/formulations to meet the standards required by Original Equipment Manufacturers (OEMs).
He assured stakeholders that the organisation will continue to maintain high standards and come up with quality products that will not tear the pockets of consumers.
"Our customers deserve the best and as part of our efforts to ensure that we live up to expectations, we have invested in the latest manufacturing technology to continue to produce products that live up to world-class standards through technical innovation.
"The needs of manufacturing continue to evolve and it is important that we adapt to ensure effective delivery for the future," the Chairman said.
Lanre Bhadmus Industries, which started with car care solutions in 1971 in Lagos, now has about 300 lines of production, including liquid wash for households and variations of liquid/spray sanitisers.
NNPC Meets Stakeholders Over Road Network Challenges
By Adedapo Adesanya
The Nigerian National Petroleum Corporation (NNPC) has engaged critical stakeholders so as to find lasting solutions to the road network challenges and other lingering issues.
This is a follow-up to efforts in sustaining the current smooth supply and distribution of petroleum products nationwide within the festive period and beyond.
The state oil corporation had met with the Petroleum Tanker Drivers (PTD) branch of the Nigeria Union of Petroleum & Natural Gas Workers (NUPENG) to call off the planned strike action, agreeing instead to accept the dialogue option proposed by the corporation, a development that has sustained smooth supply and distribution of petroleum products nationwide.
On Tuesday, the Group Managing Director of the NNPC, Mr Mele Kyari, took a decisive step towards the actualization of his promise when he hosted a major stakeholders' meeting at the NNPC Towers.
The meeting was attended by the NNPC, the tanker drivers, the National Association of Road Transport Owners (NARTO), Department of Petroleum Resources (DPR), Federal Ministry of Works, Federal Inland Revenue Service (FIRS), Department of State Services (DSS), Federal Road Safety Corps (FRSC) and NUPENG.
During the meeting, the NNPC boss said stakeholders have agreed on a framework for the agency's intervention in critical road rehabilitation through the Federal Government Tax Credit Scheme.
"We are committed to utilising the Federal Government's Tax Credit Scheme to rebuild some of the affected roads in line with Mr President's Executive Order 7.
"Upon our fruitful deliberations today, the NNPC has pledged to support the PTD and NARTO in carrying out quick intervention fixes on some strategic bad spots identified to enable unhindered movement of trucks for transportation of petroleum products nationwide," Mr Kyari stated.
Established under FG's Executive Order 7 of 2019, the Road Trust Fund Policy/Tax Credit Scheme gives private sector operators an opportunity to fund critical infrastructure with the government.
Stakeholders also agreed to enforce mandatory installation of safety valves in all petroleum product trucks in the country effective February 1, 2022, with the full commitment given by NARTO.
The meeting also frowned at the abuse of axle load or tonnage limits, with the NNPC agreeing to engage the Nigerian Customs Service for enforcement of preventing the importation of tanks that exceed 45,000 litres capacity.
Bolt Introduces Campaign to Reward Drivers With Cars
By Aduragbemi Omiyale
A new campaign aimed at rewarding new and existing drivers on its ride-hailing platform has been introduced by Bolt.
The 10-week competition, called the Bolt Driver's League, will allow 11 drivers in Nigeria, Ghana and South Africa to get brand new cars, while other participants will get consolation prizes.
A statement from Bolt said this initiative, an extension of the mega bonus challenge, is part of its commitment to drivers while advocating customer service excellence.
The Bolt Driver's League is divided into a new drivers' league, a women's league, and an existing drivers' league with each league given a unique achievable target.
Drivers in these leagues will be given goals in form of finished rides and driver ratings. Scoring these goals will qualify drivers to win a token towards a grand prize decided in a draw. The more tokens earned, the higher their chances of winning.
The contest will award three cars with a token system, one from each league. An additional car will also be given to the overall top driver in the country based on having the highest number of trips and maintaining high ratings in the period. During the competition, drivers will get regular updates to keep them informed on the number of tokens they have accumulated.
The contest showcases Bolt's commitment to advancing and easing mobility in sub-Saharan Africa while also empowering the economy with extra earning opportunities.
"At Bolt, we continue to make drivers central to our business and do not take their commitment for granted in a competitive marketplace. We usually try to wrap up the year with a big statement of our appreciation and reward them for continuing to choose Bolt as their favourite ride-hailing platform," Bolt Country Manager in Nigeria, Mr Femi Akin-Laguda, said.
"This year's Bolt Driver's League is an example of our commitment to incentivising both existing and new drivers and is a major expansion on the program we ran last year. I am also really excited that we have been able to add a unique reward for our amazing female drivers this time around.
"We will continue to work hard to retain the trust and loyalty we have earned over the years by fulfilling our promise to keep improving the overall experience for every driver," Mr Akin-Laguda added.
This is not the first of this kind of intervention by the e-hailing giant. In 2020, following the advent of the lockdown, Bolt launched the Mega Bonus Challenge in Nigeria to support drivers with two brand new cars, gift hampers, N800,000 worth of fuel vouchers and household appliances.
Latest News on Business Post