SON Alerts Consumers on Dangerous Automobile Tyres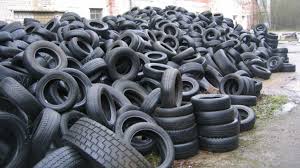 By Dipo Olowookere
Consumers of automobile tyres across the country have been informed to be extra cautious in making purchases.
This warning was given by the Standards Organisation of Nigeria (SON), which claimed to have has uncovered a dangerous trend by some tyre importers and dealers tampering with the date of manufacture to deceive consumers.
The agency, in a statement from its Director General, Mr Osita Aboloma, said classified information from a sister security outfit and complaints from consumers have assisted SON to uncover the ungodly act of some unpatriotic Nigerians in their bid to make profit at the expense of the lives of their fellow citizens.
Mr Aboloma disclosed that dates of manufacture inscripted on tyres were being altered to deceive consumers that the tyres have longer life span with a view to making excessive profits thereby putting the lives of users in danger.
He advised Nigerians to pay greater attention to the inscription of dates of manufacture on tyres to be able to discover those that may have been altered and report such to SON promptly.
The dates, according to him, are usually in four numerical digits indicating month and year of manufacture.
The DG advised tyre users to henceforth demand that dealers indicate the dates of manufacture of the tyres on receipts whenever they are making purchases to make them liable for whatever they sell and further promote consumer protection.
On the tyres that have been apprehended, the SON helmsman stated that investigations are still on-going while samples of the tyres have been sent for laboratory tests and analysis.
Mr Aboloma promised to ensure the prosecution of all those found to be involved in the dangerous activity in the interest of the populace and to serve as deterrent to other unscrupulous importers, adulterators and distributors of substandard products generally.
Abuja-Kaduna Train Service to Resume Operations Monday
By Adedapo Adesanya
Almost a month after the Nigeria Railway Corporation (NRC) announced the proposed resumption of the Abuja-Kaduna passenger train service, the facility will start running on Monday, December 5, 2022, with only two return services.
The announcement by the Managing Director of the NRC, Mr Fidet Okhiria, said the first train would depart Rigasa train station in Kaduna State to Abuja by 8:00 in the morning while from Abuja, the first train will depart Idu train station to Kaduna State by 9:45 in the morning.
The NRC management also revealed that as part of the new security measures, it is now mandatory for passengers to present their National Identity Number (NIN) and valid boarding ticket before they will be allowed to board.
It also says the purchase of tickets by proxy is only limited to minors and a specified number of adult passengers.
It explained that online and mobile app ticketing would be available from 8:00 in the morning on Sunday, December 4, 2022, while the ticket offices at the train stations will open from 6:30 in the morning on Monday, December 5.
Recall that the NRC suspended the Abuja-Kaduna train service along the route after Boko Haram terrorists attacked a moving passenger train in Kaduna on March 28, 2022.
The insurgents had blown up the rail track and bombed the moving train, killing some and abducting more than 60 passengers. The unprecedented attack attracted international and national outrage.
The terrorists who attacked the Kaduna-bound train released hostages in tranches, with the last release coming on October 5, 2022.
Before the hostages were completely released, distraught family members had protested several times to demand the release of their loved ones.
SafeBoda Flees Nigerian Market Due to Harsh Economy
By Adedapo Adesanya
Ugandan bike-hailing startup, SafeBoda, has announced that it is exiting Nigeria.
After the Lagos State government banned ride-hailing services from the metropolis, the company forayed into Ibadan in December 2019 but began only operations in March 2020.
This March, the company announced that it had completed over 3 million rides, and 50,000 deliveries with over 10,000 riders and 100,000 passengers.
In just a little over one year since launch, the startup crossed the one million rides milestone, growing at an impressive 150 per cent month-on-month. In another 11 months, it tripled its traction to three million completed rides, cementing its dominant position in the region.
However, due to the reality facing the business now, the organisation wants to leave Africa's largest economy to focus on bringing the company to profitability by deepening its core transportation offering in Uganda, its largest market.
In a statement, it said Nigeria "in its current state is not economically viable and unfortunately requires significant investment at this challenging time in the global economic landscape."
This will make Nigeria the second market, but first in West Africa, it is exiting after it left Kenya in November 2020, less than two years after expanding its services to the east African country.
The firm said this was due to the negative effects of COVID-19 on its operations.
It is not clear the next step for its other businesses but in August 2022, SafeBoda announced a car-hailing service, SafeCar, in Kampala and one month after, it also launched in Ibadan, Nigeria.
It was reported that SafeBoda claims its car-hailing business has grown 40 per cent weekly since its launch in early September.
Bolt Promises to Improve Welfare of Drivers
**Gives Cars to Driver's League Challenge Winners
By Aduragbemi Omiyale
The popular ride-hailing platform, Bolt, has promised to improve the welfare and overall experience of its drivers through the introduction of initiatives that will reward their loyalty.
The Regional Manager for Bolt in West Africa, Ms Ireoluwa Obatoki, said this when the company rewarded two drivers on the app with brand new cars after they emerged winners of the Bolt Driver's League Challenge.
"We congratulate the winners of this year's challenge and appreciate their dedication and loyalty to Bolt and its riders. Bolt recognises and cherishes the essential role drivers have played in expanding our brand in Nigeria and ensuring the continued sustenance of our operations.
"Through our Driver's League Challenge, we are building a community of drivers dedicated to delivering the utmost service quality.
"We use this as an opportunity to celebrate their hard work and efforts throughout the year. We remain committed to the welfare of our drivers and promise to continue introducing initiatives that will improve their overall experience," she said.
The scheme was established by the leading mobility platform in 2020 in recognition and appreciation for service excellence. It celebrates top-performing drivers on the platform.
In addition, it showcases Bolt's commitment to advancing and easing mobility in Nigeria while supporting drivers with extra earning opportunities.
This year's edition was the third and was held for eight weeks. Drivers in Nigeria were rewarded with prizes worth about N20 million, including brand-new cars and various home appliances.
The 2022 Bolt Driver's League competition was divided into the Premier League and Championship League, which catered to existing drivers on the platform, and the Rookie League, dedicated to new drivers.
Drivers were evaluated by unique criteria, including finished trips, online hours and maintaining a high driver score at the end of the eight-week campaign.
Eligible participants were given goals in the form of rides finished and ratings by riders to qualify to win tokens towards the prizes.
Drivers who had accumulated enough tokens were entered into a raffle draw which determined the winners. The challenge recorded outstanding participation nationwide and saw Mr Ajibade Ademola from Lagos and Mr Kazeem Shehu from Abuja victorious in their respective categories.
Expressing his excitement at winning the Premier League and being awarded as the Overall Top Driver in Lagos, Mr Ademola thanked Bolt for the initiative.
"When I got the call that I had won, I was so happy that I shouted and called my family to celebrate. I thank Bolt from the bottom of my heart; only God can reward them for this. This is the first time in my life I have been the owner of a brand-new car, so I am very grateful. My birthday is in four days, so this is the best gift I could receive from anyone," he enthused.
On his part, Mr Shehu, who triumphed in the Championship League, also thanked Bolt for the reward.
"My vision in life has always been to become a transporter and open a company of such. I want to help others as Bolt helped me, who just joined their platform four months ago.
"This win has proved that destiny can only be delayed but not denied. My appreciation to Bolt is not just because of the car, but because Bolt has allowed me to be my own boss," he said.
Latest News on Business Post