Caterpillar Plans New Parts Distribution Facility in South Africa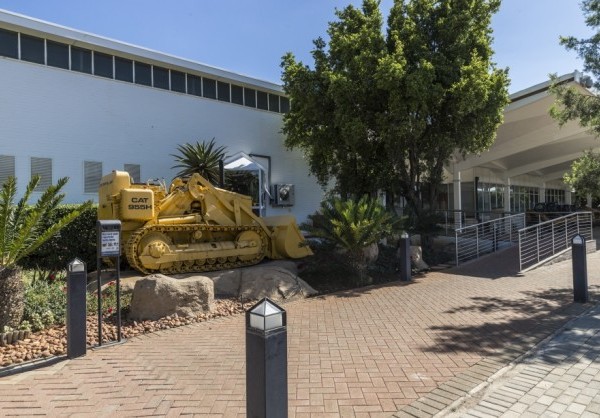 By Modupe Gbadeyanka
One of the world's leading construction machinery and equipment companies, Caterpillar, has announced plans to consolidate its parts distribution centres in Isando, South Africa into a new parts distribution facility near Johannesburg at about 20 kilometres (12 miles) from the existing centres.
The company said on Friday that the new facility is expected to become operational in the second quarter of 2017.
The consolidation provides several advantages including enabling the company to work more efficiently, while increasing the capability to provide unmatched parts availability to customers in Africa.
"This investment in our new and more efficient 60,000 m² (645,000 square-feet) facility demonstrates our deep commitment to Caterpillar customers in Africa. We are positioned to deliver the best solution to satisfy customer service needs now and far into the future. It is a win-win for our customers, our dealers in the region and Caterpillar. Caterpillar and our dealers know that getting replacement parts to our customers, such as a new filter or undercarriage, as quickly as possible is extremely important to reduce idle time and save money," said Bonnie Fetch, Cat Parts Distribution Director.
"Bringing our parts distribution under one roof in South Africa and expanding our parts distribution capabilities clearly illustrate South Africa's importance as a hub for our business in the Southern African countries. This will further improve our service to customers throughout the region," added Chris Monge, District Manager for Southern Africa based in Johannesburg, South Africa.
The consolidation is part of the previously announced plan of Caterpillar, its independent dealers and the Caterpillar Foundation to invest more than $1 billion in countries throughout Africa over five years.
This is yet another step in a long and rich Caterpillar history in Africa. The first Cat dealer outside of the United States was in Tunisia in 1926, followed shortly by Barloworld in South Africa. The dealer network is present in almost every African country, serving customers who help build and power communities and, ultimately, improve lives.
Haul247 Moves to Provide Haven for Trucks, Warehouses
By Adedapo Adesanya
With logistics recognised as the key to unlocking Africa's commerce potential, Haul247, a Google Black Founders' Fund grantee, has positioned itself as the continent's Airbnb for trucks and warehouses.
Africa's logistics industry remains fragmented, with informal carriers operating over 80 per cent of the market with one to three vehicles, indicating an urgent need to address the supply-demand mismatch since the ecosystem cannot optimize itself.
Experts argue that while the value of all logistics assets, including infrastructure and vehicles, can easily account for half of an advanced economy's gross domestic product (GDP), Africa's logistics sector continues to be hampered by a lack of supporting infrastructure, bottlenecks in service delivery, and a widespread informal approach to logistics business.
To tackle one of these critical issues, Haul247 founders; Mr Sehinde Afolayan, Mr Tobi Obasa and Mr Akindele Phillips believe that solutions to logistics in Africa that do not solve warehousing challenges will be more costly, inefficient, and risky.
For the trio, Haul247 was birthed after weeks of brainstorming to be the "Airbnb" for trucks and warehouses in Africa. The company's value proposition is a unique platform offering opportunities for clients to transport and store their goods in one logistics ecosystem.
"Most companies cannot accurately predict and forecast since different vendors handle transportation and warehousing needs. This makes it hard for them to control, distribute and plan their logistics requirements effectively," Mr Sehinde said.
He further noted, "Most manufacturing companies in Africa concentrate their manufacturing hubs in one city and move or distribute their products to other cities and towns across the countries. Typically, truck owners charge manufacturers and shippers exorbitant fees since they have to absorb the empty return leg.
"With Haul247, the system matches orders with available assets with our 'Airbnb' approach for trucks and warehouses. Partners are assured of reverse hauling, and shippers are charged less than they normally pay; this reduces transportation costs and guarantees efficient asset utilization."
So far, Haul247 has onboarded 14 enterprise and FMCG businesses. The startup also has over a thousand trucks on its roster, with about 150,000 square meters of warehouse space available across multiple locations.
However, the company is not relenting in its objective to optimize logistics service delivery in key African markets. Over the next five years, Haul247 is looking to expand into other African countries. It is also working on upgrading its technology and integrating with key logistics ERPs to serve clients and partners better.
"Ultimately, we want to bring about increased efficiency in the logistics industry across the continent, improve trade mobility across African cities and commercial hubs, and provide better storage and financial products for our users," Mr Afolayan noted.
BSG, FRSC Partner on Don't Drink and Drive Campaign
By Adedapo Adesanya
As part of efforts to complement the role of the Federal Road Safety Commission (FRSC) in ensuring the safety of all road users, the Beer Sectoral Group (BSG) of the Manufacturing Association of Nigeria (MAN) is upping the ante on awareness against drink driving.
Business Post gathered from the National Bureau of Statistics (NBS) that Nigeria alone recorded a  total of 3,345 road traffic crashes as of the first quarter of this year, an average of 37 road crashes per day.
While the number of crashes decreased by 1.8 per cent from the 3,407 recorded in Q4 2021, the number of persons killed in road crashes in the first three months of this year increased by 11 per cent.
This necessitated the return of the campaign named Don't Drink and Drive by both parties which kicked off on Wednesday, September 28, while park rallies will be held on September 29, 2022, in Ojota and Berger parks in Lagos State, to enlighten road users on the dangers of drunk driving and ways.
The Chairman of BSG and Managing Director of Guinness Nigeria Plc, Mr Baker Magunda, confirmed this development during the official launch of the campaign as a build-up on efforts by the government to boost awareness and change perception about the consumption of alcoholic beverages while driving.
Recall that in 2019, the campaign was held in two states, Lagos and Rivers State, and the Federal Capital Territory, Abuja, while plans for the 2020 edition of the campaign were stalled due to the COVID-19 pandemic.
To ensure that the FRSC works efficiently in its task to ensure the safety of all road users, the BSG said it was committed to continuing to provide the FRSC with new breathalyzers while assisting the agency to calibrate its existing equipment.
Mr Magunda stated that the idea of the campaign is to support the FRSC in ensuring safety on Nigerian roads.
"FRSC as a key partner in the programme will conduct the rallies in line with the core components of the intervention. Globally, breathalyzers are reliable, quick, and accurate tools predominantly used by law enforcement officials to measure blood alcohol content," he noted.
On his part, Mr Dauda Biu, the Acting FRSC Corp Marshall, said "The partnership will ensure the "Don't Drink and Drive" campaign will be sustained.
"We appreciate BSG's efforts in supporting and prioritising our quest for the safety of Nigerians. The provision of breathalyzers will go a long way in checkmating drunk driving on our roads," he concluded.
Reckless Driving: LASTMA Gives LagosRide Drivers Last Warning
By Modupe Gbadeyanka
The General Manager of the Lagos State Traffic Management Authority (LASTMA), Mr Bolaji Oreagba, has said henceforth, any driver of LagosRide taxi caught contravening the Lagos State Transport Sector Reform Law of 2018 would be dealt with in line with the law.
"Let me state here clearly that impunity of these LagosRide drivers plying their vehicles on BRT corridors/obstructions on major roads is alarming.
"As a responsible and responsive agency of government, we would no longer condone their recklessness as we shall continue to apply the full weight of the Law on motorists found contravening any sections of the traffic laws," Mr Oreagba said over the weekend when he received the management of Ibile Holdings Limited, owners of LagosRide taxi.
The Chief Executive Officer of Ibile Holdings, Mr Abiodun Amokomowo, paid a working visit to LASTMA headquarters in Oshodi, Lagos.
During the visit, the LASTMA chief said the warning became very imperative to check excesses of these operators/drivers who do not usually consider the safety of other road users and their penchant for disregarding traffic law while on the road.
He said Governor Babajide Sanwo-Olu created the initiative to create jobs for the unemployed, noting that the laudable platform should not be bastardised.
Earlier in his address, Mr Amokomowo said the company is an investment company of the Lagos State Government created to spur its economic growth by supporting commerce and viable and strategic industries that are crucial to the socio-economic development of the state.
He stated that as a way of ensuring the safety of riders and passengers, each LagosRide taxi is installed with a full security gadget, including a 360 dashboard camera that will give 24-hours auto visual feeds to the control centre in case of any emergency.
Mr Amokomowo maintained that each driver of LagosRide taxi undergoes a full verification exercise which includes Lagos State Drivers' Institute (LASDRI) I.D Cards, medical history, verification of NIN and Lagos resident registration numbers and other background checks before being considered for the lease-to-own taxi scheme.
He, however, commended the management of LASTMA and all field officers for the wonderful job they are doing in ensuring proper management and control of traffic on Lagos roads.
Latest News on Business Post