Banker Highlights Role of Cash Management in Business Operations
By Modupe Gbadeyanka
A senior banker with Stanbic IBTC Bank Plc, Ms Ojinika Shote, has explained the role cash management plays in the daily operations of a business enterprise.
Ms Shote, who is the Head of Cash Management at Stanbic IBTC Bank, said in an interview that if a business intends to survive for long, it must pay attention to cash management.
She defined cash management as the effective planning, monitoring and management of an organisation's liquid or near liquid resources.
According to her, being a treasury management function, it entails day to day cash control, ensuring the organisation has enough cash/liquid resources to meet short-term obligations in the applicable currencies, having an efficient bank account structure that facilitates easy and secure payments and quicker collection of receivables.
"When it comes to running any successful business, whether local or international, cash flow is key. An organisation may be profitable but without cash resources available to run its daily operations, it will not survive for long," the banker said.
Speaking further, Ms Shote said the cash management space continues to evolve and remain a critical aspect of transactional banking with technological and process advancement.
"We have seen a transition from physical cash solutions, use of cheques and automated clearing house solutions to faster and safer cash management solutions using digital channels for delivery of these solutions, for electronic payments and collections, instant payments and automated reconciliation for business purposes.
"This transition has gradually reduced the risk associated with cash which organisations have had to bear over time and while these risks are not eliminated, they are being reduced to more manageable levels," she said in the interview.
The financial expert noted that organisations require useful information and actionable insights to support cash flow forecasting, business planning and strategic decision making, adding that banks provide useful data points and analytics that equip the firms to identify and take advantage of new business opportunities.
According to her, Stanbic IBTC is committed to supporting sustainable business in Nigeria, noting that the banking principles of the lender provide a framework for ensuring that the future of banking is created by aligning its strategy and business with the vision for a better society.
"This is evident in our partnership with the World Health Organisation (WHO) on the Direct Disbursement Mechanism (DDM), a payment project to support volunteers, mostly indigenes of the rural communities who participate in the implementation of the polio vaccination rounds that take place across the nation.
"Without stipends successfully paid to these volunteers, the DDM project would have been threatened and this amazing milestone of achieving a Polio-Free-Status would have not been met," she said.
"It is our honour to be the banking partner that supported the WHO and the federal government of Nigeria in achieving this remarkable feat, despite complexities around logistics, planning and managing operations at the grassroots level," Ms Shote added.
CIBN to Revamp Banking Practice in Nigeria With A-TEAM Initiative
By Aduragbemi Omiyale
A strategic initiative aimed to revamp banking practice in Nigeria has been introduced by the Chartered Institute of Bankers of Nigeria (CIBN).
The new plan with the acronym A-TEAM means Accelerated Development; Technology and Digital Enhancement; Engagement for Growth; Accountability and Transparent Leadership and Membership Drive for Value.
As part of efforts for its successful implementation, the CIBN is seeking collaborations with financial institutions in the country.
Recently, the President/Chairman of Council, CIBN, Mr Bayo Olugbemi, visited Ecobank Nigeria and he said the A-TEAM initiative will benefit stakeholders in the banking sector.
He applauded Ecobank's consistent support for the institute over the years to ensure the realisation of its mandate of determining the standards of knowledge and skills development for those seeking to become members of the banking profession.
"We applaud Ecobank Academy as the first corporate member to become a member of the Global Business School Network and for the consistent support for the realisation of the institute's mandate of determining the standards of knowledge and skills to be attained by persons seeking to become members of the banking profession.
"We, therefore, seek Ecobank's collaboration and enlistment in our Endowment/Prize Awards in any subject of interest; support towards the renovation of Abuja Bankers' House; support for the establishment of banking museum by donating artefacts and other relevant materials; and to participate actively in training programmes of the institute," Mr Olugbemi said.
Further, he congratulated Ecobank Nigeria and the Ecobank Group on winning several International awards, which includes the Best Retail Bank in Nigeria by Asian Banker; Africa's Best Bank for Corporate Responsibility by Euromoney (Ecobank Group); African Bank of the Year (African Banker); Innovation in Financial Services Award from African Banker (Ecobank Group); EMEA Finance African Banking Awards 2020.
Responding, the Managing Director of Ecobank Nigeria, Mr Patrick Akinwuntan, pledged more support and collaboration with the institute, restating that Ecobank will continue to contribute to the efforts of the organisation to become top class and remain relevant globally.
"For us at Ecobank, we are extremely proud CIBNs efforts at ensuring public discourse on the future of the Nigeria economy and the banking and finance industry.
"This is not in isolation of the ethics, professionalism, accountability, transparency, good corporate governance without losing focus of harnessing the opportunities technology has provided in the new world order. Be assured of our maximum support and collaboration at all times," he said.
Mr Akinwuntan also identified with the efforts of the institute to raise the bar of competency and capacity building in the industry, stressing that with sound professional conduct, every banker will be held in high esteem.
He said Ecobank was working assiduously to ensure a majority of its staff become members of the institute, adding that the bank will also provide more mentees and mentors in its mentorship programme.
"We have a medium to long term programme to ensure all Ecobank Nigeria staff become chartered members of the institute.
"At Ecobank, we take human capacity development very seriously. Some of our staff that wrote the last examinations are now chartered members of the Institute.
"We will also ensure bulk subscription of our staff. We will be nominating 30 mentors and 100 mentees to participate in the second mentorship programme," he assured.
VBank Brightens Spirits at Lagos NYSC Orientation Camp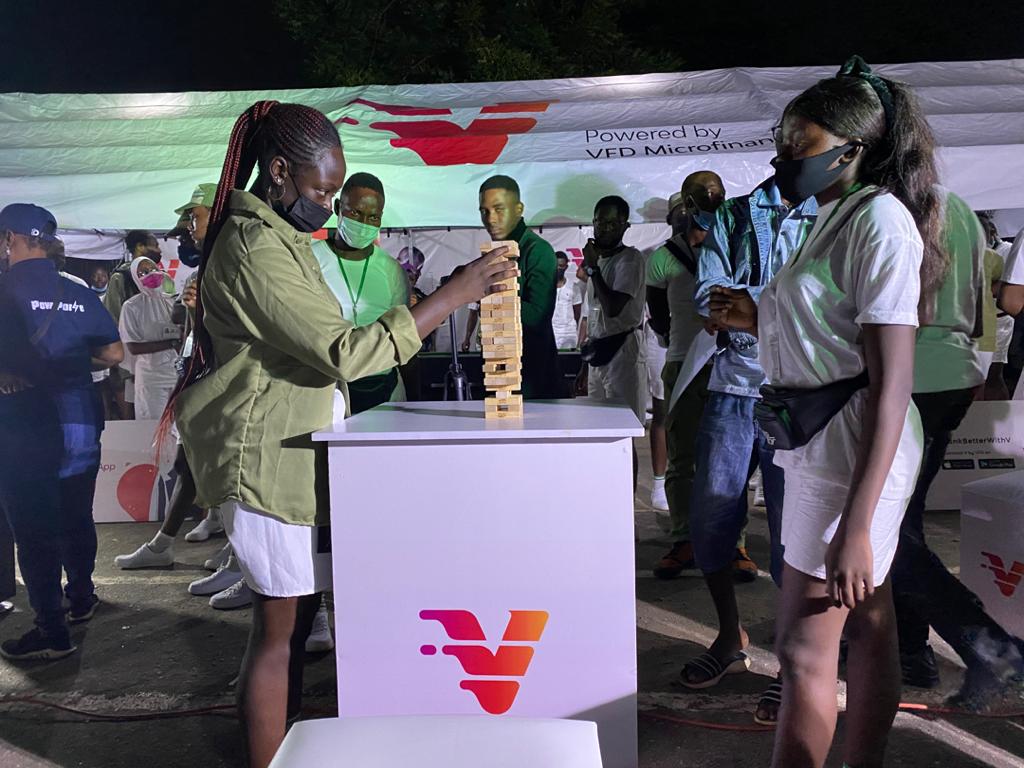 By Modupe Gbadeyanka
The National Youth Service Corps (NYSC) orientation camp in Lagos was recently brightened by VFD Microfinance Bank, owners of the 2020 banking app of the year, VBank.
The financial institution, for 10 days, entertained corps members and officials alike at their Games Veelage, an arcade set up with interesting games including snooker, Jenga, fuss ball, chess, scrabble, snakes & ladders and video games.
At the climax last Sunday, 15 NYSC members won N150,000 in cash prizes, while others received loads of consolation gifts.
Dayo Osborne, Gbenga Benedict, Olamide Ojedele, and Joseph Eweje were some of the winners of the N20,000 cash prize category and were rewarded instantly via transfer from the digital banking app, VBank.
While onboarding the graduates on the banking platform, the brand created an avenue for the Batch A Stream 2A corps members to relax after their usual daily camp routine.
The bank had equally sponsored the inter-platoon games night which took place days before, gifting participants cash transfers using the app's Proximity Payment feature.
According to Ebere Ahaotu, Product Manager, VBank, "It is our little way of encouraging young people to keep hope alive.
"Camp life can be hectic and VBank is all about ease and convenience so why not brighten up their camp experience, introduce them to a better way to bank and assist them with some funds to transport them to their places of primary assignment. It's about paying it forward."
The corps members have since been posted to different places of assignment within the state while another stream gets ready for camp in July.
Ecobank Describes Women as Bedrock of Entrepreneurship
By Modupe Gbadeyanka
The role women play in entrepreneurship cannot be downplayed and this is why Ecobank Nigeria has thrown its full weight behind the Selfmade Woman Conference (SMWC) 2021.
The Managing Director of Ecobank Nigeria, Mr Patrick Akinwuntan, in a statement from the lender, said women are the bedrock of entrepreneurship and most families.
He said partnering with a notable media entrepreneur and blogger, Ms Linda Ikeji, to host the event slated for Saturday, June 19, 2021, in Lagos was in line with the bank's empowerment policy for women.
According to him, the challenges facing the nation have made it more imperative to recognise the potentials in women and develop them.
"Our decision to support Linda Ikeji conference aligns with our women empowerment policy. As a bank, we have been playing a leading role in this respect," Mr Akinwuntan said.
Business Post reports that the event is taking place at the Federal Palace Hotel, Victoria Island, and the speakers include Tara Durotoye, renowned beauty and make-up entrepreneur; Dr Ola Brown, founder of the Flying Doctors Healthcare Investment Company; and Dr Nancy Nnadi, serial entrepreneur and CEO of Telecom Distribution Company.
Other guest speakers are Tomie Balogun, investment expert and fintech entrepreneur; Sola Adesakin, finance coach and chartered accountant; Kemi Adetiba, filmmaker and content creator; and TV star, Dorathy Bachor.
They will provide actionable strategies and hope to women who would like to start their own businesses, enhance their impact in various industries or broaden their creative roles in traditional industries.
Speaking further on the various supports the bank has offered to entrepreneurs, Mr Akinwuntan said, "As you know, we have a long-standing partnership with Tera Kulture, that is Bolanle Austen Peters who has come out with various movies such as Bling Lagosians, Moremi The Musical, Fela and the Kalakuta Queens, The Oluronbi Musical and others.
"Recently, we also supported The Wait, a movie inspired by the popular book from renowned lawyer and entrepreneur, Yewande Zaccheaus.
"We are also currently working with the Ogun state government to promote the Adire industry which is also primarily women-driven.
"In the agricultural industry, we have supported the Anchor Borrowers Programme (ABP) of the Central Bank of Nigeria (CBN) across the six regions of the country to reach out to farmers, especially the womenfolk to support them financially to increase their farm size and yield capacity through the introduction of new techniques.
"Let me also add that Ecobank has a women empowerment programme Ellevate for women in Business; this will be publicly launched across the country in July.
"With Ellevate, we want to ensure we raise and recognize our women for the significant role they have always played to ensure a better society for us all."
The Linda Ikeji Self-Made Woman, which debuted in 2013, is an advocacy project with the sole aim to mentor and provide financial empowerment to young female entrepreneurs or aspiring ones.
It is mainly to build stronger economies and improve the quality of life for women, men, families and communities.
Latest News on Business Post