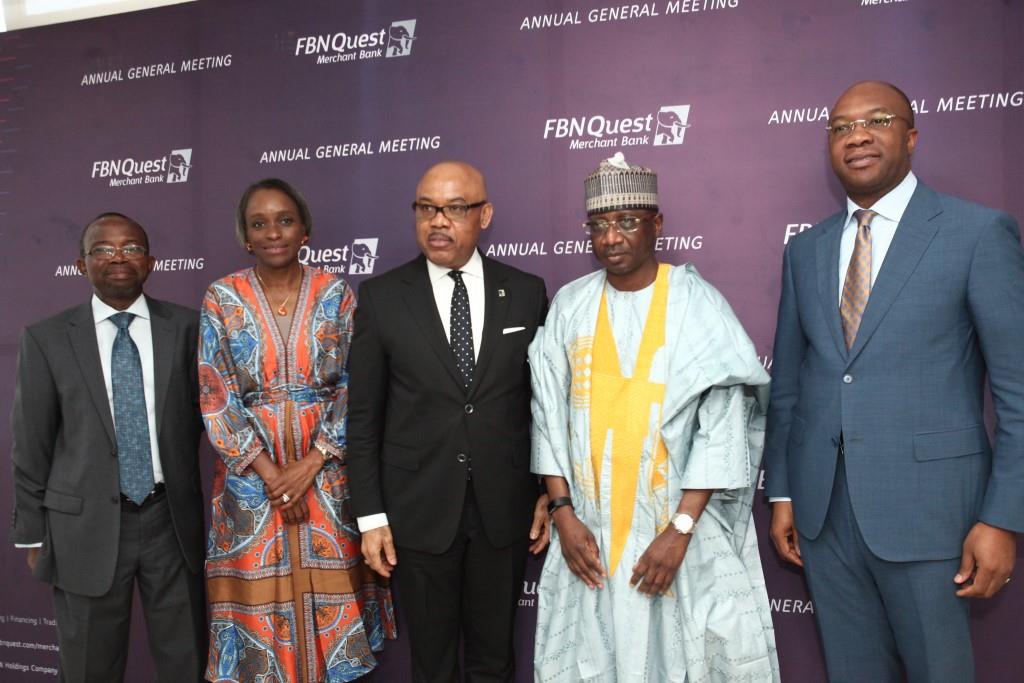 By Dipo Olowookere
Part of the investment banking and asset management group (IBAM) of FBN Holdings Plc, FBNQuest Merchant Bank, held its 4th Annual General Meeting (AGM) in Lagos on April 24, 2019.
During the meeting, the board presented the company's 2018 year end results to shareholders and the analysis showed that despite the challenging operating environment in the year, the firm performed fair.
Though the company achieved strong growth in other income which was driven by net gains from fees, commission and sundry income, a shortfall was recorded in the year under review when compared with the previous year's performance.
Addressing shareholders at the meeting, Chairman of FBNQuest Merchant Bank noted that the operating environment in 2018 was particularly challenging for the business.
He said the year was characterised by contracting spreads in the fixed income market, a sluggish equity/M&A market, fewer transactions, and a competitive landscape that has become more intense.
Nonetheless, the IBAM business group maintained profitability and recorded steady growth in certain business lines.
For example, total revenue increased by 8.6 percent y-o-y to N40.96 billion from N37.72 billion in the 2017 fiscal year, while profit before tax grew by 56.2 percent y-o-y to N16.4 billion from N10.5 billion in December 2017.
The main contributors were the Asset Management, Corporate Banking and Fixed Income, Currencies and Trading (FICT) businesses, again demonstrating the resilient and diversified nature of the business portfolio.
Assets under management (AuM) across the group (FBNQuest Asset Management) increased by 5.0 percent to close at N261 billion (Dec 2017: N248.5 billion). The Asset Management business has remained strong in the competitive ranking amongst its peers, based on SEC registered funds, maintaining the 2nd position in the industry, same as the prior year.
The MBAM business contributed 7.7 percent (Dec 2017: 6.5 percent) to gross earnings of the FBN Holdings Plc Group and 25.1 percent (Dec 2017: 19.2 percent) to profit before tax.
Overall, total assets closed at N218.6 billion, representing a 1.1 percent y-o-y increase (Dec 2017: N216.2 billion). The businesses in the group remain well capitalised with total group equity of N44.0 billion.
In his address at the AGM, Managing Director/CEO of FBNQuest Merchant Bank, Mr Kayode Akinkugbe, said, "Despite the challenges of 2018, we have taken learnings, and in 2019, are more determined to find ways of creating more value for our customers.
"We will focus on our strategic goals of increasing group collaboration and enhancing revenue generation across all businesses, improving efficiencies as well as deepening innovation and digitisation to enhance the client experience."