FCCPC Okays 94 Digital Money Lenders to Curb Loan Sharks
By Adedapo Adesanya
As part of the plans to curb the spread of loan shark activities in the country, the Federal Competition and Consumer Protection Commission (FCCPC) has approved the operations of 94 digital money lenders in Nigeria.
From the cache of companies, the commission stated that only 49 of the digital lenders were given full approval, while the remaining 45 got conditional approval.
The agency disclosed this in an update on its ongoing registration of digital money lenders in the country.
Nigerians have been the target of unlicensed loan apps, otherwise known as loan sharks., which has brought disgrace and threat to unsuspecting users.
FCCPC said it came up with the Limited Interim Regulatory/Registration Framework and Guidelines for Digital Lending in collaboration with the Joint Task Force (JTF) to promote fair, transparent, and beneficial alternative lending opportunities for Nigerians.
The guidelines require digital lenders to register with the FCCPC and complete two forms; Form DLG 001 and Form DLG 002. Form DLG OO1 is the registration form that requires the applicant company to provide identification and operational information to the FCCPC, while Form DLG 002 contains declarations relating to legitimacy; compliance with applicable regulatory requirements; lawful source of funds and conformity with anti-money laundering; and data protection laws.
Recall that the commission had last year given all the digital money lenders 90 days to comply with these guidelines; it later extended the deadline, which expired on November 14, 2022, to January 31, 2023.
This is a list of the 49 digital money lenders that have secured full approval from the FCCPC:
SYCAMORE INTEGRATED SOLUTIONS LIMITED
TRADE DEPOT
TAJOW INVESTMENT
BLUE RIDGE MICROFINANCE BANK LIMITED
GROLATECH CREDIT LIMITED
BRANCH INTERNATIONAL FINANCIAL SERVICES LIMITED
P2VEST TECHNOLOGY LIMITED
CREDITWAVE FINANCE LIMITED
KEENEST TECH SERVICE LIMITED
FAIRMONEY MICRO FINANCE BANK
ALTRACRED FINANCE INVESTIMENT LIMITED
CREVANCE CREDIT LIMITED
MENACRED COMPANY LIMITED
AFROWIDE DEVELOPMENT LTD
RED PLANET NIGERIA LIMITED
AFROFIRST MOBILE AND TECHNOLOGY COMPANY LIMITED
RANKCAPITALS LIMITED
IBS GOLDEN INVESTMENT COMPANY LIMITED
LENDVISERY SERVICES LIMITED
CREDITWAVE FINANCE LIMITED
RENMONEY MICROFINANCE BANK LIMITED
SWIPEBILL TECHNOLOGIES NIGERIA LIMITED.
HOMETOWN FINTECH LIMITED
GIASUN TECHNOLOGY NIGERIA LIMITED
BE RESOURCES LIMITED
ROCKIT LENDERS NIGERIA LIMITED
PIVO TECHNOLOGY LIMIED
YES CREDIT COMPANY LIMITED
FUBRIL CENTURY LIMITED
IRORUN TECHNOLOGIES LIMITED
CSENSE LIMITED
SUPREME HELP COOPERATIVE SOCIETY LIMITED
ORCOM AND ORCOM BUSSINESS SUPORT LIMITED
PAYHIPPO LIMITED.
EASYCHECK FINANCE INVESTMENT LIMITED
QUARK FINANCIAL NIGERIA LIMITED
EDMOND SOLUTIONS COMPANY LIMITED
TED ROCKET LIMITED
PENAID LIMITED
ARVE LIMITED
DOVER CREDIT LIMITED
RAGEKAY GLOBAL INVESTMENT LIMITED
MAYWOOD LENDING LIMITED
LINKPARK TECHNOLOGY NIGERIA LIMITED
MANGNET LENDING LIMITED
RUBYSTAR GLOBAL LIMITED
BESTFIN NIGERIA LIMITED
FUBRI CENTURY COMPANY LIMITED
BERLY SPRING GLOBAL LIMITED.
These 45 companies have secured conditional approvals from the commission. This means that they still have some requirements to meet before they can get the full approval:
TRIPPDBASE LIMITED
BLACKCOPPER SERVICE
OWOAFAR FINTECH SERVICE
PAYLATER HUB
WINDVILLE FINANCIAL NIGERIA LIMITED
AFROFIRST MOBILE AND TECHNOLOGY COMPANY LIMITED
ORCOM AND ORCOM BUSINESS SUPPORT LIMITED
OTP INTERNET TECHNOLOGY LTD
RED HARBOR FINTECH LIMITED
BERYL SPRING GLOBAL LIMITED
HOMETOWN FINTECH LIMITED
AJAX LENDING LIMITED
RACEOVA NIG. LIMITED
LANTANA TECHNOLOGY LIMITED
THE PLATFORM DIGITAL NETWORK LIMITED
ZIPPY CAPITAL LIMITED
NEO-LINK TECHNOLOGY LIMITED
TRIPOBASE LIMITED
BESTFIN NIGERIA LIMITED
POCKETFUEL FINANCE LIMITED
LENDING EDGE LIMITED
TED ROCKET LIMITED
PENAID LIMITED
ALTARA CREDIT LIMITED
NEW CREDAGE NIGERIA LIMITED
LENDHA TECHNOLOGIES LIMITED
DOJA LEMAIRE GLOBAL LIMITED
PAYDAYHUB ONLINE NIGERIA LIMITED
RETAIL BOOSTER LIMITED
FINNEW FINTECH LIMITED
FEZOTECH NIGERIA LIMITED
ORANGE LOAN & PURPLE CREDIT LIMITED
CITADELE CAPITALS LIMITED
FEWCHORE FINANCE COMPANY LIMITED
A1 CAPITAL SOLUTION LIMITED
ONE PAYOUT LIMITED
LINKPARK TECHNOLOGY NIGERIA LIMITED
LIDYA GLOBAL LIMITED
PHOENIX PAYMENT SOLUTIONS LIMITED
RED PLANET NIGERIA LIMITED
KWABA INTERNATIONAL LIMITED.
MAYWOOD LENDING LIMITED.
PRINCEPS CREDIT SYSTEM LIMITED
LINKPARK TECHNOLOGY NIGERIA LIMITED
FINPADI TECHNOLOGIES LIMITED.
ICPC Arrests Bank Manager for Failure to Properly Load Cash into ATMs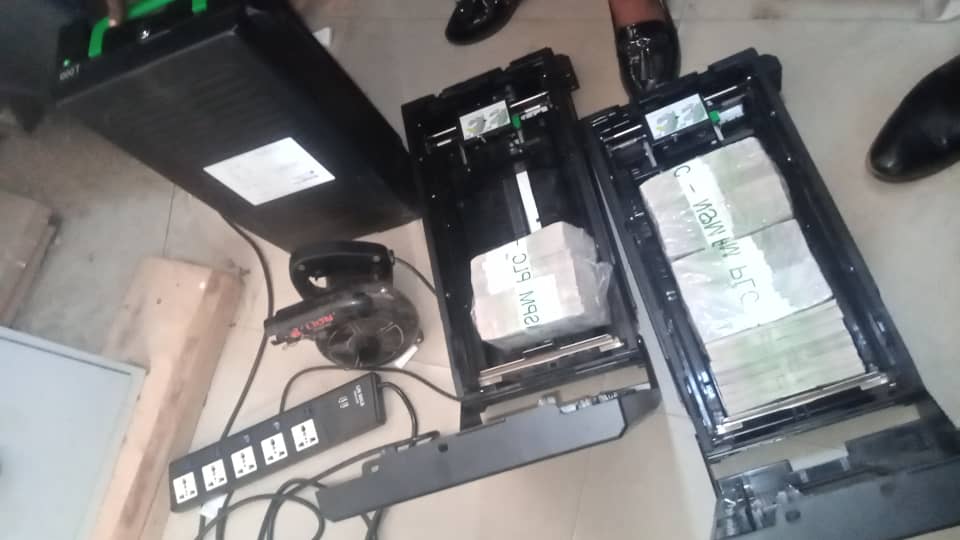 By Aduragbemi Omiyale
The Operation Manager of a branch of a commercial bank in Osogbo, Osun State, has been arrested by operatives of the Independent Corrupt Practices and Other Related Offences Commission (ICPC).
A statement issued by ICPC on Friday disclosed that the bank manager was apprehended by its compliance team and taken in for questioning.
It was alleged that the banker loaded the bank's Automated Teller Machines (ATMs) with cash with their wrappers un-removed, thus preventing the cash from being dispensed to customers, who have formed long queues amid a scarcity of the Naira in the country.
According to the statement, when it discovered this anomaly, the team directed that the wrappers are removed, and the cash be loaded properly.
"However, when a follow-up visit was undertaken the following day to ascertain the level of compliance, the team discovered that one of the ATMs was still loaded with the wrappers un-removed," the statement said, prompting his arrest.
In a related development, an official of another commercial bank in Abuja has been apprehended by the commission. The bank official was accused of deliberately refusing to load cash into the branch's ATMs even when the cash was available and people were queuing at the ATM terminals.
According to the ICPC, when its monitoring team arrived at the bank at about 1:30 pm to ensure compliance and demanded an explanation as to why all the ATMs were not dispensing cash, it was informed by the branch's Head of Operations that the bank just got delivery of the cash.
But the agency claimed that available facts indicated that the branch took delivery of the cash around 11:58 am and either wilfully or maliciously refused to feed the ATMs with the cash.
Against this backdrop, the ICPC team compelled the bank to load the ATMs with the redesigned Naira notes and ensured that they were all dispensing before arresting the culprit.
"Investigations are still ongoing, and the commission will take appropriate actions as soon they are concluded," a statement from the ICPC said.
The organisation explained that it embarked on the monitoring "in continuation of its clampdown at elements frustrating efforts in making the redesigned Naira notes available to members of the public."
Union Bank Secures IFC's $30m Loan to Finance Trade, SMEs
By Aduragbemi Omiyale
A loan worth $30 million has been secured by Union Bank of Nigeria Plc from the International Finance Corporation (IFC) to support small businesses in the country.
It was gathered that the credit facility would boost access to finance for small and medium enterprises (SMEs) in Nigeria and support increased trade, as it would enable the bank to expand lending to hundreds of businesses operating in critical sectors in the country, including food, healthcare, manufacturing, and services.
The $30 million loan will allow Union Bank to increase trade financing and working capital lending to Nigerian businesses, including those whose cashflows have been strained by recent disruptions in global and local markets.
"As a bank, we are deeply committed to enabling success for SMEs. We understand the critical role of small businesses in leading Nigeria's economy towards growth.
"This funding from IFC will enable us to extend financial relief to our customers during this difficult time. I am confident that the funds will help these businesses harness opportunities and preserve jobs," the chief executive of Union Bank, Mr Mudassir Amray, said.
Also commenting on the development, IFC's Senior Country Manager for Nigeria, Liberia and Sierra Leone, Mr Kalim Shah, said, "Strengthening supply chains and trade flows through working capital financing sets the stage for faster growth and economic diversification in Nigeria.
"IFC's partnership with Union Bank is part of a wider strategy to ensure the flow of goods and services are sustained despite global trade disruptions."
The credit facility to Union Bank is being made through IFC's COVID-19 Emergency Response Working Capital Solutions Envelope, which was launched in 2020 to provide funding to existing IFC clients in emerging markets that will then extend new loans to companies affected by the economic impacts of COVID-19.
Recent disruptions to the global economy following COVID-19, including from rising inflation and limited access to finance, have left many businesses in Nigeria, particularly SMEs, struggling with supply chain shortages, increased cost of doing business and limited trade growth.
The partnership with Union Bank underscores IFC's commitment to supporting smaller businesses in Nigeria, helping them preserve and create jobs and access critical inputs.
The loan is supported by the blended finance facility of the International Development Association's Private Sector Window, which mitigates the financial risks associated with investments in sectors like SMEs and agribusiness.
IFC has an active investment portfolio of $2.3 billion in Nigeria – the second largest in Africa after South Africa – across sectors including agribusiness, healthcare, manufacturing, infrastructure, technology, and financial services.
New Notes: CBN Directs Banks to Payout Maximum N20,000 Daily Via Tellers
By Aduragbemi Omiyale
Deposit Money Banks (DMBs) have been directed by the Central Bank of Nigeria (CBN) to pay their customers the new Naira notes a maximum of N20,000 daily.
This was contained in a statement issued on Thursday, February 2, 2023, by the apex bank, signed by its spokesman, Mr Osita Nwanisobi.
According to the CBN, this development is to ease the sufferings Nigerians are going through to access the new banknotes from their banks and other channels.
Earlier, Business Post reported that commercial banks were not paying their customers because of a cash crunch. Most banks were unable to honour the cash withdrawals of their customers because they had no new notes to pay and were not allowed to pay with the old currency notes.
In the statement released today, the central bank said it "noticed the queues at Automated Teller Machines (ATMs) across the country and an upward trend in the cases of people stocking and aggregating the newly introduced banknotes they serially obtain from ATMs for reasons best known to them. Also worrisome are the reported cases of unregistered persons and non-bank officials swapping banknotes for members of the public, purportedly on behalf of the CBN."
The bank said to ease the pressure, the Governor of the CBN, Mr Godwin Emefiele, "has directed deposit money banks (DMBs) to commence the payment of the redesigned Naira notes over-the-counter (OTC), subject to a maximum daily payout limit of N20,000."
However, the CBN warned "Nigerians, particularly those at social functions such as birthdays, weddings and funerals, to desist from disrespecting the Naira or risk being arrested by law enforcement agencies," stressing that, "The Naira is our legal tender and symbol of national pride. Therefore, let us respect it and handle it with care."
The apex bank urged "members of the public to embrace and adopt other payment channels for their transactions."
Latest News on Business Post