GTCO Will Continue to Make Financial Services Easily Accessible—Agbaje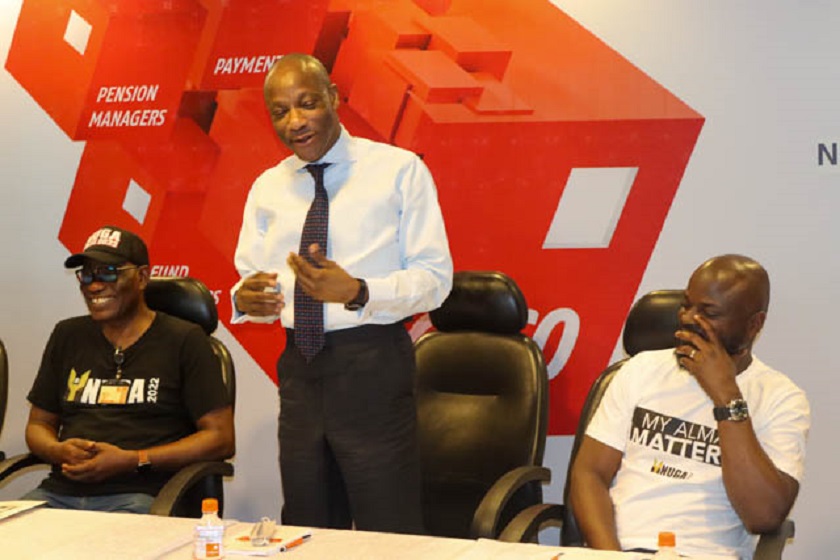 By Aduragbemi Omiyale
The group chief executive officer of Guaranty Trust Holding Company (GTCO) Plc, Mr Segun Agbaje, has assured customers of the company of easy access to end-to-end financial services.
He gave this assurance while commenting on the award he received at the 12th annual Brand Africa 100: Africa's Best Brands 2022 rankings of the Top 100 Most Admired Brands in Africa.
At the event held at the Eko Hotels and Suites, Lagos, on Wednesday, May 25, 2022, Mr Agbaje was conferred with the Africa Brand Leadership Excellence award for his pivotal role in inspiring brand-led excellence that drives the growth of 'Made in Africa' brands and businesses and his long-standing contributions to the financial services industry.
He led GTBank through a decade of unparalleled growth and now oversees the Holding Company. The Group recently concluded the acquisition of key businesses in fund management and pension operating as Guaranty Trust Fund Managers Ltd and Guaranty Trust Pension Managers Ltd.
Also, GTBank, the banking subsidiary of GTCO, retained the number one spot as Most Admired Financial Services Brand in Africa, Most Admired Financial Services Brand in West Africa, and Most Admired Financial Services Brand in Nigeria for the second year in a row.
GTBank also ranked as the Most Admired Nigerian Financial Services brand in recognition of its excellent positioning, strength, and reach beyond Africa.
"As we grow and expand as a group, we remain committed to our founding values which have endeared our brand to millions of people across Africa and beyond, and which continue to drive our financial success.
"We will leverage the synergies within our holding company to drive Africa's growth and achieve our vision of making end-to-end financial services easily accessible to every African," the banker said.
He further stated that, "As a leading financial services company, we are always looking for new ways to meet every customer need and to do more to help our customers and communities thrive by creating faster, cheaper, safer products for people and businesses through every stage of life.
"The awards are testament to our boundless innovative capacity and the power of the Guaranty Trust brand to touch and enrich lives as a Proudly African and Truly International institution."
The Brand Africa 100: Africa's Best Brands 2022 rankings of the Top 100 Most Admired Brands in Africa is an initiative by Brand Africa aimed at driving Africa's competitiveness and creating a positive image through strong brands with GeoPoll, the world's leading mobile surveying platform, and Kantar, a well-respected consumer insights and data analytics company, as key technical partners.
GTCO is a diversified financial services company with over N5.1 trillion in assets, providing a wide range of banking as well as non-banking financial services in Nigeria, West Africa, East Africa, and the United Kingdom.
Its consistent year-on-year growth in customer base and delivery of superior value to all stakeholders is underpinned by its strong service culture, world-class corporate governance standards, efficient management, and bias for innovation.
GTCO is rated 'B' and 'B-/B' by Fitch and S&P Global, respectively, a reflection of its long-term stability and reputation of being a well-established franchise with strong asset quality and consistent excellent financial performance.
Visa Sponsors Ecobank Cardholder's Trip to Qatar for World Cup
By Modupe Gbadeyanka
A customer of Ecobank Nigeria, Mr Ejike Michael Eziuche, will have the opportunity to travel to Qatar for the ongoing FIFA World Cup taking place in the country for free.
This was made possible by just being a customer of the financial institution in Nigeria and being issued a Visa card by the bank.
The Ecobank cardholder was among the winners of the payments firm's Spend & Win Campaign, designed to reward customers and football lovers who were active users of their Visa cards.
The only condition to be part of the promo was spending a minimum of N50,000 in at least five transactions to qualify. The winners will have the opportunity of a first-class experience in the tournament, all expenses covered as Visa is the Official Payments Sponsor of the tournament.
"Mr Eziuche's emergence as a winner is a reflection of the hassle-free payment experience our customers enjoy with their Ecobank Visa cards.
"At Ecobank, we are always innovating our services to suit our customers' lifestyles, especially when it comes to how they can effortlessly access our products. I am truly delighted for him and wish him a memorable time in Qatar," the Head of Consumer Banking at Ecobank Nigeria, Mrs Korede Demola-Adeniyi, commented.
"We understand our role as a leading payments provider, pioneering seamless payments experiences across Africa; this is why we partner with critical stakeholders like Visa to ensure that our customers can have cards that allow them to enjoy financial services from anywhere in the world.
"Our promise to our customers has always been the same; to provide them with access to affordable and reliable financial services.
"We will continue to do so through our digital platforms, including Ecobank Mobile App and USSD *326#, Ecobank Online, Ecobank OmniPlus, Ecobank Omnilite, EcobankPay, Ecobank RapidTransfer, ATMs, POSs and an extensive distribution network of over 250 branches and over 50,000 agency banking locations," she added.
Ecobank Nigeria is a subsidiary of the Ecobank Group, the leading pan-African banking group with operations in 33 African countries and an international presence in four locations (London, Paris, Beijing, and Dubai).
The lender is a major player in the distribution of financial services in Nigeria, leveraging digital platforms, including Ecobank Mobile App and USSD *326#, Ecobank Online, Ecobank OmniPlus, Ecobank Omnilite, EcobankPay, Ecobank RapidTransfer, ATMs, POSs and an extensive distribution network of over 250 branches and over 60,000 agency banking locations.
Sterling Bank Sponsors Training of 1,000 Youths at NJFP
By Modupe Gbadeyanka
Sterling Bank Plc has sponsored the training of 1,000 fellows at the Nigeria Jubilee Fellows Programme (NJFP), a youth empowerment initiative between the Nigerian government and the United Nations Development Programme (UNDP).
The programme, launched in 2021, was borne out of rising unemployment and the COVID-19 pandemic, which adversely impacted the ability of young Nigerians to find work.
The initiative seeks to connect talented graduates with local job opportunities that apply their expertise while equipping them with world-class practical knowledge and relevant skills, and it does not matter if an applicant does not have job experience.
It targets a broad range of sectors, including the start-up economy, innovation, and creative industries, the digital and technology sector, the green economy sector, financial services, key public and international development institutions, research and development, agriculture, real estate, construction, transportation, and health services. In other words, there is a place for every organisation in this programme.
The Managing Director of Sterling Bank, Mr Abubakar Suleiman, explained that his company supported the programme because of its interest in the education sector as one of five sectors it is presently concentrating investments in under its HEARTs of Sterling programme. The other sectors are Health, Agriculture, Renewable Energy and Transportation.
It will be recalled that as part of its commitment to the reduction of unemployment among youths in the country, Sterling Bank Plc recently renewed its partnership with iCreate Africa to provide a payment system that allows qualified workers to purchase tools and pay in instalments.
Consequently, the bank has also introduced different packages so that skill-seekers can access soft loans to buy tools, and it is encouraging skill-seekers not to let the opportunity slip off their hands.
Also, as part of this strategy, the commercial bank had also expanded its Café One community to Abuja in partnership with iCreate.
Zenith Bank Assures Budding Entrepreneurs Necessary Support to Succeed
By Aduragbemi Omiyale
Budding entrepreneurs in Nigeria have been assured by Zenith Bank Plc of all the necessary support they need to succeed and become corporate organisations capable of employing many people.
The Group Managing Director/CEO of Zenith Bank, Mr Ebenezer Onyeagwu, who gave this assurance last Wednesday, disclosed that this was why the bank organised the second Zenith Tech Fair themed Future Forward 2.0.
At the keenly contested hackathon session, the sum of N53 million was won by the participants, with Ecotutu, a cleantech company making cooling affordable and accessible for businesses, especially in the agricultural sector, emerging as the overall winner and taking home the grand prize of N20 million.
This is in addition to a mentorship programme with Seedstars, a company dedicated to implementing high-quality capacity-building programmes for entrepreneurs in emerging markets.
The first runner-up, Foris Labs, an app-based platform that allows students to conduct science experiments individually and in groups interactively via their mobile phones, won N15 million and a mentorship programme.
The second runner-up, Finva, a start-up which helps creditors offer credits at low risk, won N10 million as well as a mentorship programme.
Other finalists who took home N1 million each were Sanwo, Itinu -Ev, Eduvacity, Green Bii, Zion Robotics, Sono Care, Base, and I grow Africa.
Addressing guests at the Eko Convention Centre, Mr Onyeagwu announced that "all finalists would be enlisted into our incubation lab for grooming and mentorship.
"Our expectation is that we are going to scale and grow them just like the zenith brand. So, looking at what we have gone through, I can tell you that so much iron has been loaded on fire. The only thing left is to activate the digital talents, tech skills and entrepreneurship that would culminate in a new digital economy for Nigeria."
Described as a huge success by participants, the two-day Tech Fair featured presentations on the leading technological innovations that cut across different aspects of life, such as Artificial Intelligence, Computing, Machine Learning, Blockchain, Robotics, Big Data, FinTech, Augmented Reality, Data Analytics, 5G and Communication Technologies, with the keynote address, The Future of Banking: Digital Transformation Journey, delivered by Brett King, the renowned futurist, bestselling author, award-winning speaker, founder of Moven and Author of Bank 4.0.
The event also featured a goodwill message by the founder and Chairman of Zenith Bank, Mr Jim Ovia.
Other eminent IT practitioners from top global brands who also made presentations included Tarik Alatovic, Senior Partner, McKinsey; Juliet Ehimuan, West Africa Director, Google; Ola Williams, Country Manager, Microsoft Inc.; Andrew Uaboi, Vice President/Head, Visa West Africa; Mrs Rakiya Mohammed, Director of Information Technology, CBN; Chris Lu, Managing Director, Huawei Technologies Nigeria, and Dame Ms Adaora Umeoji, Deputy Managing Director of Zenith Bank Plc, amongst others.
Latest News on Business Post