Heritage Bank Promo Winners Get 40 Inch LED TVs
By Dipo Olowookere
Two winners have emerged in the December/January 2016 draw of Heritage Bank Plc on-going Happy Days Promo.
The two winners, Mrs Nwagbo Anastasia and Mr Segun Akinsola, both customers of Heritage Bank, were presented with the prizes over the weekend in Lagos by senior officials of the bank in the presence of an executive official of the Consumer Protection Agency (CPC) Mr Onifade Abideen.
The Heritage Bank team was led by the Group Head, Market Intelligence and Analytics, Mrs Cynthia Erigbouem; Group Head, Lagos Island, Tomi Oyesola; Experience Centre Manager, Allen Ikeja, Aderonke Famoroti; Aniekan Udiba, Experience Centre Manager, Heritage Bank and Team Lead, Market Strategy, Ifeanyi Mofunanya while Executive Officer of Consumer Protection Council (CPC) Mr. Onifade Abideen who is in charge of sales promotion witnessed the presentations.
Speaking after the presentation, one of the winners, Mr Akinsola, who has been banking with the bank for just about a year said, when he was told that he won a 40-inch LED flat screen TV, he was sceptical of the information, until his account officer came to his place of work to confirm it.
He said he would continue to put more money as deposit with bank, preferably in a fixed deposit account.
On her part, Mrs Anastasia, who has been banking with the bank for four years, said she was very happy to emerge as one of the lucky winners of the promo.
According to Mrs Anastasia, when she received a phone call that she won in the promo, she first doubted it until the manager of her experience centre confirmed it to her.
Mrs Anastasia, who trades in leather bags at Balogun Market, Lagos, lauded the bank for the promo and promised to spread the good news to her colleagues in the market.
Heritage Bank recently launched the six-month promo to reward customers who made N20,000 deposits into its account on a monthly basis with a 42–inch LED flat screen TV, a customer with N100,000 deposit at the end of April will be qualified to win N1 million while a customer with N500,000 deposit at the end of May will be qualified to win a brand new Toyota Corolla saloon car.
Two winners each emerged from across the six geo-political zones of the country: Abuja Group, Lagos Group, North Group, South East Group, South-South Group and South –West Group.
In the Abuja Group, where 64 customers qualified for the December draws, Uchenna Egbo and Adams Oshiomole Mohammed emerged as winners while in the January draws, with 58 qualifying customers, Awalite Adaobi Mmachukwu and Ekanem Idaye Grace Charles emerged as winners.
Obimma Osita Innocent and Nwagbo Nonye Anastasia won in the December draws in the Lagos Group while Asomugha Sunday Okwuchukwu win in the January 2017 draws.
In the North Group, Namadi Abba and Charity Ogbonna won in the December draws while Chinwendu Akamelu and Muyibat Abdulkarim were the winners in the group in January draws.
Okoro John Nwankwo and Emeghobo Ifeanyi Chigozie emerged winners of the 42-inch LED flat screen TV in the December edition while Obangwu Dorathy Ngozi and Ozoemenan Adagba James were the winners in the group for the month of January.
In South-South, Nmah Ihuoma Onwuka and Lynda Ijeoma Ukachike won in December 2016 draws while Akpan Bill Afia and Mary Effiong Thompson won in the January draws.
Makanjuola Segun Kayode and Aromolaran Mayowa Alade won the December 2016 draws while Christiana Adegbola and Babatunde Tayo Anthonia won the January 2017 draws.
In a keynote address, Mrs. Adaeze Udensi, an Executive Director of the Bank had said the six-month promo was flagged off in December 2016 to celebrate existing and potential customers of the Bank.
She said customers of the Bank were expected to make deposits into their accounts to qualify them for monthly raffle draws, adding that any customer who was able to keep N100,000 in its account at the end of April 2017 would qualify for a draw to win N1 million while at the end of the promo, (May 31) one lucky customer will win a brand new Toyota Corolla saloon car out of customers who have N500,000 and above as deposits.
The raffle draws were attended by other executive directors of the Bank namely: Messrs Niyi Adeseun (Abuja and North Bank) and Jude Monye (Enterprise Risk Management /Chief Risk Officer) as well as Mr Joshua Nggada of the Consumer Protection Agency (CPC) and Seyi Oreagba of Lagos Lottery Board among others.
KPMG Rates Stanbic IBTC Bank High in Retail, Corporate Banking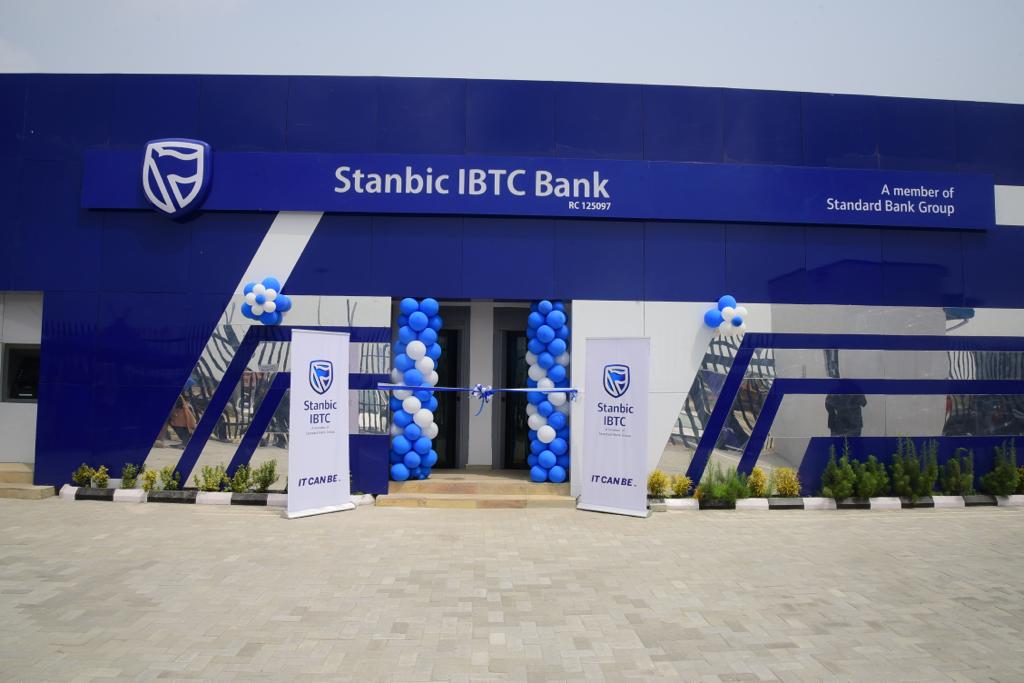 By Aduragbemi Omiyale
The KPMG 2022 Nigeria Banking Industry Customer Experience (CX) Survey has rated Stanbic IBTC Bank Plc high in retail and corporate banking in the country.
According to the report, Stanbic IBTC Bank occupied the first position with a 73.8 CX score out of 100 in the retail segment and sustained the leading position for the second consecutive year. Time and effort are the drivers of performance in the retail category, and the bank outperformed its peers in this regard.
Stanbic IBTC Bank, which held the top position in the retail and SME segments last year, performed well across key customer journey areas, particularly in resolution – a key area of improvement for the industry where customers rate banks on timeliness and quality of feedback on issues as well as the ability and ease of reporting issues and concerns.
Other customer journey areas where Stanbic IBTC Bank came tops included discovery – the ease of getting information about the bank coupled with professional and friendly staff, the ease of account opening with digital-only options and the speedy onboarding process.
Stanbic IBTC Bank is among the top three in transacting – accessibility, timeliness, and quality of service from physical and digital channels, and in account maintenance which covers requests for account statements, general enquiries and updates to account information with accuracy and completeness.
Moving up five places compared to last year's report, Stanbic IBTC Bank also emerged as this year's leader in the corporate segment with an 80.9 score out of 100 and received great feedback on the depth of their relationship managers' knowledge in key sectors.
The report also revealed that Stanbic IBTC successfully closed the gap in digital banking, emerging as a clear leader in the industry.
Speaking on these achievements, the chief executive of Stanbic IBTC Bank, Mr Wole Adeniyi, said, "The primary goal of the bank is to forge lasting relationships with its clients by offering timely, creative, and valuable solutions that benefit them. We are fully committed to serving Nigerians with top-notch financial services."
According to Mr Adeniyi, "2022 has been remarkable for us at Stanbic IBTC. Asides from these good standings revealed by the KPMG report, the globally renowned credit rating agency, Fitch Ratings, also reaffirmed the retention of our National Long-Term 'AAA (nga)' and National Short-Term 'F1+(nga)' ratings for the Stanbic IBTC Group and Stanbic IBTC Bank respectively."
"The National Long-Term 'AAA (nga)' and National Short-Term 'F1+(nga)' Ratings are the highest possible ratings on Fitch's rating scale, and we were rated high based on the potential support from our parent company, Standard Bank Group, based in South Africa. We play a vital role in Standard Bank Group's main operations in West Africa, and we retained our ratings based on our size and high operational integration," he added.
Fitch Ratings assessed Stanbic IBTC's strategic importance as the holding company for Standard Bank Group's leading corporate and investment banking (CIB) and wealth businesses in Nigeria and Stanbic IBTC Bank's position as an integral part of its Nigerian operations. It also considered Standard Bank Group's controlling ownership of Stanbic IBTC, high integration of risk management, operations and strategy, shared branding, and Stanbic IBTC's moderate contribution to Standard Bank Group's net income.
The 'AAA (nga)' is given to issuers with the lowest expectation of default risk when compared with their competitors. The National Short-Term Rating of 'F1+(nga)' is assigned to issuers that have a strong capacity for timely payment of financial commitments in comparison to other issuers in Nigeria.
Mr Adeniyi noted that the organisation's competitive position, good risk profile, healthy funding, and liquidity position also facilitated its upgrade in the Global Credit Ratings (GCR). The national scale long-term issuer rating assigned to Stanbic IBTC Bank PLC was upgraded to AAA(NG) from AA+(NG) and the national scale short-term issuer rating was A1+(NG), indicating a stable outlook and making Stanbic IBTC Bank the only financial institution in Nigeria with the rating.
He attributed the astounding performances of the organisation to the dedication and hard work of its workforce and the tenacity of the firm to continue to play vital roles in Nigeria's economic development, stating that Stanbic IBTC would not relent in developing sustainable solutions that ensure customers' delight and the company's success in the Nigerian financial services spectrum.
Customers to Win N50m at Draws of Union Bank Promos
By Modupe Gbadeyanka
Over N50 million is up for grabs at two draws of Union Bank of Nigeria Plc promos aimed at rewarding its loyal customers on Friday, January 27, 2023.
A statement from the lender disclosed that the event, to be live-streamed to allow participants to join virtually, will take place at the bank's head office in Marina, Lagos.
Union Bank is currently running two promos, the Save & Win Palli campaign in its second edition and the UnionKorrect campaign, a savings promo.
Save & Win Palli Promo and UnionKorrect promo are nationwide campaigns aimed at rewarding customers with cash prizes and other exciting gifts. The goal is to encourage and promote a healthy savings culture, and the promo is open to new and existing customers.
More than 300 lucky customers will be rewarded at the dual draws on Friday with cash prizes and other exciting consolation prizes.
In addition, one lucky customer will go home with the grand prize of N5 million from the Save and Win promo draw, while other customers will receive other cash prizes of N105,000 and N500,000 for the last set of the monthly and quarterly draw winners.
In addition, Union Bank will reward 227 customers with N18.5 million in the UnionKorrect campaign.
Winners will be randomly selected through electronically generated and transparent draws monitored by relevant regulatory bodies.
Prospective customers can download the UnionMobile app on their mobile phones to open an account or walk into any Union Bank branch.
To reactivate existing accounts, returning customers can call the 24-hour Contact Centre on 07007007000 or visit any of Union Bank's branches across the country.
Mixed Feelings as CBN Cash Swap Programme Kicks Off
By Modupe Gbadeyanka
The cash swap programme of the Central Bank of Nigeria (CBN) in rural and underserved areas of the country kicked off on Monday, January 23, 2023, amid mixed feelings.
On October 26, 2022, the Governor of the CBN, Mr Godwin Emefiele, announced that the bank would redesign the N200, N500, and N1,000 notes.
At a special press briefing in Abuja, he further disclosed that the new banknotes would be introduced into the system on December 15, 2022, while by January 31, 2023, all the old notes would have been mopped up from the circulation.
As announced, the new notes hit circulation last month, but instead of banks to stop giving customers the old notes, they are still issued with the currency despite having about a week to the deadline.
This raised doubts about the feasibility of the deadline, especially when Nigerians in the rural areas were yet to see the redesigned Naira denominations.
In order to reach these people, the central bank launched the cash swap policy, which allows Nigerians to exchange their old notes for new ones.
According to a circular jointly signed over the weekend by the Director of Banking Supervision at the CBN, Mr Haruna Mustafa, and the Director of Payments System Management, Mr Musa Jomoh, the initiative was to reach rural communities in Nigeria.
Under this programme, an agency will "exchange a maximum of N10,000 per person, as the amount above this would be treated as a cash-in deposit into wallets or bank accounts in line with the cashless policy, BVN, NIN or voter's card details of the customers should be captured as much as possible."
The CBN said to promote financial inclusion, "this service is also available to anybody without a bank account. Agents may, on request, instantly open a wallet or account, leveraging the CBN Tiered KYC Framework. This will ensure that this category of the populace is able to exchange or deposit their cash seamlessly without taking unnecessary risk or incurring undue cost."
For accountability, the agent would be required to "render weekly returns to their designated banks regarding the cash swap transactions. DMBs shall, in turn, render same to the CBN on a weekly basis."
Reports gathered by Business Post indicate that this policy was a mixed bag on its first day.
In the Igbo Egun area of Abeokuta, Ogun State, this newspaper was informed that residents of this community are still in the dark about the redesigned Naira notes, while a few of the Ilogbo community in Ado-Odo/Otta in Ogun State, and those in the Ishefun, Olayemi, Igesu, Olorunisola areas of Ayobo, Lagos, have seen the new notes and are optimistic of having their cash swapped for the new notes before the deadline.
Latest News on Business Post