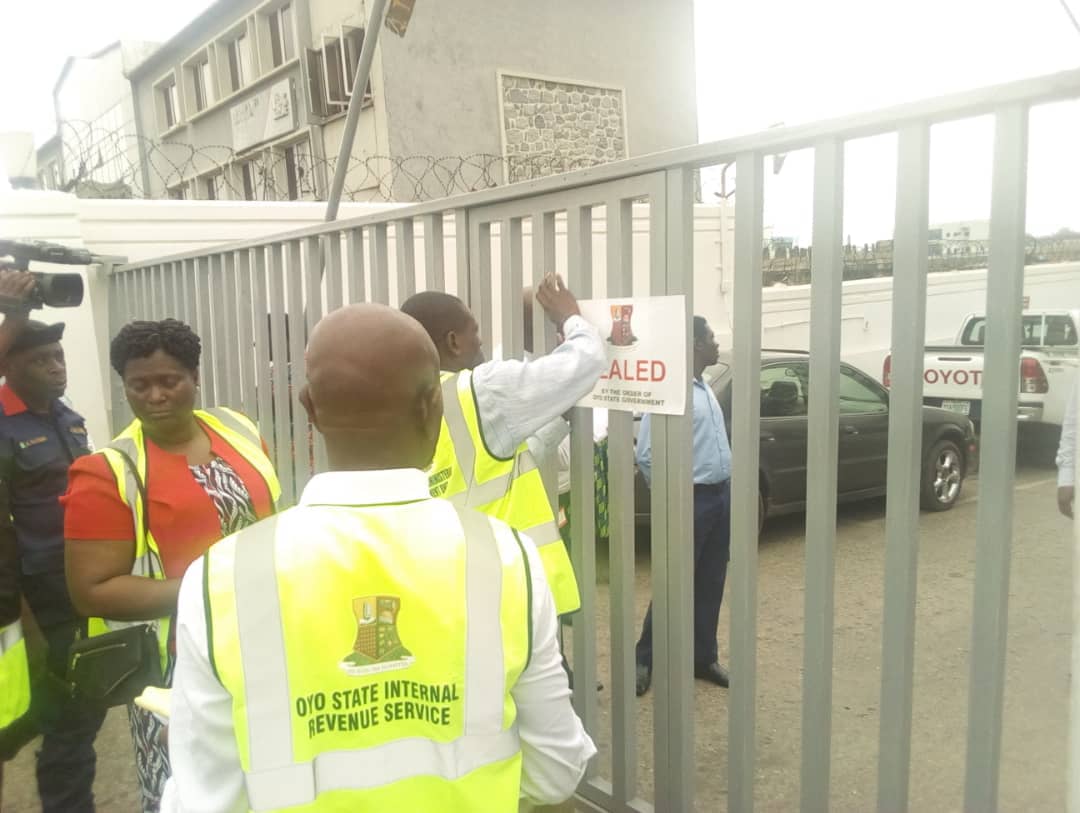 By Dipo Olowookere
Some branches of commercials banks in Ibadan were on Monday sealed by officials of the Oyo State government.
This was because the affected financial institutions allegedly failed to pay some levies into the coffers of the state government despite series of warnings to them.
When they least expected, officials of the Oyo State Interministerial Enforcement Unit stormed premises of Diamond Bank, Stanbic IBTC Bank, Skye Bank, FCMB and Heritage Bank around Dugbe, Mokola, Idi-Ape, Agodi Gate, Secretariat Road, Challenge, Jericho, Bodija, UI among others.
This left business activities at the bank branches disrupted as the task force officials seal the premises.
According to The Nation, as early as 9am, no fewer than 20 different branches of the various bank had been shut with sealed notices placed at the property.
Immediately, the officials of the affected banks were seen running around to tidy up their papers to save losing the whole day's business.
While some succeeded in making the necessary payment as fast as they could to resume operations, some others were seen still trying to reach out to superior authority for further directive.
According to the report, the affected banks defaulted in the payment of the annual environmental development levy, which is for the impact of the various business and corporate entities on the environment across the state.
The affected banks were said to have been found guilt for various duration ranging from 2015 to 2018, despite series of official communications and reminders to the management at different times.
It would be recalled that the Oyo State Board of Internal Revenue (OYBIR), the coordinating agency for collecting all government revenues had last month issued a 14 day ultimate to all tax payers in the state to pay up all outstanding dues and levies to the coffers of government.
The Chairman of the Board, Mr Bicci Alli had warned in the paid advertorial that the agency would embark on massive enforcement to seal up all erring corporate organisations on the expiration of the ultimatum.
But a source hinted that about two weeks after the expiration of the 14 days, the OYBIR had also written series of reminder letters to the affected banks, to which no response was gotten until the enforcement.
Many people who were within the affected bank premises when the enforcement team sealed up were seen with shock on the faces and expressing disappointment that cooperate organizations like banks could default in tax payment.