UBA Fixes Sept 18 for Payment of 20 kobo Interim Dividend
By Dipo Olowookere
The board of United Bank for Africa (UBA) has said it would pay an interim dividend of 20 kobo for every ordinary share of 50 kobo each of the company held by its shareholder.
This cash reward is for the half year ended June 30, 2019, Business Post reports.
The payment, which is subject to applicable withholding tax, would be paid electronically on Wednesday, September 18, 2019, to shareholders whose names appear on the register of members as at the close of business on September 12, 2019.
The money would also be paid to the company's investors who have completed the e-dividend registration and mandated the registrar, Africa Prudential Plc, to pay their dividends directly into their bank accounts.
In a disclosure to the Nigerian Stock Exchange (NSE) on Friday, the tier-one lender said its register of members would be closed on Friday, September 13, 2019 to enable the registrars prepare for the payment of interim dividend.
"Shareholders who are yet to complete the e-dividend registration are advised to download the Registrar's E-Dividend  Mandate  Form,  which  is  available  at http://www.africaprudential.com, complete and submit to the Registrar at the address below, any UBA Branch or their respective banks.
"Shareholders are also advised to update their records with the Registrar as may be required. Shareholder data form is also available on the Registrar's website.
"Duly completed forms should be returned to the Registrar; Africa Prudential Plc, at 220B Ikorodu Road, Palmgrove Bus-Stop, Lagos or any UBA Branch.
"Alternatively, scanned completed forms can be sent to info@africaprudential.com or investorrelations@ubagroup.com.
"Shareholders with dividend warrants and share certificates that have remained unclaimed, or are yet to be presented for payment or returned for validation are advised to complete the e-dividend registration or contact the Registrar," the notice said.
Stanbic IBTC Anchors Sustainability Strategy on Four Pillars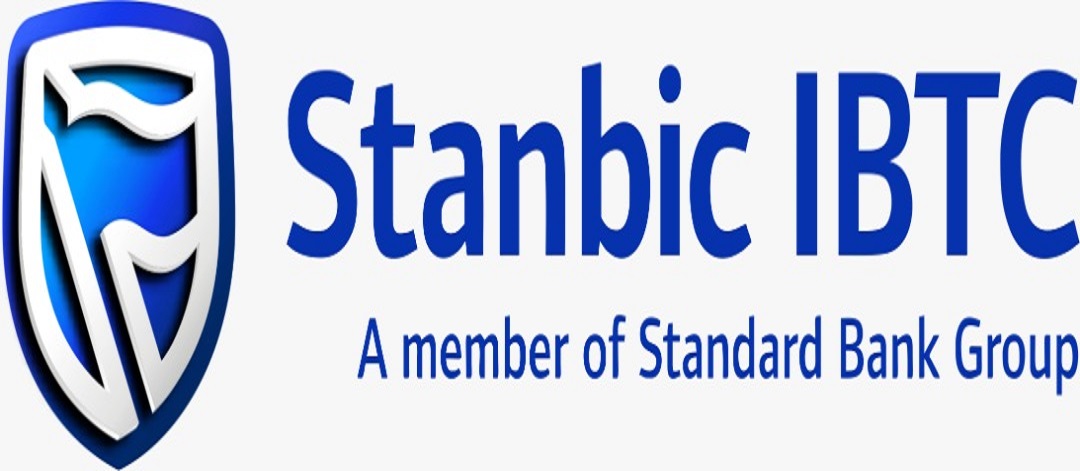 **Cuts Carbon Emission by 1.67 tonnes
By Dipo Olowookere

In order to improve societies for humanity and advance sustainable development, the United Nations (UN) came up with some Sustainability Development Goals (SDGs), which countries, organisations and others were advised to key into.
As a responsible corporate firm, Stanbic IBTC Holdings Plc, a member of Standard Bank Group, came up with a strategy to achieve these goals.
The company designed its sustainability strategy and anchored it on four pillars; building environmental resilience, expanding business model and innovation, enhancing social relationships, and strengthening leadership for sustainability governance.
These sustainability pillars are aligned with the Nigerian Sustainable Banking Principles.
Recently, Stanbic IBTC released its 2020 Sustainability Report and it highlighted its environmental, social and governance (ESG) practices, which cut across corporate social investments (CSI), environmental and social risk management practices, and performance.
The report also highlighted the progress Stanbic IBTC had made across the four sustainability pillars, and seven Social, Environmental and Economic (SEE) impact areas wherein the group had confidence in achieving significant outcomes.
It further reflected that Stanbic IBTC made significant carbon emission savings, and reduced its total carbon emission by 1.67 tonnes in 2020. Hybrid solar systems were deployed in its branches and off-site ATMs.
Additionally, a 30 per cent reduction in paper use was achieved in its Go-Green branches initiative that contributed indirectly to a decrease in tree-felling for paper production.
Stanbic IBTC conducted waste audit exercises across three head office campuses to quantify the amount and types of waste generated at the locations for better waste management insight.
As part of the group's sustainability governance in the year 2020, Environmental and Social Risk awareness training was conducted to educate its staff on the importance of Environmental and Social Risk management.
In the year, Stanbic IBTC and its parent brand, the Standard Bank Group, partnered with UN Women to promote women's economic empowerment through climate-resilient agribusiness.
Over 3,000 entrepreneurs were trained in business sustainability. New School Money, an initiative on financial literacy for young people, was also shown to have impacted the lives of young people.
It was revealed in the report that a total of N109.4 million was donated under its employee volunteerism scheme and was channelled towards its three CSI pillars: health, economic empowerment, and education to help achieve qualitative healthcare and education, and sustainable economic empowerment.
Other initiatives aligned to the SDGs included a partnership with GB Foods to boost productivity and the donation of foodstuff to charitable organisations in the fight against hunger.
Stanbic IBTC also helped provide medical facilities and supplies to hospitals and community health centres in terms of health and wellness.
At the same time, efforts in curtailing the coronavirus pandemic cost the organisation over N345 million in funds and relief material donations.
Other initiatives included the donation of educational facilities to different schools and learning centres and the award of scholarships to exceptional students across the country.
In support of gender equality, Stanbic IBTC established lactoriums in its offices to help working mothers' transition back to work after maternity leave, and thus enhanced the inclusion of females in the workplace.
Furthermore, at the outset of the COVID-19 outbreak and lockdown, Stanbic IBTC put a debt relief programme in place to alleviate the potential cash flow constraints its clients faced due to the pandemic. Forbearances were granted to clients on a total exposure of N78 billion as at 31 December 2020.
"The Sustainability Report has highlighted our shared values in 2020 and is expected to help our key stakeholders better appreciate our long-term priorities to ensure financial, social, and environmental sustainability in our business operations.
"Our sustainability ambition is to become the leading financial institution driving sustainable finance solutions in Nigeria, and we have defined a sustainability strategy that is anchored on four pillars to achieve this," the CEO of Stanbic IBTC, Mr Demola Sogunle, stated.
"As the leading end-to-end financial services organisation, we have a duty to set the standard in the way we address environmental, social and governance issues.
"We are proud to report that we are making significant progress, and we will continue to build on our 2020 milestones," he added.
FIGURES DON'T LIE! Despite Denial, Stats Show Unity Bank is Troubled, Auditors Raise Red Flag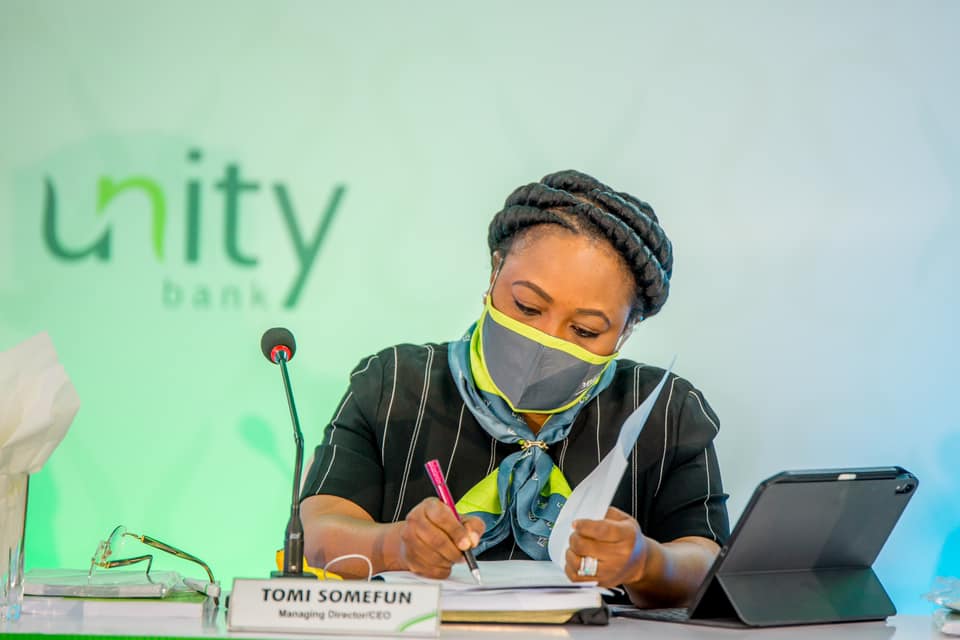 By Dipo Olowookere
Despite a denial syndicated in the media by Unity Bank Plc over the weekend, financial statements of the bank in the last five years obtained from the Nigerian Exchange (NGX) Limited indicate that the lender is indeed troubled and distressed.
In the syndicated press release, the Central Bank of Nigeria (CBN) was quoted to have said the banking industry, not Unity Bank, was in good health as the "Capital Adequacy Ratio (CAR) and the Liquidity Ratio (LR) both remained above their prudential limits at 15.8 per cent and 38.9 per cent, respectively.
"The Non-Performing Loans (NPLs) at 5.89 per cent in April 2021, showed progressive improvement compared with 6.6 per cent in April 2020."
"Please forget the denial, it's just a facing strategy. Did the Central Bank of Nigeria (CBN) ever own up to the fact that First Bank of Nigeria was troubled not until recently when the CBN Governor, [Mr] Godwin Emefiele took drastic actions to save the institution?
"What about the defunct Skye Bank (now Polaris Bank) and many other banks in Nigeria that have been nationalized? You should know that the CBN will want to deny it to prevent panic amongst shareholders and depositors until it is set to take action," an inside source told our reporter.
A close look at the books of Unity Bank shows that the lender is in dire need of urgent capitalisation if it must eventually survive the CBN hammer.
Even the bank's external auditor, KPMG Professional Services, raised a red flag in 2019 and 2020 on the existence of Unity Bank, when it pointed out that the bank's total liabilities exceeded its total assets by N279 billion and that the lender did not meet the required minimum CAR of 10 per cent for a national bank.
KPMG had warned that "a material uncertainty exists that may cast significant doubt about the bank's ability to continue as a going concern."
However, the board has expressed strong confidence that it would salvage the situation and get the financial institution back on its feet.
In the 2020 reporting year, the auditor again warned about this persistent matter and in the results, it was noted that in the year, Unity Bank only managed a pre-tax of N2.1 billion, lower than N3.4 billion in 2019 and its total liabilities exceeded its total assets by N275 billion versus N279 billion in 2019, with CAR of -101.29 per cent as against -200.8 per cent in 2019).
"The bank, therefore, did not meet the minimum capital requirement and the CAR as stipulated by the CBN for a bank with a national banking license which is 10 per cent.
"The directors acknowledge that uncertainty remains over the timing of the recapitalisation of the bank.
"However, the directors [have] reached an advanced stage with both local and multinational investors in the fund mobilisation for the bank," the results said.
In the last five years, the performance trend of the financial institution has hardly tickled investors and there have been patches of weaknesses here and there, indicating that all is not well with the bank.
For instance, its profit before tax slumped 82 per cent from N13.639 billion in 2014 to N2.342 billion in 2015. It also dropped by 22 per cent from N2.342 billion in 2015 to N1.816 billion in 2016.
In 2017, the bank had a loss before tax of N14.243 billion compared with the pre-tax profit of N1.816 billion in 2016 and in 2018, in its restated results, the bank recorded a loss before tax of N7.554 billion, but in 2019, it was a pre-tax profit of N3.642 billion and in 2020, it slumped to N2.223 billion.
SEE BELOW BRIEF ANALYSIS OF UNITY BANK'S PERFORMANCES IN THE LAST FIVE YEARS
FY 2016 PERFORMANCE
The 2016 financial year was a tough one for Unity Bank Plc. While it was able to earn more from its core banking operations and its non-core banking activities, there was a decline in the bank's ability to retain such turnover made to the profit level. Thus, profit declined significantly over the preceding years. As a direct consequence of this, the bank's profitability ratios (such as profit margin, return on assets, and return on equity) recorded significant declines.
The bank also faced difficulties in the level of its bad loans, as well as its capital adequacy level remained negative.
Unity Bank recorded a higher turnover for its 2016 financial year than it did in its preceding year. For the review year, the bank recorded a 6.6 per cent growth in its turnover (inclusive of interest and discount income, and income from non-banking operations). Such turnover grew to N84 billion from N78.8 billion in the preceding year. This 6.6 per cent increase in gross earnings is as compared to a growth rate of 2.3 per cent in 2015.
However, 2016's pre-tax profit followed a different path from that of gross earnings, standing at N1.82 billion, down from N2.34 billion in the erstwhile year, and translating into a 22.2 per cent decline rate. After-tax profit followed the same pattern as the pre-tax profit did, declining by as much as 53.5 per cent over the preceding year's level to N2.18 billion.
Because of lower profits, the bank expectedly recorded worse results in respect to profitability in 2016. The profit margin, for example, dipped to 2.2 per cent in 2016 from 3.0 per cent in December 2015. What this means is that for every N100 earned by the bank in the course of the year, only N2.20 made it to the profit position. This is as compared to N3.00 for the year preceding 2016.
Return on assets (ROA) also recorded a regression. ROA slid to a mere 0.4 per cent in 2016 from 0.4 per cent in December 2015. Analysis shows that every N100 worth of Unity Bank's assets contributed only 40 kobo to its pre-tax profit in 2016, down from 50 kobo in 2015.
For the 2016 financial year, Unity Bank deployed equity valued at N83.1 billion and for every N100 equity deployed, the bank made a low after-tax profit of N2.60, down from N5.70 in the preceding year.
In 2016, the bank decreased its workforce to 1,954 employees, 172 persons short of the 2,126 in its employ in 2015.
For the 2016 financial year, Unity Bank did not do too well when it comes to capital adequacy, recording a negative risk-weighted capital adequacy level in 2016, as it did in 2015.
As was the case with capital adequacy, the bank did not also do well in 2016 as regards loans classified as non-performing. The proportion of classified loans to the entire loan stock was a high and therefore bad 56 per cent.
The bank gave a lower dividend for its 2016 financial year than it did in 2015. Thus, the retention ratio was 0.67 times, lower than 0.82 times in the preceding year.
Asset turnover for the year was 0.17 times, just a tad slower than the 0.18 times recorded in the prior year, while assets/equity was 5.9 times, as compared to 5.4 times in 2015.
Analysis shows that sustainable growth for 2016 was 1.5 per cent, higher than the 2.3 per cent recorded in 2015. This means that using only the revenue it generates, this bank had the capacity to grow by 1.5 per cent, lower than 2.3 per cent in 2015.
FY 2017 PERFORMANCE
In the 2017 fiscal year, Unity Bank recorded a significant milestone and this was the eventual sale of its toxic loans, comprising commercial, insider-related and intervention loans, to an institutional assets management company, making it have zero NPLs, meaning it was starting afresh.
In its financial statements for the year, the lender explained that this was part of its recapitalisation strategies.
"Consequently, upon payment of the initial consideration by the debt buyer, loans and advances with a gross amount of N436 billion have been derecognized, along with the associated IFRS impairment and Regulatory Risk Reserves," a part of the results analysed by Business Post showed.
However, this did not stop Unity Bank from recording a loss after profit of N14.9 billion compared with the profit after tax of N2.2 billion in the preceding year.
In the year, according to the results, it was indicated that Unity Bank Plc was initially granted forbearance by the CBN for compliance with the cash reserve ratio when it was set at 33 per cent and the bank had until 2017 built up the reserve as the CBN debited the bank N500 million weekly.
Upon the request of Unity Bank in 2017, the apex bank granted additional forbearance on the cash reserve to provide additional working capital and resolve liquidity bottlenecks and the revised cash reserve ratio was set at 22.5 per cent.
FY 2018 PERFORMANCE
Unity Bank recorded a loss of N7.55 billion in FYE 2018.
In its Q2 2018 results, gross earnings nosedived by 58.72 per cent YoY from N42.35 billion in Q2 2017 to N17.49 billion consequent upon 68.34 per cent decline in net interest income to N7.74 billion in Q2'18 from N24.45 billion in Q2'17.
OPEX dropped from N12.19 billion in Q2 2017 to N10.36 billion in Q2 2018 with a 14.86 per cent decline recorded after growing at a consistent interval to end FY2017 at N24.46 billion. This, however, offsets the margin of the decline in OPEX over net interest income as it averaged at 52.67 per cent in FY2017 compared to 134 per cent recorded in Q2 2018.
In half-year 2018, pre-tax and post-tax profits declined by 77.0 per cent and -76.48 per cent YoY to N535.65 million and N492.80 million, respectively in Q2 2018 compared to the Q2 2017 figures.
Fixed assets went down by 4.73 per cent YoY from N21.19 billion in Q2'17 from N22.23 billion in Q2 2017 while total assets also fell significantly by 59.77 per cent YoY in Q2 2018 and -68.2 per cent in 2017 to N196.75 billion.
However, the Q2 2018 total assets figure represents 25.71 per cent growth over FY 2017 figure. This uptrend is in tandem with the PAT trajectory which turned positive.
Loans and advances to customers increased to N12.78 billion in Q2'18 from N8.96 billion in Q4'17 representing 43 per cent growth.
However, the Q2 2018 loan and advances figure shrank by 95.78 per cent from N302.62 billion in Q2'17 to N12.78 billion in Q2 2018 which, therefore, exacted a toll on the total assets and net assets as indicated by a plummeted ratio of loans to customers to total assets from a high of 64.0 per cent in Q3'17 to 5.7 per cent in Q4'17 and 6.5 per cent  Q2'18 respectively and the net assets which ended in the negative of N242.19 billion in 2017 and -N240.08 billion in Q2 2018.
On the back of the decline in after-tax loss recorded in Q4 2017, return on asset declined from 0.51 per cent in Q3'17 to -9.5 per cent in Q4'17 but quickly turned upward on the V curve in Q2 2018 to 0.25 per cent.
The improvement in the bank's performance in Q2 2018 compared to FY 2017 is at some cost as reflected in the sharp increase in its cost-income ratio from 44.90 per cent in FY 2017 to 93.19 per cent in Q2 2018.
Unity Bank's share price declined consistently from its 2018 peak of N1.92 attained on February 12, 2018, to halt the bullish run. However, its YTD performance with 70 per cent growth recorded at 90 kobo attained on Tuesday, July 24, 2018, reflects that the stock currently trades low.
FY 2019 PERFORMANCE
Unity Bank's financial results for 2019 jumped up a little from a loss of N7.69 billion in 2018 to a profit of N3.38 billion, representing a 148.21 per cent growth.
Regardless of the bank's strong pre-tax profit growth between 2018 and 2019, a few areas of the bank's operations create a looming shadow of what may appear to be a reversal of the bank's fortunes.
The fact that the bank has managed to survive three consecutive years of operations with negative shareholders fund above N250 billion annually between 2017 and 2019 raised concerns over the bank's operational stability, or at least should.
Unity Bank's LDR ratio rose by 40.37 per cent in 2019 from 17.8 per cent in 2018, however, this was 25 per cent below the CBN's statutory ratio of 65 per cent advised to banks in Q4 2019.
A perusal of the bank's financials for 2019 revealed that the growth in its loans to customers was not matched by a corresponding growth in deposits received from customers.
The bank's loans to customers increased by 135.93 per cent while its deposit from customers increased by 40.63 per cent. The disparity between the growth of loans to customers and deposits from customers raises the question of how Unity Bank was able to increase lending against slow growth in deposits.
The bank's books suggested that lending in 2019 was financed increasingly by a rise in borrowings. The bank's borrowings increased by 45.23 per cent between 2018 and 2019, as borrowings rose from N126.21 billion in 2018 to N183.3 billion in 2019.
The bank's asset quality improved noticeably in 2019 as it sold off the bulk of its toxic assets and cleared up its loan book to allow for a fresh start. Its impairment losses on financial assets declined to N1.92 billion in FYE 2019 from N5.96 billion in FYE 2018.
Though loans to customers rose from N44.1 billion in 2018 to N104.02 billion in 2019, the loan growth was largely intervention loans for Anchors Borrowers' Programmes (ABP) of the CBN, as its deposits from customers did not record any significant increase between 2018 and 2019.
FY 2020 PERFORMANCE
Unity Bank 2020 financial results showed that the lender has not recovered as its profit plunged again over credit and revaluation loss.
The lender's profit dropped 38 per cent to N2.08 billion compared to N3.38 billion a year before.
The report of the independent auditors for Unity Bank, KPMG Professional Services, showed that as at December 31, 2020, the total liabilities of the bank "exceeded its total assets by N275 billion and the bank did not meet the required minimum Capital Adequacy Ratio (CAR) of 10 per cent and the minimum capital requirement of N10 billion for a national bank as required by the Central Bank of Nigeria (CBN)."
From the analysis of the results, the total assets of the lender stood at N492.0 billion in the period under review, while the total assets stood at N767.4 billion, with the CAR at -101.29 per cent. These indicators are worrying.
Earnings per share fell 38 per cent to 17.8 kobo per share from 28.9 kobo per share the previous year.
Personnel expenses rose by 10 per cent to N10.4 billion compared to N9.4 billion in 2019, while depreciation of property and equipment dropped to N1.69 billion compared to N1.7 billion in the same period of 2019.
The bank paid N22.1 billion income tax in 2020, a 38 per cent decline compared to N 36.2 billion paid the year before.
There are concerns among shareholders of the lender that there may not be time to achieve these lofty goals as last year, the bank had to receive a N50 billion short term loan from the CBN to meet working capital requirements and this credit facility is expected to mature on September 19, 2021. This loan and others have increased the debt of the financial institution.
A critical look at the financial statements in 2020 showed that Unity Bank is no longer enjoying the patronage of individual and government depositors, except for corporate depositors.
Last year, the deposits from the government reduced to N27.1 billion from N30.9 billion, while the deposits from individuals dropped to N99.1 billion from N123.0 billion.
Only deposits from corporate organisations rose to N230.4 billion from N103.8 billion and this contributed to the increase in the customer deposits of Unity Bank in the year to N356.6 billion from N257.7 billion in 2019.
In the year, Unity Bank said its profit before tax dropped to N2.2 billion from N3.6 billion, while the profit after tax went down to N2.1 billion from N3.4 billion.
Q1 – 2021 PERFORMANCE
Unity Bank's financial statement for Q1 2021 showed that the lender's total liabilities of N801.98 billion exceeded its total assets of N521.48 billion by 35 per cent, due to protracted loss history.
In the first three months of this year, it had a retained loss of N371.95 billion, which dragged total equity further down by 2 per cent to a loss of N280.50 billion.
A retained loss is a loss incurred by a business, which is recorded within the retained earnings account in the equity section of its balance sheet.
In the last five years, Unity Bank has been putting up a seesaw performance, recording two consecutive losses in 2017 and 2018, before recovering in 2019 with N28.94 billion post-tax profit.
However, its profit dipped by 38.33 per cent to N2.09 billion in 2020 from N3.38 million it posted in the previous year.
More so, customers were also wary of the safety of their money in Unity Bank, causing its deposits to decline in the first three months of 2021.
The bank customers' deposits dipped by 2 per cent to N348.34 billion in Q1 2021 instead of N356.62 billion garnered in the prior period last year.
Even fellow lenders cut their deposits in Unity Bank by one per cent to N105.37 billion compared with N106.70 billion in Q1 2020.
Also worrisome was that most of the income lines of the second-tier lender went down during the period under review.
The total revenue dipped by 3 per cent to N11.45 billion, undermined by fee and commission income which decreased by 14 per cent to N1.60 billion (Q1 2020: N1.86 billion) and a net trading loss of N53.48 million recorded as of March instead of N327.87 million it made in the period last year.
However, interest income grew marginally by one per cent to N9.67 billion from N9.61 billion in Q1 2020.
Unity Bank performance in the first three months of this year would have been woeful if not for the other operating income, which was up by a whopping 317 per cent to N233.96 million, lifted specifically by transaction income that rose by 175 per cent during the period.
Its performance was also bolstered by the N65.89 million loan recovery it made against the N429.67 million provision it had to set aside for toxic assets in Q1 2020.
This was the impetus that propelled the lender's pre-tax profit to rise by 43 per cent to N784.28 million and post-tax profit to uptick by 43 per cent to N721.54 million.
Meanwhile, it was able to cut interest expenses by 11 per cent to N4.86 billion compared with N4.86 billion the bank expended for the same purpose in Q1 2020, but personnel cost rose marginally by one per cent to N2.68 billion.
Unity Bank commenced operations in January 2006 following the merger of nine banks with competencies in investment, corporate and retail banking.
The lender is led by Ms Tomi Sofefun and chaired by Mr Aminu Babangida, with Oluwafunsho Obasanjo, Sam Okagbue, Hafiz Mohammed Bashir, Yabawa Lawan Wabi, Temisan Tuedor, Ebenezer Kolawole and Usman Abdulqadir on the board.
CBN May Nationalise Ailing Unity Bank as Talks With Investors Fail
By Dipo Olowookere
The Central Bank of Nigeria (CBN) may nationalise ailing Unity Bank Plc over its troubled and unhealthy state, in its bid to save depositors and shareholders' funds.
This follows the apex bank's target examination which shows that the lender is in grave financial condition with its capital adequacy ratio (CAR) and non-performing loans ratio (NPL) which breach its acceptable prudential standards.
This medium further gathered that the CBN has been hesitant to continue to inject funds into Unity Bank and, therefore, gave the bank a timeline to strengthen its financial base or face dire consequences.
The development, it was learnt, has been causing apprehension among depositors who have been rushing to draw up their money from the bank.
The CBN had directed Unity Bank in 2017 to get investors to shore up its capital base but the lender has not been able to find suitable investors to save the financial institution from the sledgehammer of the apex bank.
Sources further disclosed that the bank in 2020, after many failed attempts, including the botched Milost $1 billion deal of 2018, allegedly secured a deal with an investor and funds were transferred to the CBN but the apex bank's checks and due diligence on the investors did not clear them for the deal as the whole deal has been placed on hold.
The CBN, however, may have concluded plans to withdraw the lender's license just as it did to the defunct Skye Bank Plc.
Unity Bank has been struggling with retained negative earnings for more than six years. Other lenders, which were having similar challenges, have been able to turn the corner, but Unity Bank has continued to wallow in this quagmire.
Recall there were rumours recently that Mrs Tomi Somefun, Managing Director/CEO of the bank, was on the verge of being sacked by the board because of poor performance as she has not been able to get the company out of the doldrums, but the management quickly dismissed the reports.
With the new developments, sources disclosed that the CBN will intervene in the ailing Unity Bank Plc and the operating licence of the bank may be revoked to give way to a bridge bank to be created in consultation with the Nigerian Deposit Insurance Corporation (NDIC) to assume the ownership of the assets, all deposit liabilities and some other liabilities of the distressed lender.
The CBN will, therefore, reconstitute the board of directors of the bank and shore up its capital base.
We reached out to Unity Bank for a reaction to this issue but as at press time, the lender did not comment on the matter raised in our enquiry.
At the stock market on Thursday, Unity Bank shares closed flat at 57 kobo per unit, with the volume of trade rising by 225,556 per cent to 109,628 units from 33,674 units of the previous session.
Latest News on Business Post