Uber Nigeria Partners First Bank On Used-Vehicle Loans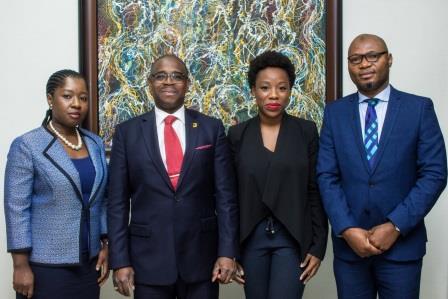 By Modupe Gbadeyanka
Uber Nigeria has announced that it was now making low-interest, used-vehicle loans available to its top-rated driver-partners.
The pioneering move is the result of partnerships entered into between Uber Nigeria and First Bank of Nigeria Limited, as well as smaller financiers.
This means that, for the first time, Uber driver-partners in Nigeria will be able to apply for finance for used vehicles based on their driver performance records.
According to the General Manager for Uber in Nigeria, Ms Ebi Atawodi, the used vehicle finance offering is the first of its kind to be made available to Uber driver-partners in the country and this is in keeping with Uber's stated commitment to constantly develop forward-thinking partnerships that benefit its driver-partners.
"We are absolutely committed to making it as easy as possible for our driver-partners to start and maintain their own successful and profitable businesses," Atawodi explains, "and these used vehicle finance options make it possible for those with a demonstrable performance commitment to build sustainable businesses without incurring the high costs often associated with new vehicle purchases."
The move is set to create significant business growth opportunities for driver-partners by allowing them to access used-car finance from First Bank of Nigeria Limited at a very competitive interest rate of just 20% per annum over a 24 month repayment period. Alternative offers for used-vehicle finance on the Uber Vehicle Solutions Programme will attract 22% per annum, with a maximum repayment term of 36 months.
According to MD/CEO, First Bank of Nigeria Limited and Subsidiaries, Adesola Adeduntan, the Bank is committed to supporting entrepreneurs to build sustainable businesses which are pivotal in stimulating economic development. "It remains our business to foster the growth and development of small and medium scale businesses in Nigeria as the No1 SME Bank. This is the reason why we have partnered with Uber by empowering operators to own vehicles and build profitable businesses," he further stated.
In order to qualify for this preferential used-vehicle finance from First Bank of Nigeria Limited, Uber driver-partners will need to be able to demonstrate an average driver performance rating of higher than 4.5 and have earned more than N2,400,000 in the preceding 6 months.
Ms Atawodi was quick to emphasise that Uber's commitment to helping its driver-partners build their businesses extends far beyond just making innovative vehicle finance available to them. Rather, these offerings come on the back of Uber's existing range of innovative business-building solutions, including Uber Marketplace, which is a one-stop national vehicle access solution designed to connect driver-partners and investors to suitable vehicles at discounted rates. Uber Nigeria also recently launched its well-received UberMomentum Partner Rewards Programme that delivers localised discounts, preferential deals and rewards exclusively to driver-partners and small business owners.
"The growing suite of vehicle finance, business and lifestyle solutions that Uber Nigeria is making available to driver-partners and other business investors reaffirms our commitment to supporting and partnering with them to ensure their success," Ms Atawodi explains, "not just in terms of helping them to increase their income and profits, but more importantly by affording them every opportunity to truly transform their lives by establishing and expanding viable and sustainable businesses of their own."
"By linking these solutions to the performance of our driver-partners, we further increase their chances of long-term business success, while at the same time building a network of transport professionals that Nigerians know they can trust to get them to their destinations safely and comfortably," she concludes.
Sterling Bank Gets CBN Approval for Non-Interest Banking Business
By Dipo Olowookere
An approval-in-principle has been granted by the Central Bank of Nigeria (CBN) to Sterling Bank Plc for its non-interest banking business known as Alternative Bank Limited.
Sterling Bank, a mid-level lender in Nigeria, intends to operate as a holding company and the apex bank has also already given the financial institution an approval-in-principle for this.
In a statement dated Wednesday, December 8, 2021, and signed by the company secretary, Temitayo Adegoke, it was stated that the new company will operate as a standalone bank.
The lender explained that the non-interest bank will mainly focus on social impact, corporate responsibility, and ensure religious compliance in all its dealings.
In addition, it will focus on building partnerships that connect individuals and businesses leveraging technology to create business optimisation while solving an individual's daily financial needs.
When fully operational, it would join the likes of Jaiz Bank Plc, the first non-interest financial institution in the country.
"We are pleased to inform the Nigerian Exchange Limited (NGX), shareholders, and the general public that Sterling Bank Plc has obtained the Central Bank of Nigeria's (CBN) Approval-in-Principle for a standalone license for its non-interest banking business – the proposed Alternative Bank Limited.
"The approval is sequel to the approval-in-principle granted to the Bank for the restructuring as a holding company (HoldCo) and subject to the fulfilment of conditions as stipulated by the CBN.
"The Alternative Bank Limited will focus on building partnerships that connect individuals and businesses leveraging technology to create business optimisation while solving an individual's daily financial needs.
"The overall business will focus on social impact, corporate responsibility, and ensure religious compliance in all its dealings," the disclosure stated.
Heritage Bank Partners CBN, LCFE to Disburse N41bn to Wheat Farmers
By Modupe Gbadeyanka
Farmers in 14 states of the federation will soon receive N41 billion to grow wheat on about 111,025 hectares of land as part of efforts to expand the production of the crop in the country.
The money will be disbursed to the wheat farmers by Heritage Bank Plc in partnership with the Central Bank of Nigeria (CBN).
To make the programme seamless, Heritage Bank has commenced the registration of the farmers and this is done through the Lagos Commodities and Futures Exchange (LCFE).
The MD/CEO of Heritage Bank, Mr Ifie Sekibo, while addressing newsmen, expressed optimism that the scheme would help reduce the nation's food import bill by increasing wheat production, create market linkages between smallholders farmers and anchors/processors, create an ecosystem that drives value chain financing, improve access to credit by the smallholder farmers by developing credit history through the initiative and many more.
Mr Sekibo who was represented by the Divisional Head, Agribusiness, Natural Resources & Project Development, Heritage Bank, Olugbenga Awe, stated that the partnership was basically to consummate Wheat Seed Multiplication Project under the CBN's Brown Revolution Initiative, in order to ensure due diligence on loan administration, monitoring and recovery, which would bring about increase in the domestic production of wheat and close the wide supply gap in the Nigerian agricultural space.
"What we want to achieve is to end importation of seeds and make Nigeria self-sufficient in wheat production.
"We are working with about 30 firms focusing only on seed production and also working with CBN to make sure we register all farmers. We believe working with LCFE will move Nigerian farmers from an informal approach to a structured approach", he said.
He further explained that whilst riding on the success of the wet season, "we decided to focus on the dry season which comes naturally to our people. As a bank, we are working on two things; one is to ensure the continuous multiplication of seeds and the other is to focus on the grains.
Former Executive Director of Lake Chad Research Institute (LCRI), Dr Oluwasina Olabanji commended Heritage Bank for its efforts in reducing wheat importation and saving the country from the $2 billion spent annually on the importation of wheat, calling on other banks to emulate the lender in efforts to achieving wheat sufficiency in the country.
"If this money is saved it could be used for infrastructural development. It is true that there are a lot of linkages not only on financial institutions but also in the value chain, these linkages have been moulded together with the intervention of the CBN and Heritage Bank," he said.
He explained that the CBN and Heritage Bank's intervention has become critical due to the high demand for wheat in Nigeria and the inability to meet that demand.
Speaking also, the Managing Director of LCFE, Mr Akinsola Akeredolu-Ale, commended the CBN and Heritage Bank for their support, which have leveraged Nigeria to be on the right track for self-sufficiency in food production.
He said the commodity exchange in partnership with Heritage Bank would provide an enabling environment for farmers, warehouse owners, commodity middlemen and commodity merchants, to be able to trade Wheat.
He noted that LCFE has created a platform that enhances liquidity in the commodity market, enhances the revenue base of the country and enables commodity traders to manage risk.
Business Post reports that Heritage Bank is throwing its weight behind this scheme as one of the participating financial institutions (PFIs) under the CBN's Anchor Borrowers' Programme IABP).
Unity Bank Targets 5 Million Women MSMEs in South West With Yanga Account
By Modupe Gbadeyanka
No fewer than 5 million Micro, Small and Medium Enterprises (MSMEs) being operated by women in the South West region of Nigeria would be engaged by Unity Bank Plc.
The Nigerian retail lender disclosed this at the launch of the Yanga Account in Ibadan, Oyo State.
The account package was specifically designed by the financial institution to promote women MSMEs and create a unique proposition.
At the official launch of the Yanga Account recently in Abuja, a movie star in Nigeria, Sola Sobowale, was unveiled as the brand ambassador.
Yanga Account is a complete suite of services designed to promote financial inclusion among women through stress-free savings and investment, access to the services of dedicated sales agents, agency banking services close to the location of their businesses, special business seminar and training on how to grow business, access to microloans, customized debit cards and other bundled e-banking products.
At the official unveiling of the Yanga Account for the South West region held in Ibadan on Tuesday, the bank pledged its unwavering commitment to empowering women in order to enable them to overcome every obstacle of accessing quality Banking services needed to assist the growth of their businesses.
As part of the efforts to connect directly with the target market, the star actress who is now known as 'Mama Yanga' undertook a market tour to interact with the women and gain first-hand knowledge of how the product is being received in the market.
Speaking at the event in Ibadan, the Managing Director/Chief Executive Officer of Unity Bank Plc, Mrs Tomi Somefun stated that the "Yanga Account heralds a new dawn for my fellow women operating businesses in South West Nigeria."
She noted that "the Yanga account is open to all market women in farming, fashion design, tailoring, frozen food, pastry and baking, cosmetics, jewellery designs and making, skincare, eateries and restaurants, etc. whether living in the communities or cities."
She reiterated that "the Yanga Account is conceived and designed for the financial literacy and empowerment of Nigerian women. It is about making sure that our women who make up 55 per cent of the financially excluded Nigerians have access to basic and life-changing financial services."
Also speaking, Sola Sobowale invited all Nigerian women who operate businesses in the South West to embrace the incredible opportunities offered by the Yanga account to grow their businesses.
She said: "This is the first time that a bank will specifically design a product to cater to women and I am excited about the inherent benefits of this account and the endless possibilities that it brings to my fellow women. I invite all my fellow women in South-West Nigeria to sign up for the Yanga Account and watch their levels change."
On his part, Group Head, Retail, SME Banking and E-Business, Unity Bank Plc, Mr Funwa Akinmade said: "Female-led MSMEs in South West Nigeria continue to play pivotal roles in the contribution of the MSMEs to the economy of Nigeria and that has informed this special activation of Yanga account in Ibadan today.
"The Yanga account is a well-packaged banking product that combines several services that most small businesses owned by women will need to become profitable. We are optimistic that Ibadan women and all others across South West Nigeria will embrace the Yanga Account and leverage its full benefits to grow their businesses."
With the launch of the Yanga account, Unity Bank said it underscores its retail strategy which continually aligns with the vision of the Central Bank of Nigerian and the financial services ecosystem to provide needed support for Nigerian women by enhancing access to wealth-creating opportunities in the financial services sector.
Industry watchers believe the retail product has the potential to aggressively deepen financial inclusion, which recent research by Enhancing Financial Innovation & Access (EFInA) has shown "can benefit individuals, families, and businesses, supporting key outcomes such as GDP growth."
Latest News on Business Post