Uber Nigeria Partners First Bank On Used-Vehicle Loans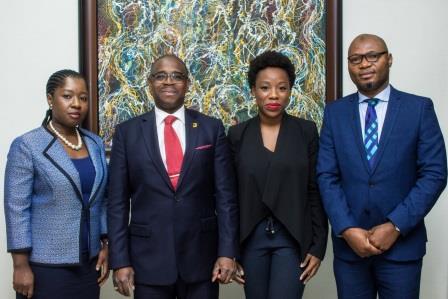 By Modupe Gbadeyanka
Uber Nigeria has announced that it was now making low-interest, used-vehicle loans available to its top-rated driver-partners.
The pioneering move is the result of partnerships entered into between Uber Nigeria and First Bank of Nigeria Limited, as well as smaller financiers.
This means that, for the first time, Uber driver-partners in Nigeria will be able to apply for finance for used vehicles based on their driver performance records.
According to the General Manager for Uber in Nigeria, Ms Ebi Atawodi, the used vehicle finance offering is the first of its kind to be made available to Uber driver-partners in the country and this is in keeping with Uber's stated commitment to constantly develop forward-thinking partnerships that benefit its driver-partners.
"We are absolutely committed to making it as easy as possible for our driver-partners to start and maintain their own successful and profitable businesses," Atawodi explains, "and these used vehicle finance options make it possible for those with a demonstrable performance commitment to build sustainable businesses without incurring the high costs often associated with new vehicle purchases."
The move is set to create significant business growth opportunities for driver-partners by allowing them to access used-car finance from First Bank of Nigeria Limited at a very competitive interest rate of just 20% per annum over a 24 month repayment period. Alternative offers for used-vehicle finance on the Uber Vehicle Solutions Programme will attract 22% per annum, with a maximum repayment term of 36 months.
According to MD/CEO, First Bank of Nigeria Limited and Subsidiaries, Adesola Adeduntan, the Bank is committed to supporting entrepreneurs to build sustainable businesses which are pivotal in stimulating economic development. "It remains our business to foster the growth and development of small and medium scale businesses in Nigeria as the No1 SME Bank. This is the reason why we have partnered with Uber by empowering operators to own vehicles and build profitable businesses," he further stated.
In order to qualify for this preferential used-vehicle finance from First Bank of Nigeria Limited, Uber driver-partners will need to be able to demonstrate an average driver performance rating of higher than 4.5 and have earned more than N2,400,000 in the preceding 6 months.
Ms Atawodi was quick to emphasise that Uber's commitment to helping its driver-partners build their businesses extends far beyond just making innovative vehicle finance available to them. Rather, these offerings come on the back of Uber's existing range of innovative business-building solutions, including Uber Marketplace, which is a one-stop national vehicle access solution designed to connect driver-partners and investors to suitable vehicles at discounted rates. Uber Nigeria also recently launched its well-received UberMomentum Partner Rewards Programme that delivers localised discounts, preferential deals and rewards exclusively to driver-partners and small business owners.
"The growing suite of vehicle finance, business and lifestyle solutions that Uber Nigeria is making available to driver-partners and other business investors reaffirms our commitment to supporting and partnering with them to ensure their success," Ms Atawodi explains, "not just in terms of helping them to increase their income and profits, but more importantly by affording them every opportunity to truly transform their lives by establishing and expanding viable and sustainable businesses of their own."
"By linking these solutions to the performance of our driver-partners, we further increase their chances of long-term business success, while at the same time building a network of transport professionals that Nigerians know they can trust to get them to their destinations safely and comfortably," she concludes.
Wema Bank Educates Students on Personal Finance
By Aduragbemi Omiyale
As part of activities to mark 2023 Global Financial Literacy Day, Wema Bank Plc this week organised a financial literacy programme for students across all states it operates.
The innovative financial institution said the financial literacy sessions for secondary school students aligned with its commitment to championing financial literacy for the next generation.
The Deputy Managing Director of Wema Bank, Mr Wole Akinleye, who led the financial literacy session at Yola Model School, Adamawa State, encouraged the students on the importance of developing financial literacy as a life skill.
Speaking on the significance of Financial Literacy Week, Mr Akinleye emphasized Wema Bank's commitment to empowering young minds with the skills and knowledge necessary to make informed financial decisions.
"Our hope is that through these initiatives, we can empower more individuals to take control of their finances and achieve financial stability," he noted.
It was gathered that students were trained on personal finance topics such as budgeting, emergency funds, saving for goal actualization, investment, and donating for positive societal impact, amongst others.
The idea, according to a statement from the lender, is to instil an early understanding of the significance of building a solid financial foundation and achieving financial stability and success from a young age.
The 2023 Global Financial Literacy Day was themed Plan your Money, Plant your Future.
Financial literacy is vital for the achievement of financial stability, and it is essential to ensure that everyone has the necessary tools to manage their finances effectively and achieve their financial goals.
Wema Bank Plc reaffirmed its commitment to providing educational resources and opportunities for children through the Royal Kiddies Account and a range of other savings products, supporting financial empowerment for the next generation.
Access Bank Gets Regulatory Nod to Merge Zambian Subsidiaries
By Adedapo Adesanya
Banking regulators have approved the merger between Access Bank Zambia Limited and African Banking Corporation Zambia Limited.
Access Bank Plc announced on October 25, 2021, that it had executed a binding agreement with Altas Maras Limited on a proposed merger between African Banking Corporation Limited (Atlas Mara Zambia) and the bank's subsidiary in Zambia, Access Bank Zambia.
This was contained in a notice filed by the company by Mr Oyelola Oyeleye, the group's company secretariat and Mr Sunday Ekwoche, its company secretary, on the NASD Over-the-Counter (OTC) Securities Exchange, where it trades its securities on Friday.
"We are pleased to announce that Access Zambia has received final regulatory approval from the Central Bark of Zambia for the acquisition and merger of Atas Mara Zambia into its existing operations (the Transaction)," the statement read.
It was disclosed that The Central Bank of Nigeria (CBN) and the Common Market for Eastern and Southern Africa Competition Commission had earlier granted their "no objection" to the transaction in 2022.
Following this new development, Access Zambia said it would move towards integrating and merging Atlas Mara Zambia into its operations, which is expected to create one of the top five banks in Zambia.
The transaction is expected to be completed in the third quarter of this year.
Reps Call for Urgent Overhaul of Electronic Banking Platforms
By Adedapo Adesanya
The House of Representatives has asked the Central Bank of Nigeria (CBN) to direct commercial banks to urgently overhaul their online and electronic banking platforms.
At Thursday's plenary, the green chamber said this would ease the electronic banking operations that the banks were implementing in line with the cashless/Naira redesign policy of the apex bank and reduce the pains of Nigerians.
The resolution came off a motion on notice moved by a lawmaker from Edo State, Mr Sergius Ose-Ogun, in the lower house.
"The House notes that Section 88 (1) and (2) of the Constitution of the Federal Republic of Nigeria, 1999 (as amended) empowers the National Assembly to conduct investigations into the activities of any authority executing or administering laws made by the National Assembly (like the Central Bank of Nigeria);
"Aware that the Central Bank of Nigeria is established under Section 1 of the Central Bank of Nigeria Act, Cap. C4, Laws of the Federation of Nigeria, 2004 to issue legal tender currencies in Nigeria;
"Also aware that Section 2 of the Central Bank of Nigeria Act saddles the Central Bank of Nigeria with the duty of promoting a sound financial system in Nigeria;
"Acknowledges that in the wake of the recent naira redesign and cash withdrawal limit policy of the Central Bank of Nigeria, there has been an increase in the use of online and electronic banking services to carry out monetary transactions across the country;
"Also acknowledges that the use of online or internet banking services by Nigerians in the past three months or thereabout has been characterized by varying degrees of hitches ranging from unsuccessful electronic bank transfers, point of sale (POS) service failure and a host of others;
"Disturbed that the ineffectiveness or difficulty in using internet banking services across the online banking platforms of most commercial banks in Nigeria has brought untold hardship, suffering and difficulties on Nigerians in the past three months.
"Worried that if nothing is done by the Central Bank of Nigeria and the commercial banks to address these difficulties or ineffectiveness, Nigerians will continue to suffer untold hardships and loss of monies to unsuccessful electronic bank transactions.
"Resolves to urge the Central Bank of Nigeria (CBN) to direct all commercial banks in the country to immediately overhaul their existing online/electronic banking platforms for efficiency and ease of conducting electronic banking operations," the motion read.
The House Committee on Banking and Currency was mandated to monitor and ensure compliance with the resolution within four weeks.
Latest News on Business Post