Abandoned Ship Owners May Lose Vessels after April 28 Deadline
By Modupe Gbadeyanka
Owners of abandoned ships on the Nigerian territorial waters have been given till April 28, 2017 to remove them or risk being sanctioned.
This directive was given by the Director General of the Nigerian Maritime Administration and Safety Agency (NIMASA), Mr Dakuku Peterside, at a function in Lagos recently.
Mr Peterside said this move was to ensure safe and secure shipping on the Nigerian territorial waters.
He said those who failed to heed to this order risk sanctions ranging from forfeiture or removal by the agency at the owners' expense.
Mr Peterside said it was instructive to ensure that the country's waters remained safe for navigation in order to advance its maritime interests.
He therefore warned that all abandoned ships would be declared as wrecks and NIMASA would ensure that nothing impedes safe navigation on Nigeria's waters by removing them.
"In line with our mandate on the protection of the marine environment and safety of navigation within Nigerian waters and our powers as the receiver of wrecks; owners of all abandoned ships, vessels and derelicts are sternly warned to seek removal plan permits from the agency and ensure the removal of these wrecks and derelicts from our waters on or before April 28, 2017 failure of which would attract appropriate sanction."
Mouka Donates Mattresses to GNOSIS for Domestic Violence Victims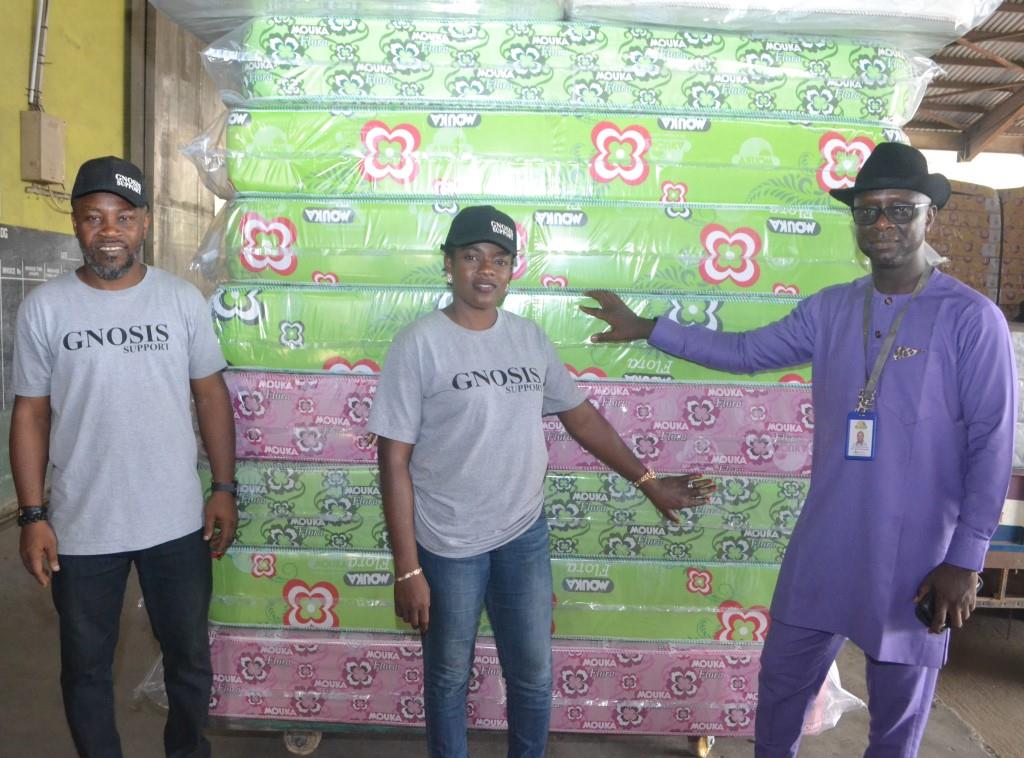 By Modupe Gbadeyanka
To bring succour to victims of domestic violence and abuse, Nigeria's preferred brand of mattresses, pillows and other sleep products, Mouka, has partnered with a non-governmental organisation (NGO), GNOSIS Help Initiative.
The company donated some mattresses to the NGO at its head office in Lagos on Wednesday to help improve the living condition of the displaced persons sheltered by the organisation, in line with its mission of adding comfort to life.
According to Mouka's Chief Commercial Officer, Mr Dimeji Osingunwa, the company truly cares about the wellbeing of its consumers and will continue to support worthy programs such as the GNOSIS Help Initiative that seek to alleviate the sufferings of Nigerians. He also called on other corporate organisations to lend a helping hand in making the lives of the victims easier in their journey of healing.
In his response, Barrister Olumide Kayode-Omosebi, Founder of GNOSIS Help Initiative (GHI), said, "When I reached out to Mouka, I did not expect they would respond with such a grand gesture.
"I am thankful as this would go a long way in making the victims feel comfortable in the places of shelter we provide."
He said with the donation, Mouka has truly demonstrated it is interested in the comfort of all Nigerians, even victims of abuse.
According to him, domestic violence and abuse cases are increasing. In the past year alone, GNOSIS Help Initiative has handled hundreds of abuse cases involving women, children and even men.
"We also engage secondary and tertiary institutions in the country to enlighten the students on how to identify abuse and seek help to break this vicious cycle as most times, the abuser was once a victim or witnessed a loved one being abused," Mr Kayode-Omosebi stated.
The founder and his co-founder, who is also his wife, shared numerous heartbreaking stories of abuse by spouses and parents that have, in many cases, resulted in grave physical injuries and, many times, death.
Mouka's National Customer Service Manager, Mr Femi Yussuf, also expressed his gratitude to GNOSIS Help Initiative for this opportunity to give back to society.
According to him, Mouka has given away thousands of mattresses in the past two years to worthy causes, including the first babies born in the year, COVID Isolation centres, internally displaced person's camps, flood victims, and orphanage homes as part of its CSR programs.
Mouka is a member of Dolidol International Group, Africa's leading brand of sleep products, with headquarters in Morocco.
The company has a wide range of products specially designed to meet the various needs of consumers based on their age, body build, lifestyle and budget to provide quality sleep to enable them to wake up refreshed and ready to take on the day.
Rite Foods Attributes Success of Products to Investment in Research, Technology
By Dipo Olowookere
The Managing Director of Rite Foods Limited, Mr Seleem Adegunwa, has disclosed that products of the company have continued to maintain market leadership because of the decision of the management to invest heavily in an ultra-modern factory with up-to-the-minute technology, with artificial intelligence and research in line with global best practices.
According to him, this is because of the company's quest to come up with sustainable and innovative products that will satisfy its consumers.
Rite Foods boasts a diverse range of unique products that cater to the needs of consumers across Nigeria and the continent.
The firm, which is recognised in the Africa 150 Report as one of the continent's innovative brands with unrivalled flavours, has on the shelf 13 Bigi variants of carbonated soft drink, the Bigi Table Water, the Fearless energy drink consisting of the Fearless Classic and Fearless Red Berry, the five variants of Sosa Fruit Drink as well as the Rite and Bigi Sausages.
"Research is critical to us, and we value that a lot. Our products are leaders in flavour innovation. On the Cola brand, there is a clear edge over the competition, and we lead on flavours like in the Apple and Tropical segments.
"Our brands are enhanced by having many products under them, which is why they look bolder and bigger on the shelf among competitors," Adegunwa stated.
On the Sosa Fruit Drink, the new entrant into its market segment, the Rite Foods boss stated that the brand is a symbol of quality and a new way the company has attained excellent reviews.
"I think one of the things we are known for and the important thing that we must build on is that symbol of quality. Looking to the future, we are ready to ensure that anything concerning our logo is of a very high standard, and we are strongly committed to that cause to produce world-class products," he said.
On the premium Fearless energy drink that has topped the list in the Nigerian market, Mr Adegunwa averred that, "Fearless is currently the market leader in the energy drinks segment in Nigeria, and to ensure that we stay on top and prevent competition, we intend to introduce new flavours, and for us, it is constantly about ingenuity and adding new brands to expand our business."
The company, which began operation with the slogans Truly World-Class and Proudly- Nigerian, describes the quality of what it tries to achieve by competing favourably at the global level, with a DNA and heritage that are completely Nigerian. As a pacesetter, it intends to expand across Africa, hence its new slogan Proudly-African.
"This has been intentional not just to limit us to Nigeria, especially as the product is already expanding across the borders," Mr Adegunwa explained.
Zoho Upgrades Bigin to Redefine Small Business CRM Market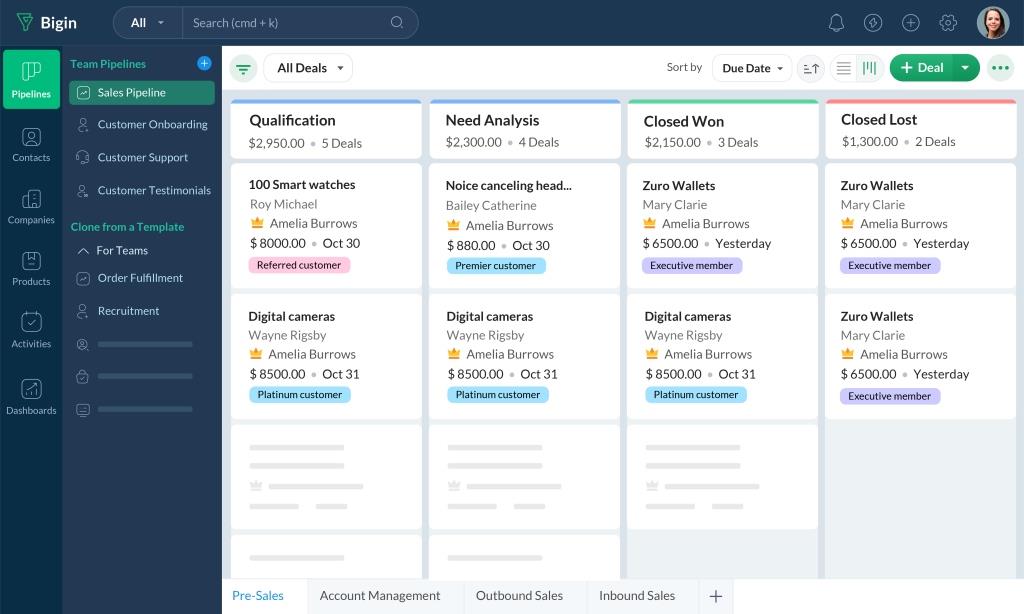 By Modupe Gbadeyanka
A leading global technology company, Zoho Corporation, has upgraded its customer relationship management (CRM) solution for small businesses, Bigin, with new features for better performance.
According to the firm, the platform has been fortified with new capabilities like team pipelines, toppings, and developer centres, which will allow users to manage all types of customer operations.
It is believed that the upgrade will redefine the small business CRM market as it would provide small and micro businesses with the tools and insights they need to maintain and grow meaningful and high-value relationships with customers in a challenging economic environment.
"Small businesses face challenges in choosing the right technology for managing their customer-facing operations because of constraints related to time, cost, and software implementation," the Country Manager for Zoho Nigeria, Kehinde Ogundare, stated.
"Bigin is the only solution that brings together all customer operations like sales, onboarding, delivery, training, advocacy, and more into an intuitive interface that takes only 30 minutes to deploy.
"By bringing together all the facets of customer operations into a single view, Bigin allows small businesses to have a more accurate understanding of the customer's journey.
"These insights help them attract and retain customers, ultimately growing the business. The fast-growing adoption of Bigin shows the expanding appetite of small businesses who want and need CRM technology suited to their particular needs, helping them move beyond old-school spreadsheets," Ogundare added.
Since its launch in 2020, Bigin has stood out as a robust, easy-to-use, and welcoming CRM solution thanks to its 30-minute set-up promise. Bigin saw a revenue growth of 161 per cent in 2022 in Nigeria, indicating the revenue has doubled compared to 2021.
Zoho has observed that around 65 per cent of Bigin's global customers have never used a CRM previously, making it the ideal choice for business owners who are looking to move away from spreadsheets.
When they outgrow Bigin, Zoho also offers them an easy migration to its full-fledged CRM solution. Bigin now boasts 20,000 customers and continues to help small and micro businesses manage all of their customer-facing operations within a unified platform.
The introduction of Team Pipelines allows customer-facing teams to manage their distinctive operations using a set of pipelines and sub-pipelines within a single Bigin account.
Competitive offerings often cater only to a single function — like sales — whereas Bigin is an efficient solution for all customer-facing teams. New features compile customer operations into one place and enable tighter alignment and collaboration between individuals and teams without compromising the simplicity that makes Bigin stand out.
The Connected Pipelines feature automates the flow of customer data across processes, improving the customer experience and saving time on manual data entry, while the Toppings feature allows the addition of additional functionality and third-party integrations to address specific business needs. Examples include the 'Email-In' topping, which maps emails to customer records and the 'File Cabinet' topping, which automates file collection and management.
The Dynamic Display allows users to customize the appearance of records in their pipelines, while the Developer Centre gives room for global app developers and partners to create custom solutions for unique business needs.
With various tools and components like custom fields, buttons, links, widgets, related lists, and REST APIs, developers can create new Toppings and monetise them in the Bigin Marketplace.
Bigin by Zoho CRM starts at N2,100/user/monthly (billed annually) for the Express edition and goes up to N3,600 user/monthly (billed annually) for the Premier edition, though a free edition is also available.
Latest News on Business Post