How Start-ups Can Leverage 360 Degrees Marketing Techniques to Increase Sales
By Emmanuel Otori
Sales are a determinant of whether a business would survive or not. The lifeblood of every business is embedded in the day-to-day activities that can generate consistent cash flow.
Some organizations get caught up in trying to do many things are at a time which makes their progression towards activities that contribute to their downline flawed and is visible in the finances of the organizations.
Organizations are not necessarily alarmed until there is a sharp drop in revenue; however, a sharp drop in revenue is only an indication of many other factors beyond what has been observed. This revenue drop is a symptom that some core activities are ailing such as staff retention, customer service, lack of repeat sales, poor product management, unclear definitions of the target market, lack of promotional.
If the sale is consistent, a business can survive the most difficult phases as cash flow is directly linked to the overall activities.
The most important question to ask then is "how can more sales be made"? Without asking this question, the business risks every other form of major distraction.
The 360 degrees Marketing Techniques
The 360 degrees marketing techniques are sometimes called Integrated Marketing Communications (IMC). These techniques are a mix of several activities that organizations are engaged in to increase awareness about a product or service.
The perception of visibility by a customer over a long period of time consistently makes a brand become a sort of inevitable to a customer whenever they need to make a purchasing decision as the brand is the first to come to mind due to the number of exposures they have had with the prospect and vice-versa.
Email Marketing
Email is one of the easiest and fastest ways to reach a large audience and when properly deployed has the potential to create a consistent stream of customers, as it takes the form of a closed user group through the reception of newsletters by the customers and overtime a relationship is built through readership as the audience are regularly updated about eh activities of the organization or products and services.
Email Marketing also helps to create some form of targets as there are metrics that could show who reads a particular newsletter and how many times. Observing the behaviour of the readers and the type of content they are reading could initiate a purchase decision by offering a product that compliments what they read.
Blogging
Blogging is similar to email marketing, but while email marketing is only sent to subscribers or users generated through a third party, blogging reaches out to all possible audiences that are online and serves as a tool to consistently inform customers about the product, services or activities of a business. Regular blogging should average up to 3-5 blog posts weekly to make conversions; this done over a period of 6 months is a guarantee for increased sales.
Granting Media Interviews
As much as the new media is emerging greatly, the traditional media still holds a sit in the preference of most audiences and the ability to use these tools such as television, radio and print media is key to reaching a lot of people. The conversations on these platforms create a direct connection with the listeners as it is visual and the ability to see the person being interviewed as they share industry-based experience makes them look to most audiences like thought leaders. This done over time would make such personality become a face and voice in their sector.
Search Engine Optimization (SEO)
Search Engine Optimization is arguably the first on the list of all techniques as it reduces the time, effort and energy to directly reach out to prospective customers. SEO guarantees that prospects can easily find an offer and make a purchase decision as it places a brand right where the audience is seeking answers. Sales are also made round the clock with no limitation of where the customer buys from.
Networking
Getting exposure as a Founder for your business is necessary to build a personal brand first, as this benefit extends to a business brand as trust can easily be built when people can interact with the owner of the business. A core part of business visibility is to ensure that a business owner continuously puts themselves out there as many times as possible, and this consistency over time is able to drastically build loyalty right from the onset and sales.
While there are many other techniques in addition to the ones mentioned, engaging in one or more of these activities has the potential to increase the revenue base of the business and reachability.
Emmanuel Otori has worked on the GEM Project of the World Bank, conducted training for entrepreneurs and professionals at the Abuja Enterprise Agency and has over 8 years of experience working with over 50 SMEs across Nigeria. He can be reached via https://www.linkedin.com/in/emmanuelotori/
Airtel Showcases Ease of Home Broadband Connectivity in New TV Commercial
By Modupe Gbadeyanka
Airtel Nigeria has introduced a new television commercial to showcase the exceptional benefits of its Home Broadband connectivity.
The Airtel Home Broadband offers a Basic package, with unlimited internet and up to 40Mbps download speed; the Standard package, with 100Mbps download speed; the Entertainment package with=200Mbps download speed; the Professional package with200Mbps download speed; and the Infinity package, which offers up to 1GBps download speed.
To let subscribers know how all these packages can allow them to enjoy unlimited internet access, Airtel Nigeria contracted the services of a popular Nollywood actor, Eyinna Nwigwe.
The movie star played the character of a young man navigating through his daily remote work routine and how he manages to maintain a balance between his work and personal life, staying effortlessly connected with his business associates and loved ones across the globe.
"The high-speed internet and reliable connection of the Airtel Home Broadband makes it the preferred choice for those who require a reliable connection and access to data.
"This offers users the ease and speed to access websites, stream videos, and download files. Moreover, the network's reliable connection ensures that users experience fewer disruptions in their online activities.
"As such, this makes it the go-to option for those who need a dependable connection to get their work done or stay connected with friends and family," the Chief Commercial Officer of Airtel Nigeria, Mr Femi Oshinlaja, said of the benefits of the Airtel BroadBand.
Airtel Employees Donate Routers to Lagos Secondary School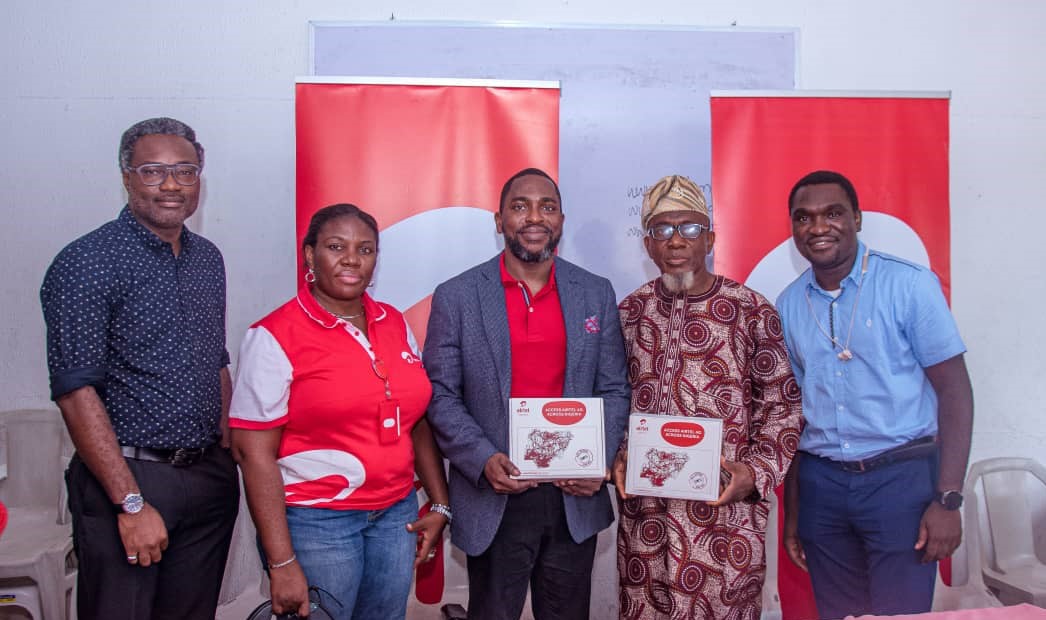 By Aduragbemi Omiyale
Some routers loaded with 100GB of data and a two-month roll-over access fee have been donated to a government-owned secondary school in Lagos, Kuramo College, by employees of Airtel Nigeria.
The items were given to the school by Airtel employees under the company's corporate social responsibility (CSR) initiative, Employee Volunteer Scheme Initiative.
The routers, specifically donated by the Airtel Information and Technology team, are expected to aid digital learning in the school and boost the knowledge of the students.
"Airtel aims to empower young minds by equipping them with the connectivity to imagine and unlock a world of knowledge and opportunities.
"For Airtel, it is no longer about being a smartphone network but giving people a reason to imagine so that people can explore the possibilities powered by technology and connectivity.
"The world is evolving; young Nigerians now have access to unlimited possibilities and can now create their job titles and descriptions, which is why we now have YouTubers, social media Influencers and the likes," the Director of Information and Technology at Airtel Nigeria, Mr Seun Solanke, said.
He encouraged the students to maximize the provision of connectivity to back up their future imaginations with the right information and resources to ensure a bright future.
The activities under the Airtel Nigeria Employee Volunteer Scheme, said Airtel management, aligns with the company's commitment to bridging the digital divide in the country and enabling students to leverage the power of the internet, as the distribution of routers with data plans will ensure that students have uninterrupted access to educational resources, research materials, and online learning platforms, regardless of their socio-economic background.
Zoho Grows User Base to 90 million, Posts 65% Upmarket Growth
By Aduragbemi Omiyale
More and more people are embracing the products of Zoho Corporation, a leading global technology company, as the company now boasts more than 90 million users across more than 600,000 global businesses of all sizes.
Also, the organisation has recorded a three-year CAGR of 65 per cent in mid-market and enterprise segments, representing one-third of the entire business.
This is because of the steady upmarket growth Zoho is recording across the Middle East and Africa region, with its seventh office in Nairobi, Kenya, officially launched.
It was observed that Zoho is witnessing an uptick due to its investments in go-to-market services, new products, platform extensibility, privacy and security to improve the customer experience and enable success.
The Country Manager for Zoho Nigeria, Mr Kehinde Ogundare, said, "With our strong DNA as a technology platform company, we have been able to steadily improve our maturity and readiness for large organisations by investing in adjacent areas."
"Our humble roots in SMB have helped us systematically build powerful software with strong everyday usability.
"Across our products, extensibility, usability, packaging, and go-to-market approach, Zoho aims to be the simplest enterprise software vendor in the market," he added.
Speaking further, he said, "Today's announcement serves as a testament to that goal, helping our customers adopt more of our software, add new capabilities, extend our platform to suit their granular workflows and get ready for the future.
"Whether customers buy our software for one department or the entire organisation, one workflow or a collection of customer journeys, the experience with Zoho will be far simpler than with any other large vendor."
Zoho said it aims to expand EBS across skills, industry depth, and regional presence to help enterprise businesses manage their technology stack better in today's economic climate. EBS provides expertise to large organisations across solutions engineering, account management, and customer success.
The platform accepts payment in over 15 currencies worldwide, facilitating global procurement efforts for enterprise organisations with regional operations through unified multi-currency invoicing.
Latest News on Business Post