Influencer Kenz Man Signs Multi-Million Naira Deal
By Adedapo Adesanya
Nigerian influencer and comedian, Kenz Man, who popularised the flying challenge across social media, has added another feather to his cap with the signing of a multi-million Naira deal with Prince Paul Phones and Gadgets.
Born Thomas Okesma Ghide, Kenz gained stardom when his pioneered flying challenge gained popularity across Instagram and TikTok, a trend that has caught the eyes of celebrities including Teni and has garnered remixes over 1,000 times.
The comedian's newfound celebrity status has caught the eye of a leading gadget store in Lagos, Prince Paul Gadget and Stores, which has signed him as the brand's ambassador.
The deal will see the entertainer use his large following to boost the brand's image and drive acceptance among Nigeria's growing tech-savvy generation.
Speaking on the deal, Kenz Man said, "I have had love for entertainment since I was very young; then I started as a dancer before I joined TikTok and started making little funny videos.
"It feels good that this is paying off and I cannot wait to offer the world what I have got. I am very happy to be signed as a brand ambassador for Prince Paul Gadget and Stores because they are about the best dealers when it comes to phones and gadgets."
Adding his input, Mr Prince Paul, the Chief Executive Officer of Prince Paul Gadget and Stores, lauded the deal and heaped praises on Kenz Man.
"We are lucky to have him on board and with this partnership, I am excited to unleash to the world the great things we can do together. Entertainment is a great driver for us and with this tool, we are not only looking to put our brand out there but to also support the youth."
Prince Paul Phones and Gadget Stores is a company that sells phones, laptops, desktops, and accessories. The main office is located in Computer Village, Ikeja, Lagos.
How SMEs Can Take Advantage of Social Media Advertising for Scalability
By Otori Emmanuel
For every company out there, there is an in-depth goal to increase its market share in both the local and global market space. The profit margin of a company is largely dependent on the audience at its disposal.
Before now, companies have used various forms of advertising to promote their product in order to reach their target audience, including traditional forms like newspaper publications and radio broadcasts. These ad methods delivered effective results until the masses moved to social media.
Currently, with over 3.7 billion people on different social media platforms engaging their times in ways that make them happy, every business should definitely have a cut of this mass audience as their potential customers.
With people of different demography, gender, age and behaviours all in the social media space, there is absolutely a guarantee that every company's audience is represented in this space.
Amongst the various forms of advertising, social media ads have recently dominated the advertising sector. Companies have multiple options in the form of platforms which deliver massive results through the audience at their disposal, with Facebook alone having 2.9 billion active users on monthly intervals.
Also, there are over 10 social media platforms for individuals and organisations to choose from, including Facebook, Instagram, Twitter, Pinterest, etc, when choosing to promote their brands.
Social media advertising is very effective because of its conversion rate. On average, over 28% of users on the internet have agreed to make choices of brands and products when they see them as ads on the internet.
Over 80% of the United States population is using one or more social media platforms. This has worked for both sellers and buyers. For the buyer, it has created awareness of new products to choose from and updates on existing ones. The promoter or organisation gets the most out of it, as they get to increase sales conversion, grow audience reach, help to understudy competitors and boost brand image. However, this result is tied to how engaging the content is, using the right keywords for written content and clarity for video ads.
Also, deciding the type of content type to create for your ads is a key factor to be considered. Different ad types work differently for different niches and purposes. You could either use ad copy (written text) or use visual content.
Here are a few tips to consider when deciding which content type to go for: Consider what you're trying to promote and then determine where on which platform your audience is more likely to be represented; What is the conversion rate of such a platform and then decide which content type would work better there between visuals and ad copy.
How to increase your conversion rate, consider these factors:
Study and categorize your audience based on their demographics, age, location and psychological factors influencing their behaviours towards brands.

Decide the type of ads that would deliver the result you seek.

Create compelling content that targets your desired audience using keywords that users can relate to. Place your ads in positions where they're seen clearly.

 Create an appealing landing page with a brief description and a call to action icon to help your visitors make quick decisions. Link this landing page to your ad, and once people visit, swiftly collect their data and follow them as they are your prospective customers.
In conclusion, the result from an ad may not deliver the desired outcome the first time. But certainly, it will leave you with clues to help you improve on subsequent ones. Always track your ad performance and measure conversion rate by dividing conversion by the number of impressions and then multiplying it by 100. The formula is = Conversion/no of Impression * 100. This will help you know the ad or platform that delivered the most results.
Jumia's Awodu, Others for P+ Measurement's 2022 AMEC Measurement Month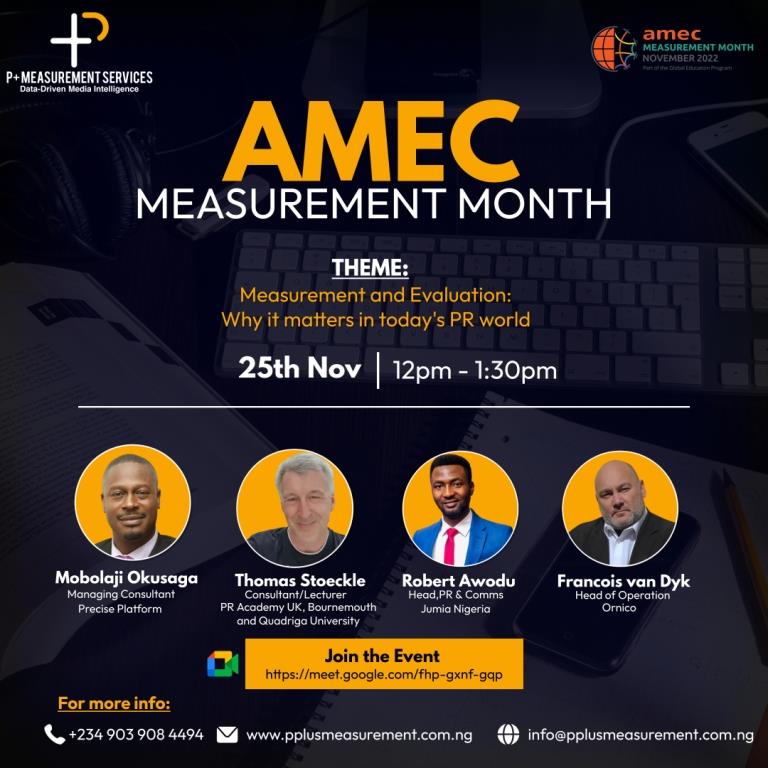 By Modupe Gbadeyanka
The Head of Public Relations and Communication at Jumia Nigeria, Mr Robert Awodu, will join other experts for the International Association for the Measurement and Evaluation of Communication (AMEC) Measurement Month in Nigeria, slated for Friday, November 25, 2022, from 12 pm to 1:30 pm.
This event is organised by the leading intelligence agency in Nigeria, P+ Measurement Services, in collaboration with AMEC.
A statement from P+ Measurement disclosed the theme of this highly-anticipated programme is Measurement and Evaluation: Why It Matters in today's PR World.
Other panellists for this edition include Francois van Dyk, Head of Operations at Ornico in South Africa; Okusaga Mobolaji, Managing Consultant at Precise Platform in Nigeria; Thomas Stoeckle, Self-employed Consultant, and Educator; Lecturer at PR Academy UK, Bournemouth University UK and Quadriga University Berlin; and Consultant at communication agency Dot I/O Health.
The annual AMEC Measurement Month (#AMECMM) aims to enlighten PR and communications experts and professionals in Nigeria.
It was stated that the event, which will be held virtually on the Google Meet platform, is to inform Public Relations and Communication professionals about the significance of measurement and evaluation in the PR and media space, with industry experts analysing and offering insightful answers to the many unanswered questions in the industry.
AMEC Measurement Month is a free event that includes webinars, CEO conversations, workshops, and a lot more. It focuses on assisting PR and communications professionals in comprehending the value and significance of PR measurement.
SweepSouth Exits Nigeria Over Unfavourable Environment
By Adedapo Adesanya
After about five months of its operations, SweepSouth Nigeria has announced plans to suspend its operations in the country from Friday, November 25, 2022.
In a notice seen by Business Post, the South African home cleaning service startup said the unfavourable macroeconomic environment has hit its business hard and has forced its hand to halt services.
"Due to the unfavourable global macroeconomic environment, the home service industry continues to be hit hard. This has meant that our business cannot sustainably operate due to the economic pressures being faced at the moment."
It noted that the "difficult decision" would impact its loyal customers but noted that all services within the next three days would be handled while those after the set deadline would be cancelled with customers.
"This has been a difficult decision to make considering our passion to serve the Nigerian market. We know this decision will negatively impact our SweepSouth community and Sweepstars. Therefore, we ask for your support and understanding as we navigate this time.
"All bookings scheduled to take place between now and November 25th will remain in place. We will be cancelling all bookings scheduled to take place after November 25th, 2022 – customers will receive full refunds for any bookings that have been paid for in advance, and full refunds for Sweepcred loaded in customers' accounts," it added.
Despite its exit from the Nigerian market, the company said it would continue to provide its service in South Africa and Egypt, adding that it will continue to study the market for a possible re-entry in the future.
"While we will no longer be operating in Nigeria, we will continue to keep abreast of activities in the Nigerian market and work towards a potential re-entry into the market at a later date."
The Johannesburg startup entered Nigeria in June 2022 to allow people to book home cleaning services at affordable prices and connects them with cleaners they call SweepStars, who are carefully vetted and are professionals with extensive experience in home cleaning.
Latest News on Business Post