Konga Introduces Loyalty Scheme for Shoppers
By Ahmed Rahma
Nigeria's leading composite e-commerce giant, Konga, has rolled out a revolutionary membership programme called Konga Prime, with a lot of benefits for shoppers
Konga Prime members are to enjoy unlimited free shipping, have access to exclusive offers and early bird deals, among others.
According to the company, the programme brings together a suite of exciting benefits which delivers great value to subscribers, helping them enjoy exclusive deals and other incentives such as faster deliveries of their orders.
It will also put money back in their pockets by helping them make great savings, incomparable to that offered by any other retail platform.
Furthermore, members of Konga Prime, including busy individuals and families, get to enjoy premium access to the full range of Konga's cutting-edge assets.
Among these are its powerful e-commerce engine and online presence as well as the nationwide reach of a growing list of over 31 stores spread across the nooks and crannies of the country.
Also, members have the added incentive of unlimited free delivery from Konga and access to discounts that make shopping faster and cheaper for all categories of shoppers.
Commenting, the Vice President of Konga Online, Mr Kenny Oriola, said the initiative is one that will deliver great value for members, including exclusive access to a growing list of special offers.
"This initiative was implemented to provide a platform that allows our esteemed customers enjoy great value, including having their orders delivered to their preferred location for free.
"Saving time and money is not just the end goal here, but having access to exclusive deals and mouth-watering discounts on special products also make this service one to subscribe to.
"Today, we kick-off this initiative in Lagos and Abuja. Subsequently, other states across the country will benefit from this service," he disclosed.
Additionally, Mr Oriola submitted that in the future, Konga will leverage its wide-ranging assets to add additional benefits for members in a variety of services and offerings, adding that the list of benefits will continue to grow over time.
The company has also revealed that membership of Konga Prime is available to all customers, effective March 1, 2021, beginning with Lagos and Abuja, adding that subscription rates for Konga Prime membership in Lagos costs N1,000 a month and N2,490 for three months, along with a 7-day free trial period included.
For Abuja, membership costs N1,290 a month and N3,490 for three months, even as the rollout is set to be extended to other states soon.
Interested subscribers have been urged to sign up for Konga Prime on the company's website.
Rite Foods Pledges to Sponsor More Credible Platforms
By Sodeinde Temidayo David
The Managing Director of Rite Foods Limited, Mr Seleem Adegunwa, has said the company will continue to support and sponsor more credible platforms to reach out to its customers.
For several weeks, Rite Foods, manufacturers of Bigi drinks, sponsored the Nigerian Idol season 6, won by Kingdom Kroseide.
The new millionaire in the music industry was at the corporate headquarters of Rite Foods in Lagos along with the other contestants to say thank you to the organisation for supporting the music talent hunt show.
At the visit, Mr Adegunwa said his company was glad to have identified with the programme anchored by IK Osakioduwa and had the trio of Obi Asika, Seyi Shay and DJ Sose as judges.
According to the MD, Rite Foods uses innovation to add value to the existing market.
"Innovation is at the heart of Rite Foods which reflects in everything that we do and being innovative is our way of adding value to existing markets," he said.
Mr Adegunwa further explained that the company is known for its new ways of thinking which enables it to add value by supporting great talents through identified credible platforms that lift people and line up with its business and consumer connection strategy.
"As a company, we bring freshness and innovation to a place or platforms that align with our core business objectives as well as our talent support initiatives that consumers can connect with. This helps us to expand the space to meet the passion and demands of our consumers," he added.
The Managing Director also revealed that the experience and exposure of the music competition were good for the brand and looks forward to future partnerships with other credible platforms and urged the contestants to work hard and keep up the 'Rite' energy in their pursuits.
When asked whether the Nigerian Idol met the expectations of the company's partnership investment, Mr Adegunwa said it exceeded it.
"We realize our consumers and target audience love music and the Nigerian Idol resonates 100 per cent with consumers' feedback in terms of passion and what they care about," he stated.
Kingdom, while speaking at the visit, urged the company not to relent and called on other stakeholders to emulate Rite Foods.
Recall that some days ago, Rite Foods threw its weight behind the maiden Ijebu Half Marathon held in Ijebu Ode.
Jumia Supports Customers With Shopping Festival Campaign
By Sodeinde Temidayo David
Customers of Jumia in Nigeria now have the opportunity to purchase some products at the best market prices in an ongoing promo.
This is part of the company's efforts to support its customers at this time some of them are battling with low purchasing power as a result of the economic situation in the country.
On July 12, 2021, Jumia, which is unarguable the nation's number one online shopping mall, commenced a promo tagged Naija Shopping Festival Campaign.
It is expected to run till August 29, 2021, according to the organisation.
The campaign is in partnership with Pernod Ricard, Edifier, Adidas, Nivea, Xiaomi and Fanswedy and is expected to support all Nigeria's customers, offering an exciting shopping experience as it offers customers a reduced price on every product of their choice.
The shopping festival campaign offers customers amazing shopping experiences and benefits such as Daily Flash sales, free shipping on selected brands, N100 clearance sales, live giveaways and surprises packages for customers who shop mostly on the weekends.
Jumia has offered more simplicity and affordability to the Nigerian customers and has also offered them more on a wider range of products during the festival.
As the summer holiday continues, the Jumia campaign would give an opportunity to parent-customers to buy holiday play items and back-to-school materials for their kids at cheaper rates. It would also give support for those working out for the holiday to get sports gear at reduced prices.
"It's our identity to give customers unbeatable prices from the comfort of their homes, and this and more is what they will be getting during this festival," the Jumia Nigeria Head of Brands, Ms Moyosore Oduwobi, stated.
Kelechi Amadi, Mai Atafo to Mentor Isedowo, Progress Booster Winners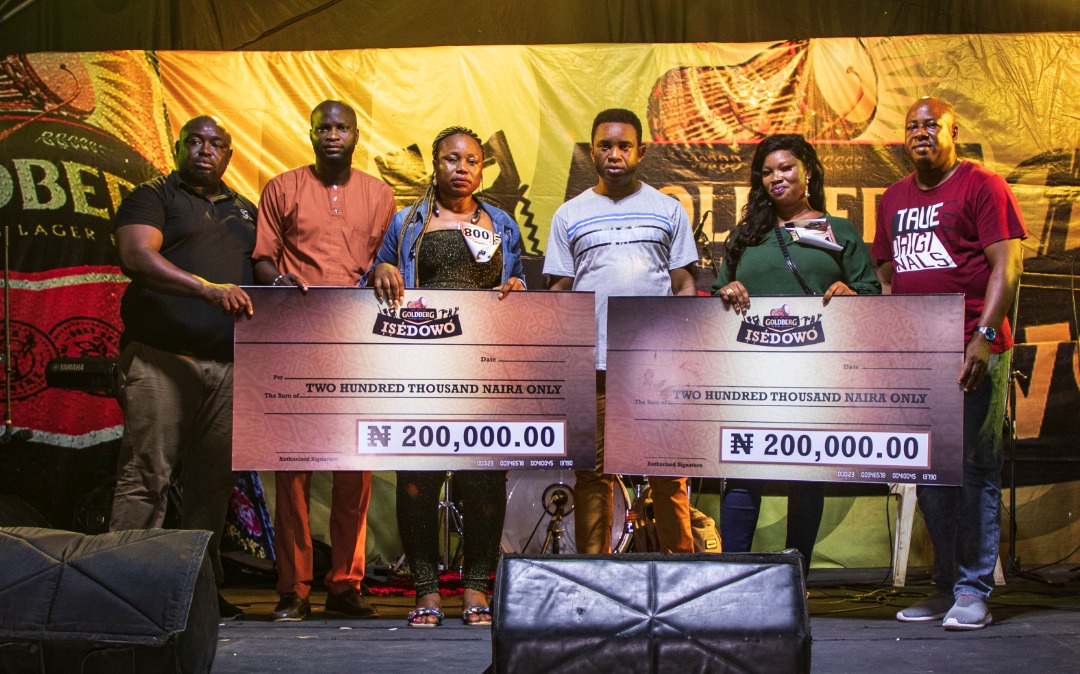 By Modupe Gbadeyanka
Some grantees of the 2021 empowerment initiatives of the Nigerian Breweries Plc have received expert mentorship for the expansion of their business ventures.
Recently, some small business owners, especially artisans, were given grants in the ongoing Isedowo and Progress Booster campaigns.
The beneficiaries were taken from the fashion designing and photography sectors and were trained by ace fashion designer Mai Atafo and renowned photographer Kelechi Amadi.
"I remember my journey into the art space as a photographer and painter, and there was a lot to unpack. A lot to learn,' Mr Amadi enthused.
"Working with individuals who want to improve upon their skills is an energy that I identify. Though art is subjective, the building blocks cannot be overlooked.
"With these building blocks, one can work and improve to give some of their best art pieces. The prospect of archiving this with these talents is what excites me," he added.
"I'm pleased that a platform like this exists. It is one thing to have a passion for making clothing, but it takes something extra to want to make standout pieces. I see the fire in these winners. I know they will progress at a good pace to fulfil their goals," Mr Atafo said.
One of the beneficiaries, Justice Amadi, expressed his excitement about the training saying, "I am happy to be selected for this training, I see it as an opportunity to grow my career. Working with Kelechi Amadi has been my dream and I am grateful to Nigeria Breweries for making this come alive."
Speaking about the journey so far, Ms Kehinde Kadiri, Portfolio Manager, Mainstream Lager, Nigerian Breweries Plc, described Isedowo and Progress Booster as major lifelines for most entrepreneurs in the region.
"We are pleased to see the number of people who are eager to get these grants to support their businesses," she said.
Further expressing her delight especially with the addition of a mentorship program, Ms Kadiri mentioned that, "It is important to not just give people monetary support but to show them how they can utilize it and what better way than pairing them with experts who will not only help them improve their skills but share invaluable experiences from their successes and mistakes in the field."
Progress Booster and Isedowo are empowerment initiatives that were set up to support consumers who are business owners and professionals within the Nigerian informal sector.
The initiatives set out to support them with grants, loans, and access to help them build business relationships with their informal trade associations.
Since the launch in 2017, the initiatives have grown to become a major source of support for craftsmen as well as a seal of approval and encouragement of hard work in the Southern part of Nigeria where both brands are focused.
This year alone, the initiatives have already awarded about 200 artisans across South Eastern and other South Western states while providing them with additional resources to help them get more out of their craft.
Within the last four years, Goldberg and Life Lager have been able to directly impact the businesses of over 1000 artisans through the progress booster and Isedowo programs, while also using the initiatives as touchpoints to reach most of its consumers across the South region where both brands have carved a niche for themselves as leading supporters of culture and tradition, and now entrepreneurship.
Latest News on Business Post