Management Shuts Down Jabi Lake Mall Over Security Threats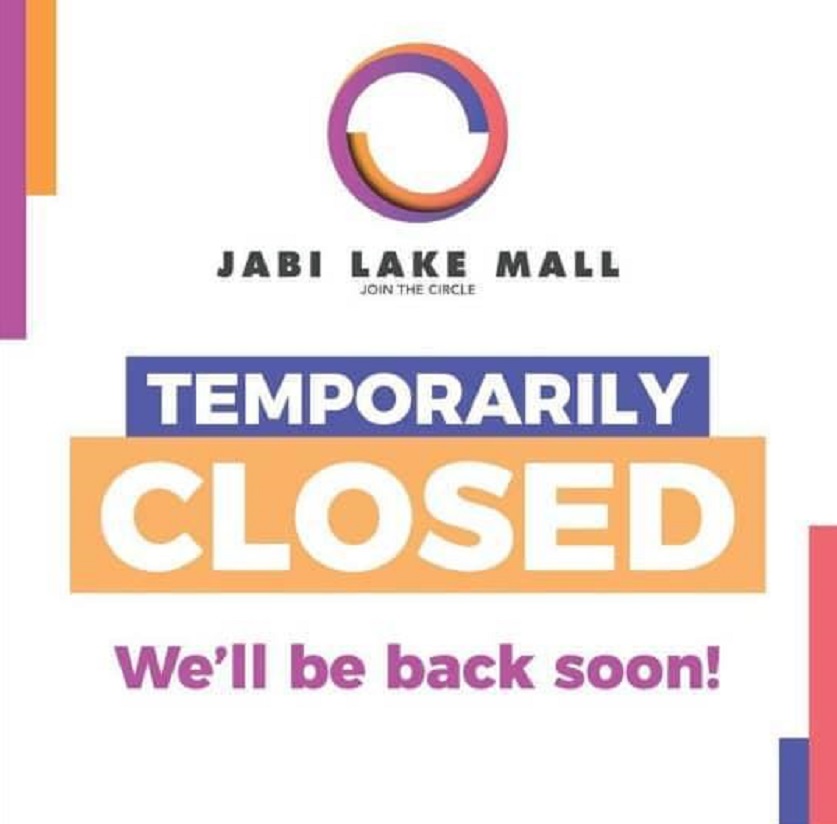 By Modupe Gbadeyanka
The popular Jabi Lake Mall in Abuja has been shut down by the management over security threats, a statement from the company has confirmed.
A few days ago, the United States and the United Kingdom governments issued a security alert to their citizens in Nigeria, warning that there could be attacks from terrorists.
These warnings were rebuffed by the Nigerian government, which urged residents of the country to remain calm as their lives and property were in safe hands.
On Wednesday, it was reported that two suspects were allegedly arrested at an estate in Abuja with explosives packed in boxes. The arrest was reportedly made by operatives of the Department of State Service (DSS).
This has created panic in Abuja, and on Thursday, the management of Jabi Lake Mall announced the closure of the facility in the "interest of the safety of all staff and customers of the mall."
"Jabi Lake Mall will be closed today, Thursday, 27 October 2022. This decision has been taken in the overall interest of the safety of all staff and customers of the mall.
"Centre Management is committed to minimising any disruptions; however, the safety of our staff and shoppers remains our highest priority. Management is constantly reviewing the security situation in consultation with relevant security authorities and will inform you when the mall will be re-opened.
"We apologise for any inconvenience caused and hope to provide you with a quality shopping experience soon," the statement said.
Interswitch Showcases Innovative Products to Sierra Leone
By Modupe Gbadeyanka
Stakeholders in the financial ecosystem in Sierra Leone have been introduced to a variety of innovative products and solutions from Interswitch, Africa's leading integrated payments and digital commerce company.
These products are targeted at commercial banks, microfinance banks, fintechs, other financial institutions, and the general public.
The initiative is part of the company's determination to further deepen its expansion beyond the shores of Nigeria.
Interswitch executed this task by organising its first breakfast session in the West African nation tagged Accelerating Growth and Profitability – Leveraging Technology to Win.
The event provided key insights and explored robust opportunities for businesses in Sierra Leone to continue to evolve.
Speaking at the session, the Group Head of Sales, Payment Processing and Switching at Interswitch Purepay, Mr Olubunmi Aina, stated that businesses in Sierra Leone are set to enjoy seamless operations, especially as pertaining to payments.
"At Interswitch, our core objective is to deliver an Africa where payments are a seamless and invisible part of everyday life, and we have carried this vision with us for the past 20 years.
"Interswitch is committed to the advancement and penetration of digital payments in Africa as a whole. We continue to create innovative solutions that enable individuals and communities to prosper across the continent.
"Today, we are in the Sierra Leone market to provide customers and businesses with secure and convenient digital payments products and to enhance customer experience," he said.
At the event, participants were onboarded onto the company's products, including Postilion Retail Payment, Interswitch Banking-as-a-Service, Interswitch Payment-as-a-Service, agency banking and card fusion.
The company stated that these products and solutions would allow customers such as financial institutions, banks, fintechs and microfinance banks to offer topnotch digital payment solutions to their customers. Also, with these products, businesses will enjoy enhancement opportunities and better customer experiences. Likewise, financial institutions will be able to rapidly integrate with newer payment channels with intuitive technologies.
"It is no longer news that the deepened penetration of digital payments is helping to boost Africa's economy. We are not resting on our oars but will continue to innovate solutions to further elevate Africa's payments landscape as a whole," Mr Aina stated.
How SMEs Can Take Advantage of Social Media Advertising for Scalability
By Otori Emmanuel
For every company out there, there is an in-depth goal to increase its market share in both the local and global market space. The profit margin of a company is largely dependent on the audience at its disposal.
Before now, companies have used various forms of advertising to promote their product in order to reach their target audience, including traditional forms like newspaper publications and radio broadcasts. These ad methods delivered effective results until the masses moved to social media.
Currently, with over 3.7 billion people on different social media platforms engaging their times in ways that make them happy, every business should definitely have a cut of this mass audience as their potential customers.
With people of different demography, gender, age and behaviours all in the social media space, there is absolutely a guarantee that every company's audience is represented in this space.
Amongst the various forms of advertising, social media ads have recently dominated the advertising sector. Companies have multiple options in the form of platforms which deliver massive results through the audience at their disposal, with Facebook alone having 2.9 billion active users on monthly intervals.
Also, there are over 10 social media platforms for individuals and organisations to choose from, including Facebook, Instagram, Twitter, Pinterest, etc, when choosing to promote their brands.
Social media advertising is very effective because of its conversion rate. On average, over 28% of users on the internet have agreed to make choices of brands and products when they see them as ads on the internet.
Over 80% of the United States population is using one or more social media platforms. This has worked for both sellers and buyers. For the buyer, it has created awareness of new products to choose from and updates on existing ones. The promoter or organisation gets the most out of it, as they get to increase sales conversion, grow audience reach, help to understudy competitors and boost brand image. However, this result is tied to how engaging the content is, using the right keywords for written content and clarity for video ads.
Also, deciding the type of content type to create for your ads is a key factor to be considered. Different ad types work differently for different niches and purposes. You could either use ad copy (written text) or use visual content.
Here are a few tips to consider when deciding which content type to go for: Consider what you're trying to promote and then determine where on which platform your audience is more likely to be represented; What is the conversion rate of such a platform and then decide which content type would work better there between visuals and ad copy.
How to increase your conversion rate, consider these factors:
Study and categorize your audience based on their demographics, age, location and psychological factors influencing their behaviours towards brands.

Decide the type of ads that would deliver the result you seek.

Create compelling content that targets your desired audience using keywords that users can relate to. Place your ads in positions where they're seen clearly.

 Create an appealing landing page with a brief description and a call to action icon to help your visitors make quick decisions. Link this landing page to your ad, and once people visit, swiftly collect their data and follow them as they are your prospective customers.
In conclusion, the result from an ad may not deliver the desired outcome the first time. But certainly, it will leave you with clues to help you improve on subsequent ones. Always track your ad performance and measure conversion rate by dividing conversion by the number of impressions and then multiplying it by 100. The formula is = Conversion/no of Impression * 100. This will help you know the ad or platform that delivered the most results.
Jumia's Awodu, Others for P+ Measurement's 2022 AMEC Measurement Month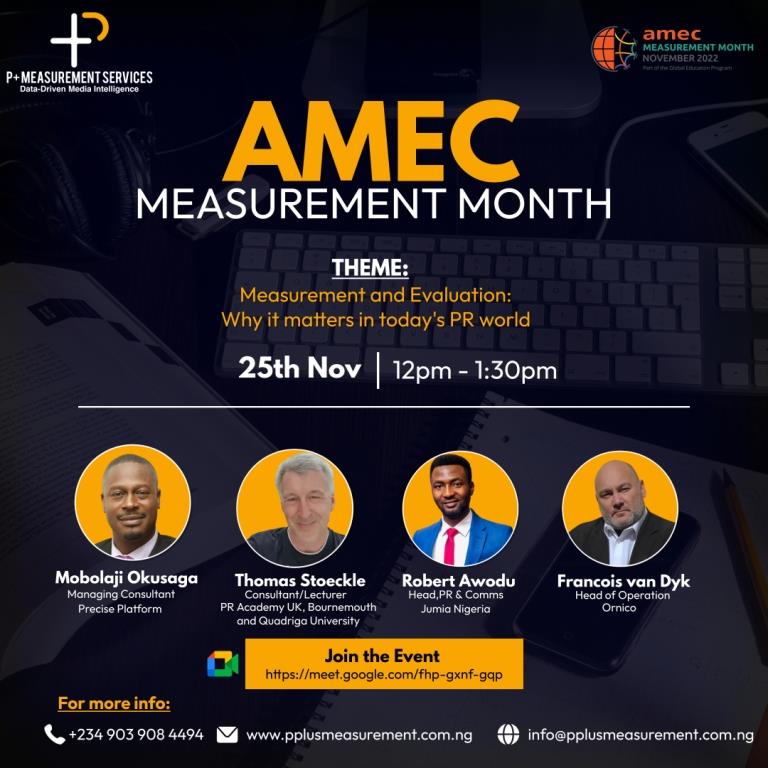 By Modupe Gbadeyanka
The Head of Public Relations and Communication at Jumia Nigeria, Mr Robert Awodu, will join other experts for the International Association for the Measurement and Evaluation of Communication (AMEC) Measurement Month in Nigeria, slated for Friday, November 25, 2022, from 12 pm to 1:30 pm.
This event is organised by the leading intelligence agency in Nigeria, P+ Measurement Services, in collaboration with AMEC.
A statement from P+ Measurement disclosed the theme of this highly-anticipated programme is Measurement and Evaluation: Why It Matters in today's PR World.
Other panellists for this edition include Francois van Dyk, Head of Operations at Ornico in South Africa; Okusaga Mobolaji, Managing Consultant at Precise Platform in Nigeria; Thomas Stoeckle, Self-employed Consultant, and Educator; Lecturer at PR Academy UK, Bournemouth University UK and Quadriga University Berlin; and Consultant at communication agency Dot I/O Health.
The annual AMEC Measurement Month (#AMECMM) aims to enlighten PR and communications experts and professionals in Nigeria.
It was stated that the event, which will be held virtually on the Google Meet platform, is to inform Public Relations and Communication professionals about the significance of measurement and evaluation in the PR and media space, with industry experts analysing and offering insightful answers to the many unanswered questions in the industry.
AMEC Measurement Month is a free event that includes webinars, CEO conversations, workshops, and a lot more. It focuses on assisting PR and communications professionals in comprehending the value and significance of PR measurement.
Latest News on Business Post