OmniRetail Positions Self to Digitalise Nigeria's Supply Chain Gap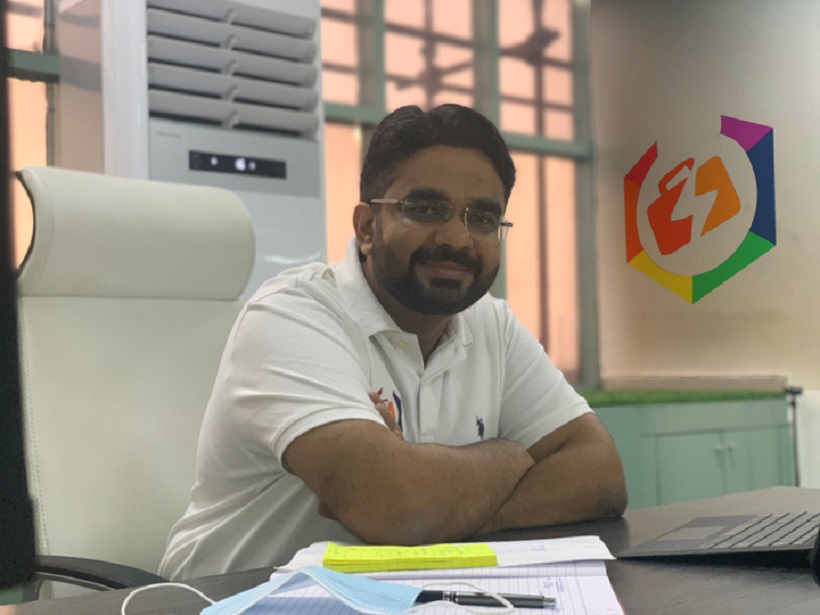 By Adedapo Adesanya
Nigeria's retail market has so much potential, but while macroeconomic headwinds and currency volatility have weighed on consumer spending power in recent years, new opportunities for digitalised retail to facilitate the sale of essential goods remain.
To connect all existing parties in the supply chain, Mr Deepankar Rustagi, after spending decades in the country, founded OmniRetail, a subsidiary of OmniBiz.
Applying a different model, the company does not own warehouses, fleets, or products but rather brings distributors and logistics providers all online. Similar to Uber's platform, OmniRetail brings manufacturers and small retailers together – unheard of in Nigeria, where only 30 per cent of goods are sold directly to consumers.
OmniBiz is an African B2B e-commerce platform for informal retailers and aims to increase retailers' profitability 4x by helping them with procurement and inventory management and providing them with working capital.
Launched in 2019 as Mplify- a simple SaaS solution for FMCG distributors to manage their inventory and grow their sales, OmniBiz, the e-commerce arm was launched a few months after with the mission to digitize retail distribution in Africa.
One of the many declarations made to Business Post by the company is that it carries out a total transaction volume (TTV) of $1.3 billion yearly.
Mr Rustagi saw major retail companies like Walmart and Shoprite exit the African market and quickly learned that 90 per cent of Nigerian consumers shop at small informal retail stores.
He said, "Technology is solving deeply entrenched problems, and informal retail isn't an exception. By embracing a technology-driven approach, OmniBiz is digitizing the informal essential goods ecosystem in Africa.
"OmniBiz collaborates with the supply chain stakeholders, from manufacturers to distributors, logistics providers, and retailers. We are building the future of African retail," he told Business Post.
The OmniBiz CEO realized that if he could bring manufacturers, distributors, and retailers online on a single platform, he could double the size of Nigeria's $41.7 billion FMCG sector.
The platform, which has over 131,000 Nigerian retailers (75 per cent of which are women-owned), gives rich data to all parties, something he claims that no one in African retail had before.
His opinion was echoed by Mr Adewale Adisa, the company's Chief Operations Officer (COO), who noted in an interview that the company tapped into something that large retailers didn't understand.
"We believe that if we can create a positive impact at the national level, it will eliminate many of the challenges faced by retailers. It will help rid Nigeria's cash-heavy sector of the many problems associated with it and digitise the process."
He explained that the company's warehouses help make it deliver to key states in the country, adding that it has a logistics network that it hopes to expand by bringing in more retailers, partners, and players in the future.
Through the integration of its OmniStore (formerly Mystore) app, OmniBiz is able to facilitate the transactions between producers and retailers, a move to which it is adding the necessary value, including seeing how they can insure their goods. The growth engine application provides retailers with end- to- end inventory management solutions.
The company has always positioned itself as a market leader, last year, it moved to tap into the Buy Now Pay Later (BNPL) wave to help businesses get credit options in a timely fashion to grow their businesses.
FedEx Fully Enters Nigerian Market to Meet International Shipping Demands
By Adedapo Adesanya
FedEx Express (FedEx), a subsidiary of FedEx Corporation, the world's largest express transportation company, has announced establishing a direct commercial presence in Nigeria to meet the country's growing international shipping demands.
Although FedEx has been facilitating trade in Nigeria since 1994, offering its international solutions through Red Star Express Plc; with this latest initiative, FedEx will continue to leverage the capabilities and infrastructure of the service provider, Red Star Express Plc, that will continue to provide pick-ups, deliveries, customs clearance services, and retail locations across the country.
In a press release seen by Business Post on Wednesday, the company said that with a direct presence in the country, businesses and customers in Nigeria now have greater access to a wider portfolio of FedEx Express shipping solutions, while Red Star Express continues to provide the infrastructure for ground operations.
The statement noted that, "Customers will also have access to a range of FedEx digital tools that make shipping easier and more efficient through its website. These services include opening a new account, tracking shipment status, creating shipping air waybills, scheduling courier pickups, and managing billing."
With the direct presence, FedEx will now have dedicated Sales and Customer Technology teams on the ground to interact and provide enhanced logistics expertise to help local businesses grow internationally.
Speaking on this, Mr Taarek Hinedi, vice president for FedEx Middle East and Africa operations, said, "Today we are closer to our customers than ever before. This strategic step makes it easier for local businesses to ship with us as they look to tap more import and export opportunities and grow their customers around the world."
"Nigeria is on the right path for further growth, and FedEx is committed to supporting this growth and connecting Nigeria to some of the biggest trading partners located in Asia and Europe. The FedEx network is crucial to provide businesses with greater connectivity between Africa and Europe as well as within the Asia Pacific, Middle East, and Africa (AMEA) region," said Mr Hinedi.
"As Nigeria continues with its 2021 to 2025 National Development Plan to increase the share of its exports to Africa up to 35 per cent from a base figure of 20 per cent, businesses will require a range of international services and solutions to help boost the economy," he added.
FedEx also said it remains committed to supporting the Nigerian government's Economic Recovery and Growth Plan (ERGP) to drive structural reforms to diversify its economy and reduce dependency on oil.
The FedEx direct presence in the country will help connect Nigerian business owners, exporters, importers, and consumers to more than 220 countries and territories worldwide, covering more than 99 per cent of the world's gross domestic product.
Real Estate Company Promises to Develop Remoland
By Adedapo Adesanya
A real estate company, Adron Homes, has promised to contribute its input to the development of Remo in Ogun State.
The group managing director and chief Executive Officer of Adron Homes, Mr Adetola EmmanuelKing, gave this assurance when he led the other senior management team to visit the Akarigbo of Remo, Oba Babatunde Adewale Ajayi.
The team visited the monarch to celebrate his 60th birthday and his 5th-year reign as the paramount ruler of Remoland.
Mr Adetola said, "Five years of your pragmatic leadership, coupling your unifying qualities, abilities, and relentless attraction of investors to Remoland and the state at large, has transformed the entire Remo land into a development hub.
"Remo Growth & Development Foundation, formed under your headship and influence, promoted self-expression and developed a bond beyond Remoland to other countries where Remo indigenes are domiciled.
"We have reached a point in the growth of Nigeria as a whole where we cannot be undermined because of your leadership as the Akarigbo of Remoland."
He further stated that Remo is now a safe area to live and conduct business without risk to people's lives or property.
Also speaking, the non-executive director of Public Affairs and International Relations of Adron Homes, Ms Kemi Osude Laniyan, reaffirmed the company's commitment to helping the communities of Remoland.
"As a company, through our CSR, have consistently put our host communities' welfare at the forefront of our activities, we have touched their lives in various areas, such as education, security, and health, to name just a few, and we will continue to affect the lives and welfare of people positively," she said.
In his remarks, the traditional ruler thanked his guests for the visit, promising to keep steering the activities of the Remoland to greater heights.
Quickteller Paypoint Rewards Over 1,000 Agents
By Modupe Gbadeyanka
Over 1,000 agents of Quickteller Paypoint have been rewarded with exciting prizes from the company's ongoing Double Up Promo.
Five of the winners, Bamidele Aminat, Ishaya Galion, Ayinla Habeeb of Achiever's world, Edozie Joy, and Ilonwa Peter of Oxford Logistics, visited the Quickteller Paypoint premises to receive their prizes and celebrate their win.
The campaign was introduced by the financial inclusion services vehicle of Interswitch as part of its effort to reward agents' loyalty.
The promo, which began in September, has seen participation from over 2,000 individuals/businesses within the Quickteller Paypoint agency network.
After a series of raffle draws monitored closely by relevant regulatory bodies like the Federal Competition and Consumer Protection Commission (FCCPC), the Lagos State Lottery Board (LSLB), and the National Lottery Regulatory Commission (NCLRC), more winners emerged from another raffle draw concluded recently.
Speaking on the Double Up Promo, the Marketing Manager of Quickteller Paypoint, Bunmilofe Akingbola, stated that the prize presentation ceremony was done to reward the effort and dedication of its agents across the country towards driving the goal of the consumer digital payments platform.
"Our major focus at Quickteller Paypoint is to deepen financial inclusion by bringing financial services closer to Nigerians, especially those who are in financially excluded regions, and we are really excited about the capable partners we have found in our agents across the country.
"Today, we are rewarding these reliable agents through our Double Up Promo, thereby enhancing their lives. While we impact the lives of these agents, we are also enthusiastic about being able to reach more financially excluded Nigerians and touch more lives through avenues like this."
Winners who emerged from the draws showed excitement and gratitude to Quickteller Paypoint for recognising their role in driving the growth of financial inclusion across the country and rewarding them for playing such a noble role.
They also opined about the financial freedom they have enjoyed since becoming Quickteller Paypoint agents, explaining that it is very lucrative and the Quickteller Paypoint team is very supportive.
At the heart of Quickteller Paypoint is the urge to deploy technological solutions to help drive the growth of financial inclusion in Nigeria and Africa at large. Through this promo, the company reaffirms its vision to onboard more potential agents who can also create income for themselves while making Nigeria a more financially included economy.
Latest News on Business Post