Zoho Introduces New Product for SMEs, Gets Office in Lagos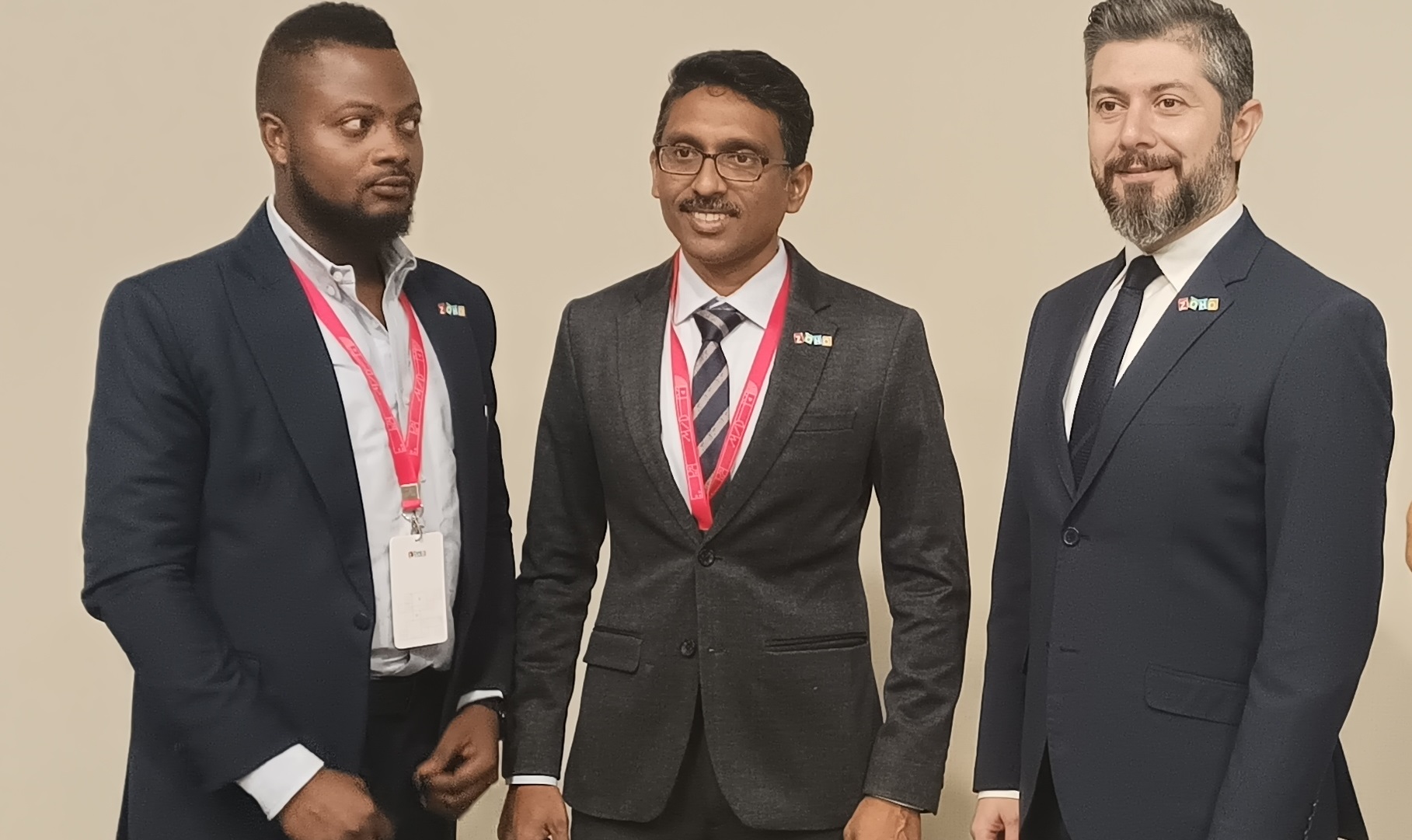 By Dipo Olowookere
Global technology company, Zoho, will next month officially open its third African office in the Lekki area of Lagos as part of its efforts to serve its clients in Nigeria better.
Addressing journalists in Lagos on Friday, the President of Zoho for MEA, Mr Hyther Nizam, explained that the decision to bring the company closer to its consumers in the country is because Nigeria is its largest market on the continent.
He noted that the firm will use the opportunity to reduce the unemployment rate in the country as it would hire more employees locally for customer-facing roles, especially in the sales, marketing and other departments.
While speaking on the sidelines of the company's first user conference in the country tagged Zoholics Nigeria, Mr Nizam further disclosed that Zoho has introduced a new product called Zoho Africa Digital Enabler package tailored for small and medium enterprises (SMEs) with about five employees.
According to him, the Zoho Africa Digital Enabler package, which will be available from July 1, 2022, will help small businesses take steps towards digital transformation and it would be offered at a discount of 50 per cent for a period of three months with a collection of 10 leading apps.
He explained that subscribers will have access to standard support available to them, which will allow access to a knowledge base, community forums, a self-service portal, email support and remote assistance. It also includes live chat support and telephonic support during working hours five days a week.
"For small businesses, enterprise technology is prohibitively priced and inaccessible," said Mr Nizam. "We want to remove the technology adoption barrier and help them kickstart their digital transformation journey, which will in turn help them stay nimble and quickly adapt to changing market conditions.
"The products are available in local pricing, helping businesses avoid cost fluctuations due to changing dollar value, which is beneficial in the current turbulent economy. We hope that Nigerian businesses will avail of this plan and fast-track their growth by leveraging cloud technology."
Business Post gathered that in the package are Zoho Workplace, Zoho Invoice, and Zoho Begin, among others.
The Zoho Workplace is a unified platform that brings together collaboration, productivity, and communications tools and integrates them into other business processes. It has secure business email (Zoho Mail), team chat (Zoho Cliq), and an online office suite (Zoho Writer, Zoho Sheet, Zoho Show, and Zoho WorkDrive).
The Zoho Invoice helps users create and send customised invoices, track time, and bill customers accurately. It can also improve their cash flow by automatically sending payment reminders to customers, and getting paid online faster through debit/credit cards and PayPal. Moreover, businesses can record and track expenses by simply scanning their expense receipts. They will also be able to track tax levied on every transaction, allow customers to view their invoices, and projects, and make payments through the self-service portal.
As for the Zoho Bigin, it is a pipeline-centric CRM designed specifically to help MSMEs keep track of their customers and improve customer relationships without having to worry about high costs or complicated features. It can be set up in 30 minutes, with options to create multiple pipelines with customisable stages based on a company's operation style.
Firm Launches Yellow Pay to Facilitate Easy Intercontinental Transactions
By Adedapo Adesanya
Yellow Card Financial has announced the launch of its new payment feature, Yellow Pay, to make it easier for customers to send and receive money through the company's crypto exchange platform.
The firm said the new product will be coming without any extra charges for users.
The Director of Operations for Yellow Card, Mr Oparinde Babatunde, said one of the biggest challenges in Africa is the difficulty in money transfer, stating that it is easier to send money from Nigeria to the US than it is to send money from Nigeria to Ghana or Zambia, and in the instances where it is possible, it is usually through the United States Dollars.
However, "Yellow Pay simplifies money transfer between African countries by building a solution that understands the way Africans already interact with financial products.
"We've managed to simplify it further by reducing costs and waiting time of remittance across the continent drastically compared to traditional money transfer rails.
"With Yellow Pay, Africans can send money across borders using their phones."
Yellow Pay uses Yellow Card's crypto exchange platform to complete customer transactions in USDT (Tether).
It is important to note that Yellow Pay is not a money remittance or foreign currency exchange service. Rather, Yellow Pay is an advanced crypto exchange product.
The company explained that there are several benefits to using Yellow Pay. Firstly, the service is powered by blockchain technology making it cheaper. Secondly, transactions are instant so there's no waiting period. Lastly, money transfers are absolutely free. And lastly, the uses are endless as one can: send money for business, school and healthcare. Gift cash to friends and family across Africa, pay vendors in other countries, receive payment for services, pay bills and fees in other African currencies and so much more.
Mr Oparinde adds that "The people that will benefit from Yellow Pay the most are the unbanked and underserved people living in peri-urban areas and rural parts of the continent. They usually do not meet the necessary requirements to open a dollar account with banks and as such are cut off completely. Yellow Pay will service this market."
The company added that the launch of Yellow Pay not only makes it easier for money transfer but also opens up the continent to more investment, access to credit, and business grants, and generally will improve the ease of doing business.
Jumia Grows GMV by 21%, Revenue by 43% in Q2 2022
By Adedapo Adesanya
Jumia Technologies recorded a 21 per cent growth in its Gross Merchandise Value (GMV), which shows the total sales monetary value for merchandise sold through a particular marketplace over a certain time frame, in the second quarter of the year as the metric jumped to $271.1 million compared to $223.5 in the same period last year.
This was announced today in its financial results for the second quarter ended June 30, 2022.
Revenue also grew 42.5 per cent to $57.3 million from $40.2 million while it raked in a gross profit of $30.4 million from $26.8 million, a 13.6 per cent growth by comparison.
This is as Orders and Quarterly Active Consumers also grew by 35 per cent and 25 per cent respectively. In the period under review, Jumia across the board settled 10.3 million orders against 7.6 million, while its customer base in the three months grew from 2.7 million last year to 3.4 million.
Commenting on the results, Mr Jeremy Hodara and  Mr Sacha Poignonnec, co-Chief Executive Officers of Jumia said, "We remain focused on scaling the business towards profitability. In the second quarter of 2022, we have successfully delivered on each building block of our path to profitability: usage growth momentum, monetization acceleration and cost discipline.
"Despite a deteriorating macro environment, we maintained a strong pace of usage growth. Orders, Quarterly Active Consumers, and GMV grew by 35 per cent, 25 per cent, and 21 per cent respectively, on a year-over-year basis.
"Leveraging robust usage growth, we further accelerated monetization. Gross Profit and Marketplace revenue were up 14 per cent and 17 per cent year-over-year respectively, the fastest growth rates of the past 5 quarters."
In the context of rising inflation and input cost pressure, Jumia announced that cost discipline remained a top priority, adding that it drove usage growth and monetization acceleration with lower-than-expected marketing investments with Sales and Advertising expenses of $41.0 million in the first half of 2022 compared to our guidance of $50-55 million.
"We believe we are now past the peak of quarterly Adjusted EBITDA (earnings before interest, taxes, depreciation, and amortization) losses reached in the fourth quarter of 2021 and intend to redouble our efforts to reach profitability, leveraging our strong business fundamentals.
"We intend to reduce Adjusted EBITDA losses starting from the second half of 2022 with a 12 per cent to 29 per cent decrease year-over-year."
"We are confident our consistent and disciplined execution will help us reach profitability and build an even stronger and more relevant platform," the company noted.
Speaking on its impact initiatives, Jumia noted that in Nigeria, it partnered with Errand360 to offer eco-friendly, bicycle-powered meal deliveries to our customers.
"This partnership will help us reduce our carbon emissions and delivery costs thanks to lower maintenance costs and zero spend on fuel," it said.
NIPR Lagos to Hold 9th Stakeholders Conference August 18
By Adedapo Adesanya
The Lagos State Chapter, the premier branch of the Nigerian Institute of Public Relations (NIPR) in collaboration with Addefort Limited is set to host the ninth Lagos Public Relations Stakeholders' Conference.
In a disclosure on Thursday, the chapter said that the conference will address Leadership and Poverty Eradication at the MUSON Centre, Lagos on Thursday, August 18, 2022.
The Lagos Public Relations Stakeholders Conference is a bridge-building initiative to interact and proffer solutions to the social, political and economic challenges plaguing our nation.
This edition themed Conversations on Leadership and Poverty Eradication is expected to feature distinguished speakers including; the Governor of Lagos State, Babajide Sanwo-Olu; Mr Tony Elumelu, founder and Chairman, Heirs Holdings; and  Mr Umar Garba Danbatta, Executive Vice Chairman/ CEO, Nigerian Communications Commission (NCC).
Others are Mr Segun Ajayi-Kadir, DG Manufacturers Association of Nigeria (MAN); Mr Kayode Pitan, Managing Director, Bank of Industry (BoI); Mrs Tejumola Abisoye, Executive Secretary, Lagos State Employment Trust Fund (LSETF); Mrs Cecilia Bolaji Dada, Commissioner of Women Affairs and Poverty Alleviation, Lagos State and Dr Oluseye Ajuwon, Economist and Consultant, University of Lagos.
Speaking on the conference, the Chairman, Lagos NIPR, Mrs Comfort Obot Nwankwo, explained that the theme for this year's edition is timely, adding that the Institute is committed to setting agenda for stakeholders' engagement and lead the discuss to reawaken national consciousness.
She noted that eradicating poverty in all its forms remains one of the greatest challenges facing humanity; Nigeria is not an exemption, despite the efforts of government in the country, too many are still struggling for the most basic human needs.
On the part of Mr Olabamiji Adeleye, Conference Coordinator & Lead Consultant, Addefort Limited, participants at the conference will include; representatives from government, Public Relations practitioners, economic experts, the United Nations, embassies, corporate organisations, institutions, NGOs, HODs of relevant agencies, and the media among other stakeholders.
Latest News on Business Post