Adeosun Begs NASS to Cut CBN Governor's Powers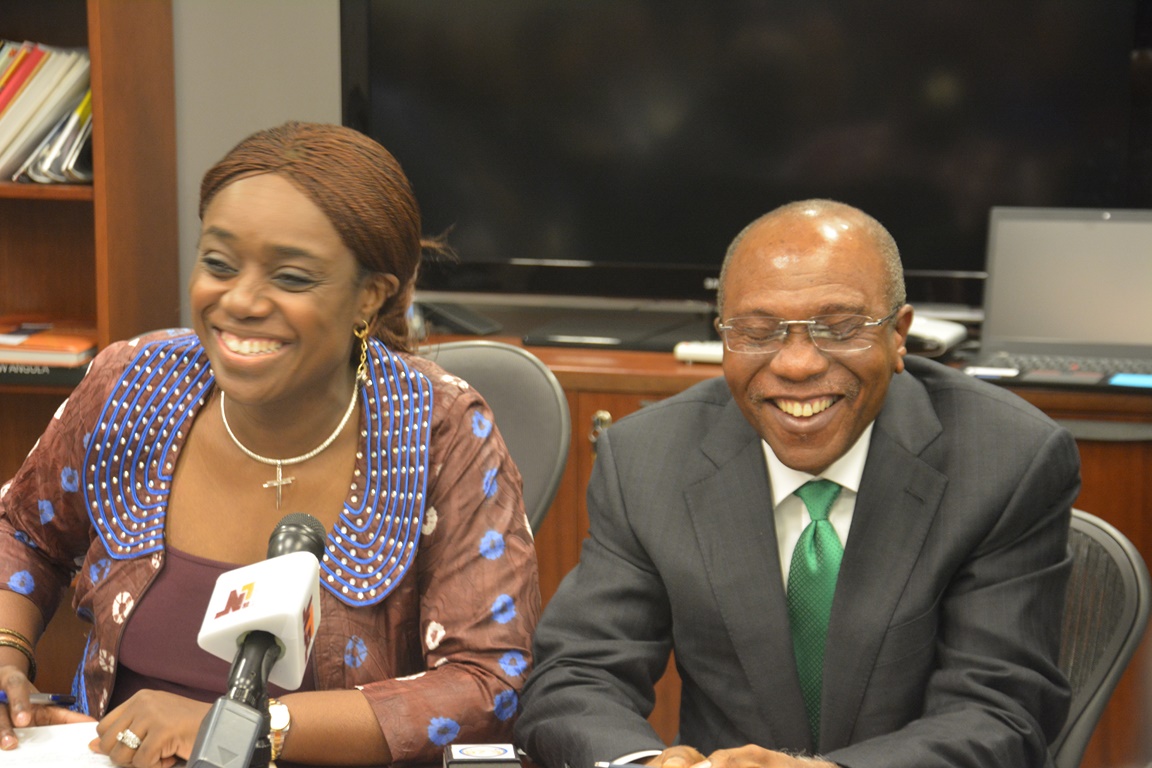 By Dipo Olowookere
The National Assembly has been urged to reduce the powers of the Central Bank of Nigeria (CBN) Governor.
Minister of Finance, Mrs Kemi Adeosun, made this appeal on Tuesday, when members of the House of Representatives Tactical Committee on Recession led by Mr Bode Ayorinde, paid her a visit at her office in Abuja.
Mrs Adeosun said at the moment, the CBN boss has excessive powers that give him the opportunity not to consult with the Finance Ministry before coming up with monetary and fiscal policies
She said it amounted to what she described as excesses on the part of the apex bank's Governor to decide and act on financial matters without recourse to the Minister of Finance, who is constitutionally required to supervise financial policies, programmes and activities of the Federal Government.
"I want to correct the impression that the CBN is under us. They are not. Unfortunately, a law was passed, making them independent and giving them more powers. This has resulted in one person having so much power.
"In the time of Prof. Charles Soludo as CBN Governor, he went to the National Assembly asking for more powers and you can see where that has taken us to. So we are back to the legislature to help us correct this problem of too much power. As a result, there are no checks and balances," Mrs Adeosun informed her guests.
According to the Minister, under the administration of former President Goodluck Jonathan, the then CBN Governor ordered the sacking and trial of bank chiefs and introduced monetary policies to regulate certain activities in the financial sector.
Reacting to the issue raised by the Minister, an industry analyst, the Director-General of West African Institute for Financial and Economic Management, Prof. Akpan Ekpo, such an idea should be thrown out immediately, as it was outdated and out of sync with modern global trends.
"I have no details, but if this is actually what she said, it is not acceptable. The Central Bank should remain independent and not be brought under the Ministry of Finance. Nigeria is too large and not equipped for that arrangement. The CBN should not be seen as a subset of the ministry," he said.
Also, erstwhile banker and financial expert, Mr Fola Adeola, reinforcing the CBN's autonomy as a global practice, said the relationship between the ministry and CBN should be the coordination of monetary and fiscal policies.
"While I do not know exactly what she said and meant, but if the move is to reduce CBN's powers, it may be tantamount to an infringement on its autonomy. On the other, if the matters in question are anything other than monetary policy issues, she may have a case to make," he said.
Deputy Managing Director of financial services advisory firm, Afrinvest Limited, Mr Victor Ndukauba, is more concerned about how the adverse impact it would have on the larger economy by subjecting the CBN to the ministry's supervision.
"Ideally, the Central Bank should have only one function and that is monetary, controlling inflation. To say that the Governor and the Central Bank should be under the control of the Executive would mean that any decision that is made by the CBN will be subjected to political influence.
"So, the place of the Central Bank is sacrosanct. In fact, if we are to take any step in removing or rolling back that independence, it would not augur well for us," he said.
In view of the challenges the principal parties may face in achieving set goals under the current economic crisis, Mr Udukauba called for a synergy between the two, in order to realise common goals of stemming galloping inflation, cutting high unemployment rate and buoying economic activities.
Meanwhile, none of the CBN Governors – including the incumbent, Mr Godwin Emefiele, and former ones, Mr Sanusi Lamido Sanusi, and Mr Charles Soludo, picked their calls or responded to text messages from The Guardian to them.
Mr Soludo, whom Mrs Adeosun identified as the chief protagonist of the current impasse, in a text message response, merely said: "Sorry, I am abroad and can only be reached via text please."
Additional information from The Guardian.
NIMASA, NCC Collaborate to Create Submarine Cable Regulation in Nigeria
By Adedapo Adesanya
The Nigerian Maritime Administration and Safety Agency (NIMASA) and the Nigerian Communications Commission (NCC) are collaborating to develop a regulatory framework to provide operational guidelines for Submarine Cables and Pipeline Operators in Nigeria.
Submarine and cable operators in Nigeria have been notified of the soon-to-be-implemented regulatory guideline for submarine cables and pipelines in Nigeria, in line with the provisions of the United Nations Convention on the Law of the Sea (UNCLOS).
Speaking at a pre-audit meeting of both organs of government in Lagos on submarine cable regulation, the Director General of NIMASA, Mr Bashir Jamoh, noted that the agency was committed to the Ease of Doing Business while implementing International Conventions which Nigeria has ratified and domesticated.
He noted that with Nigeria now a destination for global communication players, the time has come to prevent unregulated underwater cable laying, which might become hazardous to shipping.
According to him, "It is worthy to note that marine cable laying has been ongoing for over two decades in Nigerian waters. Our focus is to ensure the safety of navigation of shipping in Nigerian waters with all these underwater cables being laid."
"NIMASA is developing the guidelines to regulate submarine cable operators in line with the provisions of UNCLOS; which we have ratified and NIMASA will be the agency responsible for its implementation.
"We do not just implement laws; we consult. Where the responsibility of an Agency stops, that is where the responsibilities of another agency start. Collaboration is a key component of ease of doing business in the best interest of the country and we will work closely with the NCC to achieve this," he said.
On his part, the Executive Vice Chairman of the NCC, Mr Umar Garba Danbatta, who was represented by the Director, Compliance Monitoring and Enforcement, Mr Efosa Idehen, noted that the stakeholders' dialogue strategy adopted by NIMASA in developing the guidelines would ensure a win-win situation urging NIMASA management to include the Ministry of Justice, a request NIMASA DG immediately granted.
Also speaking at the meeting was the Director General of the Bureau of Public Service Reforms, Mr Dasuki Arabi, who commended NIMASA and NCC for adopting effective Inter-Agency collaboration to avert a potential challenge for the country in the future.
NIMASA and the NCC also agreed to identify and resolve areas of likely regulatory overlaps, ensuring a regulatory framework based on consultation to engender the attainment of Nigeria's digital economy transformation.
BUA Cement, Nigerian Breweries, Others Drive Stock Market's 0.06% Loss
By Dipo Olowookere
The Nigerian Exchange (NGX) Limited recorded a 0.06 per cent loss on Friday as a result of the selling pressure on some blue-chip stocks at the bourse.
It was observed that the decline was mainly driven by the poor performances of financial and industrial goods shares during the trading session.
Data obtained by Business Post showed that the insurance space lost 1.01 per cent, the industrial goods counter depreciated by 0.66 per cent, the banking sector declined by 0.25 per cent, and the consumer goods category shed 0.21 per cent, while the energy index remained flat.
Consequently, the All-Share Index (ASI) moderated by 31.55 points to 54,892.53 points from 54,924.08 points, and the market capitalisation went down by N18 billion to N29.903 trillion from N29.921 trillion.
A total of 137.6 million shares valued at N3.9 billion exchanged hands in 2,912 deals on the last trading session of the week compared with the 117.9 million shares worth N1.4 billion traded in the preceding session in 2,575 deals, representing an improvement in the trading volume, value and the number of deals by 16.71 per cent, 178.57 per cent, and 13.09 per cent, respectively.
Fidelity Bank closed the session as the most traded equity after it sold 21.5 million units and was trailed by GTCO, which sold 14.9 million units. Neimeth traded 14.0 million shares, UBA exchanged 12.8 million equities, and Transcorp traded 8.9 million stocks.
Investor sentiment was slightly strong yesterday as the market breadth was positive with 13 price gainers and 11 price losers led by AIICO Insurance, which fell by 5.00 per cent to 57 Kobo.
Linkage Assurance depleted by 4.76 per cent to 40 Kobo, Coronation Insurance went down by 4.76 per cent to 40 Kobo, International Breweries depreciated by 2.25 per cent to N4.35, and Transcorp lost 2.19 per cent to trade at N1.34.
On the flip side, NPF Microfinance gained 6.94 per cent to finish at N1.85, Geregu Power appreciated by 6.25 per cent to N323.00, Lasaco Assurance rose by 5.00 per cent to N1.05, Chams grew by 4.17 per cent to 25 Kobo, and Japaul improved by 3.57 per cent to 29 Kobo.
Analysis of the market data indicated losses reported by BUA Cement (1.60 per cent), Nigerian Breweries (0.55 per cent), GTCO (0.25 per cent), and Zenith Bank (0.15 per cent) caused the downfall of the exchange on Friday.
Again, NASD OTC Exchange Valuation Crosses N1 trillion
By Adedapo Adesanya
The market capitalisation of the NASD Over-the-Counter (OTC) Securities Exchange recorded a 5.3 per cent appreciation at the final session for the week, Friday, March 24, to close at N1.01 trillion from N959.06 billion on Thursday.
Business Post reports that this is the second time the value of the NASD OTC exchange would cross the N1 trillion mark.
The first was when Access Bank Plc was admitted to the alternative stock exchange in March 2022 and about a year later, it again crossed the same mark after Purple Real Estate Income Plc joined the platform on Thursday and began trading the next day.
Meanwhile, the NASD Unlisted Securities Index (NSI) grew by 0.5 points or 0.07 per cent yesterday to wrap the session at 730.37 points compared with 729.87 points recorded in the previous session.
The day's single price gainer was Geo-Fluids Plc, which improved its value by 16 Kobo to close at N1.80 per share versus Thursday's closing price of N1.64 per share.
The volume of securities traded by investors depreciated on Friday by 67.3 per cent to 1.7 million units from 5.2 million units, the value of transactions slumped by 87.2 per cent to N3.1 million from N24.3 million, while the number of deals decreased by 78.6 per cent to three deals from the 14 deals carried out in the previous trading day.
Geo-Fluids Plc remained the most traded stock by volume on a year-to-date basis with 462.1 million units valued at N505.0 million, UBN Property Plc stood in second place with 365.8 units valued at N309.5 million, while IGI Plc was in third place with 71.1 million units valued at N5.1 million.
In terms of the most traded stock by value on a year-to-date basis, VFD Group Plc was on top of the chart for exchanging 7.3 million units worth N1.7 billion, followed by Geo-Fluids Plc with 462.1 million units valued at N505.0 million, and UBN Property Plc with 365.8 million units valued at N309.5 million.
Latest News on Business Post