Amosun for 2020 Stockbrokers' Conference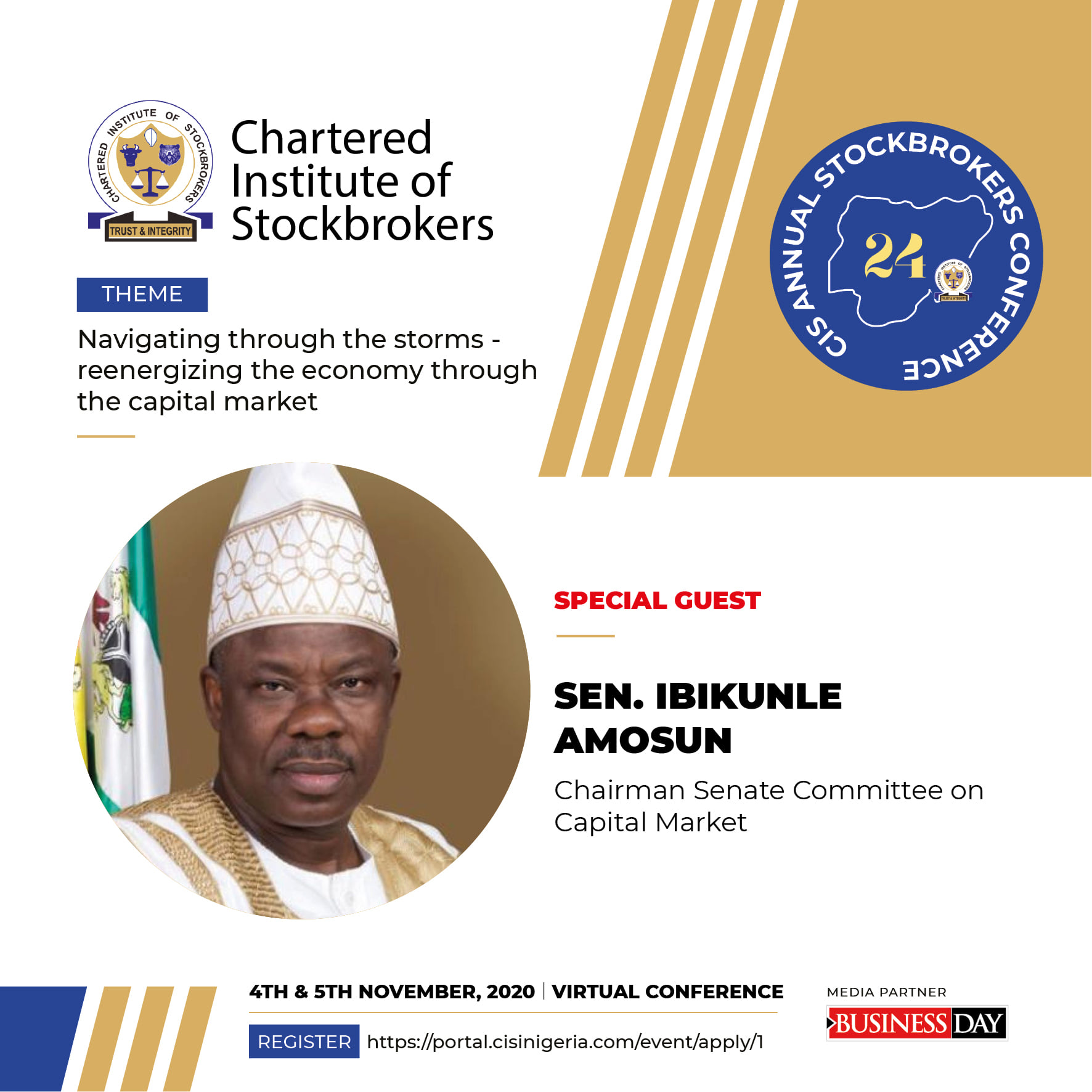 By Modupe Gbadeyanka
The immediate past Governor of Ogun State, Mr Ibikunle Amosun, has been invited to the 2020 edition of the yearly conference of the Chartered Institute of Stockbrokers (CIS).
The event is slated for November 4 and 5 and is themed Navigating through the Storms: Reenergising the Economy through the Capital Market.
According to the stockbrokers' body, Mr Amosun, who is currently a Senator at the National Assembly and doubles as the Chairman, Senate Committee on Capital Market, will attend the programme as a special guest as well as the Director-General of the Securities and Exchange Commission (SEC), Mr Lamido Yuguda.
The conference, in its 24th edition, the CIS said, will be virtual as a result of the present global pandemic caused by COVID-19, which has made large gatherings almost impossible because of the transmission of the virus, which has infected over 40 million persons globally.
The CIS said this year's conference, which will require intending participants to register before the event HERE, is focused on enhancing the knowledge required to drive development and growth amongst our members and other key stakeholders in the Nigerian capital market.
At the end of the conference, our goal is to inspire innovation and business creativity that will be beneficial to CIS members and other stakeholders, the organisation stated.
The CIS is a professional body with a statutory responsibility of regulating the practice of stockbroking in Nigeria. To practice investment and stockbroking in Nigeria, a certification must be obtained from the institute.
NGX Group Gains 10% to Lift Stock Market by 0.26%
By Dipo Olowookere
The nation's stock market rebounded by 0.26 per cent on Wednesday after going down by 0.71 per cent on Monday, which was the last trading session as the exchange was closed on Tuesday for a public holiday in Nigeria.
Investors were in high spirits yesterday when they returned to the market and this reflected in the level of activity as the trading volume rose by 47.47 per cent to 499.5 million stocks from 338.7 million stocks, the trading value increased by 25.16 per cent to N5.1 billion from N4.1 billion, while the number of deals grew by 2.25 per cent 5,998 deals from 5,866 deals.
Business Post reports that when the exchange closed for the day, FBN Holdings was the most traded equity with the sale of 147.6 million units valued at N1.8 billion, followed by eTranzact, which transacted 105.2 million units worth N215.6 million.
Furthermore, Access Bank sold 27.9 million units worth N266.0 million, Transcorp traded 22.3 million units valued at N22.8 million, while GTCO recorded a turnover of 20.6 million shares worth N612.9 million.
It was observed that the market closed in the positive territory as a result of the growth posted by the Nigerian Exchange (NGX) Group Plc as its share price went up by 10.00 per cent to settle at N21.45.
GlaxoSmithKline rose by 6.87 per cent to N7.00, NPF Microfinance Bank gained 5.85 per cent to trade at N1.81, Coronation Insurance grew by 4.17 per cent to 50 kobo, while FBN Holdings appreciated by 3.83 per cent to N12.20.
On the flip side, Prestige Assurance was the worst loser as its value depreciated by 8.51 per cent to 43 kobo, Consolidated Hallmark Insurance fell by 8.33 per cent to 55 kobo, Academy Press also dropped 8.33 per cent to 33 kobo, Cadbury Nigeria lost 5.88 per cent to sell for N8.00, while Union Bank went down by 5.66 per cent to N5.00.
In all, a total of 21 stocks closed on the gainers' chart while 18 stocks finished on the losers' chart, indicating a positive market breadth and investor sentiment.
However, three of the five major sectors of the market closed bearish with the energy, consumer goods and banking counters losing 0.39 per cent, 0.24 per cent and 0.20 per cent respectively, while the insurance and industrial goods sectors rose by 0.58 per cent and 0.04 per cent apiece.
At the close of transactions, the All-Share Index (ASI) improved by 105.04 points to 41,249.71 points from 41,144.67 points, while the market capitalisation expanded by N54 billion to N21.526 trillion from N21.472 trillion.
Naira Appreciates to N414.07/$1 as Bitcoin Hits $66k
By Adedapo Adesanya
The Naira appreciated against the US Dollar at the Investors and Exporters (I&E) window of the foreign exchange (forex) market by 0.16 per cent or 66 kobo on Wednesday, October 20 as trading returned after the Eid-el-Maulud holiday break.
At the close of business at the midweek session, the local currency was sold for N414.07/$1 in contrast to N414.73/$1 it was traded on Monday, according to data obtained from FMDQ Securities Exchange.
During the second trading session of the week, a turnover of $334.97 million was recorded as against the $172 million achieved at the preceding session.
This indicated a $162.97 million or 48.7 per cent rise in the value of transactions yesterday and because of the anticipation of pressure on the Nigerian currency, FX supply was made available to traders and this supported the growth posted by the domestic currency during the trading day.
But at the interbank segment of the market, the Nigerian currency maintained stability against the American Dollar as it remained unchanged at N410.89/$1 on Wednesday.
Meanwhile, at the cryptocurrency market, Bitcoin (BTC) rallied to an all-time high (ATH) of $66,000 yesterday as optimism surged for greater mainstream acceptance in the wake of the successful launch of the first exchange-traded fund for US investors.
In a Naira equivalent, the most popular digital coin in the world was sold for N37,004,384.99 after it rose by 2.8 per cent.
On October 19, 2021, the Proshares Bitcoin Strategy ETF (BITO) was launched. The bitcoin exchange-traded fund is the first ETF ever to be approved in the United States and it's based on bitcoin futures markets.
This development, Business Post gathered, triggered a renewed interest in the cryptos and caused Litecoin (LTC) to rise by 9.3 per cent to N117,992.99. Dash (DASH) went up by 5.9 per cent to sell for N111,892.63, Tron (TRX) grew by 4.7 per cent to trade at N58.70, while Ripple (XRP) appreciated by 4.4 per cent to trade at N635.00.
Further, Dogecoin (DOGE) was 4.2 per cent higher to sell at N150.96, Cardano (ADA) saw its value rise by 4.1 per cent to N1,305.81, Binance Coin (BNB) made a 3.4 per cent gain to trade at N205,395.75, while Ethereum (ETH) rose by 1.7 per cent to trade at N2,203,900.99.
However, the US Dollar Tether (USDT) went down by 0.4 per cent to sell for N565.49.
Oil Prices Continue Ascent as US Crude Inventories Drop
By Adedapo Adesanya
Oil prices showed no sign of slowing yet again on Wednesday as a drop in crude inventories in the United States supported the market amid a supply crunch in the energy market.
Brent crude rose by 80 cents or 0.94 per cent to trade at $85.88 per barrel and the US West Texas Intermediate (WTI) crude added 91 cents or 1.1 per cent to sell at $83.87 per barrel.
A week after it reported a sizeable oil inventory build that pushed prices lower for a while, US crude stocks fell by 431,000 barrels in the most recent week, the Energy Information Administration (EIA) said, as against expectations for an increase.
At 426.5 million barrels, inventories remain below the five-year average for this time of the year.
On its part, the American Petroleum Institute (API) noted a build last week which was estimated at 3.294 million barrels, above analyst expectations of a 2.233 million barrels build.
Crude markets, in general, remain supported on the back of a global coal and gas crunch, which has driven a switch to diesel and fuel oil for power generation.
The switching from gas to oil could account for the demand of 500,000 to 600,000 barrels per day, depending on winter weather and prices of other sources of energy, a move that has supported oil prices.
However, China's National Development and Reform Commission (NDRC) said it plans on arresting the high energy prices, a move that could push down oil prices.
The commission said it would bring coal prices back to a reasonable range and crackdown on any irregularities that disturb market order or malicious speculation on thermal coal futures, according to foreign media.
The possible Chinese intervention sent the key Chinese coal futures plunging early on Wednesday.
In entirety, the market is highly bullish as supply has tightened especially with the Organisation of the Petroleum Exporting Countries and allies (OPEC+) maintaining a slow increase in supply rather than intervening to add more barrels to the market, just as US demand has increased.
Latest News on Business Post