Apapa Customs Generates N227.3bn Revenue in Six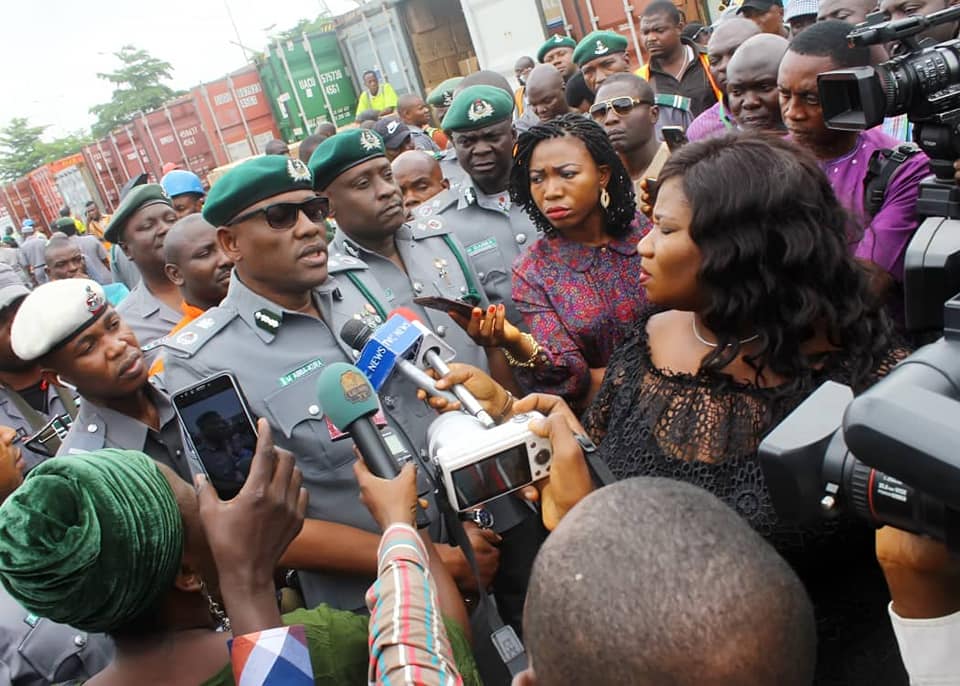 By Adedapo Adesanya
The Apapa Customs Command of the Nigeria Customs Service (NCS) generated a total of N227.3 billion in revenue between January and June, indicating an increase of 11 percent above its 2019 half-year earnings.
The Area Comptroller, Mr Mohammed Abba-Kura, said the command also recorded an export trade volume of more than N52 billion in the first half of the year.
Speaking of the Apapa Customs Command's revenue generation and anti-smuggling activities, Mr Abba-Kura noted that despite the impact of the COVID-19 on global trade, the command's revenue earnings from January to June 2020, surpassed what it generated in 2019.
He said that there was an increase of N24 billion in the revenue generated in the first six months of the year of N227.3 billion compared to N203.3 billion earned within the same period in 2019.
The Area Comptroller said that the number of goods exported from Nigeria stood at 1.642 million tonnes, adding that goods exported included agricultural products, mineral resources and steel bars amongst others.
He said 142 containers at the terminals were seized for false declarations and two exotic cars, one Rolls Royce 2018 and 1 Lamborghini Hurricane Sports Car 2019, that were impounded for evading customs duty payment.
"Others include pharmaceuticals, bags of rice, used clothing and shoes, vegetable oil,  vehicles, packaging materials,  detergents, candy milk, used tyres, cigarette fitter,  rug and textile materials respectively," Mr Abba-Kuri added.
He then disclosed that the Command had invoked the provisions of section 167 of CEMA, which deals with detention, seizure and condemnation of goods,  noting that all seized items have now become the properties of the Federal Government of Nigeria following a Lagos High Court judgment.
He said the Nigeria Customs Service continues to record more seizures on daily basis, adding that although smugglers are incurring huge losses, beyond this, the country was losing because revenues are not generated from the seized items, as most of these cargoes are often destroyed.
Generally, this revenue increase means the NCS is on course to meet its revenue target for the year.
Business Post had reported earlier that the agency had achieved a 59.9 percent of its set goal when it declared that it raked a total sum of N573.1 billion as revenue between January and May 2020.
Crude Oil Rises on Positive US Economic Data
By Adedapo Adesanya
Positive economic data and robust fuel consumption in the world's largest oil consumer and producer of crude oil, the United States, triggered a rise in the price of the commodity on Thursday.
Brent futures rose by $2.94 or 3.1 per cent to settle at $96.59 a barrel while US West Texas Intermediate (WTI) crude rose by $2.39 or 2.7 per cent to settle at $90.50.
Prices rallied after another round of impressive US economic data boosted optimism for an improving crude demand outlook.
While recession fears and the possible demand destruction that could come with such a recession have pulled down prices over the last month, economic data in the US showed a stronger labour market, further bolstering crude prices.
The number of Americans filing new claims for unemployment benefits fell last week and the prior period's data was revised sharply lower, suggesting labour market conditions remain tight despite slower momentum due to higher interest rates.
On Wednesday, the EIA estimated that crude oil inventories had fallen by 7.1 million barrels, on top of millions of barrels of crude oil making their way out of the nation's Strategic Petroleum Reserves (SPR).
Fuel inventories in the country also fell by another 4.6 million barrels for the week ending August 12, the EIA reported on Wednesday.
US crude oil inventories, excluding those in the SPR, are now just 425 million barrels, 6 per cent below the five-year average. Fuel inventories are 8 per cent below the five-year average, and distillates are 23 per cent below the five-year average.
The EIA data also calmed fears that furl demand could be falling after it showed the four-week average of implied gasoline demand rose to the highest level this year.
Bans by the European Union on Russian oil exports could dramatically tighten supply and drive up prices in coming months as it could reach up to 2 million barrels per day.
The new secretary general of the Organization of the Petroleum Exporting Countries (OPEC), Mr Haitham Al Ghais at its next meeting in September, OPEC+, which includes other oil suppliers like Russia, "could cut production if necessary, we could add production if necessary. … It all depends on how things unfold."
However, disappointing economic data out of China this week, which signifies lower crude demand from the world's largest oil importer, has capped oil's increase, as well as a stronger US Dollar, which makes crude oil more expensive for foreign buyers.
Nigerian Stocks Shed 0.29% as Investors React to News of Emirates' Inability to Move Funds
By Dipo Olowookere
Investors at the Nigerian Exchange (NGX) Limited, especially the foreign portfolio investors (FPIs), reacted negatively to a shocking revelation that Emirates Airlines would be suspending its operations in Nigeria from next month because of its inability to repatriate about $85 million trapped in the country due to the foreign exchange (FX) crisis in Nigeria.
The news broke in the morning, just before proper trading activities resumed on the floor of the exchange and this triggered panic selling of Nigerian stocks during the trading day.
Nigeria has struggled to meet forex requests of users because of a shortage in supply despite the rise in the price of crude oil. The nation has not been able to earn more from crude oil sales due to theft and corruption.
On Thursday, the domestic stock market further depreciated by 0.29 per cent on the back of profit-taking in almost all the key sectors of the bourse.
Only the banking sector closed in the green territory by 0.18 per cent as the insurance space lost 1.41 per cent, the industrial goods counter depreciated by 0.51 per cent, the consumer goods index fell by 0.33 per cent, while the energy counter declined by 0.10 per cent.
Consequently, the All-Share Index (ASI) depleted by 144.79 points to 49,546.38 points from 49,691.17 points, while the market capitalisation shed N78 billion to close at N26.724 trillion verse N26.802 trillion in the earlier session.
Business Post reports that investor sentiment was strongly weak yesterday as the stock exchange ended with 24 depreciating stocks and 12 appreciating equities due to the disturbing development.
NEM Insurance lost 9.98 per cent to trade at N3.97, Okomu Oil depreciated by 9.96 per cent to N195.30, University Press went down by 9.91 per cent to N1.91, Lasaco Assurance shed 9.57 per cent to sell for N1.04, while Multiverse weakened by 8.70 per cent to N2.10.
On the flip side, FTN Cocoa gained 10.00 per cent to close at 33 Kobo, Regency Assurance rose by 8.70 per cent to 25 Kobo, Prestige Assurance improved by 8.33 per cent to 52 Kobo, Red Star Express climbed higher by 5.88 per cent to N2.70, while Caverton increased by 3.96 per cent to N1.05.
During the session, a total of 147.0 million stocks worth N2.7 billion were traded in 3,180 deals as against the 128.8 million stocks worth N4.1 billion traded in 3,492 deals a day earlier, representing an increase in the volume of transactions by 14.13 per cent, a decline in the value of trades by 35.75 per cent and a reduction in the number of deals by 8.93 per cent.
A breakdown showed that FBN Holdings accounted for 39.0 million units valued at N431.9 million, UBA contributed 13.0 million units worth N91.2 million, Access Holdings recorded 10.2 million units worth N84.4 million, GTCO sold 6.5 million units for N132.2 million, while Stanbic IBTC transacted 6.2 million units worth N172.9 million.
CBN Aims to Boost eNaira Adoption by 800% to 8 Million
By Adedapo Adesanya
The Central Bank of Nigeria (CBN) is seeking to boost the adoption of the eNaira by 800 per cent in the next 12 months by luring people without bank accounts to join the fray.
This was disclosed by the CBN Governor,  Mr Godwin Emefiele, who gave the update on eNaira adoption at the grand finale of the e-Naira Hackathon, in Abuja on Thursday.
The central bank digital currency (CBDC) since its launch 10 months in October 2021 has attracted just 840,000 users.
Now, the apex bank is targeting 8 million users in the "second phase" of the digital currency's expansion.
He explained that this is coming as transactions on the digital currency platform hit N4 billion.
According to him, "Since the launch of this great initiative, the eNaira has reached 840,000 downloads, with about 270,000 active wallets comprising over 252,000 consumer wallets and 17,000 merchant wallets.
"In addition, volume and value of transactions on the platform have been remarkable, reaching above 200,000 and N4 billion, respectively."
The governor disclosed that despite the successes recorded on the initiative, the bank, in collaboration with private sector operators has started the second phase of the e-Naira.
His words, "Notwithstanding this appreciable progress, the second phase of the project has begun and it is intended to drive financial inclusion by onboarding unbanked and underserved users leveraging offline channels.
"Hence, greater success is envisioned for the project with phase two expected to deliver more gains with a target of about 8,000,000 active users based on estimations using the diffusion of innovation model."
Mr Emefiele said that CBN remained strategic in charting the future of the Naira by balancing innovation with the stability of the currency.
He said, "Pursuant to achieving its mandate of preserving monetary and financial stability, the CBN is strategic in charting the future of Nigeria's legal tender, be it in its traditional or digital form as the economy transits to a digital one as well as charting the course for innovation in the financial sector and in the infrastructure underpinning financial markets.
"Hence, the importance of getting the balance right between innovation and stability.
"Against this background, the launch of eNaira was timely and strategic in complementing the various diversification and digitisation initiatives of the Federal Government including the launch of the Nigeria Digital Economy Policy and Strategy (NDEPS), The National Broadband Strategy, as well as the introduction of the Start-Up Bill and a host of others."
The CBN boss said that the eNaira would make a significant positive difference to Nigeria and Nigerians, as it would ease their participation in the global digital economy.
"Specifically, the eNaira is expected to enhance financial inclusion, support poverty reduction, enable direct welfare disbursement to citizens, support a resilient payments ecosystem, improve availability and usability of central bank money, facilitate diaspora remittances, reduce the cost of processing cash, and reduce cost and improve the efficiency of cross-border payment among others.
"The eNaira was also developed to provide Nigerians with a cheap, safe, and trusted means of payment. Unlike offline payments channels like agent networks, USSD, wearables, cards, and near-field communication technology, the eNaira would give access to financial services to underserved and unbanked segments of the population.
"Innovative products and services built on the eNaira would enhance Nigerians' participation in the digital economy and promote further development of a burgeoning Fintech ecosystem."
Latest News on Business Post