Banker Urges SMEs to Monitor, Adjust Expenditure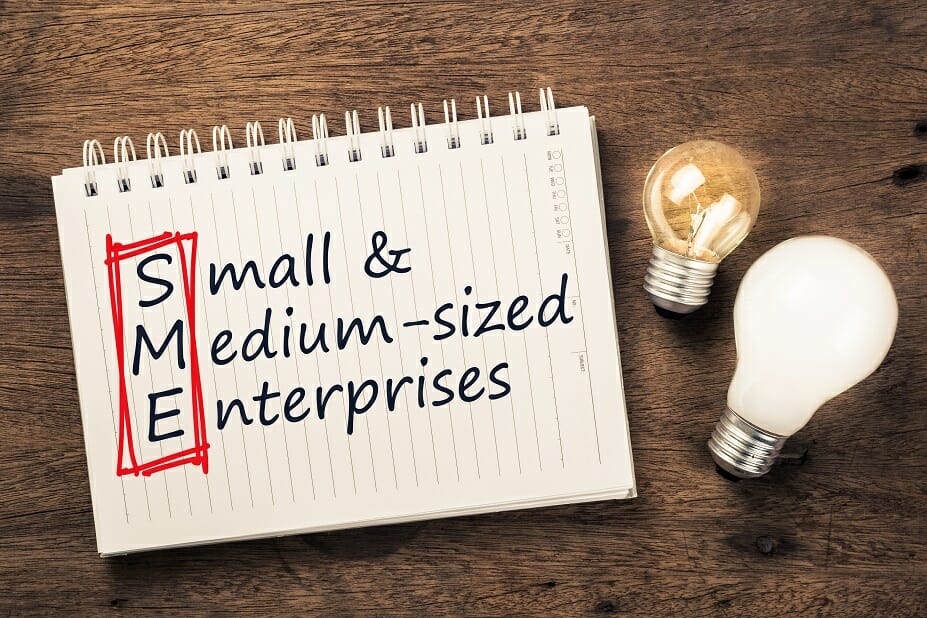 By Aduragbemi Omiyale
Business owners in the Small and Medium Enterprises (SMEs) sector have been urged to develop the habit of monitoring their expenditure and make adjustments where necessary.
This advice was given by the CEO of Stanbic IBTC Bank Plc, Mr Wole Adeniyi, at a webinar themed Scaling Your Business in Challenging Economic Times.
He argued that the COVID-19 crisis and the economic situation in Nigeria have not been friendly to the sector, noting that for the survival of any business, it was the best thing to do now.
However, he said Stanbic IBTC Bank will continue to support SMEs to over the challenges, stating that, "As a business entity, Stanbic IBTC understands that running a business is not a bed of roses and that challenges differ from one business ecosystem to another. For this reason, Stanbic IBTC Bank is always in search of solutions to solve business challenges as they arise."
Mr Wole also advocated the diversification of the economy through policies that will be aimed at driving commercial growth in various sectors, as SMEs are vital to the vast business ecosystem of any economy.
According to him, this would boost economic growth and lead to an improved standard of living for the citizenry.
Speaking on how the pandemic affected SMEs and the outlook of the post-pandemic era, another speaker at the event, Mr Ayodele Ojosipe, Head, Enterprise Banking, Stanbic IBTC Bank, explained that challenges faced by SMEs during the lockdowns still have profound effects on their businesses to date.
He added that whilst these challenges have resulted in increased costs of doing business, the inability of most SMEs to pass these costs to their customers has led to margin compression and outright losses in most cases thereby threatening their business sustainability.
Mr Ayodele stated further that despite the fluctuation and devaluation of the currency which has culminated in capital inadequacy for most SMEs in Nigeria, there are opportunities in the immediate business environment that small businesses can explore to turn the tide.
He advised SMEs to take advantage of the Stanbic IBTC unsecured SME Loan which is available to both existing and new clients of the Bank within 24hrs to enable them to meet their financing needs.
The banker identified changes in business dynamics, client focus, optimising cash flows and business partnerships, talent retention, restructuring loans (if any), deferring costs and accessing cheaper funding as key focus areas for SMEs to guarantee business continuity.
He further cited aspects of the recently promulgated Finance Act which would benefit small businesses. Some of the areas include the Company Income Tax Act, which stipulates those small businesses with less than N25 million turnover will no longer have to pay taxes and the CAMA act which states that small businesses with a turnover of less than N120 million need not turn in audited financials while filing their taxes, hence saving them costs in the appointment of auditors.
On her part, the founder of AGS Tribe, Ms Ife Durosimi-Etti, highlighted the need for small businesses to explore innovative ways of staying relevant through identifying what customers need.
She harped on the advantages of collaborations with other business owners, avoiding unnecessary loans, seeking opportunities for grants, and the importance of joining accelerator programmes for exposure.
FG to Announce New Date for Postponed FAAC Meeting for May 2022
By Aduragbemi Omiyale
The federal government has said it would announce a new date for the Federation Account Allocation Committee (FAAC) meeting for this month, which was shelved in a circular on Wednesday.
On Wednesday, the Ministry of Finance, Budget and National Planning released a statement to announce the postponement of the FAAC Meeting for May 2022 over certain circumstances connected with the arrest of the Accountant General of the Federation (AGF), Mr Ahmed Idris.
Mr Idris, who is a key member of the FAAC team, is cooling off in the custody of the agency over an alleged N80 billion fraud. He is helping the EFCC in its investigation into the issue.
As a result of his arrest and suspension from office by the Minister of Finance, Budget and National Planning, Mrs Zainab Ahmed, the meeting for this month was shelved.
In the circular signed by the Director of Home Finance at the Ministry, Mr Stephen Okon, the federal government assured that "the new date for the meetings will be forwarded to you in due course."
The gathering, which is held to share revenue generated by the country in the previous month to the three tiers of government; federal, states and local governments, was earlier slated to take place this month on Wednesday, May 18 and Thursday, May 19, 2022.
But Mr Okon stated in the notice that, "I am directed to inform you that the Federation Account Allocation Committee (FAAC) meetings earlier scheduled to hold virtually on the 18th and 19th May 2022 have been postponed due to certain circumstances."
Bulls Return to Unlisted Securities Market on 0.21% Growth
By Adedapo Adesanya
The NASD Over-the-Counter (OTC) Securities Exchange welcomed the bulls back into its fold on Thursday following a 0.21 per cent growth at the close of business.
The bulls were at the unlisted securities market yesterday at the invitation of Niger Delta Exploration and Production (NDEP) and Food Concepts Plc, which recorded price appreciations during the session.
NDEP Plc gained N10 or 4.6 per cent to close at N220.00 per share as against the N210.00 it closed at the last session, while Food Concepts Plc appreciated by 6 kobo or 6.5 per cent to close at 93 kobo per unit compared with 87 kobo per unit of the previous session.
The gains reported by the duo expanded the NASD unlisted securities index (NSI) by 1.66 points to 808.79 points from 807.12 points and equally increased the market capitalisation by N2.17 billion to N1.06 trillion from N1.05 billion.
At the market yesterday, the trading volume rose by 17,545.7 per cent as a total of 20.0 million units of shares exchanged hands compared with the 113,500 units of shares transacted on Wednesday.
In the same vein, the trading value rose by 749.3 per cent to N24.4 million from the previous day's N2.9 million, while the number of trades went down by 28.6 per cent to five deals from seven deals.
AG Mortgage Bank Plc remained the most traded stock by volume on a year-to-date basis with 2.3 billion units valued at N1.2 billion, Central Securities Clearing System (CSCS) Plc stood in second place with 661.7 million units worth N13.9 billion, while Food Concepts Plc was in third place with 134.0 million units valued at N114.9 million.
In the same vein, CSCS Plc ended the session as the most active stock by value on a year-to-date basis with 661.7 million units worth N13.9 billion, VFD Group was in second place with 9.4 million units valued at N2.9 billion, while AG Mortgage Bank Plc in third place has transacted 2.3 billion units valued at N1.2 billion.
Naira Drops 0.34% at P2P, 0.26% at Investors' FX Segment
By Adedapo Adesanya
The Naira depreciated against the Dollar at the Peer-to-Peer (P2P) segment of the foreign exchange (FX) market on Thursday by 0.34 per cent or N2 to trade at N615/$1 compared with the previous day's N613/$1.
Also, at the Investors and Exporters (I&E) window, the Nigerian currency depreciated against the greenback yesterday by 0.26 per cent or N1.08 as it traded at N420.33/$1 in contrast to Wednesday's closing value of N419.25/$1.
It was the second consecutive trading day that the local currency is coming under pressure amid disruption in the supply of forex to the market by the Central Bank of Nigeria (CBN).
The demand for FX is relatively high at the moment because politicians are trying to get foreign currencies to woo delegates to their sides to obtain tickets to contest in the 2023 general elections.
Data from the FMDQ Securities Exchange indicated that at the investors' FX segment yesterday, transactions worth $75.56 million were executed, 62.47 per cent or $125.78 million lower than the $201.34 million achieved a day earlier.
However, at the interbank segment of the FX market, the domestic currency closed stronger against the Pound Sterling by 38 kobo to trade at N516.49/£1 versus N516.87/£1 and against the Euro, it gained 37 kobo to sell at N437.48/€1 versus the preceding session's N437.11/€1.
At the cryptocurrency market, nine of the 10 tokens monitored by Business Post recovered, with the crisis-hit coin, TerraUSD (UST), further losing 21.4 per cent to quote at $0.07479.
Ripple (XRP) rose by 7.2 per cent to $0.432, Litecoin (LTC) gained 4.8 per cent to trade at $69.99, Cardano (ADA) appreciated by 4.6 per cent to sell at $0.5304, Binance Coin (BNB) grew by 4.2 per cent to trade at $307.16, while Ethereum (ETH) went up by 3.7 per cent to $2,017.41.
In addition, Bitcoin (BTC) jumped by 3.6 per cent to $30,086.44, Dogecoin (DOGE) moved higher by 2.6 per cent to trade at $0.0862, Solana (SOL) recorded a 1.5 per cent appreciation to sell at $51.09, while the United States Dollar Tether (USDT) gained 0.01 per cent to settle at $0.9989.
Latest News on Business Post