Business Experts to Share Insights at MSME Dialogue 2.0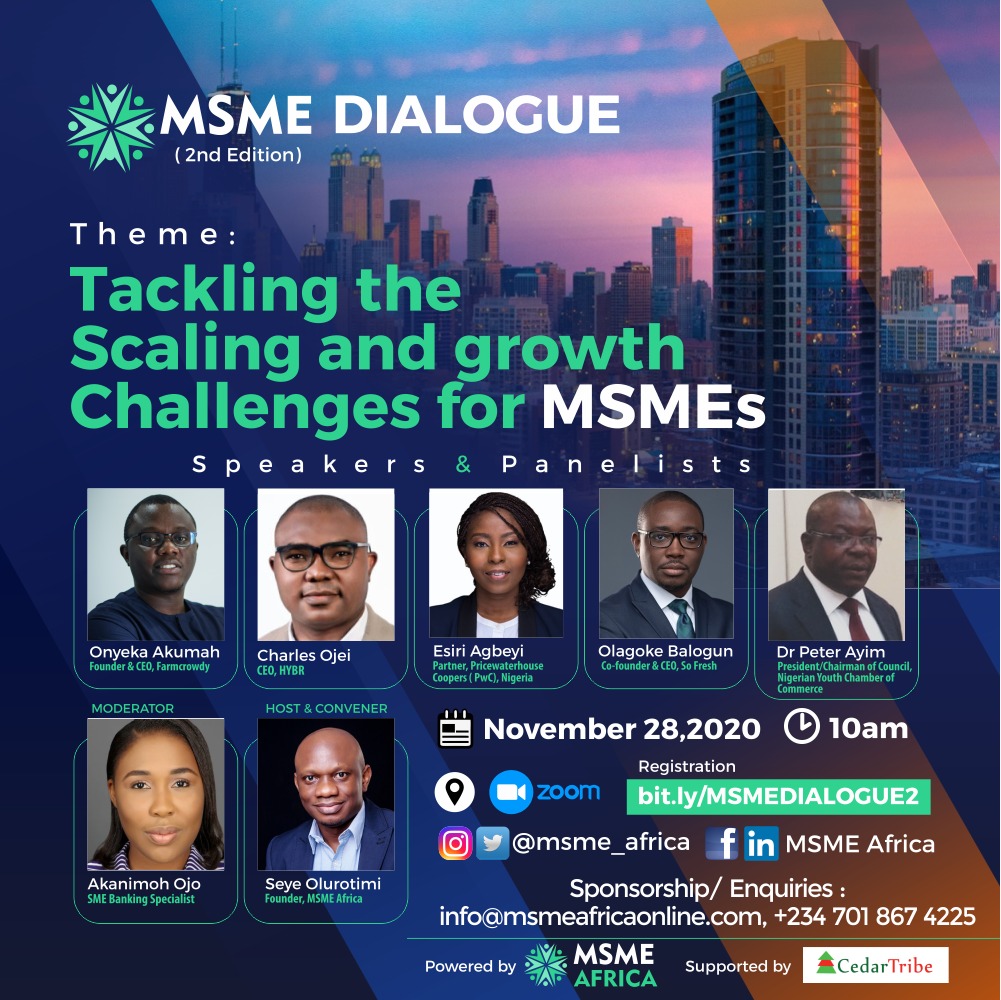 By Dipo Olowookere
On Saturday, November 28, 2020, at 10am, some business experts will gather for the second edition of MSME Dialogue organised by MSME Africa, a multi-faceted resource platform for Micro, Small and Medium Enterprises (MSME) on the continent.
The speakers contracted for the event include the founder/CEO of Farmcrowdy, Onyeka Akumah; the co-founder/CEO of So Fresh, Olagoke Balogun; the CEO of HYBR Group, Charles Ojei; Partner, PwC Nigeria, Esiri Agbeyi; and the President/Chairman of Council, Nigerian Youth Chamber of Commerce, Dr Peter Ayim.
A statement issued by the organisers said those expected at the event themed Tackling the Scaling and Growth Challenges for SMEs include small business owners from the different sector of the economy.
Participants will learn from the insights, wealth of experience and expertise to be shared by these experts, who have excelled in their various fields.
"Scaling and growing businesses are major challenges for business owners in Africa especially those who fall within the MSME bracket; that is why only a small percentage of businesses started in the continent exist beyond the fifth year.
"The real deal is not starting a business but growing and sustaining it," the convener of event and founder of MSME Africa, Mr Seye Olurotimi, said in the statement.
He added that, "This is why we have brought business owners and experts together to come to discuss these all-important issues and proffer solutions."
He explained that MSME Dialogue seeks to address, on a quarterly basis, burning issues about entrepreneurship and running a small business as well as proffering solutions to those issues.
The event, which requires registration to attend via http://bit.ly/MSMEDIALOGUE2, aims to also provide the right knowledge and know-how for MSMEs, entrepreneurs and start-ups to enable them to grow and thrive and features subject matter experts, seasoned entrepreneurs, professionals and players within the MSME ecosystem, he added.
11 Plc Joins NASD Exchange, Trades at N215 Per Unit
By Dipo Olowookere
An energy company, 11 Plc, formerly known as Mobil Oil Nigeria Plc, has joined the NASD over-the-counter (OTC) Securities Exchange.
The firm joined the NASD Exchange on Friday, June 18, 2021, after it voluntarily delisted its stocks on the Nigerian Exchange (NGX) Limited last month.
Business Post gathered that when 11 Plc was admitted into the unlisted securities market, it was allotted the trading symbol, SD11PLC, and its securities were listed at N215 per unit.
Recall that in February 2021, Business Post reported that 11 Plc would trade its shares on the NASD platform after it exits the country's main stock exchange.
The energy firm had explained that it was leaving the NGX to "focus on revenue generation, consider strategic opportunities, alliances and collaborations; and tremendously shift from regulatory, administrative, and financial reporting regulations that companies listed on the exchange must adhere to."
Before leaving, it offered shareholders who intend to sell their stake in the firm N213.90 for each of the unit held by them, noting that this amount was reached because it was the price shares of the company were sold at the exchange six months preceding the notice of the Annual General Meeting (AGM) of 2020, where the decision to delist was agreed.
At the close of business on Tuesday, February 9, 2021, shares of the company traded flat at N228 per unit. The firm had shares outstanding of 360,595,262 and a market capitalisation of N82.2 billion.
"The interest of dissenting shareholders shall be bought by the company for a consideration of N213.90 per ordinary share, being the highest price at which 11 Plc shares have traded, six months preceding the notice of the AGM at which the resolution to delist was deliberated, as provided by the rules of the NSE," 11 Plc had said.
In a related development, the NASD OTC Exchange has also admitted Capital Bancorp Plc on its trading platform. The company also joined last Friday.
Capital Bancorp, which offers financial services, was given the trading symbol SDCBANCO and was listed at N3.83 per unit.
This brings the total number of companies on the trading exchange to 41. The OTC platform was created for securities that are not listed on any other securities exchange, providing a secure regulated platform for investors to trade on them.
Unlisted Securities Suffer 0.01% Loss in 24th Trading Week
By Adedapo Adesanya
Investors suffered a marginal loss of 0.01 per cent at the 24th trading week of 2021 on the floor of the NASD Over-the-Counter (OTC) Securities Exchange.
This reduced the NASD Unlisted Security Index (NSI) by 0.07 points to close the week at 746.12 points in contrast to 746.19 points of the previous week.
Also, the market capitalisation of the unlisted securities ecosystem went down by N0.05 billion to N530.35 billion from N530.4 billion it closed in the preceding week.
The decline witnessed in the four-day trading week was buoyed by two equities; Nigerian Exchange (NGX) Group Plc and Central Securities and Clearing System (CSCS) Plc.
NGX Group lost 3.1 per cent to close the week at N19.28 per unit compared with the previous N19.89 per unit, while CSCS went down by 0.01 per cent to close at N17.99 per share in contrast to N18.00 per share it ended the preceding week.
During the week, the volume of stocks transacted by investors decreased by 21.03 per cent to 11.8 million units from 14. 9 million units of the previous week, while the value of shares traded went down by 20.13 per cent to N240.4 million from N301.0 million recorded a week earlier, with the number of deals going down by 18.4 per cent to 124 deals from 152 deals of the previous week.
The most active security by value in the week was NGX Group with the sale of N205.1 million. It was trailed by CSCS Plc with N26.4 million, Nipco Plc with N8.4 million, FrieslandCampina WAMCO Nigeria Plc with N497,202 and VFD Group Plc with N114,484.
Also, NGX Group was the most traded stock by volume last week with 10.3 million units. CSCS Plc traded 1.4 million units, VFD Group Plc exchanged 1.1 million units, Nipco Plc transacted 120,050 units, while UBN Property Plc traded 7,000 units.
On a year-to-date basis, investors have traded 395.4 million securities worth N8.6 billion in 2352 deals.
Weekly Investment in Equities Shrinks to N10.4bn
By Dipo Olowookere
Investment in equities in Nigeria shrank last week following the public holiday declared by the federal government last Monday to mark June 12 Democracy Day.
Data from the Nigerian Exchange (NGX) Limited showed that in the four-day trading week, investors only traded 981.2 million shares worth N10.4 billion in 15,001 deals as against the 1.1 billion shares worth N12.8 billion transacted in 17,854 deals the preceding week.
If not for the holiday, the turnover would have increased in the week as market participants traded an average of 245.3 million stocks worth N2.6 billion in 3,750 deals.
Business Post observed that Zenith Bank, Sterling Bank and Wema Bank accounted for 265.7 million units valued at N2.5 billion in 2,742 deals, contributing 27.08 per cent and 23.60 per cent to the total trading volume and value respectively.
Also, financial stocks accounted for 695.8 million units worth N5.2 billion in 8,616 deals, contributing 70.92 per cent and 49.86 per cent to the total trading volume and value respectively.
Consumer goods shares followed with 75.9 million units worth N1.2 billion in 2,263 deals, while conglomerates equities recorded 67.4 million units worth N367.3 million in 612 deals.
A total of 38 equities closed on the gainers' chart in the week, higher than 35 equities of the previous week, while 25 stocks finished on the losers' log, lower than 36 stocks of the preceding week, with 93 shares closing flat, higher than 89 shares of the prior week.
Berger Paints was the highest price gainer, appreciating by 14.93 per cent to trade at N7.70. Lasaco Assurance gained 10.29 per cent to sell for N1.50, Champion Breweries increased by 10.00 per cent to quote at N1.98, Morison Industries went up by 9.68 per cent to trade at N1.36, while Red Star Express gained 8.06 per cent to sell for N3.35.
On the flip side, UAC Nigeria closed the week with the highest week-on-week loss of 11.01 per cent to trade at N9.70.
Airtel Africa lost 10.00 per cent to close at N753.30, Abbey Mortgage Bank fell by 9.52 per cent to trade at 95 kobo, Consolidated Hallmark Insurance reduced by 9.46 per cent to 67 kobo, while Okomu Oil dropped 9.44 per cent to quote N105.50.
At the close of transactions for the week, the All-Share Index (ASI) and market capitalisation depreciated by 1.30 per cent to close at 38,648.91 points and N20.143 trillion respectively.
Latest News on Business Post