Business Experts to Share Insights at MSME Dialogue 2.0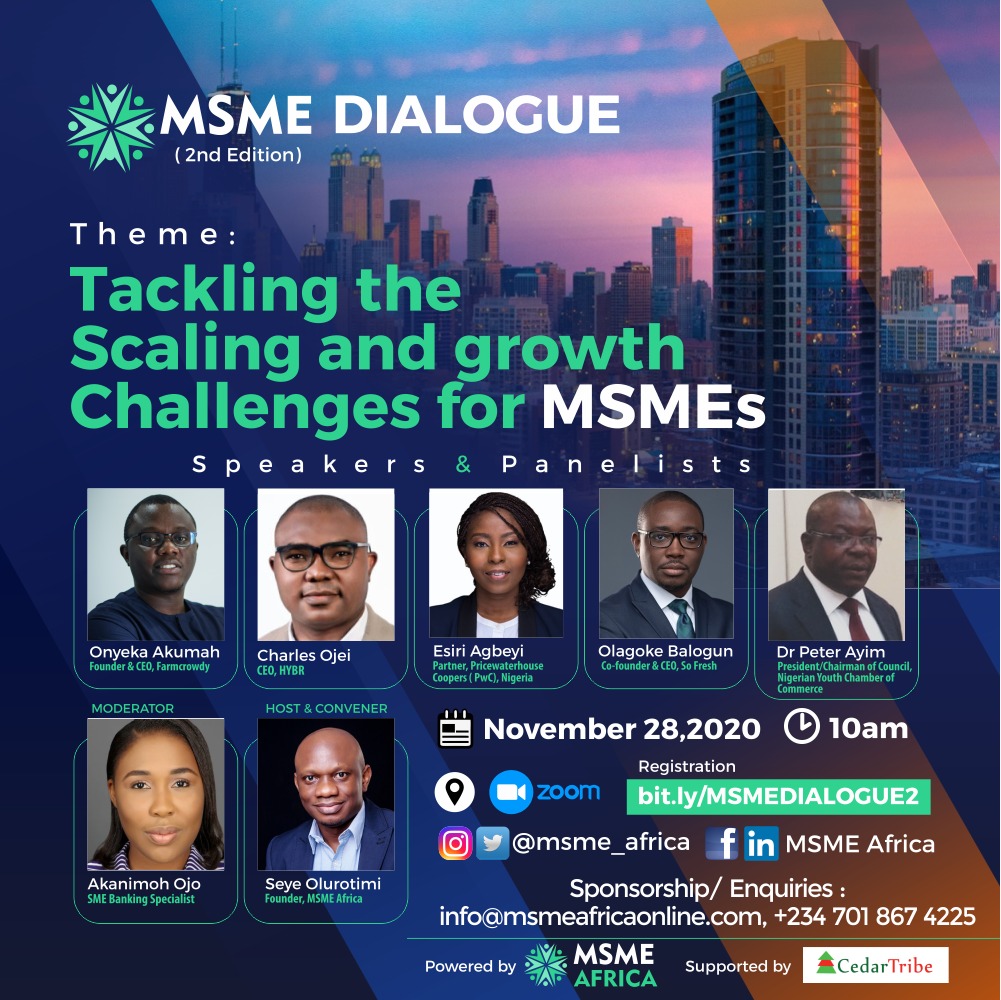 By Dipo Olowookere
On Saturday, November 28, 2020, at 10am, some business experts will gather for the second edition of MSME Dialogue organised by MSME Africa, a multi-faceted resource platform for Micro, Small and Medium Enterprises (MSME) on the continent.
The speakers contracted for the event include the founder/CEO of Farmcrowdy, Onyeka Akumah; the co-founder/CEO of So Fresh, Olagoke Balogun; the CEO of HYBR Group, Charles Ojei; Partner, PwC Nigeria, Esiri Agbeyi; and the President/Chairman of Council, Nigerian Youth Chamber of Commerce, Dr Peter Ayim.
A statement issued by the organisers said those expected at the event themed Tackling the Scaling and Growth Challenges for SMEs include small business owners from the different sector of the economy.
Participants will learn from the insights, wealth of experience and expertise to be shared by these experts, who have excelled in their various fields.
"Scaling and growing businesses are major challenges for business owners in Africa especially those who fall within the MSME bracket; that is why only a small percentage of businesses started in the continent exist beyond the fifth year.
"The real deal is not starting a business but growing and sustaining it," the convener of event and founder of MSME Africa, Mr Seye Olurotimi, said in the statement.
He added that, "This is why we have brought business owners and experts together to come to discuss these all-important issues and proffer solutions."
He explained that MSME Dialogue seeks to address, on a quarterly basis, burning issues about entrepreneurship and running a small business as well as proffering solutions to those issues.
The event, which requires registration to attend via http://bit.ly/MSMEDIALOGUE2, aims to also provide the right knowledge and know-how for MSMEs, entrepreneurs and start-ups to enable them to grow and thrive and features subject matter experts, seasoned entrepreneurs, professionals and players within the MSME ecosystem, he added.
CBN Puts Down N500m to Encourage Entrepreneurship Among Students
By Ashemiriogwa Emmanuel
As part of its policy measures to address rising youth unemployment and underemployment, the Central Bank of Nigeria (CBN) has disclosed that it will support students in tertiary institutions to encourage entrepreneurship.
According to the apex bank, a grant of N500 million would be awarded to five top Nigerian polytechnics and universities with the best entrepreneurial pitches or ideas.
"Five top Nigerian polytechnics and universities with the best entrepreneurial pitches/ideas shall be awarded as follows: first place – N150 million; second place – N120 million; third place – N100 million; fourth place – N80 million; and fifth place – N50 million," a report from the central bank on Wednesday, October 20, titled Guidelines for the implementation of tertiary institutions entrepreneurship scheme stated.
The bank said it would receive offers from crucial sectors of the economy like agribusiness, information technology, creative industry, and science and technology.
On implementation, CBN disclosed that a Body of Experts (BoE) from the private and public sector would be put together for the regional and national entrepreneurship competitions to evaluate entrepreneurial and technological innovations submitted by participants.
The BoE, who will review and recommend the projects, will comprise four representatives from the Bankers' Committee, one representative from consulting industry, and one nominee from the Small and Medium Enterprises Development Agency of Nigeria (SMEDAN).
The body to review the pitches also comprises one nominee each from the Nigerian Universities Commission (NUC), National Board for Technical Education (NBTE), and from the CBN (Secretary).
"Participation under the developmental component shall be restricted to undergraduates of Nigerian polytechnics and universities.
"Interested Nigerian polytechnics and universities shall apply to participate in the national biennial entrepreneurship competition on a dedicated online portal (https://cbnties.com.ng), outlining brief details of the project, potential impact, and evidence of originality of the project.
"The submitted applications shall be evaluated by the BoE through engagements that showcase undergraduates competing by pitching entrepreneurial and technological innovations at regional levels, with finalists proceeding to the national event for final consideration and ranking by the BoE," CBN disclosed.
According to the bank, the program, which will be aired a month on national television stations and on social media, will help promote the value of entrepreneurship.
It said that the awarded grant will be credited "in tranches of 55:45 ratio" directly to a dedicated account opened for the purpose of the funding.
NGX Group Gains 10% to Lift Stock Market by 0.26%
By Dipo Olowookere
The nation's stock market rebounded by 0.26 per cent on Wednesday after going down by 0.71 per cent on Monday, which was the last trading session as the exchange was closed on Tuesday for a public holiday in Nigeria.
Investors were in high spirits yesterday when they returned to the market and this reflected in the level of activity as the trading volume rose by 47.47 per cent to 499.5 million stocks from 338.7 million stocks, the trading value increased by 25.16 per cent to N5.1 billion from N4.1 billion, while the number of deals grew by 2.25 per cent 5,998 deals from 5,866 deals.
Business Post reports that when the exchange closed for the day, FBN Holdings was the most traded equity with the sale of 147.6 million units valued at N1.8 billion, followed by eTranzact, which transacted 105.2 million units worth N215.6 million.
Furthermore, Access Bank sold 27.9 million units worth N266.0 million, Transcorp traded 22.3 million units valued at N22.8 million, while GTCO recorded a turnover of 20.6 million shares worth N612.9 million.
It was observed that the market closed in the positive territory as a result of the growth posted by the Nigerian Exchange (NGX) Group Plc as its share price went up by 10.00 per cent to settle at N21.45.
GlaxoSmithKline rose by 6.87 per cent to N7.00, NPF Microfinance Bank gained 5.85 per cent to trade at N1.81, Coronation Insurance grew by 4.17 per cent to 50 kobo, while FBN Holdings appreciated by 3.83 per cent to N12.20.
On the flip side, Prestige Assurance was the worst loser as its value depreciated by 8.51 per cent to 43 kobo, Consolidated Hallmark Insurance fell by 8.33 per cent to 55 kobo, Academy Press also dropped 8.33 per cent to 33 kobo, Cadbury Nigeria lost 5.88 per cent to sell for N8.00, while Union Bank went down by 5.66 per cent to N5.00.
In all, a total of 21 stocks closed on the gainers' chart while 18 stocks finished on the losers' chart, indicating a positive market breadth and investor sentiment.
However, three of the five major sectors of the market closed bearish with the energy, consumer goods and banking counters losing 0.39 per cent, 0.24 per cent and 0.20 per cent respectively, while the insurance and industrial goods sectors rose by 0.58 per cent and 0.04 per cent apiece.
At the close of transactions, the All-Share Index (ASI) improved by 105.04 points to 41,249.71 points from 41,144.67 points, while the market capitalisation expanded by N54 billion to N21.526 trillion from N21.472 trillion.
Naira Appreciates to N414.07/$1 as Bitcoin Hits $66k
By Adedapo Adesanya
The Naira appreciated against the US Dollar at the Investors and Exporters (I&E) window of the foreign exchange (forex) market by 0.16 per cent or 66 kobo on Wednesday, October 20 as trading returned after the Eid-el-Maulud holiday break.
At the close of business at the midweek session, the local currency was sold for N414.07/$1 in contrast to N414.73/$1 it was traded on Monday, according to data obtained from FMDQ Securities Exchange.
During the second trading session of the week, a turnover of $334.97 million was recorded as against the $172 million achieved at the preceding session.
This indicated a $162.97 million or 48.7 per cent rise in the value of transactions yesterday and because of the anticipation of pressure on the Nigerian currency, FX supply was made available to traders and this supported the growth posted by the domestic currency during the trading day.
But at the interbank segment of the market, the Nigerian currency maintained stability against the American Dollar as it remained unchanged at N410.89/$1 on Wednesday.
Meanwhile, at the cryptocurrency market, Bitcoin (BTC) rallied to an all-time high (ATH) of $66,000 yesterday as optimism surged for greater mainstream acceptance in the wake of the successful launch of the first exchange-traded fund for US investors.
In a Naira equivalent, the most popular digital coin in the world was sold for N37,004,384.99 after it rose by 2.8 per cent.
On October 19, 2021, the Proshares Bitcoin Strategy ETF (BITO) was launched. The bitcoin exchange-traded fund is the first ETF ever to be approved in the United States and it's based on bitcoin futures markets.
This development, Business Post gathered, triggered a renewed interest in the cryptos and caused Litecoin (LTC) to rise by 9.3 per cent to N117,992.99. Dash (DASH) went up by 5.9 per cent to sell for N111,892.63, Tron (TRX) grew by 4.7 per cent to trade at N58.70, while Ripple (XRP) appreciated by 4.4 per cent to trade at N635.00.
Further, Dogecoin (DOGE) was 4.2 per cent higher to sell at N150.96, Cardano (ADA) saw its value rise by 4.1 per cent to N1,305.81, Binance Coin (BNB) made a 3.4 per cent gain to trade at N205,395.75, while Ethereum (ETH) rose by 1.7 per cent to trade at N2,203,900.99.
However, the US Dollar Tether (USDT) went down by 0.4 per cent to sell for N565.49.
Latest News on Business Post