Can Mushe (XMU) Help Nigerians as Bitcoin and Ethereum Continue to Drop in Price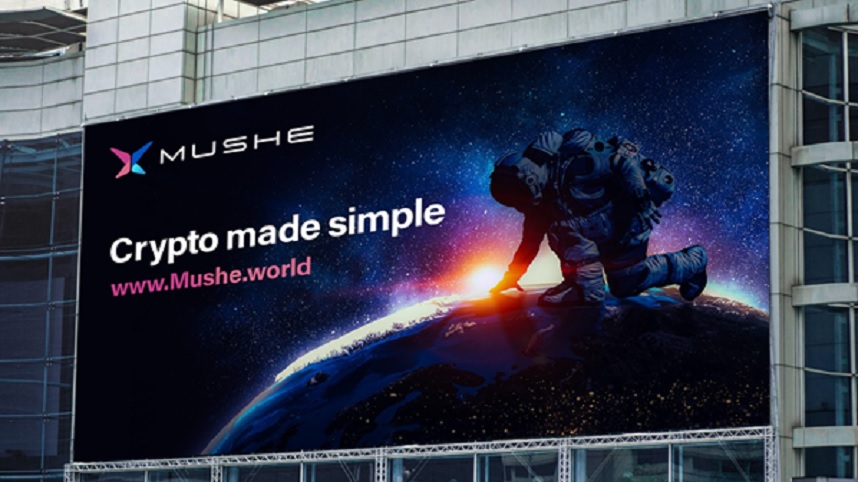 With over 35% of adults in Nigeria dabbling in cryptocurrency within the last year, It is no surprise that the current state of the Crypto market has caused concern for quite a few crypto lovers. It has been a difficult month for the crypto portfolios of many.
As Nigerians, young and old, turned to crypto as a way to safeguard against the weakening Naira, it served most well as 2021 saw a big crypto boom. However, in the last week, most of our crypto portfolios have taken a turn for the worse.
Crypto favourites Bitcoin (BTC), Ethereum (ETH) and Dogecoin (DOGE), which play a part in almost all Nigerian crypto portfolios, have each fallen by large amounts in the last week. Bitcoin is currently trading at 17% lower, ETH is down 16.5%, and DOGE has lost 12.8%. At a time like this, many are choosing to move some of their funds into stable coins or low market cap tokens that are growing in the face of adversity. One such token is Mushe (XMU). Whilst others have been suffering, XMU tokens are thriving, rising 63.7% in the past two weeks.
Since the Mushe presale began on April 18th, the token price has multiplied fivefold, going from just $0.005 to $0.026 per token. Many Nigerians are looking toward Mushe as a way to diversify their portfolios and defend against the broader market losses that we have seen in the past month. The presale can be accessed at www.mushe.world
For newcomers to the crypto world, rapid growth is common for newer tokens as they gain traction and begin to join exchanges. Stepn (GMT), a token which launched in March, is a prime example of this growing from $0.10 on launch to $2.231 at the time of writing; what makes this feat even more impressive is that today the token is down 16% but day one investors would have still seen a return of over 2100% on their initial purchase.
For Mushe seeing a 400% gain over the previous three weeks has led analysts to believe the token will exceed all initial expectations and has the potential to go beyond its targeted launch a price of $0.05 per token before July 4.
The traction of the XMU token has partially been linked to its exciting roadmap, which shows the Mushe team are planning to launch a decentralised exchange called MusheSwap which will allow customers to buy, trade and exchange all types of tokens regardless of the blockchain network they are built on. The roadmap also talks about a metaverse offering called the MusheVerse, offering ways to earn XMU tokens and buy or sell digital assets such as NFTs and virtual land.
In the past few days, Mushe announced it will switch from the Ethereum blockchain to the Solana and Stellar blockchain networks allowing them to host more users and perform transactions faster and at a cheaper rate. The news has been received well across crypto communities worldwide.
Learn more about Mushe (XMU)
Official Website: https://www.mushe.world/
Presale Registration: https://portal.mushe.world/sign-up
Telegram: https://t.me/MusheWorldXMU
Twitter: https://twitter.com/Mushe_World
Instagram: https://www.instagram.com/mushe_world/
Investors, Others Anticipate Outcome of CBN's MPC Meeting
By Aduragbemi Omiyale
The much-awaited Monetary Policy Committee (MPC) meeting of the Central Bank of Nigeria (CBN) commenced today, Monday, September 26, 2022.
It is the last, but one meeting of the monetary team saddled with the responsibility of determining the Monetary Policy Rate (MPR) for the country.
The meeting is for two days. The first leg of the gathering started at 10 am today at the MPC Meeting Room on the 11th Floor of the headquarters of the CBN in Abuja.
Tomorrow, Tuesday, September 27, 2022, the second part of the gathering will take place at the same venue by 8 am.
After about five hours or more, the Governor of the CBN, Mr Godwin Emefiele, will inform the public, through the media, of the outcome of the MPC meeting.
He will address journalists on the team's decision after deliberations, especially after carefully looking at the economic parameters, including the inflation rate, the gross domestic product (GDP), and the money in circulation, among others.
At the last gathering, which occurred precisely in July, the anchor interest rate was increased by 100 basis points to 14.0 per cent from 13.0 per cent. This action was taken mainly to control the rising inflation.
About two weeks ago, the National Bureau of Statistics (NBS) announced that the inflation rate in Nigeria jumped to 20.52 per cent in August 2022 from 19.64 per cent in July 2022.
Last week, the major central banks across the globe further hiked interest rates to tackle inflation, and it is expected that Nigeria will follow suit.
Inflation in Nigeria has been triggered by the rising cost of food items as a result of insecurity in the northern part of the country, where most of the food crops are planted.
Unlike a few years ago, when insecurity and flooding joined forces to put pressure on food prices, this year's problem has majorly been caused by the inability of farmers to go to their farms as a result of bandits and terrorists, who collect taxes from them before crops can be planted.
Efforts by the government to protect the farmers have not yielded the expected results.
Members of the MPC will look at these issues and give their expert view on whether the rate should be lowered, raised or left intact. But observers believe that the interest rate would be further increased to reduce money in the financial system and then hope that the prices of goods and services will decrease to attract more consumers.
Vendease Raises $30m to Aid Food Supply Chain
By Adedapo Adesanya
Vendease, a digital platform which allows African restaurants to buy supplies, access financial services and power their business operations, has raised $30 million in an equity and debt funding round.
The series A equity round of $20 million was co-led by TLcom and Partech in a rare joint investment by two of the biggest Africa-focused funds. Following their investments, Mr Andreata Muforo (Partner at TLcom) and Mr Cyril Collon (General Partner at Partech) will join Vendease's board as new directors.
The equity round also included VentureSouq, Hustle fund, Hack VC, GFR Fund, Kube VC, Magic Fund and Kairos Angels, who re-invested after participating in the previous round.
Vendease also raised the $10 million debt round from the local finance market.
Commenting on the funding, Mr Tunde Kara, CEO and co-founder of Vendease, said the company would use the proceeds to consolidate its growth and operations in Nigeria and Ghana and to support its expansion across the continent.
"Our mission is to enable the efficient flow of food across Africa, from the point of production to consumption. We want to transform how the entire sector works and remove the bottlenecks that stunt the growth of restaurants and food businesses," he added.
Launched in January 2020, Vendease's digital procurement engine makes it easier for restaurants in 8 cities across Nigeria and Ghana to buy food supplies at considerably cheaper rates than open market prices, with guaranteed 12-hour delivery. Over the last 12 months, the company has moved more than 400,000 metric tonnes of food through its platform, helping its users save more than $2,000,000 in procurement costs and more than 10,000 man-hours. Its data has also helped them reduce wastage from overstocking by an additional $485,000.
The company said it has seen triple growth in the number of users on its platform and 5x in revenue over the last 12 months.
"Users have also accessed more than $12 million worth of inventory via its embedded finance product," the company added.
For restaurant owners, they simply need to download the app, complete the registration process in a few clicks, and they will be able to access all the benefits of Vendease's platform. They can also access working capital through Vendease's Buy-Now-Pay-Later offering to maximise their growth opportunities.
Investment and Securities Bill will Boost Nigeria's Economic Diversification Plan—Yuguda
By Aduragbemi Omiyale
The Investment and Securities Bill 2022 before the National Assembly, when passed and signed into law, would enhance the economic diversification plan of Nigeria, the Director-General of the Securities and Exchange Commission (SEC), Mr Lamido Yuguda, has submitted.
At a public hearing on the ISB 2022 and the Chartered Institute of Stockbrokers Bill 2022 in Abuja, he said this would be achieved through a robust capital market, which the law intends to make possible.
According to him, the passage and enactment of the bill will be a pivotal step in revamping the economy and, therefore, urged key stakeholders to make this aspiration a reality.
Speaking on some highlights of the major innovations and changes in the bill, Mr Yuguda disclosed that it expands the categories of issuers as a key step towards the introduction of innovations and offerings such as crowd-funding as well as the facilitation of "commercial and investment business activities", subject to the approval of the commission and other controls stipulated in the bill.
"The bill expands the definition of a Collective Investment Scheme to include schemes offered privately to qualified investors. Minor reviews on various Sections of the extant law have been carried to provide greater clarity.
"Importantly, the bill introduces an express prohibition of Ponzi/Pyramid Schemes and other illegal investment schemes. The bill also prescribes a jail term of not less than 10 years for promoters of such schemes.
"This bill contains an entirely new part which regulates Commodity Exchanges and Warehouse Receipts. These provisions are essential for developing the entire gamut of the Commodities ecosystem," he stated.
The DG also said that a recommendation is made in the bill for the inclusion of the National Pension Commission (PenCom) on the SEC board for increased collaboration between the two agencies, particularly to encourage greater investment of pension funds and in capital market products/instruments.
Also, according to him, a new part on the management of systemic risk has been introduced, covering the following themes: monitoring, management and mitigation of systemic risk in the Nigerian capital market; arrangements with other regulators relating to information required from entities that are regulated by other regulators; sharing of information between financial sector regulatory authorities or government agencies; and use of a legal entity identifier to provide for proper monitoring of systemic risks.
"Securities Exchanges are now classified into composite exchanges and non-composite exchanges. A composite exchange is one in which all categories of securities and products can be listed and traded. In contrast, a non-composite exchange focuses on a singular type of security or product.
"Furthermore, the duties/responsibilities of Exchanges have been expanded, and the conditions for revocation of registration clearly stated. There are also new provisions on Financial Market Infrastructures such as Central Counter Parties, Clearing Houses, Trade Depositories etc," he added.
Latest News on Business Post