Dangote Refinery to be Ready Q1 2022, to Get Crude Oil in Naira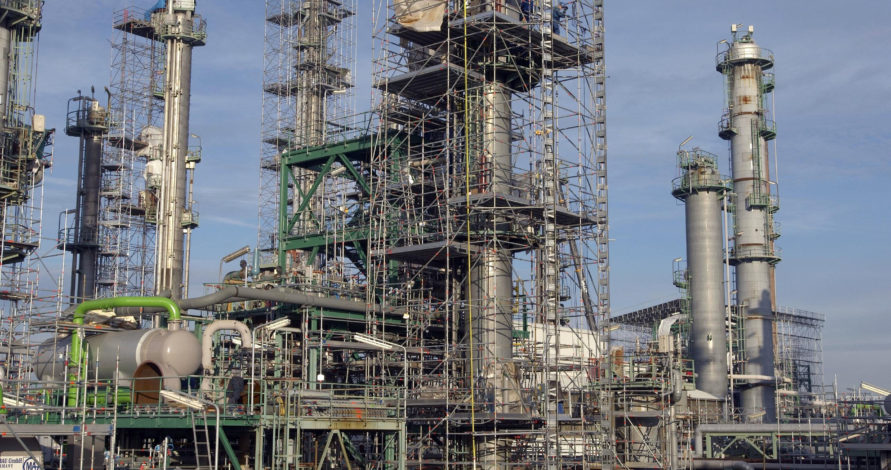 **Gets N100bn from CBN
By Adedapo Adesanya
The Central Bank of Nigeria (CBN) has supported projects undertaken by Nigerian and Africa's richest person, Mr Alike Dangote, with N100 billion.
The Governor of the CBN, Mr Godwin Emefiele, disclosed this on Saturday when he inspected the sites of Dangote Refinery, Petrochemicals Complex Fertiliser Plant and Subsea Gas Pipeline at Ibeju Lekki, Lagos.
He explained that the intervention was to support Nigerian business. He further said that the first shipment of Urea from the Dangote Fertiliser Plant would begin in March to help boost agriculture in the country.
In addition, the nation's chief bank disclosed that arrangements have been made to enable the Dangote Refinery to sell refined crude to Nigeria in Naira when it commences production.
The CBN Governor noted that the $15 billion projects being constructed by the Dangote Group would save Nigeria from expending about 41 per cent of its foreign exchange on the importation of petroleum products.
Mr Emefiele said, "Based on agreement and discussions with the Nigerian National Petroleum Corporation (NNPC) and the oil companies, the Dangote Refinery can buy its crude in Naira, refine it, and produce it for Nigerians' use in Naira.
"That is the element where foreign exchange is saved for the country becomes very clear.
"We are also very optimistic that by refining this product here in Nigeria, all those costs associated with either demurrage from import, costs associated with freight will be totally eliminated.
"This will make the price of our petroleum products cheaper in Naira.
"If we are lucky that what the refinery produces is more than we need locally you will see Nigerian businessmen buying small vessels to take them to our West African neighbours to sell to them in Naira.
"This will increase our volume in Naira and help to push it into the Economic Community of West African States as a currency," Mr Emefiele added.
The head of the banking sector regulator expressed optimism that the refinery would be completed by the first quarter of 2022, adding that this would put an end to the issue of petrol subsidy in the country.
"I am saying that by this time next year, our cost of import of petroleum products for petrochemicals or fertiliser will be able to save that which will save Nigeria's reserve.
"It will help us so that we can begin to focus on more important items that we cannot produce in Nigeria today," Mr Emefiele noted.
On his part, Mr Dangote said that the fertiliser and petrochemicals plants were capable of generating $2.5 billion annually while the refinery would serve Nigeria and other countries across the world.
He said the projects would create jobs for Nigerians and build their capacity in critical areas of the oil and gas industry.
Mr Dangote thanked President Muhammadu Buhari and the CBN governor for their support toward the completion of the projects.
He said: "I will like to thank the president personally for helping us and assisting us in making sure that we are now back on track.
"Mr President personally wrote a letter to the president of China and asked them to bring the expatriates that we don't have so that we can continue work.
"During the coronavirus, you will remember that we had one or two cases when it started and everybody ran away from the site but right now we are beginning to bring people back and we have about 30,000 people now.
"The good part of it is that we have learnt a lot also and there are a lot of Nigerians that just need small training and they are doing extremely well.
"So now we only need a small number of people coming from abroad just to give that training."
He used the opportunity to call for the speedy passage of the Petroleum Industry Bill (PIB) currently before the National Assembly to maximise the opportunities in the Nigerian oil and gas sector.
How JumiaPay is Expanding Access to Unbanked Population
The innovative use of technology in the delivery of financial services is eliciting a positive impact on businesses and customers' experience in Nigeria. Aside from providing a cheaper, faster and user-friendly financial option for Nigerians, fintech solutions are driving financial inclusion, employment creation.
With about 30% population of tech-savvy and smartphone-loving millennials, Nigeria is a huge market for fintech services. This generation of digital natives wants their financial transactions completed seamlessly. They crave prompt OTP and instant credit.
Felix Elugbadebo, a legal practitioner and technology enthusiast in Lagos fits into this description.  Jumia fintech product avails him of the hassle of physical recharge cards for data and calls. "One aspect of technology (fintech), that I am very well interested in is a financial technology (fintech) which means being able to conduct financial transactions on your device be it mobile phones or on your computer. One of such fintech platforms is JumiaPay.
"I have been using JumiaPay since the name was Jumia One. I've been using it for airtime purchases, for data purchases and for other transactions that are available on the platform. Whether you live in the city or in rural areas, everybody wants an easy life. Nobody wants to run across the street to buy recharge cards or have to call an agent to buy data when you can actually do all that on your mobile device," he said.
While many customers were caught in the usual itchy transaction net of the festive periods, Felix was getting incentives from his transactions on JumiaPay. He recounted that "over the Easter break, a lot of people could not use the USSD service provided by telcos and the banks but for people like me who use fintech platforms, we had no issues especially with JumiaPay when I get 3% discount off my purchases."
The ability of fintechs like JumiaPay to deliver on customer timely needs is endearing them to the youthful market. For instance, the Jumia 2020 Q4 report, showed the company's fintech product is making more inroads with more financial situations for customers. The report showed that Total Payment Volume JumiaPay increased by 30% from €45.6 million in the fourth quarter of 2019 to €59.3 million in the fourth quarter of 2020. JumiaPay Transactions increased by 10% from 2.4 million in the fourth quarter of 2019 to 2.7 million in the fourth quarter of 2020. Overall, 33.1% of Orders placed on the Jumia platform in the fourth quarter of 2020 were paid for using JumiaPay, compared to 29.5% in the fourth quarter of 2019.
With an estimated population of over 200 million of which 40% is financially excluded, it is expected that the increasing fintech traction will drive financial inclusion for the unbanked in Nigeria, while customers with bank accounts would achieve higher levels of customer satisfaction.
The blockchain brings new financing options to the business market. For example, Bitcoin Cash casino has adapted to only using cryptocurrency. This way, it makes it easier for their customers to deposit and withdraw in a BCH casino. Entrepreneurs have taken note of this and are looking to invest more in crypto than in fiat markets.
Latest News on Business Post