Equities Lose N220b on Monday After Friday's N236b Gain
By Dipo Olowookere
The Nigerian Stock Exchange (NSE) recorded a 1.71 percent loss on Monday after the market achieved an increase of 1.87 percent last Friday.
It was observed that the decline posted by the equities market yesterday was mainly influenced by continued selloffs by investors.
While the All Share Index (ASI) depreciated by 602.81 points to finish at 34,663.48 points, the market capitalisation decreased by N220.1 billion to settle at N12.654 trillion.
Business Post reports that the volume of shares transacted by investors on Monday decreased by 37.75 percent, while the value rose by 26.49 percent.
At the close of business, investors traded a total of 220.5 million shares worth N3.2 billion compared with the 354.2 million equities valued at N2.5 billion exchanged last Friday.
It was a busy day for the Financial Services sector as it led the activity chart with 201.6 million shares exchanged for N2.4 billion, while the Consumer Goods industry followed with 6.5 million shares sold for N443 million.
A further breakdown showed that United Bank for Africa (UBA) emerged the most traded equity on Monday with an exchange of 42.7 million shares worth N354.8 million.
It was trailed by Zenith Bank, which sold 36.7 million shares valued at N804.1 million, and Access Bank, which exchanged 32.7 million equities for N310.4 million.
Skye Bank exchanged 18.3 million shares valued at N9.157 million, while FBN Holdings traded 15.6 million shares worth N151.6 million.
A look at the price movement chart indicated that the losers' log was led by Nigerian Breweries, which lost N3 to close at N100 per share.
It was followed by Unilever Nigeria, which went down by N2.50k to settle at N52.50 per share, and GTBank, which decreased by N1.05k to finish at N36.95k per share.
PZ Cussons fell by N1 to close at N13.05k per share, while Zenith Bank reduced by 70 kobo to finish at N21.85 per share.
At the other side, Dangote Cement topped the gainers' chart yesterday after adding N9.50k to its share value to end at N229.50k per share.
Newrest ASL Nigeria rose by 40 kobo to finish at N4.85k per share, while Stanbic IBTC Bank increased by 25 kobo to settle at N50.30k per share.
First City Monument Bank gained 10 kobo to close at N1.80k per share, while Cadbury Nigeria also went up by 10 kobo to close settle at N10.10k per share.
Geregu Power to List Shares on Stock Exchange
By Aduragbemi Omiyale
The Nigerian Exchange (NGX) Limited will have a new member in the coming days as an electricity generating firm, Geregu Power Plc, is planning to list its shares on the platform.
According to regulatory documents, the company will list a total of 2.5 billion units of its shares at N100.00 per unit by way of introduction on the bourse, increasing the market capitalisation of the exchange by N250 billion.
The listing of these equities is expected on Wednesday and a ceremony to commemorate it will happen later this month.
"We look forward to hosting you at the exchange on October 25 or 26, 2022, for a closing gong ceremony to commemorate the listing," a message to Geregu Power by the chief executive of the NGX, Mr Temi Popoola, read in part.
Geregu Power has Mr Femi Otedola as its majority shareholder. He left the stock exchange a few years ago after he sold his holdings in the defunct Forte Oil Plc, a company rebranded to Ardova Plc by the new owner, Mr Abdulwasiu Sowami.
Multiverse Stocks Rise 30.85% in One Week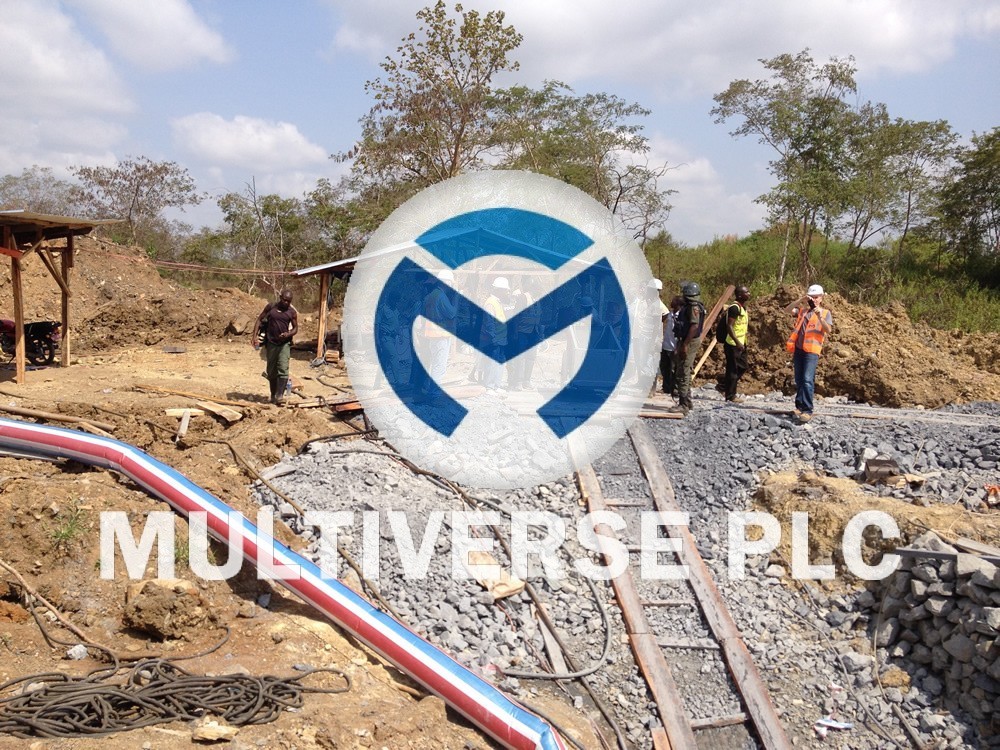 By Dipo Olowookere
Investors renewed their interests in the shares of Multiverse Mining and Exploration Plc last week, pushing the price higher by 30.85 per cent to N3.69.
Another stock that attracted attention in the week was the Nigerian Exchange (NGX) Group Plc, as investors pushed aside the recent corporate governance issues raised in the media and keyed into the company's dividend policy.
At the close of the five-day trading week, its price rose by 17.65 per cent to N20.00. Jaiz Bank grew last week by 15.38 per cent, Cadbury Nigeria expanded by 14.77 per cent, while Eterna improved by 9.91 per cent to N6.32.
However, the shares of Neimeth fell by 10.26 per cent to N1.40, Nestle lost 10.00 per cent to N1,215.00, Africa Prudential dropped 9.91 per cent to N5.00, Royal Exchange depreciated by 9.80 per cent to 92 Kobo and Fidson went down by 9.05 per cent to N9.05.
At the close of transactions for the week, 25 equities appreciated, higher than 17 equities in the previous week; 33 equities depreciated, lower than 42 equities in the previous week; while 98 equities remained unchanged, higher than 97 equities recorded in the previous week.
Business Post reports that the All-Share Index (ASI) depreciated by 0.01 per cent to close the week at 49,024.16 points, while the market capitalisation appreciated by 0.03 per cent to close at N26.451 trillion.
Similarly, all other indices finished lower except for NGX Main-Board, NGX 30, oil/gas and industrial goods indices, which appreciated by 0.25 per cent, 0.04 per cent, 0.20 per cent, and 3.01 per cent, apiece as the ASeM, growth and sovereign bond indices closed flat.
During the week, a total of 1.005 billion shares worth N10.406 billion were traded in 17,844 deals as against the 562.856 million shares valued at N9.438 billion transacted in 16,013 deals a week earlier.
A total of 757.289 million financial shares valued at N6.947 billion were traded in 9,483 deals in the week, accounting for 75.38 per cent and 66.76 per cent of the trading volume and value.
A total of 75.118 million units of conglomerate stocks worth N82.955 million exchanged hands in 494 deals, as 50.186 million units of consumer goods shares worth N1.457 billion were transacted in 2,798 deals.
Jaiz Bank, GTCO and Zenith Bank were the most active stocks as they traded 460.216 million units worth N4.963 billion in 4,281 deals, contributing 45.81 per cent and 47.69 per cent to the total trading volume and value, respectively.
Nigeria's Crude Oil Exports Jump 88.6% to N11.53trn in Six Months
By Adedapo Adesanya
Nigeria earned N11.53 trillion from the export of crude oil in the first half of 2022, according to the latest data released by the National Bureau of Statistics (NBS), jumping by 88.6 per cent compared with N6.11 trillion recorded in the first half of 2021.
In its Foreign Trade Statistics for the Second Quarter of 2022, the NBS noted that crude oil export in the first six months of 2022 accounted for 79.47 per cent of total exports in the period under review, while it also accounted for 44.62 per cent of total trades in the same period.
Giving a breakdown of crude oil exports in the first half of 2022, the NBS stated that in the first quarter of the year, crude oil valued at N5.621 trillion was exported by the country, while in the second quarter, N5.908 trillion was exported.
In comparison, in the first quarter of 2021, the NBS said Nigeria earned N2.043 trillion from crude oil exports, while in the second quarter, N4.072 trillion crude oil export sales were recorded. Furthermore, in the third and fourth quarters of 2021, Nigeria recorded crude oil export of N4.026 trillion and N4.269 trillion, respectively.
The country's statistical authority put Nigeria's total trade in the first half of 2022 at N25.843 trillion, comprising N13.001 trillion and N12.841 trillion in the first and second quarter of the year, respectively; while total export trade for the first half of 2022 stood at N14.507 trillion, with N7.1 trillion and N7.407 trillion export recorded in the first and second quarter respectively.
Specifically, the NBS reported that in the second quarter of 2022, crude oil ranked as the most exported commodity in the country, with 79.77 per cent of the country's total export.
Furthermore, the statistics agency stated that the most of Nigeria's crude oil export in the second quarter of 2022 was to European countries, with the continent purchasing Nigeria's crude oil valued at N2.737 trillion; followed by Asia, with N1.916 trillion; while countries in America purchased N861.937 billion.
Africa accounted for N355.853 billion of Nigeria's crude oil export, while N36.459 billion worth of Nigeria's crude oil was exported to Oceania.
India emerged as the highest buyer of Nigeria's crude oil, with N1.009 trillion worth of the commodity shipped to the country in the second quarter; followed by the Netherlands, with the purchase of N886.314 billion worth of Nigeria's crude oil; while N854.859 billion crude oil was exported to Spain.
Other major crude oil export destinations were Indonesia, N614.954 billion; United States, N488.356 billion; Italy, N253.817 billion; Sweden, N232.152 billion; Canada, N226.704 billion; France, N192.273 billion and Ivory Coast, N191.425 billion.
Latest News on Business Post