ERA/FoEN's RSPO Certification Claims Spurious, Libelous—Okomu Oil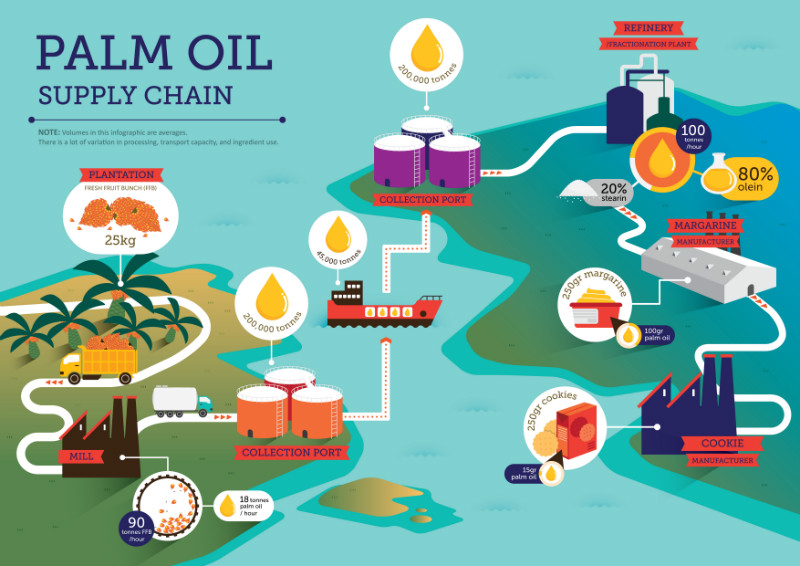 By Dipo Olowookere
The management of Okomu Oil Palm Company Plc has reacted to an allegation made against it by a group known as Environmental Rights Action/ Friends of the Earth Nigeria (ERA/FoEN), alleging that the company had been "parading" a Roundtable on Sustainable Palm Oil(RSPO) certificate.
In a statement signed by its Managing Director, Mr GD Hefer, the Benin-City, Edo State-based agro firm categorically denied "this allegation and dismiss this assertion as false, defamatory and without foundation."
Okomu Oil tasked the NGO to "immediately furnish the requisite proof that the company had been doing so or face the consequences."
"It is strange that ERA/FoEN, which had originally been invited to participate as a stakeholder in the RSPO National Interpretation exercise, along with other interested and affected stakeholders in the oil palm pipeline, chose to decline the invitation, publicly stating that they were against RSPO in all its forms and calling it 'false land grabbing and inhumane activities against communities,' but suddenly now seemingly wanting to take an active interest in the RSPO certification scheme," the statement said.
"However, their lack of understanding on the workings of RSPO is patently obvious in their spurious utterances, as well as their inability to comprehend the difference between ISO (International Standards Organisation) certifications from those of RSPO in their reports.
"Had they remained part of the RSPO process for Nigeria, they would not have embarrassed themselves by this inaccurate and totally fictitious report as they would have been kept abreast of developments within the RSPO local interpretation community, which not only includes Okomu, but also other large scale plantation owners and smallholders who are all also preparing to become certified in the near future.
"If ERA/FoEN had done their homework they would also be aware that the Federal Government actually utilizes a number of protocols that are contained in RSPO and which our company has been audited on during the Ministry's usual statutory, quarterly environmental and social audits.
"RSPO's international head office as well as that of the National chapter of RSPO have been duly contacted by our company about ERA/FoEN's spurious allegations and this NGO's typical, ongoing modus operandi of falsely accusing companies rather than constructively engaging with the company concerned, like other internationally recognized NGO's such as Proforest and The Forest Trust (TFT) who have been doing so for a number of years now," it said.
Okomu Oil emphasised that if ERA/FoEN wants to be taken seriously by the oil palm fraternity and
Government, it should take a leaf out of the book of their international peers and actively engage with companies such as Okomu, and others, on matters of mutual concern rather than just sitting back and making glib, unfounded accusations such as those as described herein.
Nigerian Stocks Fall as CBN Hikes Interest Rate by 1.5%
By Dipo Olowookere
Some of the gains recorded by the Nigerian Exchange (NGX) Limited on Monday were given up on Tuesday following the raising of the benchmark interest rate by 1.5 per cent to 15.5 per cent by the Central Bank of Nigeria (CBN).
The apex bank announced this hike in rate after its Monetary Policy Committee (MPC) meeting in Abuja. It explained that it was to tame the rising inflation, currently at 20.52 per cent.
Investors were unhappy with this action, and they abandoned Nigerian stocks, causing the bourse to deflate by 0.06 per cent at the close of transactions.
More profit-taking is expected in the coming days as traders attempt to leave the volatile space for a less-risky fixed income market, where the return on investment is nearing 15 per cent.
Business Post observed more sell-offs in the banking and consumer goods sectors as they respectively lost 0.65 per cent and 0.52 per cent yesterday. However, the energy and insurance counters grew by 0.20 per cent and 0.06 per cent, respectively, while the industrial goods space closed flat.
At the close of business, the All-Share Index (ASI) was down by 27.87 points to 49,161.45 points from 49,189.32 points as the market capitalisation decreased by N13 billion to N26.519 trillion from N26.532 trillion.
May and Baker recorded the highest price decline on Tuesday, losing 9.79 per cent to N3.50, with Regency Assurance declining by 7.69 per cent to 24 Kobo. Vitafoam fell by 6.98 per cent to N20.00, Unilever Nigeria went down by 5.38 per cent to N12.30, and GlaxoSmithKline dropped 5.08 per cent to N5.60.
On the flip side, NGX Group and Multiverse topped the gainers' log after their values rose by 10.00 per cent each to N19.80 and N3.41, respectively. Eterna gained 9.91 per cent to N6.32, Courteville grew by 8.89 per cent to 49 Kobo, and Champion Breweries expanded by 8.53 per cent to N3.69.
Analysis of the trading data showed that investor sentiment remained weak as the market breadth finished negative with 17 price losers and 13 price gainers.
Transcorp was the busiest stock yesterday as it transacted 38.5 million units for N39.0 million, followed by Zenith Bank, which sold 35.3 million units worth N710.8 million. FCMB traded 30.2 million shares valued at N105.6 million, Vitafoam transacted 18.1 million stocks for N362.8 million, and Linkage Assurance sold 8.9 million equities valued at N4.2 million.
In all, investors bought and sold 206.2 million stocks worth N2.4 billion in 3,679 deals on Tuesday, in contrast to the 119.3 million stocks worth N854.8 million traded in 3,580 deals on Monday. This implied that the trading volume, value and number of deals increased by 72.87 per cent, 176.38 per cent and 2.77 per cent apiece.
Crude Oil Rises 2% as Dollar Eases, Hurricane Threatens Supply
By Adedapo Adesanya
The easing of the United States Dollar and the threats of a possible disruption in the supply of crude oil in the Gulf of Mexico due to Hurricane Ian pushed prices higher on Tuesday.
The Brent crude appreciated by $2.21 or 2.6 per cent yesterday to sell at $86.27 a barrel as the West Texas Intermediate (WTI) crude grew by $1.79 or 2 per cent to trade at $78.50 per barrel.
US offshore oil producers said they were keeping an eye on Hurricane Ian's track as the powerful storm shut-in about 11 per cent of oil production in the U.S. Gulf of Mexico as it barrelled toward Florida.
The hurricane entered the US Gulf of Mexico on Tuesday and is forecast to become a dangerous, Category 4 storm over the warm waters of the Gulf.
Some 190,000 barrels per day of oil production or 11 per cent of the Gulf's total, were shut-in, according to the offshore regulator, the Bureau of Safety and Environmental Enforcement (BSEE). Producers lost 184 million cubic feet of natural gas or nearly 9 per cent of daily output.
Personnel were evacuated from 14 production platforms and rigs, BSEE said.
It is the first hurricane this year to disrupt oil and gas production in the US Gulf of Mexico, which produces about 15 per cent of the nation's crude oil and 5 per cent of dry natural gas.
Also supporting prices, the US Dollar, which eased from a 20-year high, also helped support oil. A strong US Dollar makes crude more expensive for buyers using other currencies.
The oil price drop in recent months has raised speculation that the Organisation of the Petroleum Exporting Countries and allies (OPEC+) could intervene. Iraq's oil minister on Monday said the group was monitoring prices and did not want a sharp increase or a collapse.
OPEC+ may take action to stem the price drop by cutting supply, which also lent support. The alliance meets to set policy on October 5.
Russia will likely propose at the next OPEC+ meeting that the group cut 1 million barrels per day from the group's collective output, sources familiar with Russian thinking shared on Tuesday.
FG to Expand Efforts in Potential N33trn Livestock Sector
By Adedapo Adesanya
The federal government has disclosed that Nigeria's livestock sector has a huge economic potential worth over N33 trillion yearly if properly harnessed.
The Permanent Secretary of the Federal Ministry of Agriculture and Rural Development (FMARD), Mr Ernest Umakhihe, disclosed this in Benin City, Edo State, during the inauguration of the Edo chapter of the Animal Science Association of Nigeria (ASAN).
Mr Umakhihe noted that the sub-sector was estimated to contribute about 17 per cent of the Agricultural Gross Domestic Product (GDP) and 5.0 per cent of the national GDP.
"As we all know, the livestock sector is very vital to the socioeconomic development of the country, and it represents an important source of high-quality animal protein.
"It provides about 36.5 per cent of the total protein intake of Nigerians, generates employment and income, and earns foreign exchange for the country.
"The Edo State Government, through the FMARD and Food Security, is interested in improving livestock production hence the creation of the animal husbandry department in the ministry.
"I urge you all to take advantage of this department to explore the huge potentials in the animal husbandry subsector," Umakhihe said.
Also, the Registrar of the Nigerian Institute of Animal Science (NIAS), Professor Eustace Iyayi, commended the state government for creating an animal husbandry department.
He said: "As an institute, we are going to key into the mandate of helping the state grow livestock to harness the potentials in the sector.
"I am confident that at a time when Nigeria's oil industry is failing, we will be able to tap into the N33 trillion huge potential earnings in the value chain."
According to him, Edo was one of those states with a department of animal husbandry, with our efforts, we ensure that today it has been created.
Speaking for the Edo state government, the Special Adviser to Governor Godwin Obaseki on Livestock, Mr Bashiru Kadiri, commended the initiative to inaugurate the Edo chapter of ASAN, noting that no system can develop if there is no clear define role and how.
According to him, the governor believed that the livestock and the entire animal husbandry must thrive hence the implementation of the Edo State livestock initiative programme in the state.
Latest News on Business Post