FG Blames Cross-Border Smugglers for Current Petrol Scarcity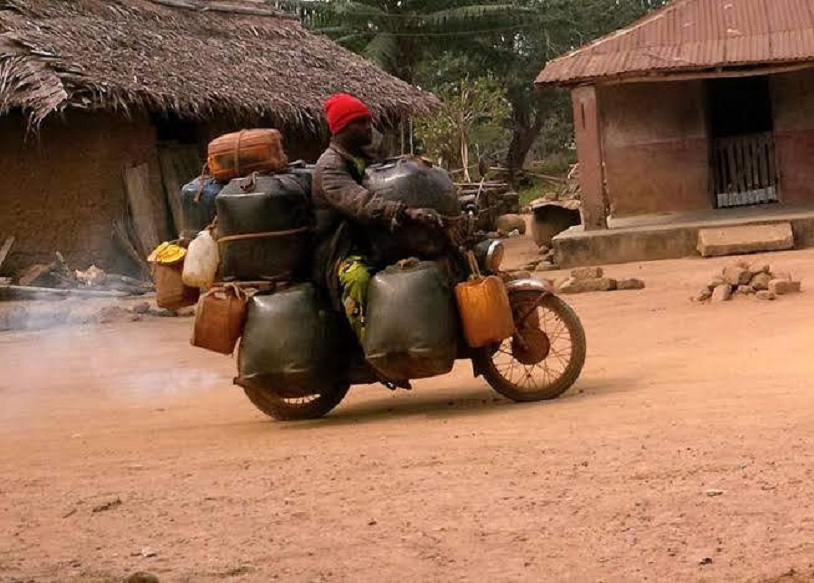 By Dipo Olowookere
Activities of some cross-border smugglers, marketers and ongoing road construction have been attributed to the lingering scarcity of premium motor spirit (PMS), otherwise known as petrol, in Nigeria.
For almost a year, Nigerians have witnessed queues at petrol stations across the country, with different reasons given for the shortage of the product at various periods.
Since late 2022, there have been long queues, which have defied different solutions and directives of President Muhammadu Buhari, who doubles as the Minister of Petroleum.
Giving an update on the situation on Friday, the federal government, through the Nigerian Midstream and Downstream Petroleum Regulatory Authority (NMDPRA), said the inability of Nigerians to purchase fuel without hassle was due to a disruption in the supply of the product caused by the smugglers and oil marketers.
"The current distribution hitch is heightened by activities of cross-border smugglers, who divert PMS meant for Nigerian market to neighbouring countries, where PMS prices are significantly higher than Nigeria's regulated price," a part of a statement issued by the agency today said.
It also blamed the construction of roads for the situation, stating that "the ongoing government effort to rehabilitate strategic Nigerian roads ahead of the rainy season has necessitated rerouting of tanker trucks conveying petroleum products to alternative roads, therefore, increasing transit time and associated cost of product transportation."
Business Post reports that in some parts of Lagos, petroleum marketers sell PMS higher than the official price of N170 per litre. They dispense fuel between N250 per litre and N310 per litre.
It was observed that where petrol is sold at N170 per litre, especially at fuelling stations owned by major marketers, there are long queues of vehicles disrupting the flow of traffic, and at locations where it is sold above the regulated pump price, there are no or fewer queues.
To tackle the petrol scarcity, the NMDPRA said it was "engaging and collaborating with the Nigeria Customs Service to address the diversion of the product by smugglers to other countries."
It assured that there was "PMS sufficiency of over 1.6 billion litres as of January 26, 2023, both on land and marine."
"NNPC (the Nigerian National Petroleum Company Limited) has additionally made a firm commitment to supply more volume of PMS for the months ahead to guarantee national energy security and nationwide availability at the government regulated price," the organisation further stated in the statement.
It emphasised that its monitoring teams have been reinforced to "checkmate the activities of erring marketers who are distorting our planned product flow to designated outlets in order to profiteer from price arbitrage."
Local Stock Exchange Extends Growth by 0.06% Amid Weak Sentiment
By Dipo Olowookere
Investor sentiment at the Nigerian Exchange (NGX) Limited was weak on Wednesday as traders chew over the decision of the Central Bank of Nigeria (CBN) to raise the Monetary Policy Rate (MPR) by 0.50 per cent to 18.00 per cent.
However, the local stock exchange closed higher by 0.06 per cent, buoyed by the 0.08 per cent growth reported by the insurance sector.
Business Post reports that the consumer goods space lost 0.02 per cent, the banking and the industrial goods counters depreciated by 0.01 per cent each, as the energy index remained flat.
When the market closed for the session, the All-Share Index (ASI) improved by 31.43 points to 54,936.11 points from 54,904.68 points, while the market capitalisation went up by N19 billion to N29.928 trillion from N29.909 trillion.
Analysis of the market data showed that the growth posted yesterday was fragile as the highest price gainer, Coronation Insurance, appreciated by 2.44 per cent to 42 Kobo, GTCO also rose by 2.44 per cent to N25.20, Linkage Assurance grew by 2.22 per cent to 46 Kobo, Lasaco Assurance jumped by 2.04 per cent to N1.00, and Transcorp grew by 1.56 per cent to N1.30.
On the flip side, NCR Nigeria suffered the heaviest loss after its value went down by 9.69 per cent to N2.61, FTN Cocoa depreciated by 6.90 per cent to 27 Kobo, Japaul lost 6.67 per cent to quote at 28 Kobo, Cutix declined by 4.95 per cent to N2.11, and Consolidated Hallmark Insurance decreased by 4.62 per cent to 62 Kobo.
Yesterday, investors transacted 134.2 million stocks worth N1.3 billion in 2,479 deals compared with the 127.7 million stocks worth N1.6 billion traded in 2,987 deals, representing an increase in the trading volume by 5.09 per cent, a decline in the trading value by 18.75 per cent, and a shortfall in the number of deals by 17.01 per cent.
The most traded stock on Wednesday was Transcorp with the sale of 28.1 million units, UBA exchanged 21.2 million units, Courteville sold 19.1 million units, GTCO transacted 13.6 million units, and FBN Holdings traded 8.1 million units.
FrieslandCampina Lifts NASD OTC Market by 0.07% at Midweek
By Adedapo Adesanya
The NASD Over-the-Counter (OTC) Securities Exchange returned to positive territory after back-to-back losses, following a 0.07 per cent appreciation on Wednesday, March 22.
This was influenced by the 96 Kobo gain reported by FrieslandCampina Wamco Nigeria Plc during the session to settle at N75.41 per share compared with N75.01 per share of the preceding session.
The improvement in the share price of the milk maker pushed the value of the unlisted securities market by N710 million to N961.17 billion from N960.46 billion, while the NASD Unlisted Securities Index (NSI) grew by 0.54 points to wrap the session at 731.48 points compared with the 730.94 points of the previous session.
The level of activity witnessed a significant increase yesterday as the volume of securities closed higher by 274,515.6 per cent to 23.1 million units from the 8,408 units transacted in the previous trading day.
Equally, the value of shares traded at the session jumped to N10.1 million, which by evaluation is 814.0 per cent higher than the N1.1 million posted on Tuesday.
These transactions were carried out in 13 deals compared with the three deals executed in the previous trading day, indicating a 333.3 per cent appreciation.
At the close of business, Geo-Fluids Plc remained the most traded stock by volume on a year-to-date basis with the sale of 455.3 million units valued at N493.6 million, UBN Property Plc stood in second place with a turnover of 365.8 units worth N309.5 million, while IGI Plc was in third place with a turnover of 71.1 million units valued at N5.1 million.
On the flip side, VFD Group Plc was the most traded stock by value on a year-to-date basis with a turnover of 7.3 million units worth N1.7 billion, Geo-Fluids Plc followed with the sale of 455.3 million units worth N493.6 million, while UBN Property Plc was in third place with a turnover of 365.8 million units valued at N309.5 million.
Oil Prices Rise $1 as Greenback Drops on US Rate Hike
By Adedapo Adesanya
Oil prices rose more than $1 on Wednesday as the US Dollar slid to a six-week low after the Federal Reserve delivered an expected small rate hike.
Brent crude futures rose by $1.37 or 1.8 per cent to settle at $76.69 a barrel, while the US West Texas Intermediate crude (WTI) ended $1.23 or 1.8 per cent higher at $70.90 per barrel.
The US central bank policy-setting committee raised interest rates by another quarter of a percentage point in a unanimous decision on Wednesday, lifting its benchmark overnight interest rate to the 4.75 per cent-5.00 per cent range.
The Fed indicated it was on the verge of pausing further increases in borrowing costs amid recent turmoil in financial markets spurred by the collapse of two US banks.
As a result of this, the US Dollar fell to its lowest level since February 2 against a basket of other currencies, supporting oil demand by making crude cheaper for buyers using other currencies.
The Dollar index last fell 0.63 per cent to 102.500, with the Euro up 0.87 per cent to $1.0861 as it dropped 0.82 per cent against the Japanese Yen, while the Pound Sterling was last trading at $1.2268, up 0.41 per cent on the day.
The markets— including the oil market—had projected a quarter-point rise in US rates, but investors were also paying close attention to US Fed Chair Jerome Powell's comments about the crisis that has rattled global banks this month.
The oil markets shrugged off the US Energy Information Administration's (EIA) weekly data that showed crude stockpiles rose 1.1 million barrels last week to a 22-month high.
This is compared with a build of 1.6 million barrels for the previous week.
The authority also reported major draws in fuel inventories for the week of March 17, with both gasoline and distillate fuel stocks down.
US crude oil stocks stood at 481.2 million barrels at the end of last week, which was about 8 per cent above the five-year average for this time of the year.
The official EIA data showed a smaller build than the 3.3 million barrels increase reported on Tuesday by the American Petroleum Institute (API).
The Organisation of the Petroleum Exporting Countries and its allies like Russia, a group known as OPEC+, is likely to stick to its deal on output cuts of 2 million barrels per day until the end of the year, despite the plunge in crude prices.
Latest News on Business Post