FG, States, LGS Share N465b for January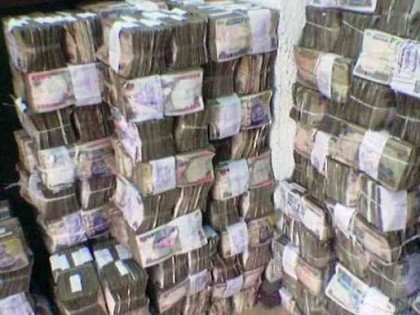 By Modupe Gbadeyanka
A total of N465.149 billion has been distributed for the month of January, 2017 among the Federal Government, State Governments and Local Government Councils in the federation.
This information was revealed at the meeting of the Federation Account Allocation Committee (FAAC) held on Tuesday.
Addressing newsmen, the Technical sub-committee FAAC noted that the Gross statutory revenue received is N324.990 billion which is higher by N76.275 billion when compared with the N248.635 billion received in the month of December, 2016.
It disclosed further that the shared amount comprised the month's statutory distributable revenue of N282.406 billion, Value Added Tax of N73.522 billion, Exchange gain of N48.371 billion and Excess PPT Account of N60.850 billion.
FAAC also said there was also a N6.330 billion refund to the Federal Government by Nigerian National Petroleum Corporation (NNPC).
From the Net Statutory revenue, Federal Government received N133.192 billion (52.68%); States received N67.557 billion (26.72%); Local Government Councils received N52.083 billion (20.60%); while the Oil Producing States received N20.620 billion as 13% derivation revenue.
Furthermore, from the Revenue available from the Value Added Tax (VAT), Federal Government received N10.587 (15%); States received N35.291 billion (50%) while the Local Government Councils received N24.703 (35%).
In a communiqué released after the meeting, it was further explained that there was a revenue increase of $74.91 million in Federation export sales due to a rise in the volume of crude oil export by 1.490 million barrels and an increase in the average price of Crude Oil from $47.30 to $49.57 per barrel during the period under review.
However, the Force Majeure declared at Forcados, Qua Iboe and Brass Terminals remained in place.
Federation revenues increased despite the Force Majeure and the shut-down of pipelines for repairs and maintenance due to leakages and sabotage.
PPT collection increased significantly while revenues from Companies Income Tax (CIT), Value Added Tax (VAT), Import Duty and Royalty decreased slightly. Kenechukwu N.Offie (Mrs) Director Information, OAGF February 21, 2017
FG Raises N130bn from Sukuk Sales for Road Infrastructure
By Aduragbemi Omiyale
A total of N130 billion has been raised from the sale of Sukuk for the construction and rehabilitation of road infrastructure across the country.
Business Post reports that on November 21, 2022, the Debt Management Office (DMO) opened for subscription N100 billion Sovereign Al 'Ijarah Sukuk.
However, because of the strong appetite shown by the diverse investors, the size of the offer was increased to N130 billion.
According to a statement issued by the DMO, the exercise recorded over 165 per cent subscription level.
The agency described this as "evidence of investors' confidence in the use and impact of Sukuk in the construction and rehabilitation of road infrastructure across the country."
It stated that offers were received for the debt instrument, sold at a rental rate of 15.64 per cent per annum, from retail investors, banks, pension fund administrators, assets/fund managers, insurances companies, ethical funds, Takaful operators/non-interest banks, stockbrokers, government agencies, high net worth individuals, trustees and unit trusts.
The DMO assured subscribers of the Sukuk that "the proceeds of the 2022 Sovereign Sukuk, like the previous Sukuk issue proceeds, will be used solely for the construction and rehabilitation of key road projects through the Federal Ministry of Works and Housing and the Federal Capital Territory Administration."
It thanked the investors for supporting the federal government's infrastructure development efforts through Sukuk financing.
"The strong participation of retail investors, ethical funds and non-interest financial institutions in this Sukuk offering attest to the fact that the Government's objective of promoting financial inclusion through admitting more retail investors and ethical funds into the financial system is being achieved," it stated.
The debt office promised to "work to sustain the laudable achievements recorded so far in the use of Sukuk issue proceeds for the construction and rehabilitation of Nigerian roads, and thereby, continue to enhance ease of commuting and doing business, safety on our roads, job creation, economic growth, and prosperity of our nation."
Nigeria Sells Retail Bonds for 13.26% at N1,000 Per Unit
By Modupe Gbadeyanka
The Debt Management Office (DMO) has commenced the sale of the Federal Government of Nigeria (FGN) savings bonds for December 2022.
The retail bonds are sold monthly to low-income earners and other interested investors as a way to raise funds from the capital market to finance budget deficits.
For this month's sale, the debt office is offering the papers in the usual 2-year tenor and 3-year tenor at a coupon rate of 12.255 per cent and 13,255 per cent per annum, respectively.
Subscriptions for the notes started on Monday, December 5, 2022, and will close on Friday, December 9, 2022, according to details of the exercise released by the DMO.
The interest would be paid to subscribers quarterly, i.e., March 14, June 14, September 14, and December 14, while the bullet repayment would be made at the maturity date.
The savings bond is sold at N1,000 per unit, and investors are required to purchase at least N5,000 and a maximum of N50 million.
Intending investors would be expected to contact their brokerage companies on how to purchase the debt instrument.
The retail bonds are backed by the full faith and credit of the Nigerian government and are charged upon the general assets of the country.
The investment tool qualifies as a security in which trustees can invest under the Trustee Investment Act.
It is also a liquid asset for liquidity ratio calculation for banks and qualifies as government securities within the meaning of the Company Income Tax Act (CITA) and Personal Income Tax Act (PITA) for tax exemption for pension funds, amongst other investors.
New Cash Withdrawal Limits Will Expose Tax Evaders—Oyedele
By Adedapo Adesanya
The Fiscal Policy Partner and African Tax Leader at one of the country's leading consultancy companies, PwC, Mr Taiwo Oyedele, has said the new cash withdrawal limits introduced by the Central Bank of Nigeria (CBN) would expose tax evaders, individuals and micro, small, and medium enterprises (MSMEs) in Nigeria.
In a series of tweets seen by Business Post, the tax maverick said that with the restrictions placed on cash withdrawals, many people would be forced to carry out transactions using electronic payments, and small businesses that currently operate mostly on cash would become visible to the tax authorities.
It had been reported the apex bank on Tuesday moved to limit the amount of cash withdrawals Nigerians can make with benchmarks placed at several channels, including over-the-counter, point of sales (POS), and automated teller machines (ATMs).
He explained that the policy would trigger various tax obligations, including income tax, value-added tax (VAT), and Pay-As-You-Earn for small businesses and individuals.
On Income tax, he wrote that "If your business is registered as a company, you may be liable to CIT depending on your annual turnover (i.e. no CIT if your turnover below N25 million, 20 per cent if your turnover is between N25 million to N100 million 30 per cent if your turnover is more than N100m) in addition to Education Tax at 2.5 per cent.
"If your business is not registered as a company, then you will be liable to personal income tax based on graduated taxable income bands between 7 per cent and 24 per cent."
On VAT, he explained that, "All businesses are required to register for VAT and charge 7.5 per cent on their goods and services except those with annual turnover below N25 million."
For PAYE, Mr Oyedele explained that employees earning more than N30,000 per month are liable to PAYE, which must be deducted and paid to the tax authority by the employer on a monthly basis.
To this, he noted, "You may also be liable to other statutory contributions such as pension depending on your staff strength."
For individuals, he noted that as they carry out more transactions, this will make them susceptible to transparency as it will make it easier for the government to track those who are tax evaders.
"The more transactions you make electronically, the more the tax authorities will get the intelligence to track your income and net worth, making it easier to fish you out if you are a tax evader."
He then advised small business owners to register with relevant tax authorities like the Federal Inland Revenue Services (FIRS) and the state internal revenue services where they operate.
Further, the PwC official called on SME operators to open a separate bank account for their business, "or dedicate one for that purpose if you already have a business account) and don't mix business with personal transactions."
The government, on its part, he said, needs to sensitise the general public, especially small business owners, adding that the CBN should ensure a proper handshake with the fiscal authorities.
"For instance, the conditions for excess cash withdrawals could include Tax Identification Number," he opined.
Latest News on Business Post