Former CBN Chief Backs FG's Plan To Borrow $29.9b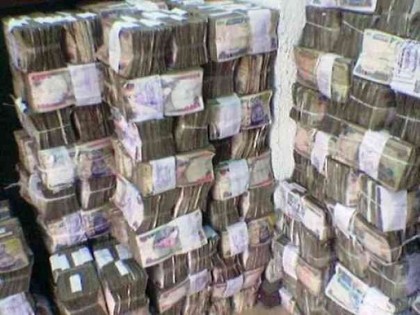 By Modupe Gbadeyanka
A former Central Bank of Nigeria (CBN) Director, Dr Titus Okunronmu, has thrown his weight behind plans by the Federal Government to borrow $29.9 billion to finance infrastructure development in the country.
The renowned economist, in a chat with the News Agency of Nigeria (NAN) on Monday in Ota, Ogun, explained that the money, when eventually sourced, would go a long way to revamp infrastructural deficit.
Dr Okunronmu, an ex-staff of the CBN's Budgetary Department, said borrowing for investment, not for consumption, would have positive impact on the economy and boost economic growth.
"If the Federal Government borrows for development, it is good and realistic, but borrowing for consumption is counter-productive to the economy," he said.
He said that the expected revenue in 2016 budget was not enough to cover the recurrent expenditure, so the government had to resort to depending on domestic and external borrowing and urged the government not to borrow from the nation's banking sector because borrowing from local banks would put more money in circulation, causing inflation.
NAN reports that President Muhammad Buhari had on October 25 written to the National Assembly seeking approval to borrow $29.9 billion to finance the nation's infrastructure development from 2016 to 2019.
Mr Buhari's letter said it had become necessary to resort to prudent external borrowing to bridge the financial gap.
He added that the monies would be applied to key infrastructure projects including power, railway and road project amongst others.
Capital Market Ready to Spur Investment in Infrastructure—Yuguda
By Aduragbemi Omiyale
The Director-General of the Securities and Exchange Commission (SEC), Mr Lamido Yuguda, has assured the federal government that the capital market would ensure it attracts investment in infrastructure to stimulate the economy.
In an interview on Thursday, Mr Yuguda said the administration of President Bola Tinubu had shown the desire to jump-start the economy with his policy direction.
He said the Nigerian capital market could be a viable tool to achieve infrastructure development, as it is an organised and specialised financial market that drives capital mobilisation through domestic savings and foreign capital inflows.
According to him, the benefits of adequate infrastructure in any economy cannot be overemphasised as they help to speed up development and create wealth.
"If we can get well thought out infrastructure in this country, it will do many things. It will raise the level of economic activities in the country as a whole, and these activities will need people to be employed so they can carry out those activities.
"That means the youths and our people will get more employment, and as you get more employment, people get more disposable income and need to find outlets to spend that income. That means people can set up small.
"Industries and be able to live decent lives. Also, people will be buying the essentials of life, and the people who are in the business of producing or selling them will be in business. So, you find out that there is a chain effect," the DG stated.
The SEC chief recalled that in the past, most famous industries were sited close to rail lines to aid the transportation of heavy machinery, raw materials, and finished products to consumers.
"You can have several carriages in the train carrying various products. Today we do not have the rail lines, and we need to revive this infrastructure," he said.
The SEC DG expressed the hope that the nation's economy will bounce back and thrive with the aid of the capital market.
"I have a lot of hope in our economy. Right now, if you do the GDP ranking, Nigeria is about number 30. Still, I am very confident that if we get our infrastructure right, our ranking will improve tremendously," he said, adding that Nigeria has the population and the market right now, which means that investment in infrastructure can pay back itself in Nigeria faster than other parts of Africa because the nation has more people that can use the infrastructure.
He, therefore, urged the government at all levels to look towards the capital market for financing such investments, which he said would aid the much-needed economic development, assuring that once the infrastructure is right, the number of users will grow, boosting economic activities.
Mr Yuguda said this would all be aided by the capital market as it is an unbiased price determination machinery for the economy.
"Once we have the right infrastructure, people will travel by road. We did in the past, and I think once we have the right structures in place, we can enjoy good roads again," he added.
The SEC DG assured that the commission was committed to protecting investors and creating an enabling in the market, emphasising the SEC's unwavering resolve to build a robust capital market that is instrumental to driving economic progress in the country.
FG's Readiness to Tackle FX Constraints Gladdens NGX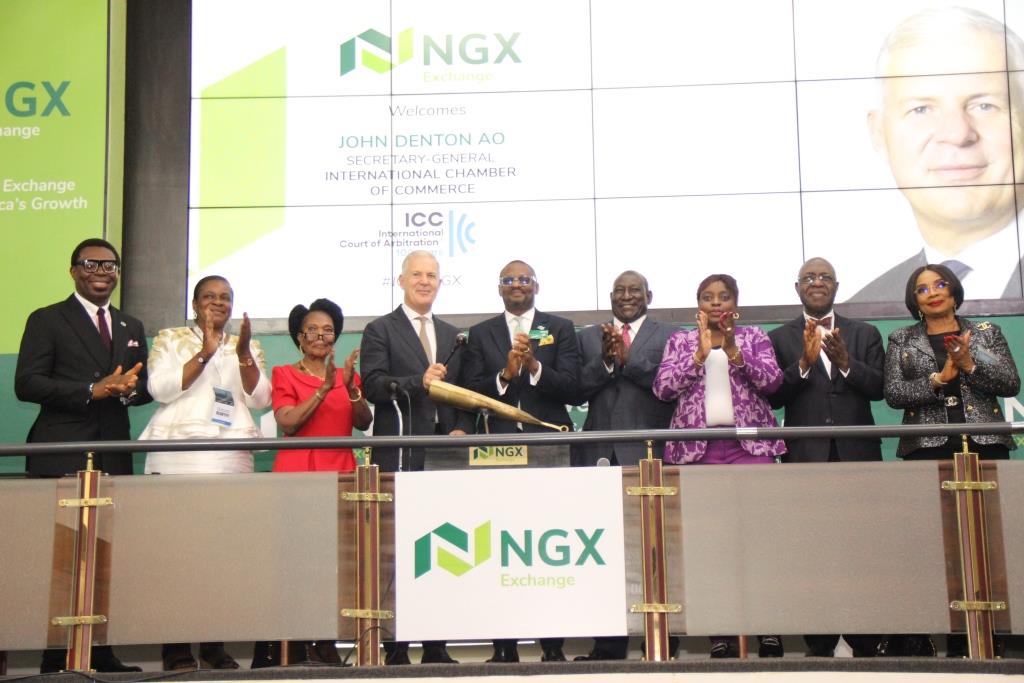 By Aduragbemi Omiyale
The Nigerian Exchange (NGX) Limited has expressed its excitement over the readiness of the federal government to address the lingering foreign exchange (FX) constraints in the country.
The chief executive of the bourse, Mr Temi Popoola, who lamented the negative impact of the forex shortage on the market, said he was optimistic that the administration of Mr Bola Tinubu would tackle the issue head-on.
During his inauguration on Monday, Mr Tinubu tasked the Central Bank of Nigeria (CBN) to adopt a single exchange rate system to restore investors' confidence in the Nigerian economy.
Speaking on Thursday in Lagos at the closing gong ceremony to commemorate the centenary anniversary of the International Court of Arbitration (ICC), Mr Popoola noted that forex limitations have continued to challenge the nation's economy.
He noted that the NGX trades between $250 million to $300 million a day, but due to the FX crisis in the country, this has continued to decline.
"We are hopeful and beginning to see that the new administration wants to tackle FX constraints. At the NGX, we will continue to appreciate our partners.
"We are truly delighted to welcome the ICC to the exchange, and at NGX, we will continue to build on partnerships just to ensure that companies will be able to come and raise capital," Mr Popoola, represented by the Divisional Head of Capital Markets at NGX, Mr Jude Chiemeka, stated.
Responding, the Secretary General of ICC, Mr John Denton, noted that the ICC, with 400 million members in 170 countries, play a critical role in ensuring appropriate advocacy with the government and global business community on effective means of enabling the private sector, provide training and capacity building to link Nigerian businesses unto the extraordinary global platform of the national chamber of commerce.
Mr Denton said one of the key aims of the ICC is to enable global trade while expressing excitement that the market sustained a bullish tilt in three consecutive trading sessions.
According to him, this bodes well, especially for investors' confidence under the new administration and is critical to keeping the market competitive and transparent.
Commending the NGX for its giant strides in innovation and technology, Mr Denton said this aligns with the ICC objectives, which is a critical part of its role in developing the private sector and enabling the private sector to operate effectively.
"We are looking at 30-40 sovereign states with serious debt and liquidity issues, and yet on a global basis, that is dismissed as something to be worried about and not something to be acted on.
"What that means is that the advanced economies are not prepared to work harder on the debt forgiveness issue, resolution issue because if these countries fall over, it will be terrible. We think this is fundamentally wrong, which is what we are working on.
"Working with a group like the NGX who understand what is required to keep the markets moving will be very helpful too," the ICC scribe said.
USD₮ Surpasses Previous Market Cap High of $83.2bn
By Adedapo Adesanya
Tether, the company operating the blockchain-enabled platform tether.to that powers the first and most widely used stablecoin, USD₮, has surpassed its previous all-time market cap high of $83.2 billion set in May 2022.
Since its creation in October 2014, Tether's USD₮ stablecoin has become the most traded cryptocurrency, surpassing all rival offerings together.
Tether combines the benefits of digital currency, such as instant global transactions, with the stability of the traditional currency. With a commitment to transparency and compliance, Tether provides a fast and low-cost way to transact with money.
Speaking on the new feat, Mr Paolo Ardoino, CTO of Tether, in a statement shared with Business Post on Thursday, said, "Today's numbers demonstrate that people want access to financial freedom, and when given that access, they will use it.
"Tether tokens offer a safe harbour for the unbanked and allow people in emerging markets to keep their buying power, even when their national currency is being devalued. Between our battle-tested resilience in the face of market volatility and our industry-leading transparency practices, Tether has proven that it can be trusted, and customers are responding in kind.
"We are eager to continue maintaining our laser focus on emerging markets and will not waiver in our efforts to expand access to financial freedom globally."
Tether also said it had solidified its position as the preeminent stablecoin and pioneer for financial freedom and innovation.
Tether's recent attestation demonstrates its commitment to transparency and highlights its work in emerging markets as a safe haven from volatile markets.
Tether's Q1 performance saw it report a net profit of $1.48 billion, significantly bolstering its reserves. With approximately 85 per cent of its investments in cash, cash equivalents, and other short-term deposits, along with a 20 per cent increase in token supply quarter over quarter and ~2.5 billion in excess reserves (on top of the 100 per cent minimum reserves), Tether has unquestionably established itself as a trustworthy entity with a highly optimistic year ahead.
Latest News on Business Post