Gas Supply: Sahara Group Vessels Begin Voyage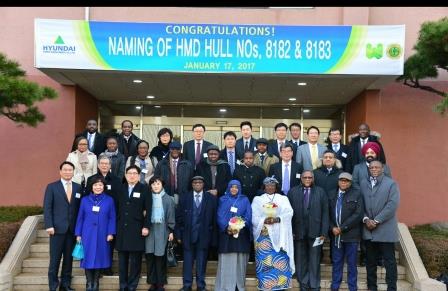 By Modupe Gbadeyanka
The supply logjam which often impedes stable availability of Liquefied Petroleum Gas (LPG), otherwise called cooking gas, may soon be over.
This is because the newly-built LPG Vessels, MT Africa Gas and MT Sahara Gas are set to commence operations that will see them berth in Houston, U.S.A to convey their first ever consignment of gas expected to be delivered to the West African coast from March 2017.
Both vessels' operations are expected to actualize the vision of the Nigerian National Petroleum Corporation (NNPC) which hinges on boosting the availability of the commodity in Nigeria and the West African sub-region.
Moreso, the two vessels will address the lingering challenges of supply, affordability and fraudulent activities of individuals and organisations seeking to adulterate cooking gas due to scarce supply.
MT Africa Gas has already taken the lead, commencing its maiden voyage by sailing towards the Caribbean/US Gulf Region.
Sahara Gas is due to follow suit in the coming weeks.
Industry watchers have commended the Dr Maikanti Baru led NNPC for taking bold steps at tackling the scarcity of cooking gas nationwide.
Experts have particularly lauded his giant interventions towards ensuring sustainability, safety and reliability for millions of consumers who depend on the commodity for their daily energy needs.
Considered as a cleaner, much safer and more affordable alternative to firewood and kerosene, the acceptability of LPG in the sub-region has been affected by some challenges over the years.
These hiccups include- but are not limited to low supply and logistics arising from limited to lack of LPG vessels in the region.
But with the recent unveiling of two LPG vessels, being acquisitions driven by West Africa Gas Limited, a Joint Venture of NNPC and Sahara Group, there is a renewed optimism for what is popularly referred to as cooking gas in the country.
These two vessels, Hulls 8182 and 8183 were christened "Africa Gas" and "Sahara Gas" respectively at a historic naming event in Ulsan, far away South Korea.
The JV is run by two companies, NNPC LNG Ltd, a wholly-owned subsidiary of NNPC and Sahara Energy's oil and gas trading arm, Ocean Bed Trading Ltd (BVI).
Working through the JV, NNPC's LPG policy will in addition to improving supply within West African states, check the menace of deforestation in the sub region.
It is expected that in the long run, the growing negative impact of climate change across the globe will be drastically reduced.
While speaking at the inauguration of the LPG vessels in South Korea, the NNPC boss said it was "an outstanding achievement" for Nigeria considering the fact "that the Joint Venture between NNPC and Sahara is already recording success stories within a short period having been established in 2013."
Mr Baru said the NNPC remained committed to ensuring uninterrupted supply of cooking gas as well as the adoption of policies to drive sustainable development across the entire energy value-chain of the nation's oil and gas sector.
NGX CEO Lauds Geregu Power's Significant Impact on Stock Market
By Dipo Olowookere
The chief executive of the Nigerian Exchange (NGX) Limited, Mr Temi Popoola, has heaped praises on Geregu Power Plc for its positive impact on the local stock market.
Speaking on Tuesday at the closing gong ceremony to commemorate the first Annual General Meeting (AGM) of the organisation as a listed company on the exchange, Mr Popoola said the power-generating firm had boosted the value of the trading platform since its listing last year.
"It (Geregu Power) has also contributed significantly to the volume of trades done on the market since its listing," he said, commending the board for instituting best practices in corporate governance and playing a leading role in the country's power sector.
Since its listing on NGX, Geregu Power has added more than N800 billion in market capitalisation to the bourse as the market continues to price up its shares amid strong revenue generation and dividend yields.
Also, Mr Popoola pointed out that the company exhibited quality corporate governance, as "Geregu was one of the first set of listed companies to file their annual reports on the exchange."
In his remarks, the Chairman of Geregu Power, Mr Femi Otedola, thanked the NGX for providing a platform for listed companies to source cheaper funds from the capital market.
"We promise to sustain our partnership for many years to come and reiterate our commitment to best practices of corporate governance," the billionaire businessman said, as the chief executive of the power firm, Mr Akin Akinfemiwa, also restated the company's dedication to positioning itself to be more valuable to shareholders and the business community at large.
On his part, the Chairman of NGX Group, Mr Umar Kwairanga, commended Mr Otedola for his longstanding contributions to the capital market, expressing optimism that the listing of Geregu Power as the first power-generating firm and its experience in the capital market would encourage other players in the sector to come and list on NGX.
Also, the chairman of NGX Limited, Mr Abubakar Mahmoud, represented by a Director at NGX, Mrs Angela Adebayo, said, "It is our hope that NGX and Geregu Power would continue to work together to sustain our partnership and consolidate our shared values for improved outcomes that will be beneficial to the market and the Nigerian economy."
Zenith Bank Proposes N2.90 Dividend After Impressive Growth in Gross Earnings
By Dipo Olowookere
The board of Zenith Bank Plc has proposed the payment of N2.90 per share as a final dividend for the 2022 accounting year, bringing the total cash reward to shareholders for the year to N3.20 per share after it earlier paid 30 Kobo as an interim dividend.
The tier-1 bank, in its audited financial statements for 2022 released to the Nigerian Exchange (NGX) Limited on Tuesday, announced the dividend payment amid an impressive double-digit growth of 24 per cent in gross earnings to N945.5 billion from the N765.6 billion reported in 2021 despite the persistent challenging macroeconomic environment and headwinds.
The financial results showed that the surge in gross earnings last year was driven by a 26 per cent year-on-year growth in interest income from N427.6 billion to N540.2 billion and a 23 per cent year-on-year growth in non-interest income from N309 billion to N381 billion.
Also, impairments increased in the year by 107 per cent to N124.2 billion from N59.9 billion, while interest expense rose by 63 per cent to N173.5 billion from N106.8 billion.
It was observed that the increase in impairments, which also resulted in an increase in the cost of risk to 3.3 per cent from 1.9 per cent, was attributed to the impact of Ghana's sovereign debt restructuring programme. The growth in interest expense increased the cost of funds from 1.5 per cent in 2021 to 1.9 per cent in 2022 due to hikes in interest rates globally.
The continued elevated yield environment positively impacted the bank's Net-Interest-Margin (NIM), which grew from 6.7 per cent to 7.2 per cent due to an effective repricing of interest-bearing assets.
Operating expenses grew by 17 per cent, though the inflation rate was at 21.91 per cent as of February 2023, according to the National Bureau of Statistics.
In the year under consideration, the profit before tax recorded a marginal growth of 2 per cent to N284.7 billion from N280.4 billion due to an improvement in all the income lines.
A look at the balance sheet revealed that customer deposits increased last year by 39 per cent to N8.98 trillion from N6.47 trillion in the previous year. This growth in customer deposits came from all products and deposit segments (corporate and retail), thus consolidating the bank's market leadership and indicating customers' trust.
Total assets increased by 30 per cent from N9.45 trillion in 2021 to N12.29 trillion, mainly driven by growth in customer deposits. With the steady and continued recovery in economic activities, the Group prudently grew its gross loans by 20 per cent from N3.5 trillion in 2021 to N4.1 trillion in 2022, which increased the Non-Performing Loan (NPL) ratio modestly from 4.2 per cent to 4.3 per cent.
The capital adequacy ratio decreased from 21 per cent to 19 per cent, while the liquidity ratio improved from 71.2 per cent to 75 per cent, with both prudential ratios well above regulatory thresholds.
In 2023, Zenith Bank said it intends to expand its frontiers as it also reorganises into a holding company structure, adding new verticals to its businesses and growing in all its chosen markets, both locally and internationally.
In recognition of its track record of excellent performances, Zenith Bank was recognised as the Number One Bank in Nigeria by Tier-1 Capital, for the 13th consecutive year, in the 2022 Top 1000 World Banks Ranking published by The Banker Magazine; Bank of the Year (Nigeria) in The Banker's Bank of the Year Awards 2020 and 2022; Best Bank in Nigeria, for three consecutive years from 2020 to 2022, in the Global Finance World's Best Banks Awards; Best Commercial Bank, Nigeria 2021 and 2022 in the World Finance Banking Awards; Best Corporate Governance Bank, Nigeria in the World Finance Corporate Governance Awards 2022; Best in Corporate Governance' Financial Services' Africa, for three consecutive years from 2020 to 2022, by the Ethical Boardroom; Best Commercial Bank, Nigeria and Best Innovation In Retail Banking, Nigeria in the International Banker 2022 Banking Awards.
Also, the bank emerged as the Most Valuable Banking Brand in Nigeria in the Banker Magazine Top 500 Banking Brands 2020 and 2021 and Retail Bank of the year for three consecutive years from 2020 to 2022 at the BusinessDay Banks and Other Financial Institutions (BAFI) Awards.
Similarly, Zenith Bank was named Bank of the Decade (People's Choice) at the ThisDay Awards 2020, Most Innovative Bank of the Year 2019 by Tribune Newspaper, Bank of the Year 2020 by Independent Newspaper, Bank of the Year 2021 by Champion Newspaper, Bank of the Year 2022 by New Telegraph Newspaper, and Most Responsible Organisation in Africa 2021 by SERAS Awards.
Sell Pressure on Bellwether Stocks Softens NGX Index by 1.16%
By Dipo Olowookere
It was not a good day for equities on the Nigerian Exchange (NGX) Limited on Tuesday as profit-taking activities further deepened during the trading session, leading to a 1.16 per cent loss.
The bearish performance was triggered by the losses recorded by some bellwether stocks like Dangote Cement, Dangote Sugar, Fidson, and six other mid and low-cap shares.
The trading session saw investors rebalancing their portfolios, and at the close of business, Chams topped the losers' chart after it dropped 8.00 per cent to sell at 23 Kobo. UAC Nigeria lost 5.76 per cent to finish at N9.00, Dangote Cement shrank by 4.17 per cent to N276.00, Fidson depreciated by 2.95 per cent to N9.55, and Prestige Assurance plunged by 2.44 per cent to 40 Kobo.
The gainers' table had 16 members yesterday and was led by PZ Cussons, which grew by 9.62 per cent to N11.40. International Energy Insurance gained 9.24 per cent to sell for N1.30, Multiverse rose by 8.72 per cent to N3.24, FTN Cocoa added 7.69 per cent to its value to finish at 28 Kobo, and Regency Alliance chalked up 6.90 per cent to quote at 31 Kobo.
The price movement index analysis showed that investor sentiment was strong despite the setback, as the market breadth was positive.
Business Post reports that the loss reported by the stock exchange was due to the 2.18 per cent decline suffered by the industrial goods sector, as every other sector was bullish.
The consumer goods index appreciated by 1.50 per cent, the insurance counter improved by 0.46 per cent, the banking sector increased by 0.27 per cent, and the energy wing remained flat.
Data from the bourse revealed that the All-Share Index (ASI) was down by 626.14 points yesterday to 53,124.63 points from 53,750.77 points, and the market capitalisation decreased by N341 billion to N28.940 trillion from N29.281 trillion.
As for the activity chart, the trading volume surged by 101.09 per cent to 200.9 million shares from 100.9 million shares, while the trading value declined by 51.16 per cent to N2.1 billion from N4.3 billion, with the number of deals depreciating by 6.34 per cent to 3,071 deals from 3,279 deals.
The significant rise in the volume of transactions was due to buying interests in Transcorp, Fidelity Bank, Custodian Investment, Sterling Bank and GTCO, which sold 61.5 million units, 27.0 million units, 20.0 million units, 18.7 million units, and 11.7 million units, respectively.
Latest News on Business Post