How Nigeria Can Attract Investors to Solid Minerals Sector—Sekibo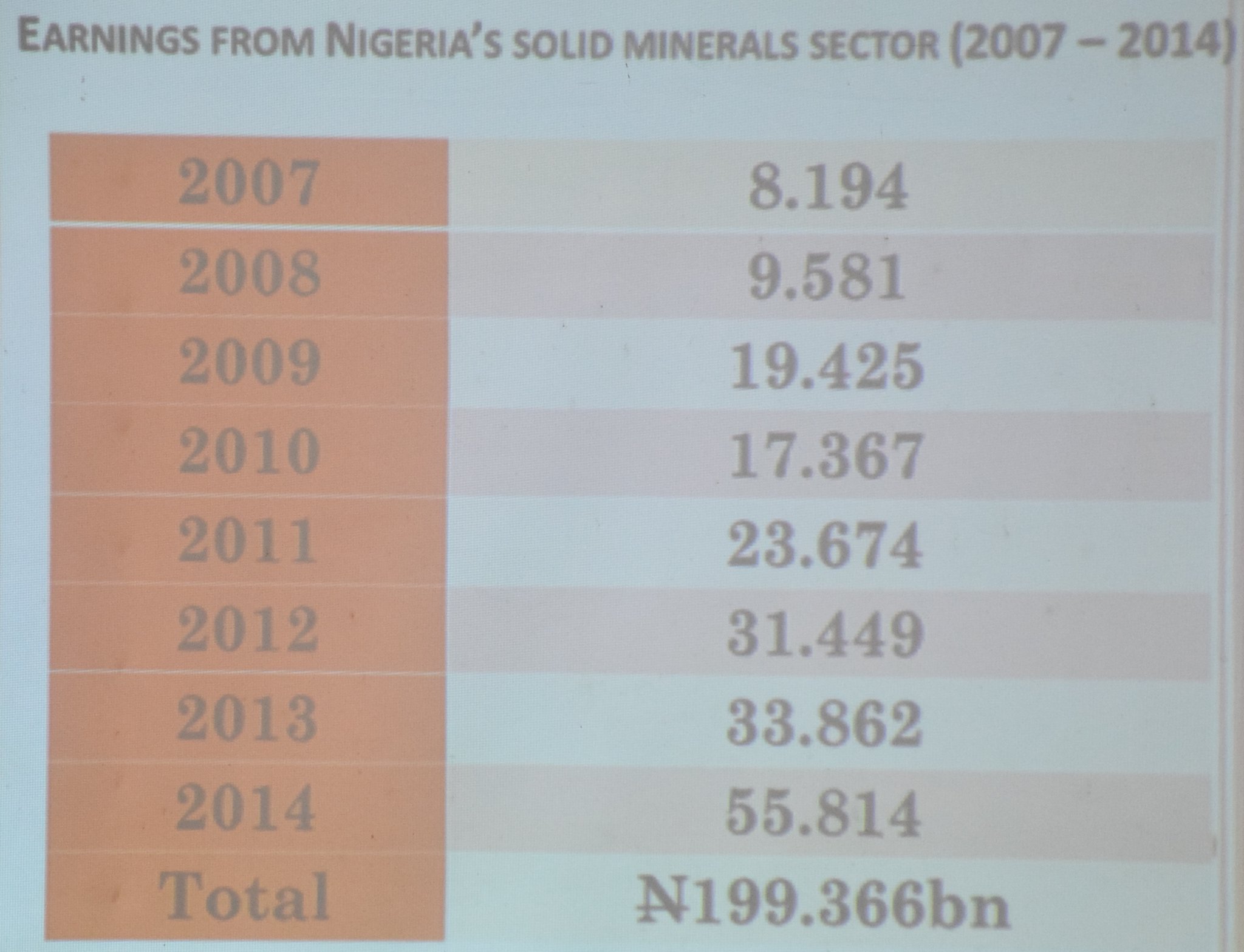 By Ashemiriogwa Emmanuel
The managing director of Heritage Bank, Mr Ifie Sekibo, has suggested ways Nigeria can unlock several opportunities in the solid minerals sector, which has remained largely untapped for many years.
Speaking at a recent webinar organised by the Securities and Exchange Commission (SEC), the banker proposed the formulation of a market framework that will attract investors into the industry.
The Heritage Bank boss said this structure will allow the collateralisation of assets that serve as substitute funding options for banks.
In addition, he said the framework will provide an initiative way of financing commercial activities that pertains to solid minerals and other related projects of the sector through raised funds.
"Once we can collateralize these assets, whether they are under the ground or being determined, you use different instruments to bring liquidity into them.
"Then investors will follow up once we have established there is enough to explore," Mr Sekibo, who was represented at the event by the Divisional Head of Strategy and Business Solutions at Heritage Bank, Olusegun Akanji, explained.
He, therefore, advised the government to consider this suggestion, submitting that a fully established market formation process would bring about an integrated solid mineral institution.
But he pointed out that for this process to be feasible, there is the need for government intervention, explaining that the intervention of government was a necessity in the initiation of any sector around the world as it prepares the private sector and funders' involvement.
He also hinted that international funders and retail investors can be attracted when banks play in the sector of pricing and integrity of the market, and there is a stress-free, timely establishment of price discovery.
"At the base of this are the issues of pricing and integrity of the market. Once banks play in that sector and we have a government institution like the Nigerian National Petroleum Corporation (NNPC) type to hold all these documentations, it would be very easy to establish price discovery on an ongoing basis.
"This will, in turn, attract international funders, hedge funds and retail investors. Today, we have retail bonds in the same way; we can have gold-backed or any of the solid mineral assets where retail investors can put in the funds," Mr Sekibo added.
He further revealed that a consistent packaged framework will make the process easier and improve cost management for Dukia Gold & Precious Metals Refining Company Limited.
"With a consistent packaged framework, it will be easier for Dukia Gold and help in less spending. If Dukia Gold should speak of their challenges, they will speak about tonnes of documents they have to produce. But with a unified source of documentation, it makes the process easier and improves cost management. These are some of the challenges we have experienced in trying to support a few clients we worked with," he said.
Adrian Grenier Joins Panel Discussion about Green Bitcoin
United Nations Environment Goodwill Ambassador and actor Adrian Grenier, who starred in Netflix's Clickbait, HBO's Entourage and 20th Century Fox's The Devil Wears Prada, has joined a panel discussion about Bitcoin energy consumption and sustainability at the recently concluded CoinGeek Conference New York.
Grenier is also known as a strong environmental activist who helped launch UN's Clean Seas campaign in 2017 and co-founded the Lonely Whale Foundation, which aims to increase awareness and educate people about the status of the globe's oceans and marine life.
Grenier also has an impact fund called DuContra Ventures, where he is a co-founder and the chief experience officer, that is focused on four categories: the betterment of humans, investing in communities, the future of finance (where his interest in blockchain comes in), and sustainable consumer goods. The actor has also invested in Blueland, which produces plastic-free consumer cleaning products.
The presence of a renowned environmentalist at a Bitcoin event is somewhat of irony as Bitcoin has been touted by the media in the past months as unsustainable and not environmentally friendly with the massive amount of energy Bitcoin mining consumes.
"I think people that want to dismiss crypto as being unsustainable don't fully understand the complexity of the opportunity that crypto has for society across the board. It's not just about mining efficiency, it's also about how it's going to improve every industry," Grenier said.
Grenier's presence means that he has finally found a Green Bitcoin he can support in BSV. The BSV blockchain is the largest public blockchain that can scale unlimitedly to accommodate the data the world is generating.
"If you had a crypto technology that could actually track the exchange of goods and services within the community and keep the value very hyper-local, there's a lot less loss. I mean, when you put your money in a centralized banking system, you're losing a lot of money, especially with inflation and the printing of money. And suddenly, they're stealing your little value. But when you have a hyperlocal currency, you know what's being shared, and you keep it serving your community," Grenier explained.
Unlike BTC that has no other utility except as a speculative investment due to its price volatility, small data blocks at only 1MB in size and low throughput at seven transactions per second (tps), a 2GB block has already been mined on the BSV blockchain and the network is preparing to increase its throughput to over 50,000 tps at transaction fees of less than a penny, rivalling the capacity of the VISA network. These numbers are what make BSV the Green Bitcoin and what make BTC simply unsustainable.
"I think it's really going to transform media. In my business, like filmmaking [and] communications, it's going to empower artists to have exchange directly with consumers, get commercialization out of that relationship unless chosen. Even just the social media networks. Like what's happening with Facebook, they're literally selling our data for profit, and we don't see any of that money. I like to see social media networks that allow both users and content creators to have a more autonomous exchange of value," Grenier pointed out.
As BSV continues to scale, millions and even billions of tps can be realized in the future. And with this kind of powerful technology, can usher in a fully on-chain world—improving business systems and processes and maximizing profits—much like how the Internet Protocol has created the online life people are enjoying today. This kind of benefit to mankind is what more than justifies the huge energy consumption of BSV mining.
Apple Rolls Out New AirPods, MacBooks, Processor
By Adedapo Adesanya
At its virtual MacBook event on Monday, tech giant, Apple, launched the new generation AirPods which will support spatial audio, thanks to new sensors that support features like spatial audio.
The new Airpods sport a new design, closer to the AirPods Pro, but they lack the rubber in-ear tip. The case also charges magnetically using Apple's magnetic charger MagSafe.
Apple says the third-generation AirPods have more powerful bass than previous models and that the AirPods now have six hours of battery life for listening to audio.
The new AirPods cost $179 (N102,388) and will hit the shelves next week.
Apple launched its first AirPods in 2016 and turned the wireless earphone market on its head.
Apple is the largest AirPods brand as it holds 29 per cent of the market share in the third quarter of 2020, three times that of its closest competitor, Xiaomi.
Also at the event, the company announced new chips, M1 Pro and M1 Max, for new high-end MacBook Pro laptops.
The M1 Max is a more powerful version of the M1 and M1 Pro. It has 57 billion transistors, Apple said, and a 32-core graphics processor, saying that its graphics processor compares favourably to current laptop graphics processors, especially when using less power.
Apple said the new MacBook Pro laptops are completely reimagined as they will come with Apple's M1 Pro chip, a new processor Apple says has a 10-core processing unit that is 70 per cent faster than its current M1 chip.
The new models have an HDMI port to connect to displays and TVs, an SD card slot for photographers. It also uses a MagSafe magnetic connector, bringing back a beloved feature from older MacBooks.
Users can still charge using the USB-C ports, of which there are three, which support Thunderbolt connections.
It comes in 16-inch and 14-inch sizes with denser screens and ProMotion screens with a higher refresh rate, a feature that landed on the iPhone 13 this year. The displays are using MiniLED technology, the company said.
The new models do not have a Touch Bar touchscreen on the keyboard but have a fingerprint sensor on the power button.
The 14-inch MacBook Pro starts at $1,999 (N1.1 million). The 16-inch model starts at $2,499 (N1.4 million), representing a slight price increase from previous models.
Apple's $99 (N56,628) smart speaker, HomePod Mini, will also be available in a variety of new colours including orange, yellow, and blue. Previously, it was only available in white and dark grey.
** FX rates were calculated at N572 per Dollar, the black market rates.
Fidelity Bank to Issue $500m of 5-year Unsecured Notes
By Dipo Olowookere and Adedapo Adesanya

Fidelity Bank Plc has announced its intention to approach the international capital market again for a fresh Eurobond worth $500 million.
A notice to the Nigerian Exchange (NGX) Limited signed by the company secretary, Ezinwa Unuigboje, disclosed that the unsecured and unsubordinated notes would carry a maturity of five years and would rank parri passu with all other previous papers sold by the lender.
In the disclosure, Fidelity Bank said the Securities and Exchange Commission (SEC) has given its approval for the transaction to go ahead as it "has no objection" to it.
The lender said it was requesting the fresh capital "for general corporate purposes, including supporting its trade finance business" and that after issuing the Eurobond, it would be listed on the Irish Stock Exchange to allow it to be traded on "its regulated market."
Already, Fidelity Bank commenced the planned investor meetings concerning the notes on Monday, October 18, 2021, though the final decision to issue the papers is "subject to finalising the necessary transaction documentation and prevailing market conditions."
Business Post reports that this development is coming after the Nigerian government raised $4 billion from the debt market last month. Also, another lender in the country, Access Bank Plc, which is listed on the nation's stock exchange like Fidelity Bank, raised $500 million from the same market at 6.13 per cent. This sale was oversubscribed by investors because of the strong confidence they have in the bank.
Recall that in 2017, about this month, Fidelity Bank, a tier-two financial institution, issued $500 million Eurobond to investors.
Stocks of the company closed flat at the bourse on Monday at N2.74 each. The bank, since the assumption of office of Mrs Nneka Onyeali-Ikpe as the Chief Executive some months ago, has witnessed a rising profile in the Nigerian banking industry.
One of her ambitions is to ensure that the lender attains a tier-one status by 2025. At the moment, only five of the over 20 banks in the country are in the category and they are Zenith Bank, Access Bank, GTCO, UBA and First Bank, altogether known as ZAGUF banks.
Latest News on Business Post