How to Sell with SquadPOS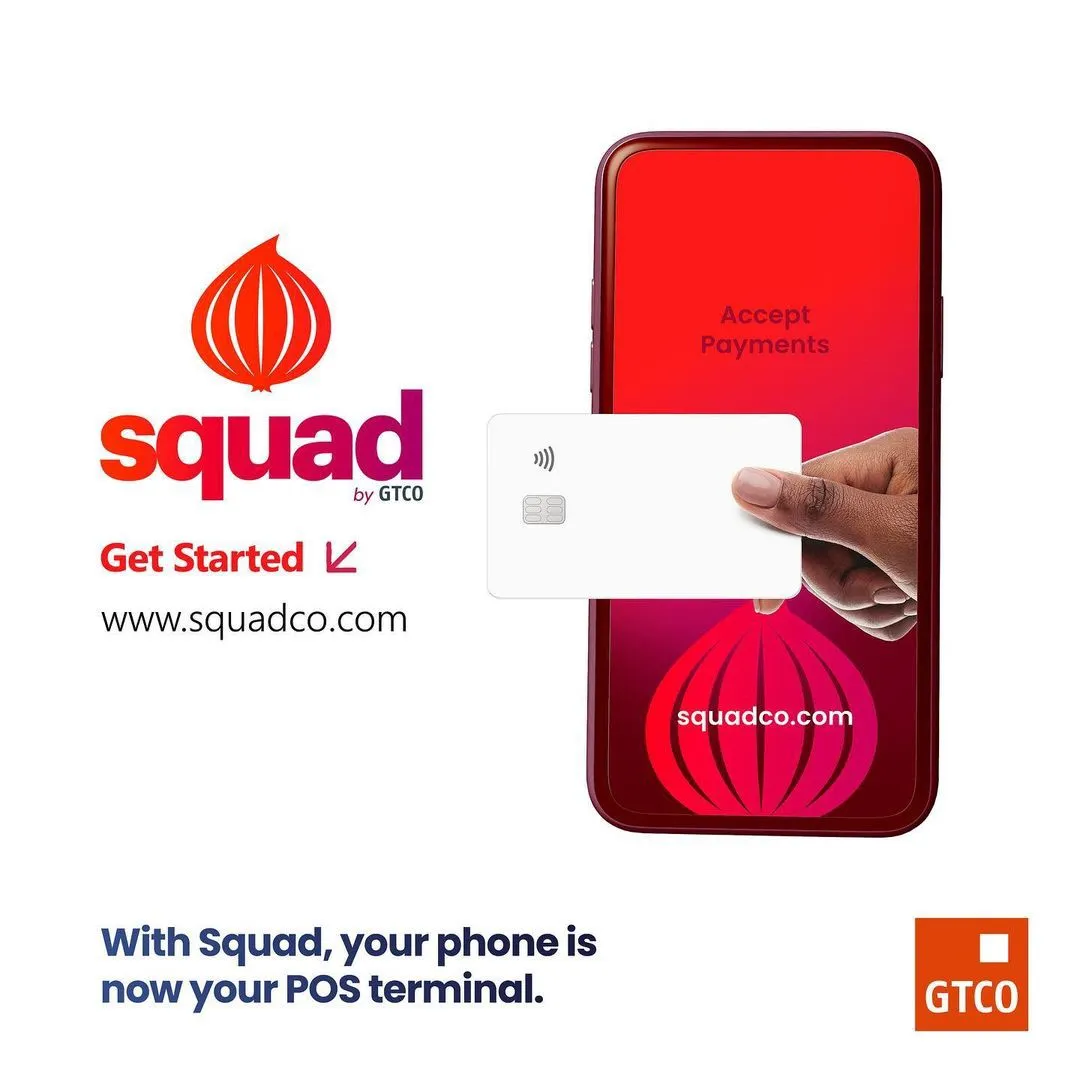 As the world moves toward more mobile POS and contactless payment options, we saw the need to create an affordable and reliable payment solution that all kinds of businesses can take advantage of — whether micro, small or large. Therefore, SquadPOS was created — to make receiving payments quicker, easier, and more reliable, so that you can get paid on the go!
Let's look at how it works and its benefits to businesses like yours.
What is SquadPOS?
SquadPOS is a new technology that allows business owners to turn their NFC-enabled android phones into POS terminals. This means that with SquadPOS, you can now accept cashless payments with your mobile devices for your business, with no additional hardware such as physical POS devices required. Essentially, businesses can now avoid the hassles of managing cash payments, long checkout queues, and incurred costs on POS hardware. Simplified payments for everyone!
As an application, SquadPOS is currently supported on Pixel, Nokia, Huawei, and Samsung devices, and is compatible with NFC-enabled Visa and Mastercard cards. Download on Google Play Store here to get started.
What can your business do with SquadPOS?
· You can manage payments, transaction histories, and e-receipts on the app.
· Receive payments in-store or anywhere.
· Never lose track of a transaction with our robust transaction history feature.
· Export your transactions for easy auditing, reconciliation, and reporting.
· Share e-receipts with customers for every transaction at no cost.
What are the benefits of using SquadPOS over POS machines?
· No additional hardware or maintenance costs are required! With SquadPOS, your NFC-enabled mobile device is all you need.
· Use SquadPOS on more than one device: You can create multiple terminals on different devices and in different locations.
· See all your transactions in real-time: SquadPOS automatically synchronizes the payments from the various devices into one comprehensive dashboard, so you can track, reconcile, and manage your revenue at a go!
· Never miss a sale: Now, you can accept card payments from your customers even if you don't have a hardware POS terminal from a bank.
Who can use SquadPOS?
SquadPOS is perfectly suited for any merchant who can receive payments with a card — be it a restaurant, boutique, hair salon, delivery service, cab driver, anyone! It's easy and convenient to receive payments on the go with your SquadPOS in your pocket.
Ready to start accepting payments with SquadPOS? Here are the steps you need to take:
· Get started:
· Download SquadPOS from Google Play Store on your NFC-enabled device.
· Launch the app! New and existing Squad users can click the sign-up button.
· Provide your registered email and the system will authenticate you.
· Complete the steps shown and your terminal will be created within 48hours.
· Start accepting payments:
· Launch the app and click on the login button.
· Provide your registered email address and authenticate.
· Create your password, then continue.
· Select the menu and the Purchase icon.
· Enter the transaction amount.
· Tap your customer's NFC-enabled card behind your device.
· Payment successful! It's that easy.
· Share the receipt with the customer via email or SMS
With SquadPOS, you can receive card payments with just one tap, allowing you to sell to more customers faster than ever. It's that easy! Now, you can evolve and speed up your customers' in-store payment experiences with SquadPOS to make them satisfied with your service and keep them coming back.
Download SquadPOS on Google Play Store and get started today. For additional information, visit www.squadco.com, or contact our support team at help@squadco.com.
Access Holdings Merges Sigma, FGPL for Formidable PFA Business
By Aduragbemi Omiyale
To create a formidable pension funds administration (PFA) business in Nigeria, Access Holdings Plc has merged its subsidiary, First Guarantee Pension Limited (FGPL), with Sigma Pensions Limited.
The marriage between the two PFAs was made possible after Access Holdings acquired an indirect equity stake in Sigma.
Recall that in October, the company announced that it was buying a stake in Sigma to revolutionise the PFA sector.
On Thursday, a court approved the merger between the firm and FGPL, giving room for the organisations to become one and offer innovative products to customers.
A notice signed by the group company secretary of Access Holdings, Mr Sunday Ekwochi, confirmed the development.
"Sequel to our announcement on October 25, 2022, Access Holdings Plc, trading as Access Corporation, today announces the completion of its acquisition of an indirect equity stake in Sigma and the merger of its subsidiary, FGPL, with Sigma.
"Following the sanction of the scheme of merger between Sigma and FGPL by the Federal High Court on December 1, 2022, FGPL has been dissolved without winding up, leaving Sigma as the surviving entity," a part of the statement dated Friday, December 2, 2022.
"Following the successful completion of the merger, our plan is to leverage the synergies of these entities, as well as the corporation's expansive distribution network, strong risk management culture and best-in-class governance standards to create a formidable pension funds administration business," the group chief executive of Access Holdings, Mr Herbert Wigwe, stated.
FrieslandCampina Buoys Unlisted Securities Market by 1.11%
By Adedapo Adesanya
The NASD Over-the-Counter (OTC) Securities Exchange returned to the positive zone on Friday, December 2, as it appreciated by 1.11 per cent at the close of business.
This was driven by a gain in the stock price of FrieslandCampina Wamco Nigeria Plc. The company appreciated by N5.29 price to close at N66.63 per share versus the previous day's price of N61.34 per share.
This outweighed the 1 Kobo loss recorded by UBN Property Plc during the session as the price of the property investment company went down to 91 Kobo per unit from the preceding session's 92 Kobo.
When the market closed for the day, the total value of the unlisted securities market increased by N10.27 billion to N933.71 billion from N923.44 billion.
In the same vein, the NASD Unlisted Securities Index (NSI) stretched by 7.82 basis points to 710.58 basis points from the 702.76 basis points in the previous session.
During the session, there was a surge in the volume of securities by 140,993.7 per cent as investors exchanged 2.2 million units, in contrast to the previous day's 14,508 units.
Likewise, the value of shares traded at the session ballooned by 1,526.6 per cent to N10.7 million from the N657,534.75 recorded a day earlier, while the number of deals improved by 400 per cent to 20 deals from four deals.
When the market closed for the day, AG Mortgage Bank Plc was the most traded stock by volume (year-to-date) with 2.3 billion units valued at N1.2 billion, Central Securities Clearing System (CSCS) Plc occupied second place with 687.8 million units worth N14.3 billion, while Lighthouse Financials Services Plc was in third place with 224.7 million units valued at N112.3 million.
Also, CSCS Plc ended the day as the most traded stock by value (year-to-date) by trading 687.8 million units worth N14.3 billion, VFD Group Plc was in second place with 29.1 billion units valued at N7.7 billion, and FrieslandCampina WAMCO Plc was in third place after selling 16.8 million units worth N1.9 billion.
Naira Sells N730/$1 in Black Market, N748/$1 at P2P, N445.33/$1 at I&E
By Adedapo Adesanya
Normalcy seems to have returned to the currency market in Nigeria as the Naira further appreciated against the United States Dollar at the various segments of the ecosystem.
In the Investors and Exporters (I&E) segment of the foreign exchange (forex) market, the Nigerian currency gained 50 Kobo or 0.11 per cent to quote at N445.33/$1, in contrast to Thursday's rate of N445.83/$1.
It was observed that domestic currency withstood significant FX demand pressure during the trading session as forex traders completed transactions worth $159.02 million compared with the $99.50 million executed a day earlier, indicating a 59.1 per cent or $59.52 million increase in FX turnover.
Also, in the Peer-to-Peer (P2P) window, the local currency appreciated against the greenback by N14 or 1.8 per cent to trade at N748/$1 compared with the preceding day's N762/$1.
In the same vein, the value of the Nigerian currency to its American counterpart improved by N10 yesterday to sell for N735/$1 against N745/$1 of the preceding trading session.
However, in the interbank segment, the Naira lost N3.19 against the Euro on Friday as it closed at N464.98/€1 versus Thursday's exchange rate of N461.79/€1, and against the Pound Sterling, it depreciated by N7.66 to quote at N542.33/£1 compared with the previous day's N534.67/£1.
Meanwhile, the cryptocurrency market rebounded yesterday as investors showed renewed interest in digital assets, causing the value of Dogecoin (DOGE) to rise by 2.6 per cent to $0.1016.
Further, Cardano (ADA) recorded a 1.8 per cent increase to sell at $0.3189, Ethereum (ETH) saw its value go up by 1.3 per cent to close at $1,289.56, and Solana (SOL) appreciated by 1.4 per cent to trade at $13.65.
In addition, Binance Coin (BNB) grew by 1.1 per cent to settle at $291.72, Litecoin (LTC) appreciated by 1.0 per cent to trade at $77.23, Ripple (XRP) made a 0.9 per cent rise to finish at $0.3924, and Bitcoin (BTC) rose by 0.5 per cent to $17,030.33.
However, the US Dollar Tether (USDT) and Binance USD (BUSD) closed flat at $1.00 on Friday.
Latest News on Business Post