LIRS Chief Vows to Sustain Tax Revolution in Lagos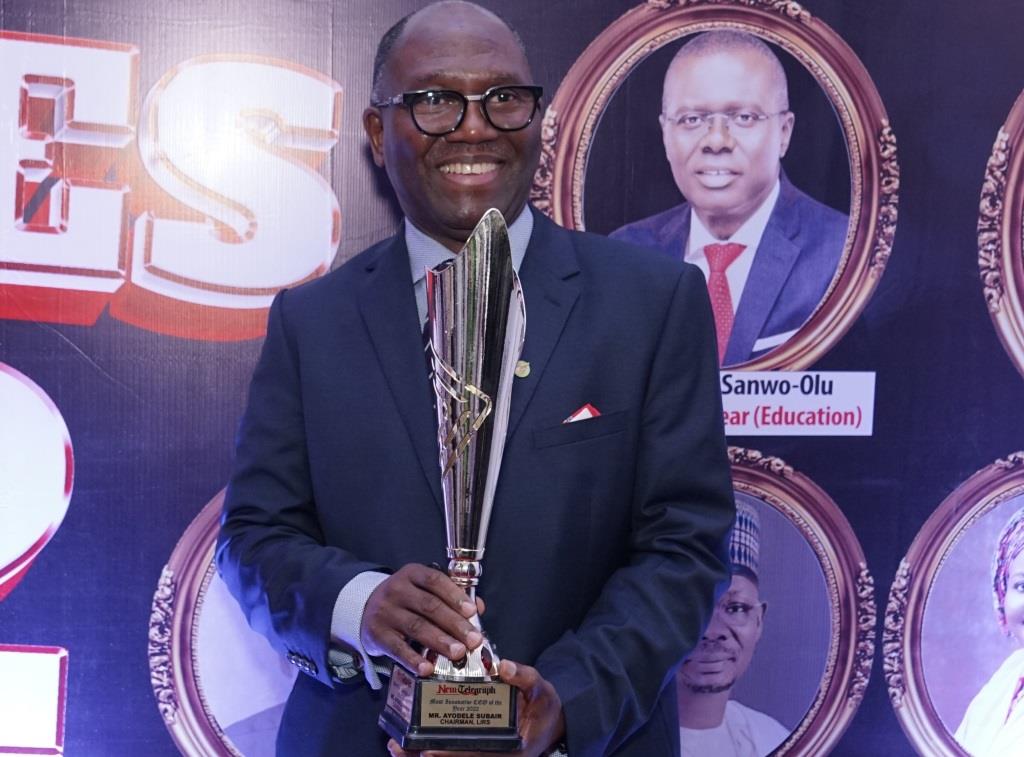 By Modupe Gbadeyanka
The Executive Chairman of the Lagos State Internal Revenue Service (LIRS), Mr Ayodele Subair, has promised to sustain the tax revolution in Lagos State.
The tax administrator gave this assurance last Friday at the New Telegraph Awards 2022 held at the Balmoral Convention Centre, Federal Palace Hotel, Lagos.
At the event, he was bestowed with the Most Innovative CEO of the Year Award by the newspaper for his giant strides at the agency since he was appointed as the head.
Mr Subair, who dedicated the award to his late father, the governor of Lagos State, the management and staff of LIRS, emphasised that the organisation would "continue to double our numbers so that we have enough funding to sustain the development of our dear state."
He thanked the "organisers of this great award, including the publisher and management of New Telegraph," for finding him worthy of the honour.
"I want to say thank you for recognising LIRS as being the most innovative and very strategic agency. We know we have to be on top of our game so that we can generate enough revenue for this wonderful state," he stated.
The LIRS chief further said, "I am very happy to receive this award. It is the recognition of all the hard work we've been doing at the LIRS. This award encourages us to strive to improve our innovation."
"The LIRS is hinged on technology, and anybody who wants to make any headway in tax administration has to embrace technology. So, it's our joy that we are being duly recognized as the foremost agency in that direction," he noted.
According to the New Telegraph Newspapers, Mr Subair was honoured for his landmark strides since he became the LIRS Executive Chairman in 2016, as he has been able to implement strategic innovations as well as double the initial revenue generation from N240 billion to N427 billion with his astute knowledge and experience in accounting and taxation.
Driving the tax revolution at the LIRS, other Mr Subair's achievements, according to the newspaper, include the introduction of eTax in 2019, the launching of the whistleblowing initiative (2022), staff reforms and welfare upgrades (from 2017 till date), the introduction of the IBILE HUB Initiative (2021), Technology driven Operational Reforms in LIRS formed in 2022, where an Intelligent Unit- a team of undercover administration specially trained in information gathering and intelligence reports to provide information on all taxpayers in Lagos State and to ensure the agency has adequate information for appropriate profiling to expose tax defaulters.
Others are the establishment of the LIRS Service Charter (2021), the introduction of Automation of collection of consumption taxes (2017-2018), the inauguration of the Joint State Revenue Committee (JSRC) in 2021 as well as becoming the agency with the Highest Generated Revenue amid Covid-19 pandemic in 2020.
Business Post gathered that the New Telegraph Awards 2022 was attended by several dignitaries, including the Vice President, Prof. Yemi Osinbajo; the presidential flagbearer of the All Progressives Congress (APC), Mr Bola Tinubu; his PDP counterpart, Mr Atiku Abubakar; and the Governor of Lagos State, Mr Babajide Sanwo-Olu; among others.
OPEC+ Agrees to Keep Current Oil Production Cuts
By Adedapo Adesanya
The 23 oil-producing nations under the aegis of the Organisation of the Petroleum Exporting Countries (OPEC) and its allies, OPEC+, on Sunday agreed to stay the course on output policy ahead of a pending ban from the European Union (EU) on Russian crude.
OPEC+ decided to stick to its existing policy of reducing oil production by 2 million barrels per day or about 2 per cent of world demand from November until the end of 2023.
This will come as a surprise as analysts had expected OPEC+ to consider fresh price-supporting production cuts ahead of a possible double blow to Russia's oil revenues.
Led by Saudi Arabia and Russia, OPEC+ agreed in early October to reduce production by 2 million barrels per day from November. It came despite calls from the United States for the group to pump more to lower fuel prices and help the global economy.
Meanwhile, the EU is poised to ban all imports of Russian seaborne crude from Monday, while the US and other members of the G-7 will impose a price cap on the oil Russia sells to countries around the world.
EU governments tentatively agreed on Thursday on a $60 a barrel price cap on Russian seaborne oil with an adjustment mechanism to keep the cap at 5 per cent below the market price.
EU countries have wrangled for days over the details of the price cap, which aims to slash Russia's income from selling oil while preventing a spike in global oil prices after an EU embargo on Russian crude takes effect on December 5.
It will allow countries to continue importing Russian crude oil using Western insurance and maritime services as long as they do not pay more per barrel than the agreed limit.
The Russian government has previously warned that any attempt to impose a price cap on Russian oil will cause more harm than good.
Ahead of the week, this may boost prices as they have fallen to below $90 a barrel from more than $120 in early June ahead of potentially disruptive sanctions on Russian oil, weakening crude demand in China and mounting fears of a recession.
South Korea Pledges Mpox Vaccine Supplies
By Kestér Kenn Klomegâh
Sadly, African health authorities for several months have pursued vaccines for curing mpox and its further spread mostly in vain as worldwide outbreaks were reported during this year. But there is some light at the end of the tunnel as some considerable assistance might come from the Republic of South Korea.
The Africa Centers for Disease Control and Prevention said some few thousand doses being the first consignment of mpox vaccines as a donation, would arrive shortly and be used for health workers and people living with the disease in the hardest-hit areas in Africa.
The continent this year has recorded 202 deaths from mpox, formerly known as monkeypox, with a fatality rate of 19.3% across 13 countries. African health authorities for months have made feverish efforts in search for curbing the disease's spread.
According to the Acting CDC director, Ahmed Ogwell, more than 50 new mpox cases in Congo were recorded this month and said Ghana and Nigeria are the other most affected countries. A surge in mpox infections was particularly reported last May outside West and Central Africa.
"Let us get vaccines onto the continent," CDC Acting Head, Ahmed Ogwell, said in a weekly media briefing pointing to another instance of 1.3 billion people on the continent without access to a vaccine, as in the Covid-19 pandemic.
"The solutions need to be global in nature. If we're not safe, the rest of the world is not safe," he warned.
The World Health Organisation (WHO) has, however, warned against discrimination. "A failure to act will have grave consequences for global health," Lawrence Gostin, Director of the WHO Collaborating Center on National and Global Health Law, said on Twitter.
Health officials have emphasized that mpox can infect anyone in close contact with a patient or their contaminated clothing or bedsheets. Researchers are still exploring to establish how it spreads but believe it's mainly through close, skin-to-skin contact and through contact with bedding and clothing that touched an infected person's rash or body fluids.
It generally causes mild to moderate symptoms, including fever, fatigue and painful skin lesions that resolve within a few weeks.
Reports, however, said that the mpox had been established in parts of Central and West Africa for decades; it was not known to spark large outbreaks beyond the continent or to spread widely among people until May when authorities detected dozens of epidemics in Europe, North America and elsewhere.
In Africa, mpox mainly spreads to people by infected wild animals like rodents in limited outbreaks that typically have not crossed borders. In Europe, North America and elsewhere, the mpox is spreading among people with no links to animals or recent travel to Africa. In the U.S. and Europe, the vast majority of infections occur among men who have sex with men, though health officials have stressed that anyone can contract the virus.
Access Holdings Merges Sigma, FGPL for Formidable PFA Business
By Aduragbemi Omiyale
To create a formidable pension funds administration (PFA) business in Nigeria, Access Holdings Plc has merged its subsidiary, First Guarantee Pension Limited (FGPL), with Sigma Pensions Limited.
The marriage between the two PFAs was made possible after Access Holdings acquired an indirect equity stake in Sigma.
Recall that in October, the company announced that it was buying a stake in Sigma to revolutionise the PFA sector.
On Thursday, a court approved the merger between the firm and FGPL, giving room for the organisations to become one and offer innovative products to customers.
A notice signed by the group company secretary of Access Holdings, Mr Sunday Ekwochi, confirmed the development.
"Sequel to our announcement on October 25, 2022, Access Holdings Plc, trading as Access Corporation, today announces the completion of its acquisition of an indirect equity stake in Sigma and the merger of its subsidiary, FGPL, with Sigma.
"Following the sanction of the scheme of merger between Sigma and FGPL by the Federal High Court on December 1, 2022, FGPL has been dissolved without winding up, leaving Sigma as the surviving entity," a part of the statement dated Friday, December 2, 2022.
"Following the successful completion of the merger, our plan is to leverage the synergies of these entities, as well as the corporation's expansive distribution network, strong risk management culture and best-in-class governance standards to create a formidable pension funds administration business," the group chief executive of Access Holdings, Mr Herbert Wigwe, stated.
Latest News on Business Post