NGX Assures Investors, Firms Avenue to Maximise Value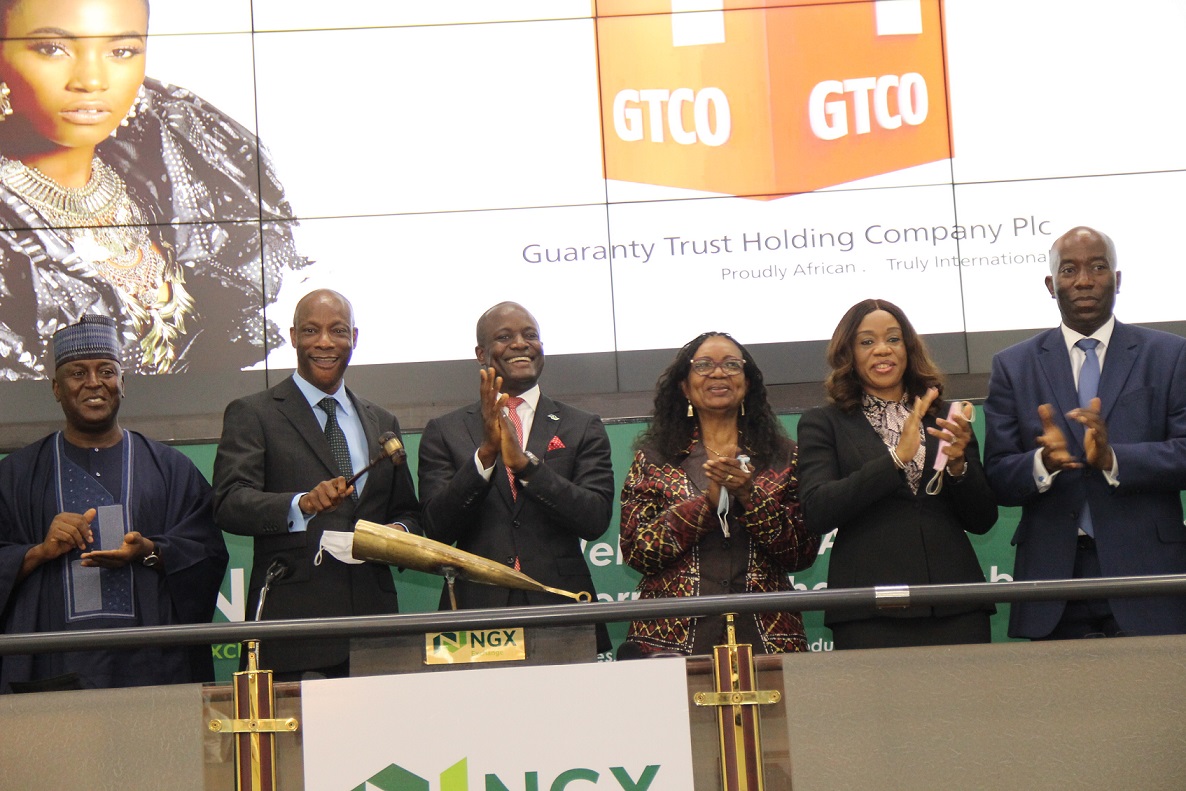 By Dipo Olowookere
The Nigerian Exchange (NGX) Limited has assured stakeholders in the capital market of a platform that will allow them to maximise value in the stock market.
This assurance was given by the Chief Executive Officer of the exchange, Mr Temi Popoola, at an event to commemorate the listing of Guaranty Trust Holding Company Plc (GTCO) on the NGX on Tuesday.
GTCO is a product of a recently restructured GTBank Plc, which was delisted on the exchange after it became a private firm and a subsidiary of the holding company.
On June 28, 2021, GTCO officially listed its shares on NGX. At the time, the shares of GTBank were officially delisted from the market and GTCO's entire issued share capital of 29,431,179,224 ordinary shares of 50 kobo each were listed on the bourse.
Today, the management of the firm led by Mr Segun Agbaje was at the exchange and was honoured with a closing gong ceremony to mark the end of the day's trading.
Mr Popoola said GTCO shared the same story with the NGX, which also restructured its operations after the demutualisation of the Nigerian Stock Exchange (NSE).
"We are excited to welcome GTCO Plc and to congratulate the board and management on a successful restructuring.
"Given the recent completion of demutualisation of the exchange and the emergence of our new structure, we see many similarities between our organisations, particularly our outlook on the use of technology to advance business operations; the burgeoning opportunities in the retail market; and the importance of good governance in the corporate space.
"Today, we reiterate our commitment to being a trusted partner to GTCO and other listed companies and issuers as we continue to build a platform that allows our listed companies, investors and other stakeholders to maximise value in our market," Mr Popoola said.
In his remarks, the Group CEO of GTCO Plc, Mr Segun Agbaje, thanked the "NGX for its unwavering support in listing GTCO on the exchange.
"At GTCO, we are very excited about the opportunities that have opened up to us with this restructuring, particularly because diversifying our income base has always been a major priority."
"As we venture into this new phase, we look forward to leveraging technology and introducing new business lines – including payments, asset management and more – that go beyond the needs of institutional or wholesale clients to improve retail clients' access to the financial markets," he added.
Also present on the trading floor of NGX to sound the gong and bring the day's trading to a close were Mrs Osaretin Demuren, outgoing Chairman of GTBank Nigeria; Mr Ibrahim Hassan, non-executive director, GTBank Nigeria; Mr Hezekiah Oyinlola, non-executive director, GTBank Nigeria; Mrs Cathy Echeozo, former executive director, GTBank Nigeria and Chairperson, NGX Regulation Limited.
Others were Mrs Miriam Olusanya, executive director, GTBank Nigeria; Mr Babajide Okuntola, executive director, GTBank Nigeria; Mr Seyi Osunkeye, non-executive director, NGX Limited; Mr Kamarudeen Kareem Oladosu, non-executive director, NGX Limited; Mr Yomi Adeyemi, non-executive director, NGX Limited and Mr Jude Chiemeka, Divisional Head, Trading Business, NGX Limited.
Investors Gain N1.09bn as NASD Share Price Rises 9.1%
By Adedapo Adesanya
The unlisted securities market closed the last trading session of the week on a positive note after it appreciated by 0.18 per cent on the back of growth in the share price of NASD Plc.
Business Post reports that the NASD Over-the-Counter (OTC) Securities Exchange returned to the bulls' territory on Friday after it closed flat on Thursday.
NASD Plc was the major driver of the return of the bourse to the green region as its value went up during the session by N2.45 or 9.1 per cent to close at N26.99 per unit in contrast to N24.54 per unit it closed at the previous session.
As a result of this, the NASD unlisted security index (NSI) moved up by 1.32 points to 745.44 points from 744.12 points, while the market capitalisation gained N1.09 billion to wrap the day at N615.86 billion in contrast to the previous day's N614.77 billion.
On the activity chart, there was an improvement as the trading volume surged by 34,985.6 per cent because of the 2.3 million units of shares exchanged by market participants compared with the 6,688 units transacted at the previous session.
In the same vein, the trading value rose by 17,680.6 per cent to N63.4 million from the previous day's N356,563.60, while the number of deals witnessed a 100 per cent rise as investors carried out 12 deals compared to the six deals executed at the previous session.
At the close of trades, Food Concepts Plc was the most traded stock by volume (year-to-date) with 11.4 billion units of its shares worth N14.4 billion, Lighthouse Financial Service Plc followed with 1.1 billion units valued at N546.2 million, while Geo Fluids Plc was in third place with 1.0 billion units worth N700.1 million.
Food Concepts Plc was also the most traded stock by value on a year-to-date basis with 11.4 billion units worth N14.4 billion, trailed by Nigerian Exchange (NGX) Group Plc with 456.4 million units valued at N9.2 billion, VFD Group Plc with 10.4 million units valued at N3.5 billion.
Naira Trades N414.73/$1 as Cryptos Bleed Heavily
By Adedapo Adesanya
The Naira appreciated against the US Dollar at the Investors and Exporters (I&E) window of the foreign exchange (forex) market by 0.02 per cent or 7 kobo on Friday, December 4.
Data showed that the local currency was sold for N414.73/$1 at the investors' window yesterday compared with the N414.80/$1 it traded on Thursday.
At the final trading session of the week, the turnover was $103.01 million as against $139.67 million achieved at the preceding session, indicating a $36.66 million or 26.62 per cent decline.
Also, the exchange rate of the Naira to the United States currency recorded a movement on Friday, though downward as the Nigerian currency depreciated by 4 kobo as it closed at N411.74/$1 versus the preceding day's N411.70/$1.
The local currency, however, appreciated by N2.17 against the British Pound Sterling to settle at N546.26/£1 compared to N548.43/£1 it traded at the previous trading session and 57 kobo against the Euro to trade at N465.68/€1 compared to the preceding day's N466.25/€1.
At the cryptocurrency market, investors counted a heavy loss as the new variant of the coronavirus called Omicron and hawkish comments by the US Federal Reserve that it could raise interest rates have raised serious concerns, causing cryptos to bleed heavily.
The heaviest loss was suffered by Dash (DASH), which plunged by 35.3 per cent to sell for N66,595.85. Ripple (XRP) depreciated 30.6 per cent to trade at N381.85, while Litecoin (LTC) sold for N66,595.85 after declining by 24.1 per cent.
Dogecoin (DOGE) went down by 22.7 per cent to sell at N90.29, Cardano (ADA) depreciated by 20.8 per cent to N652.82, Bitcoin (BTC) depleted by 16.9 per cent to quote at N26,800,504.20, Ethereum (ETH) equally saw a 16.9 per cent depreciation to trade at N2,100,100.39, Binance Coin (BNB) recorded a 12.9 per cent depreciation to trade at N218,577.24, Tron (TRX) went down by 12.7 per cent to trade at N48.00, while the US Dollar Tether (USDT) recorded a 0.1 per cent marginal loss to sell for N554.76.
Crude Mixed as Market Remains Unsettled by Omicron Jitters
By Adedapo Adesanya
Crude prices closed mixed on Friday, December 3 after erasing earlier big gains on growing worries that rising coronavirus cases and a new variant could reduce global oil demand.
Brent crude gained 21 cents or 0.3 per cent to trade at $69.88 per barrel while on the other hand, the United States West Texas Intermediate (WTI) crude lost 24 cents or 0.36 per cent to sell at $66.26 per barrel.
Both benchmarks declined for a sixth week in a row for the first time since November 2018.
Oil prices had witnessed one of the most troubled weeks as the market reeled from the fear brought about by the Omicron variant of the coronavirus with speculations that it could spark new lockdowns and dent fuel demand.
The World Health Organization (WHO) urged countries to vaccinate their people to fight the virus, saying travel curbs were not the answer.
Even with this, the Organisation of the Petroleum Exporting Countries and allies (OPEC+) surprised the market on Thursday when it stuck to its plans to add 400,000 barrels per day supply in January.
However, it said it will continue to monitor the market and this could make it change course if demand suffered from measures to contain the spread of the Omicron coronavirus variant.
The alliance said they could meet again before their next scheduled meeting on January 4.
Analysts noted that with the coronavirus cases rising, the US jobs report for November also didn't help demand outlook even as the unemployment rate plunged to a 21-month low of 4.2 per cent, suggesting the country's labour market was rapidly tightening.
US employment growth slowed considerably in November amid job losses at retailers and in local government education.
Meanwhile, in Vienna, diplomats attempting to restore the nuclear deal between Iran and world powers face substantial challenges that need urgent solutions, the top European envoy said Friday. Talks are set to resume next week.
Latest News on Business Post