Nigeria Losing $700m Monthly to Oil Theft—NNPC
By Adedapo Adesanya
The Nigerian National Petroleum Company (NNPC) Limited has said that Nigeria is currently losing 470,000 barrels per day of crude oil amounting to $700 million monthly due to oil theft.
A statement by the NNPC said that Mr Bala Wunti, the Group General Manager, National Petroleum Investment Management Services (NAPMS), made this disclosure while speaking during a tour of the facilities of the NNPCL.
Mr Wunti said the pipelines particularly those around Bonny terminal cannot function due to the activities of criminals.
He also argued that the number of barrels stolen daily is very huge, adding that about 270 barrels per day that were supposed to be loaded in Bonny are no longer going to be loaded because of theft.
"If you're producing 30,000 barrels a day, every month, you get 1,940 barrels. So what it means is that you can take it to 270 every four days, calculate it in a month; you will have seven cargos on a million barrels, that's seven million barrels," he said.
"When you multiply seven million barrels by $100 that is $700 million lost per month and about 150,000 barrels expected are differed; we are not producing due to security challenges," he added.
The official noted that "the Shell Petroleum Company (SPDC) trunk line, TNP transnational pipeline cannot be operated and this has been like this since March the 3rd that we put in this. Just take your calculator, 150,000, it means if you want to arrive at 1 million barrels per day, it means every week as a minimum, basically for one week alone, it's four cargo and four cargo is four million barrels. Four million barrels formula bar or $100 is $400 million.
"So, you can do your calculations by yourself, take whatever price you want, take this to multiply by the number of days that have been shortened since March 3rd."
The NNPC official said Forcados is not completely secure due to some challenges, but assured that they were addressing it, and in two weeks it may be fixed.
"But we also have Brass about 100,000 barrels, which is operated by Agip and is also facing insecurity and vandalism," he said.
He said the impact of vandal activities caused low crude oil production, interrupted gas supply, countrywide interruption of distribution of petroleum products, refineries' downtimes, and increasing instability in the oil and gas market.
"I will tell you the major thing that affects us. Nigeria will suffer for it; the revenues are impacted, so we can only appeal to them to rein in themselves, the oil theft situation is regrettable. It's not going on across the whole of the Niger Delta, there are trunk lines that are more impacted on, I think the Bonny trunk line ranks highest.
"Our major challenge as a country is our capability to respond and that is as a result of several factors, the terrain as well as some incapacity that we have."
Continuous oil theft and infrastructural deficit have seen Nigeria lose its status as Africa's top oil producer, sitting behind Angola.
Nigerian Economy is Truly Diversified—Ahmed
The federal government has expressed its commitment to continue to improve the diversification of the economy by steadily growing other sectors, particularly the commodities trading ecosystem.
The assurance was given by the Minister of Finance, Budget and National Planning, Mrs Zainab Ahmed, during the presentation of a Gold coin to her by the Lagos Futures and Commodities Exchange in Abuja over the weekend.
Mrs Ahmed expressed her pleasure at the presentation as she stated that it is one of the results of the federal government's commitment to continuing to improve efforts at diversifying the economy.
"This is really pleasing for me because we have been trying to improve the diversification of the Nigerian economy. People say we need to diversify the economy, but the Nigerian economy is truly diversified.
"Our GDP today has a 6.4 per cent contribution from the oil and gas sector, so 94.6% of the Nigerian economy is from other sectors. One of the sectors that we have been trying to activate its full potential is the mining sector.
"The mining sector today is still very small, but that is on the side of the government. But in the private sector, and now I am glad in the states, there are very active mining activities that are taking place.
"Unfortunately, until now, we have not been getting the full value of the mining activities. Mining activities have been largely artisanal; there are a lot of participants that take out our minerals without reporting it, without government or even the miners getting full value for it," she said.
The Minister stated that in a bid to get the full value of mining activities in the country, the President approved and set up the Presidential Gold Mining Scheme with the Solid Minerals Development Agency leading.
"They had set up a pilot that started from Kebbi State where they supported the artisanal miners to be able to practise better mining practices and also to off-take the minerals that they mine, and do some first-level refining. Then the Central Bank offtakes this and sends it out of the country for proper mining.
"The essence for us is to begin to hold our reserves in minerals like gold so that our reserves are not all in US dollars. We know what happens to US dollars and what can happen to them. We are beginning to have our reserves in gold," Mrs Ahmed stated.
She disclosed that the scheme, even though it was started by the federal government, has seen refineries beginning to actually work in Nigeria, adding that there is one in Ilesha, Segilola, which was the first refinery that was licensed in Nigeria.
According to Mrs Ahmed, "This gold is now being mined in Nigeria, refined in Nigeria up to the point of producing billions and then off taken by the CBN and other organisations like the LCFE. They are also coming forward to facilitate the trading of gold in the commodities exchange in Nigeria. That's what we want; we wanted to be able to activate the full circle. What was missing was the off taking; now, the off-take is being addressed, and this will help to drive demand.
"Once there is demand in the market end, the producers will be encouraged to produce more, there will be more employment, and we will begin to see more banks supporting this mining sector. Before now, the banks were not too interested in supporting the mining sector because of the long gestation period. The investment is actually worthwhile, and we will encourage these businesses to grow and produce more. I want to congratulate the LFCE for being the first of its kind in Nigeria to achieve this".
The Minister congratulated the SEC for pushing the milestone and expressed the hope that more commodities exchanges will come up as a result. She, therefore, charged the SEC to enable these companies to be able to operate because it is needed in the market to drive the kind of volumes that Nigeria hopes to get.
In his remarks, the Director-General of the Securities and Exchange Commission (SEC), Mr Lamido Yuguda, commended the Minister and the federal government on their determination to bequeath a vibrant commodities sector.
He stated that, "LCFE is into a number of commodities, and gold is just one of them. They have worked hard in this gold sector. This gold is 100% Nigerian gold, mined and refined in Nigeria, and I am happy that we have your support in this. Thank you very much for making this possible; we appreciate all the guidance and support you have provided so far".
Also speaking, the Managing Director of LCFE, Mr Akin Akeredolu-Ale, expressed appreciation to the SEC for all the regulatory support the commission has provided in recent times.
Mr Akeredolu-Ale stated that Nigeria is a commodities country but has a large potential that is untapped so far and solicited the support of the National Assembly in passing the Investments and Securities Bill, which e said will bring about massive development in the sector.
"I thank the SEC for pushing the Investments and Securities Bill because that is the legal and regulatory framework that is supposed to support the capital market and, by default, the commodities trading ecosystem.
"We are hoping that the bill is approved so that we are able to have a hold on the commodities space and the revenues that are slipping out of Nigeria. We need that bill passed to be able to function more effectively," he added.
NASD OTC Exchange Sustains Growth by 0.2%
By Adedapo Adesanya
The NASD Over-the-Counter (OTC) Securities Exchange closed in the positive territory, climbing by 0.2 per cent on Friday, February 3.
Business Post reports that FrieslandCampina WAMCO Nigeria Plc helped the market capitalisation rise by N1.81 billion to close at N942.35 billion against the previous value of N940.51 billion.
Equally, the NASD Unlisted Securities Index (NSI) jumped by 1.39 points to wrap up the trading session at 717.15 points versus the 715.76 points achieved in the preceding trading session.
The trading data showed that there was a rise in the volume of trades, while there was a slide in the value of transactions, with the number of deals declining during the final trading session of the week.
According to data from the NASD OTC exchange, the volume of unlisted securities traded by market participants stood at 351,489 units in contrast to the 261,439 units of securities transacted at the preceding session, indicating a jump of 34.4 per cent.
However, the value of shares exchanged by the market participants depreciated by 66.4 per cent to N5.3 million from N15.7 million recorded in the previous session.
The total number of deals executed at the bourse during the session stood at 10 deals, which is 50 per cent lower than the 20 deals recorded a day earlier.
At the close of business, Geo-Fluids Plc remained the most traded stock by volume on a year-to-date basis, with the sale of 321.2 million units worth N317.2 million, UBN Property Plc stood in second place with 35.8 million units valued at N25.8 million, while FrieslandCampina WAMCO Group Plc was in third place with 2.4 million units valued at N160.1 million.
Also, Geo-Fluids Plc maintained its position as the most active stock by value on a year-to-date basis, with 321.2 million units sold for N317.2 million, FrieslandCampina WAMCO Group Plc was in second place with 2.4 million units valued at N160.1 million, while VFD Group Plc was in third place for trading 561,810 units for N137.0 million.
Demand Pressure Jerks NGX All-Share Index to 54,213.09 points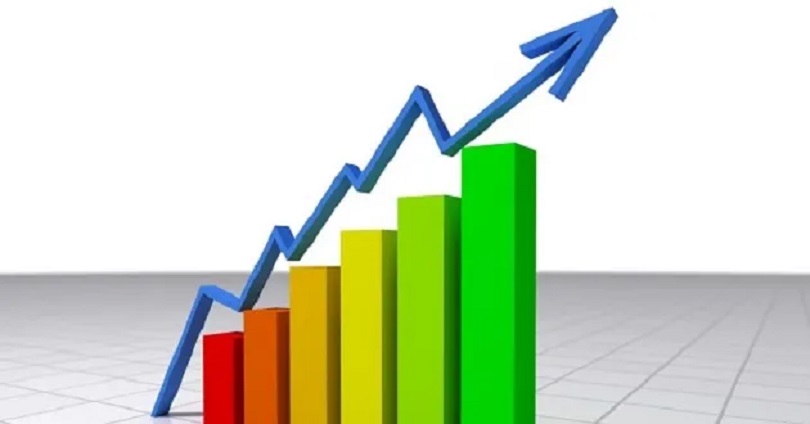 By Dipo Olowookere
The sustained demand for domestic stocks further raised the Nigerian Exchange (NGX) Limited by 0.40 per cent on Friday, with the All-Share Index (ASI) crossing the 54,000-point threshold at the close of business.
The index, which measures the general performance of the bourse, appreciated by 214.97 points to settle at 54,213.09 points compared with the preceding day's 53,998.12 points, as the market capitalisation expanded by N117 billion to close at N29.528 trillion as against Thursday's closing value of N29.411 trillion.
The growth reported yesterday was supported by buying pressure across sectors of the market, though the consumer goods space came under selling pressure, losing 0.39 per cent.
However, this did not affect the outcome of the bourse due to the 1.06 per cent recorded by the banking counter, the 0.31 per cent expansion posted by the insurance sector, the 0.17 per cent growth printed by the energy counter, and the 0.04 per cent improvement reported by the industrial goods space.
Business Post reports that the market breadth remained positive on Friday, with 35 price gainers and 10 price losers, indicating a very strong investor sentiment.
Red Star Express, International Energy Insurance, and FTN Cocoa gained 10.00 per cent each yesterday to finish at N2.53, 99 Kobo, and 33 Kobo, respectively. MRS Oil gained 9.94 per cent to end at N19.35, and Northern Nigerian Flour Mills rose by 9.55 per cent to N9.75.
Conversely, Ikeja Hotel was the worst-performing stock after it dropped 10.00 per cent to 99 Kobo, Lasaco Assurance fell by 5.88 per cent to 96 Kobo, ABC Transport declined by 5.41 per cent to 35 Kobo, Universal Insurance went down by 4.76 per cent to 20 Kobo, and May & Baker shed 2.89 per cent to N4.71.
At the market yesterday, investors traded 268.02 million stocks worth N2.4 billion in 4,017 deals compared with the 2.9 billion stocks worth N8.1 billion traded in 3,940 deals on Thursday, indicating an increase in the number of deals by 1.95 per cent and a decline in the trading volume and value by 90.66 per cent and 70.37 per cent apiece.
Universal Insurance topped the activity chart after it sold 63.4 million shares, GTCO traded 20.8 million equities, Transcorp exchanged 19.5 million stocks, International Energy Insurance transacted 12.8 million equities, and Access Holdings traded 12.5 million shares.
Latest News on Business Post