Nigerian Startup Forays into Spanish Market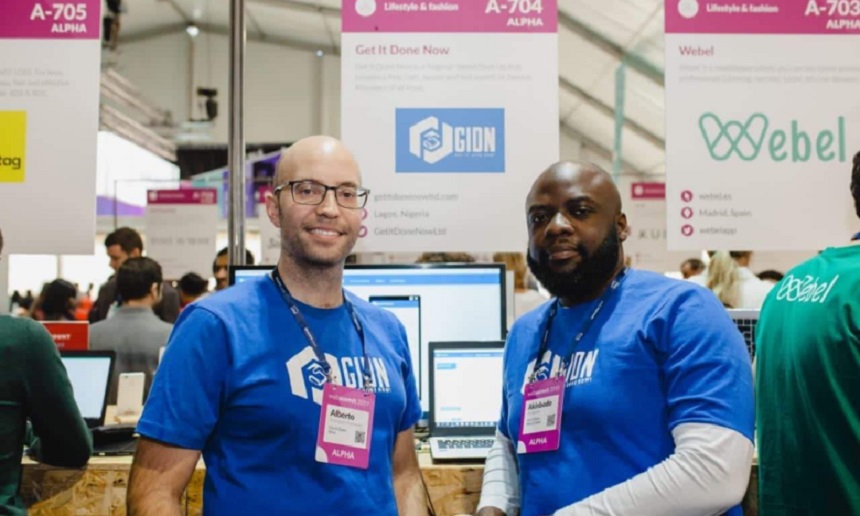 By Adedapo Adesanya
Nigerian startup, Get It Done Now, a mobile fintech e-commerce platform where a user can access services and get loans and insurance, is expanding to Spain after strong early growth.
According to Disrupt Africa, as a one-stop-shop nature of the platform, offering access to both services and financial products, Get It Done Now has more than 5,000 users, with over $2 million in loan requests.
Speaking to the platform, the co-founder, Mr Alberto Rodriguez, said the service is aimed at the African population so they can obtain secure and safe services, both physical and digital.
"Closing the digital gap that exists, and also finance the purchase of those services.
"We have had more than 120 services on the platform, and over 5,000 transactions done. We feel this is the beginning. Get It Done Now covers a necessity," said Mr Rodriguez.
It has also attracted investor attention since it was launched as a self-funded startup. So far, it has been joined by four investors, three from Nigeria and one from Europe with its most recent investment secured in February.
It was also revealed that the company is now discussing a further round.
Operating solely out of Nigeria so far, Get It Done Now has recently expanded to Spain which is Rodriguez's home market, and where the startup's founders met, but also a valid opportunity for other reasons.
"Spain is the main country in Europe for African migrants, together with France and Italy. Also, it has helped us to establish a base there and have more alternatives to fundraising," he said.
Get It Done Now works off a commission-based revenue model, with Rodriquez saying revenues are strong and getting bigger.
"The growth potential is really high, and as proof of this we have got 500 per cent more loan requests in 2021 than the entire 2020," he said.
Founded in mid-2018 by Alberto Rodriguez and Bode Bamgboye after they met studying for an MBA at the IE Business School in Madrid, Spain, Get It Done Now allows users to book and pay for handymen, and also access financial services like loans and insurance.
NGX to Reward Innovation, Capital Market Compliance
By Aduragbemi Omiyale
The 2022 NGX Made of Africa Awards, slated for Tuesday, December 6, 2022, would be for rewarding innovation, commitment to sustainability and capital market compliance, the Divisional Head of Business Support Services at the Nigerian Exchange (NGX) Limited, Ms Irene Robinson-Ayanwale, has stated.
Speaking in an interview with Channels TV, she said the awards ceremony themed Innovation in Capital Markets: The Panacea for Exponential Growth was designed to recognise the outstanding performance of capital market stakeholders in multiple categories as the fiscal year draws to a close for many stakeholders.
According to her, the nomination and selection process was intensely analytical as a trove of data generated by the exchange was analysed by NGX Regulation Limited (NGX RegCo) and verified for accuracy by an independent auditor.
"As you can see, the process was made transparent and verifiable. We hope the Awards will encourage the companies to continue to maintain higher standards and ensure that their stakeholders hold them accountable to higher standards.
"We are banking that it'll encourage more innovation, compliance, adherence to rules and regulations," she told the news platform.
Ms Robinson-Ayanwale added that NGX would be focusing on driving more listings, executing more capacity-building programs across different capital market stakeholders group and driving forward its sustainability agenda in 2023.
The decision to hold the awards and celebrate exceptional performance underscores NGX's commitment to the growth and sustainability of the Nigerian capital market. This further accentuates the position of the exchange as a leader and driver of excellence in the financial markets ecosystem.
BUA Group and CardinalStone Partners Limited are the headline sponsors for the ceremony. Other sponsors include United Bank for Africa Plc, Coronation Asset Management Limited, Zenith Bank Plc, Seplat Energy Plc, Access Holdings Plc, Notore Chemicals Plc, Transnational Corporation Plc, Bank of Industry and Central Securities and Clearing Systems (CSCS) Plc
Liquid Government Bonds Market Can Spur Economic Growth—SEC
By Aduragbemi Omiyale
The need for the development of a liquid government bonds market has been emphasised by the Securities and Exchange Commission (SEC).
The Director-General of SEC, Mr Lamido Yuguda, while speaking at the 2022 conference of the Capital Market Correspondents Association of Nigeria (CAMCAN), stated that this would have a positive effect on the economy.
Mr Yuguda, represented by the Executive Commissioner of Operations of the agency, Mr Dayo Obisan, disclosed that a liquid government bonds market implies that there is a sufficient offering of government bonds across a range of maturities, which is key to the construction of the benchmark yield curve (which is important for the establishment of the market-based risk-free interest rate used in equity pricing).
He further stated that the synergistic relationship between the government bonds and equity markets had been observed in several East Asian economies, which experienced a surge in private investment and equity market capitalisation following the establishment of a liquid debt securities market.
"At the same time, an increase in government expenditure funded by debt crowds out private investment, which in turn adversely affects aggregate expenditure and, consequently, economic growth with implications for the capital market.
"In addition, an underdeveloped capital market will affect institutional investors negatively, restraining the amount and maturity of funding available to the government locally," the DG said at the programme tagged Nigeria's Public Debt and the Capital Market.
At the event held in Lagos over the weekend, Mr Yuguda stated that as the apex regulator of the capital market, SEC is committed to creating an enabling and facilitative oversight and regulatory framework supportive of the deepening and development of the Nigerian capital market.
"As you are aware, the Minister of Finance, Budget and National Planning, Mrs Zainab Ahmed, launched and unveiled the revised Nigerian Capital Market Master Plan 2021-2025.
"The updated master plan underscores the commission's commitment to deepening and repositioning the financial market as a key anchor of our economy.
"The Master Plan, which represents collective aspirations of the capital market community, is focused on driving initiatives geared towards growing and deepening the Market with the ultimate goal of accelerating the emergence of our Country into the top 20 global economies by the year 2025," he stated.
He disclosed that the capital market is more resilient and is on a steady growth trajectory, adding that capital market correspondents have contributed to the development of the market and expressed delight at their partnership with the agency in this noble task of developing and deepening the capital market.
According to him, the reporters have taken on an increasingly important role of communicating to the public some of the commission's initiatives aimed at developing the market, noting that SEC is committed to supporting efforts aimed at addressing financial literacy and empowerment gaps within society.
"There is no doubt in my mind that, the capital market presents a good platform for addressing many of Nigeria's economic challenges.
"On our part as regulators, we shall continue to introduce new ideas and policies towards developing and regulating a capital market that is dynamic, fair, transparent and efficient to contribute to the nation's economic development.
"We will also continue to fulfil its mandate of protecting investors and creating an enabling environment for market operators.
"Policymakers and practitioners alike are keen to understand the complex nexus between the public debt market and the Nigerian capital market," he added.
In her remarks, the chairman of CAMCAN, Mrs Chinyere Joel-Nwokeoma, said that the annual workshop was part of the association's contributions to the development and growth of the nation's economy by bringing regulators, operators and company executives to discuss economic issues that affect the market in particular and the economy in general.
She said that the theme was picked because of concerns in different quarters concerning the nation's rising total debt stock, which stood at N42.80 trillion as of June 2022.
Purple Real Estate N10bn IPO Attracts Investors Ahead of NGX Listing
By Dipo Olowookere
The Initial Public Offering (IPO) of Purple Real Estate Income Plc (PREIP) is already attracting investors ahead of its planned listing on the Nigerian Exchange (NGX) Limited.
Business Post gathered from a few stockbrokers, who asked not to be named, that the exercise is doing well, though a significant number of shares are yet to the purchased.
Purple Real Estate commenced the IPO last month and it hopes to conclude the exercise before Christmas.
The tech-enabled real estate firm intends to generate N10 billion from the IPO by selling 2 billion ordinary shares of 50 Kobo each at N5.
Intending investors are required to purchase a minimum of 4,000 ordinary shares and multiples of 1,000 ordinary shares thereafter.
After the IPO, which started on November 21, 2022, and will end on December 23, 2022, the stocks will be listed on the exchange.
According to the chief executive of the organisation, Mr Laide Agboola, investing in the company will give subscribers "blended yields" as the firm intends to expand its real estate footprint delivering similar investment-grade assets, including Purple Lekki, an all-inclusive mixed-use centre building on the learnings from its flagship asset.
The principal activities of Purple Real Estate include the purchase, lease, development, and management of properties to generate a sale and rental income as well as income from other services, including advertising and facilities management.
The firm is evolving into a tech-driven real estate company deploying proptech solutions such as Purpleshop and Fractions to eliminate the barriers to world-class retail and real estate ownership.
Its subsidiaries are Maryland Mall Limited, Purple Proptech Limited, Lekki Retailtainment Limited, Purple Asset Managers Limited, Purple Urban Limited and Cible Media Limited.
PREIP, which is on the path to becoming the first approved Real Estate Investment Company (REICO) in Nigeria, grew its revenue by 121 per cent to N1.8 billion in 2021, while the pre-tax profit was N1.5 billion, with total assets at N26.4 billion.
Latest News on Business Post