NMRC Shareholders Approve 43 Kobo Dividend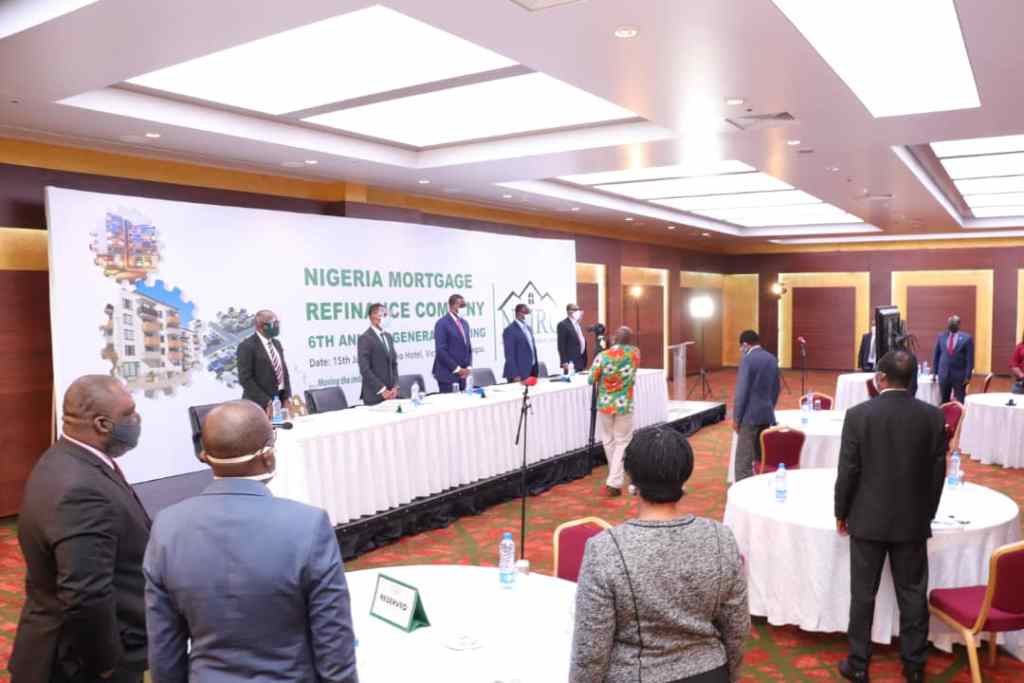 By Adedapo Adesanya
Shareholders of the Nigeria Mortgage Refinance Company (NMRC) Plc have approved the 43 kobo per share dividend proposed by the board of the company.
The authorisation for the payment of the cash reward was secured by the board at the firm's Annual General Meeting (AGM) last Wednesday in Lagos.
In the 2019 financial year, the company recorded a 64 per cent growth in profit after tax, which was N3.02 billion compared to the previous year's N1.84 billion, while its profit before tax stood at N3.09 billion, an increase of 60 per cent over the N1.94 billion recorded in 2018.
In terms of gross earnings, the company recorded a 36 per cent increase from N7.1 billion in 2018 to N9.6 billion in 2019.
In addition, its total assets also increased by 5.2 per cent from N69.3 billion as of December 31, 2018, to N72.9 billion as of December 31, 2019.
Chairman of the company, Mr Charles Adeyemi Candide-Johnson (SAN), while speaking at the AGM, stated that the organisation's accomplishments in 2019 were commendable given that the year started with the anticipation of some headwinds to the business.
Mr Candide-Johnson noted that even though progress was being made, the company remains committed to its mandate of making housing finance more accessible and affordable for Nigerians particularly in an era where housing availability has come to play a critical role in successfully mitigating the spread and impact of COVID-19.
On his part, the NMRC's Managing Director, Mr Kehinde Ogundimu, stated that 2019 was a good year for the company with record earnings as well as commendable improvements in NMRC's financial metrics.
Mr Ogundimu further noted in terms of operational efficiency, that the company's cost optimization measures continue to yield results as evidenced by the significant reduction in all its expense heads.
Licensed in February 2015, NMRC is aimed at promoting and delivering affordable housing to Nigerians and building modern housing finance for Nigeria in collaboration with other housing stakeholders.
Its key role is mortgage refinancing which it does by raising long-term funds from the capital market to refinance conforming mortgage portfolios of mortgage and commercial banks in Nigeria.
Rights And Duties Of The Employer In Nigeria
By Benita Ayo
In recent times, we have witnessed unprecedented changes to the existing principles of the common law relating to the employer. An employer is a person or an individual or an organisation in the government, private, nonprofit or business sector that hires and pays people for their work.
The Chief Statutory Provision regulating employment relationships in Nigeria is the Nigerian Labour Act. Now, contained in the Labour Act is a body of Rights and duties which an employer is both entitled to and owes his employees.
Rights of the Employer
The rights of the employer include;
Right to hire
Right to fire
Duties of the Employer
A duty is an obligation owed by one person to another. The employer's duties to his employees include the following;
Duty to provide work
Duty to pay agreed wages
Duty to take care of Employee's safety
Duty to Indemnify the Employee
Duty to conduct medical exams of employees to ensure that they are fit for work
Duty to provide a written contract of Employment
Consequences of Failure to perform his Duties
Where an employer fails to perform his duties as required by the Law, the employer becomes liable and can be sued by the employee for remedy.
The appropriate court having jurisdiction over labour-related disputes in Nigeria is the National Industrial Court.
You may contact me via the under-listed channels for further consultations on the following services;
Employment grievance counselling/settlement Negotiations
Employment Contract drafting/Review/Advisory
Legal Representations (Court Appearances)
Any other Employment related matters
WhatsApp: +2348063775768
Email: jaybella120@gmail.com
Benita Ayo is a Seasoned Corporate Commercial Counsel with over 9 years post-call experience. She has handled myriads of briefs in Corporate/Commercial, Employment Law as well as Property Transactional Practice
Domestic Bourse Rebounds by 0.23% Amid Low Turnover
By Dipo Olowookere
The Nigerian Exchange (NGX) Limited appreciated by 0.23 per cent on Wednesday after it closed in the red territory in the preceding trading session.
The 0.94 per cent, 0.39 per cent, and 0.04 per cent gains posted by the industrial goods, the banking and the insurance sectors, respectively, supported the growth recorded by the domestic bourse in the midweek session.
They helped to offset the 0.14 per cent loss printed by the consumer goods counter as the energy space closed flat.
At the close of business, the All-Share Index (ASI) was up by 127.29 points to 54,427.05 points from 54,299.76 points, as the market capitalisation grew by N69 billion to N29.645 trillion from N29.576 trillion.
The turnover for yesterday's trading session was low as investors transacted 151.6 million stocks worth N1.8 billion in 2,974 deals compared with 200.0 million stocks worth N7.6 billion traded in 4,380 deals on Tuesday, indicating a decline in the trading volume, value and the number of deals by 24.20 per cent, 76.32 per cent, and 32.10 per cent apiece.
Universal Insurance ended the day as the most active stock after it traded 20.0 million, followed by Transcorp, which exchanged 18.7 million units, GTCO with 17.0 million units, Sterling Bank with 15.6 million units, and UBA with 7.7 million units.
Business Post reports that investor sentiment was weak yesterday after the stock exchange closed with 23 price losers and 11 price gainers, indicating a negative market breadth.
Tripple Gee gained 9.52 per cent to sell at N1.15, International Energy Insurance rose by 9.40 per cent to N1.28, Japaul grew by 3.45 per cent to 30 Kobo, Axa Mansard increased by 2.50 per cent to N2.05, and Africa Prudential improved by 2.46 per cent to N6.25.
On the flip side, Trans Nationwide Express lost 9.76 per cent to trade at 74 Kobo, Transcorp fell by 7.35 per cent to N1.26, Courteville depreciated by 6.00 per cent to 47 Kobo, Prestige Assurance lost 4.76 per cent to finish at 40 Kobo, and UPDC REIT shrank by 4.41 per cent to N3.25.
How to Start and Grow Your Forex Business
Starting a forex business is just as difficult and time-consuming as starting any other type of business. You need to decide on what you will provide, how you will make money, register your business, and everything in between.
While it can be difficult and take anything from a couple of months to a few years to start, there are some key points you need to figure out as quickly as you can to ensure a smooth start and consistent growth.
Solo Trading
The first thing you will need to do is become a master of trading and strategy building. The best way to do this is to start looking at trading as a job. You need to know everything you possibly can about currencies, your chosen trading platform, etc., if you are going to turn this into a business.
Using your own money to trade and test strategies is the best way to figure out your strengths, as well as a way to find out the best product you can provide.
Share Strategies & Knowledge Online
The next thing you need to do is to create an online presence. This can be done with social media, YouTube videos, and a website. The goal is to build a name for yourself as an authority in the forex space.
At this point, you most likely won't be able to monetize what you are sharing, but the exposure you gain, especially if you are offering something successful and unique, will be invaluable later on.
This can also be a way to see if forex social media can be a business by itself. Considering how big social media is and how much money brands will pay to be featured, being a forex social media influencer can be right up your alley.
Capital
Depending on how big or small you want your business to be at the start will decide how much initial capital you need. At the very least, you will probably want a new computer, extra monitors, subscriptions, etc., in the beginning.
Once you have begun doing business and have some clients and work under your belt, that's when you can begin planning to move into an office space or something similar.
What Will You Offer?
One of the most crucial steps in this process is deciding on what you will be offering. Are you a developer wanting to start a trading platform, do you code trading bots, or are you someone looking to share their knowledge through online courses?
This is a vital step as it will decide how you will market your product, where you will sell it, and who your target audience is.
How Will You Make Money?
Once you have your product, you need to decide how you are going to make money from it. There are a couple of ways to go about this; you can choose to sell your product as a once-purchase, or you can sell it as a subscription.
It is important to note that two things may seem very different, but the way you can sell them is the same. Both courses and a trading bot, for example, can be sold on a monthly subscription basis.
Business Registration
Once you have reached the stage where you are ready to go, you will need to go about registering your business. This will differ depending on where you are; therefore, it is imperative that you do the necessary research.
Even if you are still a small, one-person operation, the sooner you register your business, the sooner you can be entitled to business loans, hire employees, and everything else you will need to expand.
Employees
Speaking of employees, once you have grown your client base and the work is flowing in, there will come a time when you won't be able to do everything yourself. While there is certainly no need to hire a full team, there are ways to receive the extra help you need.
Hiring people on a freelance basis will give you the extra hands you need when you need them, but when business is slower, you aren't paying out money without that cash coming back into the business. While this isn't a permanent solution, it is a great strategy for start-up businesses.
Latest News on Business Post