Oil & Gas Experts for 16th Africa Independents Forum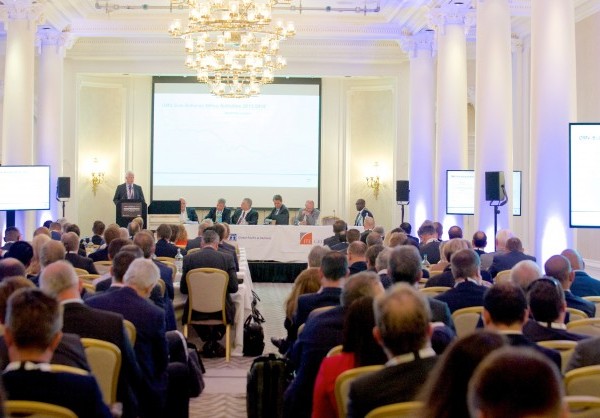 By Dipo Olowookere
A key event on the international oil and gas calendar, the 16th Africa Independents Forum, will get underway on May 24 and 25, 2017 in London.
This annual gathering of Africa's oil and gas upstream industry is an essential platform for reviewing the state of the industry and exchanging ideas on game-changing opportunities for the future.
Showcasing Africa's premier projects and upstream operators, the forum provides plenty of scope for corporate independents, international oil, gas and energy companies and Government officials to network, present their projects, propose new ventures and firm up partnerships and investment deals.
Being held around the theme of "Shaping the Continent's Future in Upstream Oil & Gas", this year's programme focuses on developing and driving change in the industry.
In-depth presentations provide a framework for exploring solutions that move beyond survival tactics to establish best practices that better equip the industry to weather uncertainties and withstand shocks whilst maintaining optimum performance.
A recent Ernst & Young report states that the total deal value for Africa in 2016 was US$4.9 billion across 61 deals, of which 92% were upstream, with downstream deals making up the remainder.
Eighty percent of the upstream deals were announced in the fourth quarter, possibly due to a return of confidence in the industry and an expected upturn in operational activity in the ensuing months.
This forecast upswing sets an optimistic tone for the 16th Africa Independents Forum.
Confirmed speakers who will share their insights are Pade Durotoye, CEO of Oando Energy Resources; Darran Lucas, Exploration and New Ventures Director at Sasol; Erwin Kroll, Senior Vice President for the Middle East and Africa at OMV Upstream; Neil Ritson, Chairman of Solo Oil Plc and Oisin Fanning, Executive Chairman of San Leon Energy in Dublin.
A highlight of the forum, the 79th PetroAfricanus dinner, will be hosted by ITE at The Waldorf Hilton where Jasper Peijs, VP of Exploration Africa at BP, will address members of the PetroAfricanus Club.
Also hosted by AIF is the 8th Global Women in Petroleum & Energy Club Luncheon, organised by Frontier Communications with, as guest speaker, Sandy Stash, Group VP for Safety, Sustainability and External Affairs at London's Tullow Oil.
In 2015 the Ugandan government, represented by Ernest Rubondo, Acting Director of Petroleum, Directorate of Energy & Minerals, used the AIF to promote its maiden competitive bidding round for the licensing of six blocks in the Albertine Graben which resulted in 17 firms submitting applications for qualification.
Organised by ITE, the forum provides excellent exposure for sponsors, exhibitors and advertisers with a number of tailored opportunities for showcasing and networking.
The latest sponsor to come on board is Lagos-based ACAS-Law.
Brent Falls Below $80 on Fresh Rate Hike Concerns
By Adedapo Adesanya
Brent fell below $80 per barrel as economic indicators raised fears and concerns about higher interest rates amid Europe's plans to continue restricting Russia.
The international crude benchmark depreciated by $2.23 or 2.7 per cent to $79.94 a barrel, as the US West Texas Intermediate crude (WTI) pointed south by $2.49 or 3.3 per cent to trade at $73.39 per barrel.
Prices fell to over three-week lows in a volatile session after strong US jobs data raised concerns about higher interest rates and as investors sought more clarity on the imminent EU embargo on Russian refined products.
It was a tough week for the commodity as Brent registered a 7.8 per cent decline this week while WTI dropped 7.9 per cent.
Job growth in the US accelerated sharply in January amid a persistently resilient labour market. However, analysts note that a further moderation in wage gains should give the Federal Reserve some comfort in its fight against inflation.
The strength in hiring, which occurred despite layoffs in the technology sector as well as in sectors like housing and finance that are sensitive to interest rates, doused market expectations that the US central bank was close to pausing its monetary policy tightening cycle.
The US central bank on Wednesday scaled back to a milder rate increase than those over the past year, but policymakers also projected that ongoing increases in borrowing costs would be needed.
Market analysts noted that the increases in interest rates in 2023 are likely to weigh on the US and European economies, boosting fears of an economic slowdown that is highly likely to dent global crude oil demand.
Also, European Union countries agreed to set price caps on Russian refined oil products to limit Moscow's funds for its invasion of Ukraine.
EU diplomats said the price caps are $100 per barrel on products that trade at a premium to crude, principally diesel, and $45 per barrel for products that trade at a discount, such as fuel oil and naphtha.
Ambassadors for the 27 EU countries agreed on the European Commission proposal, which will apply from Sunday.
The price caps, together with an EU ban on Russian oil product imports, are part of a broader agreement among the Group of Seven (G7) countries.
It follows a $60 per barrel cap on Russian crude that G7 countries imposed on December 5 as the G7, the EU and Australia seek to limit Russia's ability to fund its war in Ukraine.
Both caps prohibit Western insurance, shipping and other companies from financing, insuring, trading, brokering or carrying cargoes of Russian crude and oil products unless they were bought at or below the set price caps.
The Russian government said the EU embargo on Russia's refined oil products would lead to a further imbalance in global energy markets.
In US supply, energy firms this week cut the number of oil and natural gas rigs by the most since June 2020, energy services firm Baker Hughes Co said. US oil rigs fell 10 to 599 this week, their lowest since September, while gas rigs dropped by two to 158.
IGP Orders Arrest, Prosecution of Sellers of Naira
By Aduragbemi Omiyale
The Inspector General of Police (IGP), Mr Usman Alkali Baba, has directed the Deputy Inspector-General of Police in charge of the Force Criminal Investigations Department and the Assistant Inspector-General of Police in charge of the Force Intelligence Bureau to begin the arrest and prosecution of sellers of Naira, as well as the abusers.
In a statement on Friday by the spokesman of the Nigeria Police Force (NPF), Mr Olumuyiwa Adejobi, the police chief said violators would not be spared.
He said efforts would be made to enforce the Central Bank of Nigeria (CBN) Act as the country boils over the swapping of the old banknotes for new ones.
There had been a scarcity of cash in many parts of the country over the Naira redesign policy of the central bank.
There have been reports of people buying the new currency notes at exorbitant rates, triggering anger in some places.
But the statement from the police today said, "In furtherance of the federal government's policy and drive to uphold the provisions of the CBN Act, 2007, and dignify Nigeria's currency," the IGP has ordered the placement of place officers and men of the department and the bureau across the nation "on high alert and to carry out the arrest, and subsequent prosecution of all individuals engaged in the sale or abuse of the Naira notes issued by the CBN."
"The IGP has similarly charged all supervisory Assistant Inspectors-General of Police and Commissioners of Police in charge of police commands and formations to carry out full enforcement of the provisions of Sections 20 and 21 of the Central Bank of Nigeria Act, 2007, which criminalises, amongst other things, the hawking, selling or otherwise trading, spraying of, dancing or matching on the Naira notes, falsifying or counterfeiting of bank notes, refusal to accept the Naira as a means of payment, tampering with the coin or note issued by the CBN," the statement added.
It said Mr Baba has reiterated the mandate of the police "to enforce all laws and regulations without any prejudice to the enabling Acts of other security agencies and urged all and sundry to cooperate with the NPF as it brings the long arm of the law to bear upon all violators of the provisions of the CBN Act, and other extant statutes in Nigeria, with a view to having a well-policed society in all ramifications within the country."
Employment Growth Quickens Amid Efforts to Deal With Workloads
The Nigerian private sector registered a slight loss of growth momentum in January, with output and new business rising further markedly, though at softer rates than at the end of 2022.
On a more positive note, firms raised employment at the fastest pace since June 2018 as part of efforts to complete work on time.
On the price front, rates of inflation of input costs and output prices softened in January but remained elevated.
Analysis by Stanbic IBTC Bank showed that the headline figure derived from the survey is the Purchasing Managers' Index (PMI®).
Readings above 50.0 signal an improvement in business conditions in the previous month, while readings below 50.0 show a deterioration. The headline PMI dipped to 53.5 in January from 54.6 in December. Although still signalling a solid monthly strengthening of the private sector and the thirty-first in consecutive months, the rate of improvement was the softest since August 2022.
Business activity increased at a much slower pace at the start of the year, despite the rate of growth remaining marked. The latest rise was the weakest in five months. Demand continued to improve, but some firms reported a moderation in customer numbers.
Activity increased across each of the four broad sectors covered by the survey. The rate of expansion in new business also softened in January but remained sharp nonetheless, again reflecting higher demand from customers.
A desire to try and complete projects on time led companies to ramp up their hiring activities at the start of the year. Employment increased at a solid pace that was the fastest since June 2018.
Despite expanded staffing levels, backlogs of work increased for the first time in three months. Firms reported having been hindered by issues with machinery and power supply.
Higher workloads and positive expectations regarding the outlook for activity led companies to expand their purchasing activity sharply again, with the rate of growth unchanged from December. In turn, stocks of purchases also rose further. Efforts to secure inputs were helped by improving supplier performance.
Competition among vendors, quiet road conditions and prompt payments all contributed to a shortening of delivery times, one that was the most pronounced in four months. The rate of input cost inflation softened for the second month running in January, and was at a one-year low.
The slowdown in overall cost inflation largely reflected a softer rise in purchase prices, albeit one that was still substantial. Purchase costs increased on the back of rising fuel and raw material costs, exacerbated by currency weakness.
Meanwhile, staff costs rose at the fastest pace in 11 months as companies increased pay in line with higher living costs. Output price inflation also remained elevated as higher cost burdens were passed on to customers.
Latest News on Business Post