Okomu Oil, Dangote Cement Push Stock Market 0.65% Higher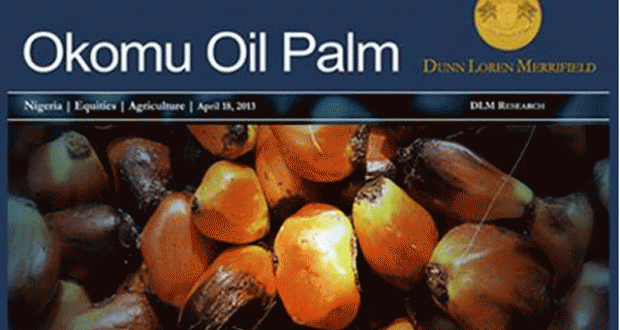 By Modupe Gbadeyanka
Gains recorded today by 24 equities trading on the floor of the Nigerian Stock Exchange (NSE) extended the upward movement of the market to the fourth day in a row.
At the close of trade on Tuesday, July 11, 2017, the stock market grew further by 0.65 percent, while investors posted N73.5 billion gain.
Okomu Oil was the highest gainer today, adding N2.83k to its share value to finish at N59.48k per share.
Dangote Cement followed with N1.28k gain to close at N206.21k per share, while Nigerian Breweries posted N1.25k addition to end at N154.26k per share.
GTBank and Zenith Bank rose by 89k and 71k to respectively settle at N35.51k per share and N22.2k per share.
The All-Share Index (ASI) added 213.38 points today to close at 32,827.98 points, while the market capitalisation progressed by N73.5 billion to settle at N11.314 trillion.
Despite the bullish performance at the market on Tuesday, some stocks fell short of yesterday's performance.
Total Plc took the lead with a fall of N6.1k in its share price to close at N259.99k per share. It was closely trailed by Presco, which slumped by N3.39k to end at N64.54k per share.
Guinness lost N2 to finish at N60 per share, Unilever went down by N1 to settle at N33 per share, and Stanbic IBTC weakened by 74k to close at N30.26k per share.
A total of 218.8 million shares worth N2.1 billion exchanged hands at the close of transactions on Tuesday and were executed in 4,991 deals.
This was an improvement from what was achieved on Monday; 182 million shares traded in 3,710 deals valued at N2 billion.
UBA was investors' delight at the stock market today with 35.3 million units sold at N317 million.
Niger Insurance traded 20 million shares worth N10 million, Zenith Bank executed 18.3 million shares valued at N401.3 million.
Diamond Bank exchanged 14.6 million shares at N18 million, while FCMB transacted 12.2 million shares at N15 million.
We'll Sanction CMOs Frustrating e-Dividend Mandate Process—SEC
By Dipo Olowookere
The Securities and Exchange Commission (SEC) has threatened to sanction capital market operators (CMOs) found to be frustrating the e-dividend mandate process.
A few years ago, the agency, as part of efforts to find a solution to the perennial unclaimed dividend in the nation's stock market, introduced the electronic registration and payment of the cash reward to the bank accounts of investors.
But despite this, some shareholders still find it difficult to get their return on investment because of some bottlenecks faced when processing the e-dividend mandate form.
Speaking at a post-Capital Market Committee (CMC) meeting press briefing webinar held Thursday, the Director-General of SEC, Mr Lamido Yuguda, said there should be no reason why new investors should have issues receiving their dividends.
He assured that the agency will continue to work towards resolving any legacy issues with unclaimed dividends, appealing to all stakeholders to comply with all directives of the commission in this regard, as defaulters would be sanctioned appropriately
"There is no reason why there will be unclaimed dividends for new investors or newly-listed companies adding every investor should be promptly paid his/her dividends upon declaration and payment.
"The commission has observed that certain Capital Market Operators (CMOs) frustrate the e-dividend mandate process.
"We have observed that the growth in the number of mandated accounts has been on the decline for some time.
"The capital market community has directed its e-Dividend Committee to engage with the Committee of Heads of Banking Operations to encourage better cooperation from banks as we tackle the challenges of unclaimed dividends," he said.
Mr Yuguda said the commission has exposed new rules on the implementation of the e-dividend mandate and treatment of unclaimed dividends, adding that SEC was monitoring compliance and will not hesitate to sanction erring operators.
Recall that two weeks ago, Business Post reported about the experience of shareholders in accessing their dividends because of how some registrars allegedly frustrate the process.
"For more than one year now, I have not been able to get my dividends despite submitting all the needed requirements to the registrars.
"I did my e-dividend processing through my stockbroker, Meristem Securities, and out of the about five or six they processed for me, Veritas [Registrars] has responded and has paid my Zenith Bank dividend.
"The others have not cleared up till this moment. This is not encouraging at all because it has almost killed my appetite for dividend stocks," an investor in the stock market, Mr Aigbe Osas, had lamented to Business Post in a report that the unclaimed dividend of Dangote Cement had reached N4 billion as at December 31, 2020.
The blockchain brings new financing options to the business market. For example, Bitcoin Cash casino has adapted to only using cryptocurrency. This way, it makes it easier for their customers to deposit and withdraw in a BCH casino. Entrepreneurs have taken note of this and are looking to invest more in crypto than in fiat markets.
Latest News on Business Post