OML 29 not for Sale to Repay Loan—Aiteo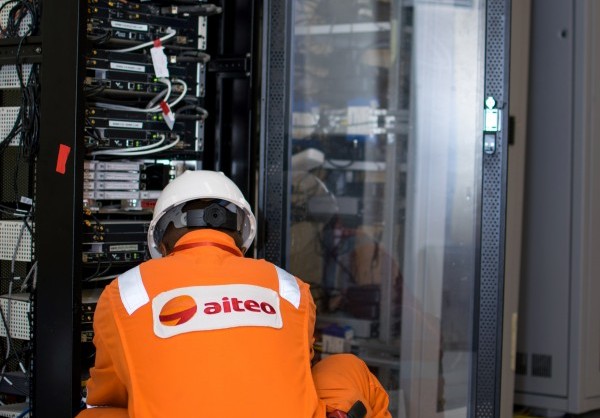 By Dipo Olowookere
The management of one of the leading oil firms in Nigeria, Aiteo Group, has refuted reports that the Oil Mining Licence (OML) 29 it acquired in 2015 has been put up for sale so as to repay a loan it took from a lender in the country.
In a statement issued by the company, it said, "For the avoidance of doubt, Aiteo has neither considered, initiated, nor announced the commencement of any plans to sell off ANY of its stake in OML 29.
"The reasons are patently clear. First, since the takeover of the asset we have successfully quadrupled production that it would be commercially inept to consider a disposal of any sort, now.
"Second, there are several legitimate entities that constitute ownership of the oil block, such that it would be practically impossible for us to unilaterally consider disposing of the asset."
While describing those making the claims as "fraudsters running a reports-for-cash syndicate," Aiteo appealed to the public to "summarily disregard these unsavoury and fabricated reports in their entirety."
According to the firm, "The claim that Bruce Burrows' recent appointment as our Chief Financial Officer is aimed at finding a buyer for part of Aiteo's assets is spurious and demonstrates that the publishers' understanding of the commercial realities in the operation of assets such as OML 29 is shallow.
"All of our stakeholders familiar with our strategic vision can attest that Aiteo continues to invest in the right people to deliver on that vision.
"Mr Burrows' appointment is simply to further strengthen our financial discipline as one of the most innovative, reliable and diverse oil and gas companies operating in Nigeria today. Mr Burrows joins a team of highly trained, experienced and world-class talent that currently guide the day to day activities of Aiteo.
"For the record, OML 29 was indisputably, legitimately and transparently secured in an internationally conducted divestment by the private entity, Shell.
"The funding of this acquisition was made possible through a syndicated loan involving several Nigerian banks.
"Since then, we have continued to meet our financial obligations as and when due, like every other responsible, global conglomerate of our stature."
The statement said, "Aiteo is professionally run with strong corporate governance practices very actively in place and within a structure that insulates the company from the vagaries that typify the Nigerian one-man entity.
"As we have repeatedly asked, we wish to be allowed to continue to prosecute the drive and vision that we have committedly pursued to place ourselves and the country at the cutting edge of the oil industry, worldwide.
"Those who seek to distract us from this objective will find that we will defend our position and integrity with the same application and commitment as we continue to demonstrate in the success we have achieved!"
Popoola Urges Investors to Diversify Portfolios to Reduce Risks as Stock Prices Rise
By Aduragbemi Omiyale
Investors in the stock market have been advised to embrace the strategy of diversification of portfolios in order to get a better return on investment (RoI).
The chief executive of the Nigerian Exchange (NGX) Limited, Mr Temi Popoola, while reacting to the current uptrend rally in the equity market, stressed that diversification of portfolios would go a long way to reduce risks, explaining the need for investors to re-balance their stock basket.
So far this year, the local bourse has been buoyant with the NGX-All Share Index (NGX-ASI) Year-to-Date (YTD) returned at 26.62 per cent as of Friday, May 27, 2022, and is currently over the psychological 54,000-level for the first time since the 2008 crash, as opposed to the broad-based bearish performance experienced in other markets.
Mr Popoola stated that in spite of the current appreciation in prices of equities in the country, opportunities still exist for investors in other asset classes.
He said as a multi-asset Exchange, NGX has various products for every investor regardless of what their investment goals, risk appetite or return expectations might be, listing the products like equities, fixed income, Exchange Traded Funds and Derivatives.
According to him, there are opportunities in every segment of the market, emphasising that it is important for investors to do the analysis, and understand where those opportunities are, as there are opportunities, not only on the equity side but across the various assets classes.
He, however, said that the Nigerian capital market and the business of the stock exchange would always be impacted by dynamic economic trends and investor demands.
Explaining further, he said achieving success through growth that creates value will increase the Exchange's ability to operate efficiently and profitably in the transient advantage economy that has unfolded in Nigeria and around the world.
"While there has been no respite in the macroeconomy and operating environment due to lingering oil price and foreign exchange pressures, our long-term outlook for the Exchange remains positive as listed companies continue to show resilience and our members have been repositioned to deliver superior value to investors," he said.
Mr Popoola noted that NGX would continue to find more products that a lot of Nigerians and the youth demography are attracted to, and introduce to the market.
Nigerian Exchange Index Skyrockets to 54,085.30 points After 1.76% Rise
By Dipo Olowookere
It was another fantastic day at the Nigerian Exchange (NGX) as the recent bullish run witnessed lately continued after a short disruption caused by the raising of the interest rate to 13.0 per cent from 11.5 per cent by the Central Bank of Nigeria (CBN) on Tuesday.
Yesterday, the stock market appreciated further by 1.76 per cent on the back of renewed interest in local equities buoyed by the release of the much-awaited financial statements of FBN Holdings Plc for the 2021 fiscal year.
At the exchange on Friday, the All Share Index (ASI) skyrocketed by 933.98 points to 54,085.30 points from 53,151.32 points, while the market capitalisation jumped by N504 billion to N29.158 trillion from the preceding day's N28.654 trillion.
The gains were influenced by sustained buying pressure in shares in the banking, insurance, energy and industrial goods sectors, which appreciated by 0.48 per cent, 0.32 per cent, 0.24 per cent and 0.01 per cent respectively, while the consumer goods counter depreciated by 2.41 per cent due to sell-offs in Nigerian Breweries, UAC Nigeria and others.
During the session, investors traded 208.1 million equities valued at N5.5 billion in 4,898 deals compared with the 266.2 million equities worth N5.1 billion transacted in 5,501 deals a day earlier, representing a decline in the trading volume and number of deals by 21.83 per cent and 10.96 per cent respectively and an increase in the trading value by 7.92 per cent.
Cutix was the highest price gainer yesterday as its value went up by 9.96 per cent to N2.87, Airtel Africa appreciated by 9.89 per cent to N1,767.00, Wema Bank gained 8.63 per cent to finish at N3.65, Ardova improved by 7.09 per cent to N15.10, while FBN Holdings increased its value by 6.98 per cent to N11.50.
On the other side of the coin, the heaviest price loser was Nigerian Breweries as it deflated by 10.00 per cent to N69.30, UAC Nigeria reduced by 9.87 per cent to N10.50, University Press declined by 9.52 per cent to N2.85, Royal Exchange went down by 9.26 per cent to 98 kobo, while Linkage Assurance depleted by 6.67 per cent to 56 kobo.
Business Post reports that the market breadth was at equilibrium on Friday as there were 19 appreciating stocks and 19 depreciating stocks.
Naira Trades N617/$1, N419.50/$1 at P2P, I&E FX Windows
By Adedapo Adesanya
The Naira had a bad day on Friday as it depreciated in the Peer-to-Peer (P2P) segment of the foreign exchange market against the Dollar by 0.16 per cent or N1 to N617/$1 in contrast to the previous day's N616/$1.
Also, at the Investors and Exporters (I&E) window of the forex market, the Naira depreciated by 0.15 per cent or 62 kobo against the American currency to N419.50/$1 compared with the N418.88/$1 it was transacted on Thursday.
According to data obtained from FMDQ Securities Exchange, the domestic currency suffered this loss amid a reduction in the forex turnover for the trading session.
FX trades worth $107.84 million were carried out yesterday compared with the $157.46 million executed a day earlier, representing a decline of $49.62 million or 31.5 per cent.
At the interbank segment of the market, the local currency closed weaker against the Pound Sterling as it depleted by N1.01 to trade at N524.57/£1 compared to the previously traded rate of N523.56/£1 and against the Euro, the domestic currency fell by 19 kobo to close at 445.26/€1 in contrast to N445.07/€1.
In the cryptocurrency market, the bulls took control as seven of the 10 cryptos tracked by Business Post pointed north, with Dogecoin (DOGE) recording the highest rise of 6.9 per cent to trade at $0.0827.
Binance Coin (BNB) recorded a 2.4 per cent increase to trade at $302.89, Solana (SOL) appreciated by 2.1 per cent to $41.99, Ethereum (ETH) gained 0.7 per cent to sell at $1,770.73, Cardano (ADA) added 0.4 per cent to its value to finish at $0.4625, Litecoin (LTC) improved its price by 0.3 per cent to trade at $62.66, while Bitcoin (BTC) appreciated by 0.1 per cent to settle at $30,000.
On the flip side, the highest loser was the rebranded TerraClassicUSD (USTC), which continued its windfall with a 6.4 per cent loss to trade at $0.0397, Ripple (XRP) recorded a 2.4 per cent slide to quote at $0.3867, while the US Dollar Tether (USDT) moved downwards by 0.01 per cent to sell for $0.998.
Latest News on Business Post