PLC Ultima Revolutionizes Crypto Mining with Mobile App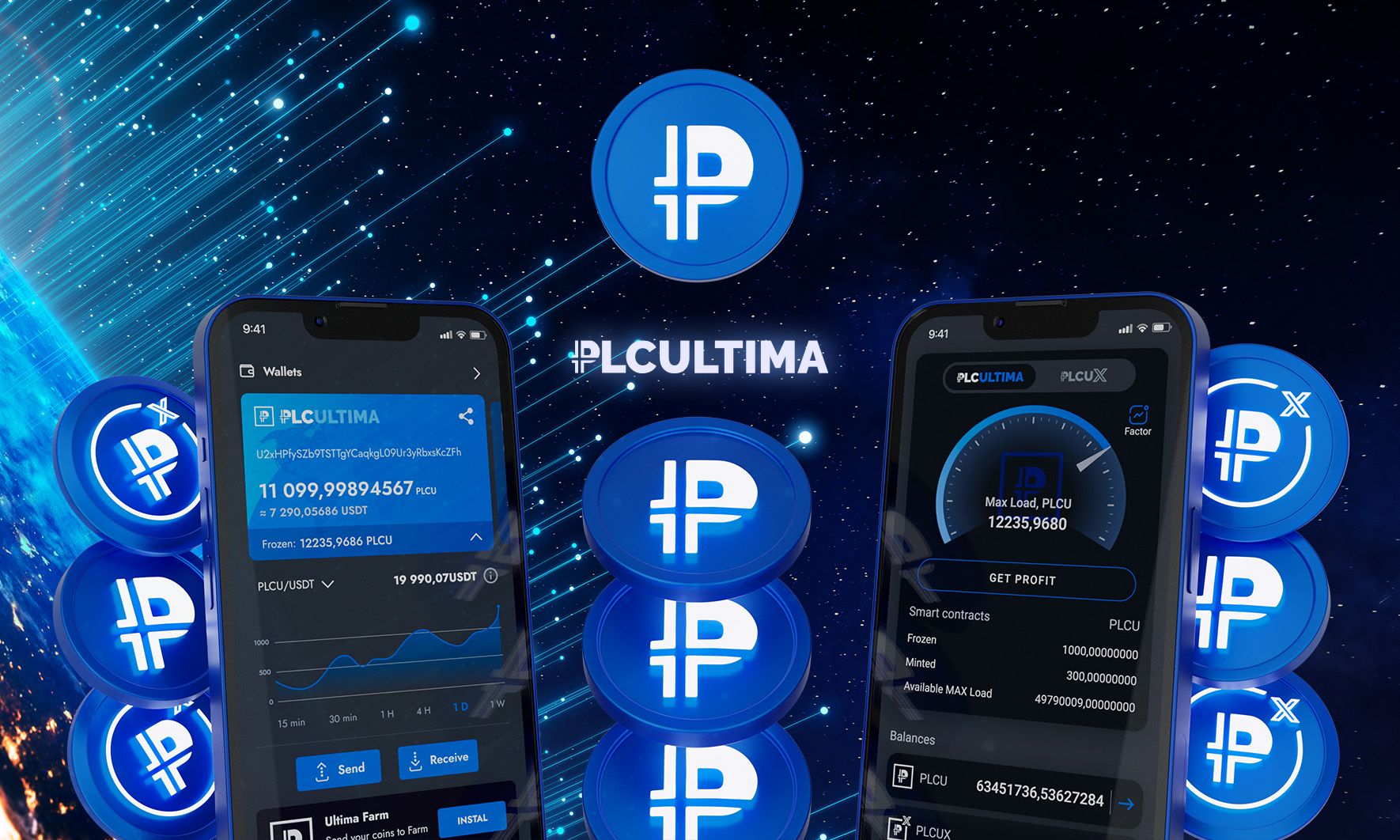 It's a far cry from the days when almost anyone could participate in crypto mining just using his computer. Nowadays, crypto mining is something not affordable to the majority as it needs either expensive computing machines or deep technical knowledge or both of them. This situation leads to higher risks of centralization of mining in the hands of those who can afford it. PLC Ultima, a blockchain-based ecosystem for e-commerce services, rethinks crypto mining and makes it possible to create new coins using mobile apps.
Mining Vs Minting
Opposed to centralized systems, all decentralized ones bear on the community of their supporters who actively participate in the life of the system, i.e. running nodes that check transactions or launching mining farms which write blocks of transactions in the blockchain. In return, active participants are rewarded with a certain number of digital coins for their work. Mining is essential in maintaining decentralized systems alive. Decentralized systems keep its level of decentralization while its users benefit financially from their roles.
In theory, everyone could try crypto mining. But those times when anyone with a decent home computer could easily earn new coins have long gone. Starting investments in mining exceeded several thousand dollars. If talking about bitcoin, one cannot even dream of mining if having less than $10,000 in his pocket. Furthermore, all this mining on computing machines or using GPU is extremely energy consuming and makes crypto mining an unfriendly process to the environment.
The crypto industry entered a post-Bitcoin era when new decentralized systems have to find new ways of creating coins and stimulate users to play an active role in the network. PLC Ultima proposes its innovative solution to this challenge called minting.
Minting is a more energy-effective way to produce new coins via computing power. Instead of buying expensive and energy-consuming GPU or ASICs, minting is available via apps on smartphones. This approach gives millions of persons an access to a profitable participation in decentralized systems.
Mobile Minting
Users who want to be active participants of the PLC Ultima ecosystem just need to register new accounts and download special apps (Ultima Farm and Ultima Wallet) on their smartphones. The PLC Ultima operates two native coins called PLCU and PLCUX. PLCU serves as a tool when sending transactions, while PLCUX is focused on generating new coins. PLCU is also based on a deflationary model. That means, fees paid in PLCU for transactions are burnt. By withdrawing coins forever from circulation, the ecosystem reduces market supply of burnt coins and increases shortage and raises demand for PLCU on the secondary market.
To start minting, users are required to freeze a certain number of PLCUX for a certain period. In order to buy PLCUX, users have to buy PLCU first as PLCUX is traded on exchanges only for PLCU. And PLCU is traded on dozens of exchanges, including Gate.io.
Users are rewarded on a monthly basis for storing and freezing coins in their wallets. The amount of the reward corresponds to the number of frozen coins in the wallet.
PLC Ultima, Ecosystem for Future Fintech
The PLC Ultima is a blockchain-based ecosystem focused on a wide range of fintech services, from an everyday payment system to a crowdfunding platform and marketplace, all of them already used by 1.5 million of users around the globe. The project was run by Alex Reinhardt, a venture investor, economist, entrepreneur who launched dozens of startups and fintech platforms. Its mission is to give people around the world access to the financial instruments of the ecosystem and improve their quality of life by lowering barriers to financial services.
Its blockchain is an updated version of Litecoin blockchain strengthened by the CryptoNight hashing algorithm used by Bitcoin and Monero. The PLC Ultima blockchain is fast, with one block signed every 1.5 minutes.
The PLC Ultima ecosystem hosts dozens of actively used fintech services. Its most popular ones are a blockchain-empowered crowdfunding platform called Platin Hero with smart contracts, a global e-commerce marketplace called PlatinDeal with cryptocurrency payment method available, and PLC Card, a banking-analog card for everyday payment in digital assets with exceptionally high daily limits (up to €150,000).
South Korea Pledges Mpox Vaccine Supplies
By Kestér Kenn Klomegâh
Sadly, African health authorities for several months have pursued vaccines for curing mpox and its further spread mostly in vain as worldwide outbreaks were reported during this year. But there is some light at the end of the tunnel as some considerable assistance might come from the Republic of South Korea.
The Africa Centers for Disease Control and Prevention said some few thousand doses being the first consignment of mpox vaccines as a donation, would arrive shortly and be used for health workers and people living with the disease in the hardest-hit areas in Africa.
The continent this year has recorded 202 deaths from mpox, formerly known as monkeypox, with a fatality rate of 19.3% across 13 countries. African health authorities for months have made feverish efforts in search for curbing the disease's spread.
According to the Acting CDC director, Ahmed Ogwell, more than 50 new mpox cases in Congo were recorded this month and said Ghana and Nigeria are the other most affected countries. A surge in mpox infections was particularly reported last May outside West and Central Africa.
"Let us get vaccines onto the continent," CDC Acting Head, Ahmed Ogwell, said in a weekly media briefing pointing to another instance of 1.3 billion people on the continent without access to a vaccine, as in the Covid-19 pandemic.
"The solutions need to be global in nature. If we're not safe, the rest of the world is not safe," he warned.
The World Health Organisation (WHO) has, however, warned against discrimination. "A failure to act will have grave consequences for global health," Lawrence Gostin, Director of the WHO Collaborating Center on National and Global Health Law, said on Twitter.
Health officials have emphasized that mpox can infect anyone in close contact with a patient or their contaminated clothing or bedsheets. Researchers are still exploring to establish how it spreads but believe it's mainly through close, skin-to-skin contact and through contact with bedding and clothing that touched an infected person's rash or body fluids.
It generally causes mild to moderate symptoms, including fever, fatigue and painful skin lesions that resolve within a few weeks.
Reports, however, said that the mpox had been established in parts of Central and West Africa for decades; it was not known to spark large outbreaks beyond the continent or to spread widely among people until May when authorities detected dozens of epidemics in Europe, North America and elsewhere.
In Africa, mpox mainly spreads to people by infected wild animals like rodents in limited outbreaks that typically have not crossed borders. In Europe, North America and elsewhere, the mpox is spreading among people with no links to animals or recent travel to Africa. In the U.S. and Europe, the vast majority of infections occur among men who have sex with men, though health officials have stressed that anyone can contract the virus.
Access Holdings Merges Sigma, FGPL for Formidable PFA Business
By Aduragbemi Omiyale
To create a formidable pension funds administration (PFA) business in Nigeria, Access Holdings Plc has merged its subsidiary, First Guarantee Pension Limited (FGPL), with Sigma Pensions Limited.
The marriage between the two PFAs was made possible after Access Holdings acquired an indirect equity stake in Sigma.
Recall that in October, the company announced that it was buying a stake in Sigma to revolutionise the PFA sector.
On Thursday, a court approved the merger between the firm and FGPL, giving room for the organisations to become one and offer innovative products to customers.
A notice signed by the group company secretary of Access Holdings, Mr Sunday Ekwochi, confirmed the development.
"Sequel to our announcement on October 25, 2022, Access Holdings Plc, trading as Access Corporation, today announces the completion of its acquisition of an indirect equity stake in Sigma and the merger of its subsidiary, FGPL, with Sigma.
"Following the sanction of the scheme of merger between Sigma and FGPL by the Federal High Court on December 1, 2022, FGPL has been dissolved without winding up, leaving Sigma as the surviving entity," a part of the statement dated Friday, December 2, 2022.
"Following the successful completion of the merger, our plan is to leverage the synergies of these entities, as well as the corporation's expansive distribution network, strong risk management culture and best-in-class governance standards to create a formidable pension funds administration business," the group chief executive of Access Holdings, Mr Herbert Wigwe, stated.
FrieslandCampina Buoys Unlisted Securities Market by 1.11%
By Adedapo Adesanya
The NASD Over-the-Counter (OTC) Securities Exchange returned to the positive zone on Friday, December 2, as it appreciated by 1.11 per cent at the close of business.
This was driven by a gain in the stock price of FrieslandCampina Wamco Nigeria Plc. The company appreciated by N5.29 price to close at N66.63 per share versus the previous day's price of N61.34 per share.
This outweighed the 1 Kobo loss recorded by UBN Property Plc during the session as the price of the property investment company went down to 91 Kobo per unit from the preceding session's 92 Kobo.
When the market closed for the day, the total value of the unlisted securities market increased by N10.27 billion to N933.71 billion from N923.44 billion.
In the same vein, the NASD Unlisted Securities Index (NSI) stretched by 7.82 basis points to 710.58 basis points from the 702.76 basis points in the previous session.
During the session, there was a surge in the volume of securities by 140,993.7 per cent as investors exchanged 2.2 million units, in contrast to the previous day's 14,508 units.
Likewise, the value of shares traded at the session ballooned by 1,526.6 per cent to N10.7 million from the N657,534.75 recorded a day earlier, while the number of deals improved by 400 per cent to 20 deals from four deals.
When the market closed for the day, AG Mortgage Bank Plc was the most traded stock by volume (year-to-date) with 2.3 billion units valued at N1.2 billion, Central Securities Clearing System (CSCS) Plc occupied second place with 687.8 million units worth N14.3 billion, while Lighthouse Financials Services Plc was in third place with 224.7 million units valued at N112.3 million.
Also, CSCS Plc ended the day as the most traded stock by value (year-to-date) by trading 687.8 million units worth N14.3 billion, VFD Group Plc was in second place with 29.1 billion units valued at N7.7 billion, and FrieslandCampina WAMCO Plc was in third place after selling 16.8 million units worth N1.9 billion.
Latest News on Business Post