Researchers Develop App to Alert Farmers of Crop Diseases
By Dipo Olowookere
A grant to refine a mobile application (app) that will use artificial intelligence to detect crop diseases and the alert farmers on the diagnosis has been secured.
The CGIAR Research Program on Roots, Tubers and Bananas team won $100,000 for this project expected to help millions of African smallholders.
The team won the grant during the big data conference held in Colombia on September 21, 2017 as part of the CGIAR Platform for Big Data in Agriculture Inspire Challenges.
It is estimated that every year pests and diseases cost billions of Dollars to potential agricultural economy as they damage agricultural outputs such as crops, livestock and fish harvests.
But this new app will attempt to solve the problem of pests and diseases faced by farmers with small holder farmers hardly hit.
It is no doubt that technology plays a big role in warning the communities of possible outbreaks and also as a monitoring tool for pests and diseases.
The app, to be used against cassava brown streak disease and the cassava mosaic disease, is expected to be rolled out next year.
It accurately diagnoses diseases in the field and will combine mobile phone short message service (SMS) alerts to farmers in rural Africa.
The app uses TensorFlow, a Google programme that allows machines to train and learn.
The project will be expanded to identify more diseases in more crops – such as banana, sweet potato and yam.
The app's conception was in 2012 but got developed in June-September 2017 through about $300,000 funding from Penn State University.
According to an Associate Professor of Entomology and Biology at US-based Penn State University, David Hughes, "We trained it (the app) to recognize plant diseases.
"What the app does in real-time is to assign a score to a video being captured…that score is the probability that the plant in the video shows symptoms of one of five diseases or pests".
GlaxoSmithKline Weakens Stock Market by N12bn
By Dipo Olowookere
The stock market depreciated by 0.06 per cent on Wednesday following the loss recorded by 15 companies trading their equities on the Nigerian Exchange (NGX) Limited.
During the trading session, the market capitalisation went down by N12 billion to N21.809 trillion from N21.821 trillion, while the All-Share Index (ASI) decreased by 25.35 points to 41,789.59 points from 41,814.94 points.
The losers were led by GlaxoSmithKline after it depreciated by 10.00 per cent to N6.30, Transcorp Hotels went down by 9.88 per cent to N5.38, FBN Holdings lost 6.05 per cent to N11.65, Veritas Kapital fell by 4.35 per cent to 22 kobo, while Africa Prudential dropped 3.94 per cent to sell for N6.10.
A total of 24 stocks closed on the gainers' log led by Living Trust Mortgage Bank as its share price increased by 9.59 per cent to 80 kobo. AIICO Insurance grew by 9.57 per cent to N1.03, University Press appreciated by 9.09 per cent to N1.80, Red Star Express improved by 6.25 per cent to N3.40, while Total Energies rose by 5.97 per cent to N220.00.
Apart from the consumer goods index, which closed flat, every other sector closed bullish, with the energy counter emerging the highest gainer, rising by 1.70 per cent.
The insurance counter appreciated by 1.54 per cent, the banking space grew by 0.51 per cent, while the industrial goods sector chalked up 0.05 per cent.
For another trading session, FBN Holdings emerged as the most traded stock as it transacted 75.5 million units valued at N898.0 million, trailed by AIICO Insurance, which sold 18.4 million units for N17.8 million.
Ecobank transacted 17.3 million equities valued at N137.3 million, Transcorp traded 15.2 million shares worth N15.5 million, while Fidelity Bank exchanged 14.0 million stocks valued at N38.5 million.
At the close of transactions, investors bought and sold 284.6 million shares worth N3.2 billion in 5,036 deals at the midweek session compared with the 353.2 million shares worth N5.6 billion traded in 5,322 deals on Tuesday.
This indicated that the volume of shares transacted went down by 19.43 per cent, the value of the stocks depreciated by 42.49 per cent, while the number of deals declined by 5.37 per cent.
Naira Appreciates as Cryptos Crumble
By Adedapo Adesanya
The Naira appreciated against the US Dollar at the Investors and Exporters (I&E) window of the foreign exchange (FX) market by 0.01 per cent or 3 kobo on Wednesday, October 27.
The local currency sold for N415.07/$1 yesterday, according to data obtained from FMDQ Securities Exchange and at the previous trading day, the exchange rate was N415.10/$1.
It was observed that the decline in the demand for forex at the segment supported the appreciation the domestic currency recorded at the midweek trading session.
The turnover for the day stood at $147.44 million in contrast to the $200.74 million published at the preceding session, indicating a $53.3 million or 26.6 per cent slide in the daily turnover.
However, at the interbank segment of the market, the Nigerian currency recorded no price movement against the American Dollar as it closed flat at N411.02/$1.
But it was not the same scenario against the British Pound Sterling at the interbank window as the local currency depreciated by N2.14 to trade at N567.50/£1 compared to N565.36/£1 it traded on Tuesday.
Similarly, the Naira lost 44 kobo against the Euro as it closed on Wednesday at N477.56/€1 in contrast to N477.12/€1 it finished a day earlier.
At the cryptocurrency market, only a week ago, Bitcoin (BTC) hit an all-time high of nearly $67,000, but recently, investors are leaving the world's most valuable cryptocurrency in favour of the latest market darling, Shiba Inu.
Shiba Inu, a Dogecoin spinoff, is close to surpassing Elon Musk's favourite crypto as it has surged more than 30 per cent in the last 24 hours, hitting a record high above $0.00006 having more than doubled in price in the last week.
In Naira equivalent, the most popular of the digital coins, BTC, sold for N33,467,596.47 after it depreciated by 3.0 per cent, though it was not the heaviest loser yesterday.
Dash (DASH) went down by 11.8 per cent to sell for N103,024.01, Ripple (XRP) depreciated by 10.6 per cent to trade at N580.00, while Cardano (ADA) decreased by 8.9 per cent to N1,152.82.
In addition, Tron (TRX) went down by 6.6 per cent to trade at N53.80, Litecoin (LTC) sold for N103,501.00 after it lost 5.6 per cent, Binance Coin (BNB) recorded a 5.3 per cent depreciation to trade at N185,508.03, Dogecoin (DOGE) went down by 2.4 per cent to sell at N142.42, while Ethereum (ETH) fell by 1.4 per cent to trade at N2,399,957.92.
However, the US Dollar Tether (USDT) moved up by 0.2 per cent during the trading session to finish at N568.31.
CSCS Further Drags NASD Index Down by 0.92%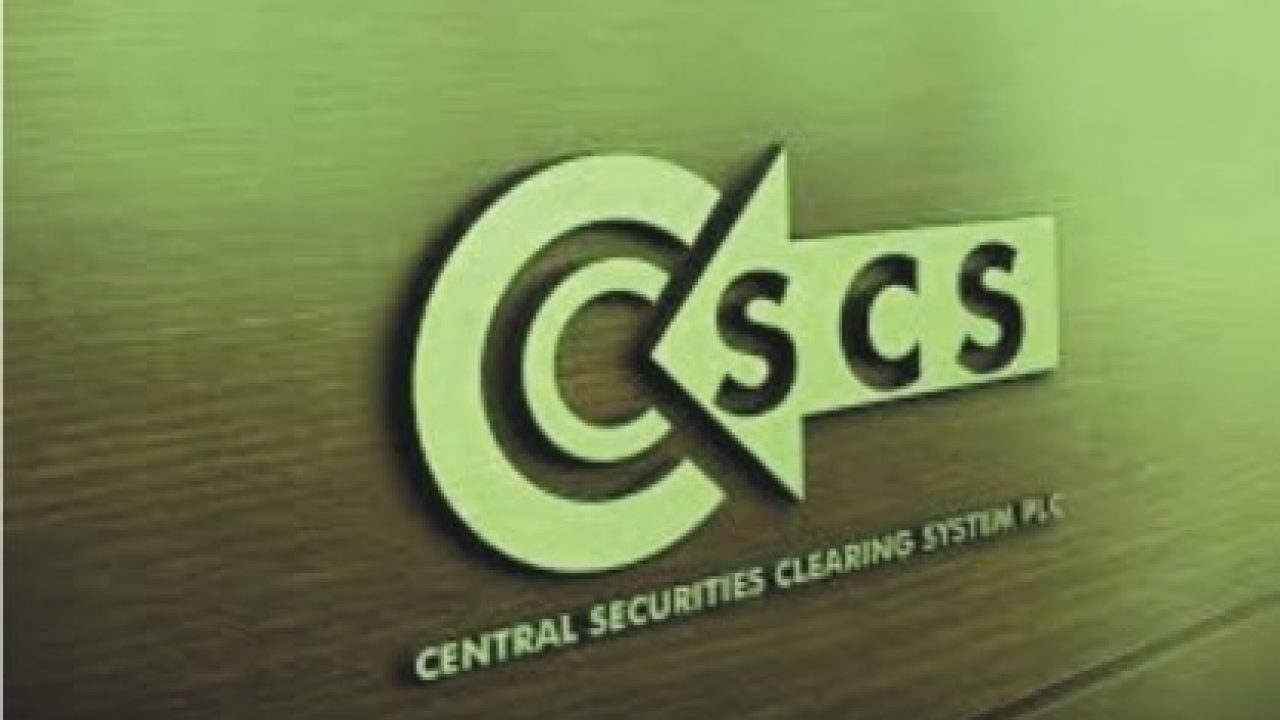 By Adedapo Adesanya
Trading activities at the NASD Over-the-Counter (OTC) Securities Exchange remained in the bearish zone on Wednesday after it closed the session with a decline of 0.92 per cent.
This scrapped off 6.82 points from the NASD Unlisted Security Index (NSI) to 736.53 points from 743.35 points of the previous session and weakened the market capitalisation by N5.63 billion to N608.51 billion from the preceding day's N614.14 billion.
The day's poor performance was caused by the decline in the share price of Central Securities Clearing Systems (CSCS) Plc. The company depreciated by N1.25 or 7.5 per cent to settle at N16.70 per unit compared with N17.95 per unit it closed a day earlier.
The loss printed by CSCS suppressed the gains posted by NASD Plc. The stock appreciated yesterday by N1.38 or 8.5 per cent to wrap the day at N16.23 per share in contrast to N14.85 per share it finished on Tuesday.
On the activity chart, the volume of securities traded at the bourse by investors increased at the midweek session by 100.1 per cent as a total of 252,778 stocks exchanged hands compared with the 126,310 stocks traded at the preceding session.
However, the value of securities transacted by investors decreased by 61.9 per cent to N4.4 million from the N11.6 million posted on Tuesday, while the number of deals remained unchanged during the session as 10 deals.
A further look into the activity table showed that Food Concepts Plc remained as the most active stock by volume (year-to-date) as it has traded 11.4 billion units of its shares for N14.4 billion. Lighthouse Financial Services Plc was second for transacting 1.1 billion shares valued at N546.1 million, while Geo Fluids Plc was in third place with the sale of 1.0 billion equities worth N700.1 million.
Also, in terms of value, Food Concepts Plc topped the chart for selling 11.4 billion units of its securities worth N14.4 billion. Nigerian Exchange (NGX) Group Plc remained in the second spot with 456.5 million units of its securities valued at N9.2 billion, while VFD Group Plc has sold 10.4 million units worth 3.5 billion.
Latest News on Business Post