Stanbic IBTC Records 41% Increase in Gross Earnings in Nine Months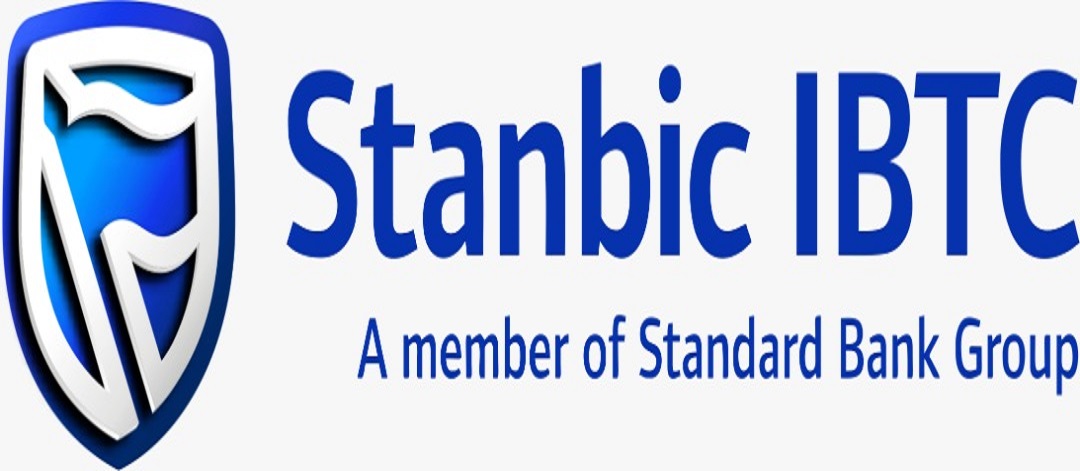 By Dipo Olowookere
In the first nine months of 2022, Stanbic IBTC Holdings Plc grew its gross earnings by 41 per cent to N207.4 billion from N146.6 billion in the first nine months of 2021.
In the results submitted to the Nigerian Exchange (NGX) Limited, the company also improved its net interest income by 48 per cent to N79.66 billion from N54.0 billion, with the non-interest revenue growing by 36 per cent to N94.4 billion from N69.3 billion, and the total operating income jumping by 41 per cent to N174.1 billion from N123.3 billion.
Furthermore, the improvement in the top line of the financial statements helped the growth in the bottom line as the pre-tax profit expanded by 52 per cent to N69.0 billion from N45.3 billion, while the post-tax profit stretched by 38 per cent to N55.2 billion from N40.0 billion.
Also, the total assets of the organisation increased by 8 per cent to N2.95 trillion from N2.74 trillion in FY 2021, gross loans and advances went up by 23 per cent to N1.17 trillion from N946.25 billion in 2021, while customer deposits increased marginally by 1 per cent to N1.14 trillion from N1.13 trillion.
"We continue to witness growth in our client franchise and key income lines. The group's profitability increased by 57 per cent QoQ, largely attributable to impressive growth in net interest income and other revenue sources.
"This was supported by lower credit impairment charges and operating expenses when compared with the second quarter. The uplift in net interest income resulted from increase in the volume and yield on risk assets as we sustained our loan growth performance," the chief executive of Stanbic IBTC, Mr Demola Sogunle, said.
Speaking further, he stated that, "trading revenue grew by 47 per cent QoQ following the increase in trading activities during the third quarter. Sustained focus on cost optimisation led to an 8 per cent QoQ decline in our operating expenses. As such, our cost-to-income ratio improved to 56.1 per cent from 59.9 per cent in the first half of the year and 64.3 per cent in the prior year."
"We kicked off the third quarter with the implementation of initiatives to deliver top-notch services to our customers by leveraging digital technology. We entered into a partnership to enhance the Stanbic IBTC SME Banking platform by providing seamless payroll and salary management services to SME Banking customers.
"The digital module of the solution is now embedded on Stanbic IBTC's SME online platform and offers value-added services such as free HR services to SME customers for the first three months, salary payment of remote employees while staying compliant with local laws, provision of financial data with detailed analytics, amongst others.
"We have also seen an increase in the uptake of our customer loyalty programme, PlusRewards which provides exclusive discount offers to Stanbic IBTC card holders at select merchant stores.
"Our Business clients can also sign up for the scheme as merchants and enjoy benefits such as free Stanbic IBTC point of sale (POS) devices, free marketing opportunities as well as access to Stanbic IBTC's client base. Being a client-focused organisation, this will enable us to strengthen the relationship with our customers," he added.
Mr Sogunle noted that, "As an Environmental Social and Governance (ESG) driven organisation, we do not relent in achieving our sustainability goals. Thirty-seven of our office locations currently run on solar-powered energy solutions, and we have recycled 6.6 tonnes of waste papers in return for tissue papers year-to-date as we continue to support the global reduction of carbon emissions.
"During the quarter, we disbursed credit facilities of over N504mn to support educational service providers in Nigeria and disbursed about N4.73bn credit facilities to 861 SME clients. We have also modified three additional office locations and 10 offsite ATM locations for accessibility to the physically challenged. Hence, 134 office locations and 97 offsite ATM locations have been modified so far.
"We remain committed to growing our key metrics over the rest of the year and achieving our FY 2022 guidance."
Honeywell Flour, MTN, Others Pull Market Back by 0.01%
By Dipo Olowookere
The depreciation printed by the shares of Honeywell Flour, MTN Nigeria, Ecobank and 10 others pulled back the Nigerian Exchange (NGX) Limited from the bulls' territory into the danger zone by 0.01 per cent on Thursday.
It was the first trading session in December, and the stock market could not sustain the positive moment it recorded on the last day of the previous month due to the selling pressure on the equities mentioned above, though investor sentiment remained strong.
According to data from the bourse, the market breadth was positive yesterday as there were 15 price advancers and 13 price decliners led by Honeywell Flour, which dropped 7.89 per cent to trade at N2.10. RT Briscoe went down by 7.41 per cent to 25 Kobo, Wema Bank declined by 5.45 per cent to N3.12, FCMB contracted by 4.18 per cent to N3.21, and Cutix retreated by 2.84 per cent to N2.05.
On top of the gainers' log was UPDC REIT, which improved its share value by 9.09 per cent to N3.00, McNichols rose by 8.93 per cent to 61 Kobo, Japaul jumped by 7.41 per cent to 29 Kobo, Nigerian Breweries 7.14 per cent to N45.00, and Royal Exchange grew by 4.76 per cent to 66 Kobo.
Yesterday, investors transacted 172.9 million shares valued at N2.8 billion in 3,073 deals compared with the 107.0 million shares valued at N1.3 billion traded in 3,227 deals in the midweek session, representing a decline in the number of deals by 4.77 per cent, an increase in the trading volume by 61.55 per cent, and a surge in the trading value by 115.63 per cent.
The increase in the market turnover was driven by the 49.8 million shares of FCMB traded by investors during the session. Courteville traded 16.9 million stocks, Access Holdings sold 12.0 million equities, UBA traded 10.8 million shares, and Zenith Bank exchanged 9.8 million shares.
Business Post reports that the insurance and energy counters went down by 0.12 per cent and 0.08 per cent, respectively, while the banking and consumer goods sectors went up by 2.16 per cent and 0.77 per cent apiece, with the industrial goods space closing flat.
At the close of trades, the All-Share Index (ASI) receded by 3.40 points to 47,656.64 points from 47,660.04 points, and the market capitalisation retreated by N2 billion to N25.957 trillion from N25.959 trillion.
Ecobank Q3 Earnings Swell Amid 12% Jump in Non-Interest Income
By Dipo Olowookere
In the third quarter of 2022, Ecobank Transnational Incorporated (ETI) improved its gross earnings by 11 per cent to N761.3 billion from N686.8 billion in the same period of last year, with interest income growing by 9 per cent to N485.8 billion from N445.1 billion, and interest expense surging by 8 per cent to N174.2 billion from N160.7 billion.
In the period under consideration, fee and commission income expanded by 15 per cent to N165.5 billion from N144.0 billion, driven by higher cash management and related fees, as well as more card management fees, which offset the shortfall in other fees and portfolio and other management fees.
Business Post reports that bank charges, brokerage fees paid, and other fees paid by the lender triggered a 41 per cent increase in the fee and commission expense by Ecobank in the first nine months of this year to N21.0 billion from N14.9 billion.
The trading income generated by the bank grew to N93.2 billion in Q3 of 2022 from N85.5 billion in Q2 of 2021, other operating income rose to N16.7 billion from N11.6 billion, but the net investment income declined to N4.4 billion from N5.6 billion.
In the first nine months of 2022, Ecobank improved its non-interest income by 12 per cent to N258.7 billion from N231.7 billion, while operating income jumped by 11 per cent to N570.4 billion from N516.2 billion.
In the period under consideration, the operating costs of the company increased by 7 per cent to N320.9 billion from N300.7 billion, with personnel costs rising to N138.6 billion from N132.4 billion.
The bank, in the financial statements filed to the Nigerian Exchange (NGX) Limited, said its pre-tax profit improved by 17 per cent to N168.7 billion from N143.7 billion, while the post-tax profit gained 12 per cent to N1177.4 billion from N104.5 billion.
On a year-to-date basis, its loans disbursement to customers was marginally down to N4.03 trillion from N4.06 trillion in FY 2021, while deposits from customers went down to N8.06 trillion from N8.36 trillion.
NGX Helps Governments, Corporates Secure N3.5trn Debts
By Aduragbemi Omiyale
Debt instruments worth N3.5 trillion have been raised from the capital market in 2022 with the assistance of the Nigerian Exchange (NGX) Limited.
These funds were secured by the federal, state governments, and corporate organisations through the issuance of bonds and commercial papers, with the proceeds used to finance projects and business operations.
The NGX has always provided an avenue for organisations to seek cheap capital from investors by positioning itself as the prime location for raising funds.
According to the Divisional Head of Capital Markets at the NGX, Mr Jude Chiemeka, the capital market could serve as the primary source of bulk mobilisation of capital to finance developmental projects, and NGX had implemented an array of incentives, programmes and capacity building workshops for investors.
"The pension fund industry, for example, has been able to leverage the issuances done by the DMO in recent times, and a lot of financing has come from them," he said at the Nigeria Integrated National Financing Framework (INFF) dialogue on Channels TV with the theme How Can Nigeria Finance its Development Priorities.
"As an exchange, we provide the platform that will enable the government to finance projects through green instruments that these investors can invest in and ultimately benefit from the returns. And that is why it's critical to ensure there's constant investor education, sound governance and regulation.
"If you take a look at the recently revamped Capital Market Master Plan, there's a conversation there around increasing retail investor participation in our markets," he added.
INFF emanated as a result of a partnership among the FG, the United Nations Development Programme (UNDP), and European Union (EU) to support Nigeria in mobilising greater amounts of private and public resources to finance its development agenda.
Speaking further, Mr Chiemeka said the goal is to revamp the current active retail participation level to 5 million by 2025.
"NGX has been able to facilitate the raise of about N3.5 trillion since January 2022 for corporates, federal and state governments. We are very well equipped to support the financing of these capital projects because we have the right platform.
"Today, you talk about the African Exchanges Linkage Project, which commenced on November 18 and will be launched in December. That gives Nigeria the ability to leverage the investor base in other capital markets to fund the projects to grow the economy and lift people out of poverty," he stated.
Latest News on Business Post