Wall Street Opens Higher on Trade Talks Optimism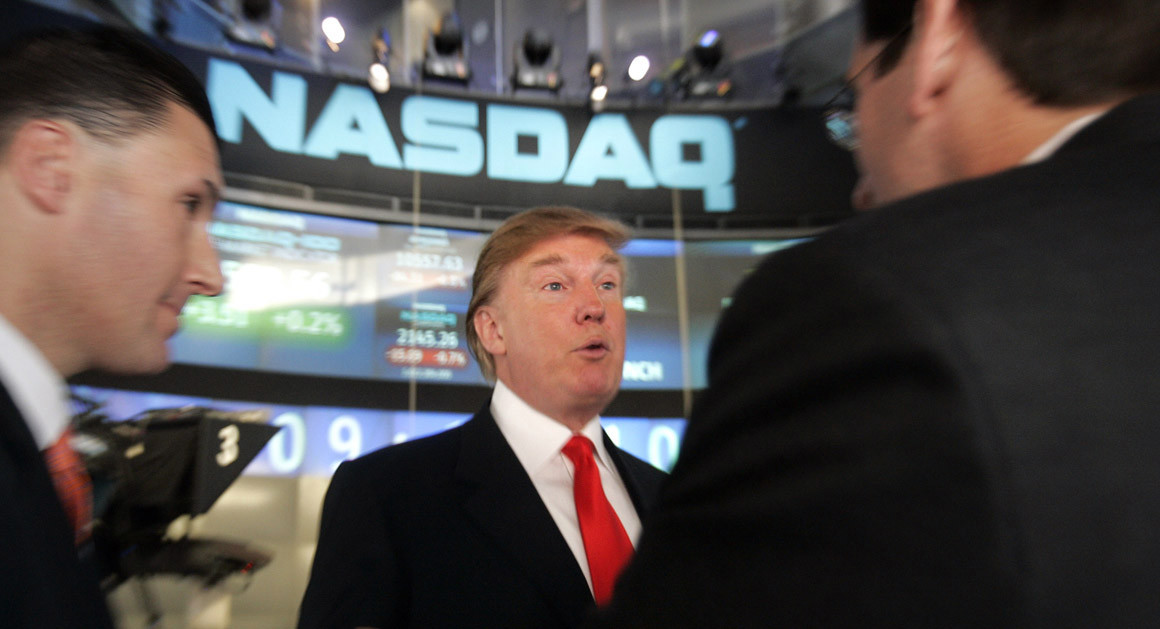 By Investors Hub
The major U.S. index futures are currently pointing to a modestly higher opening on Friday after the major averages closed mixed for two straight sessions.
The markets may benefit from optimism that stimulus packages by central banks around the world will help bolster slowing economic growth.
Traders also remain hopeful about an eventual end to the U.S.-China trade war, with deputy U.S. and Chinese trade negotiators resuming talks for the first time in almost two months on Thursday.
The deputy-level talks this week are expected to help pave the way for more productive high-level U.S.-China trade talks next month.
On the trade front, a report from Politico says the Trump administration is exempting hundreds of Chinese products from tariffs imposed last year.
The report, confirmed by CNBC, says the list of exemptions includes products such as Christmas tree lights, plastic straws, and pet supplies.
Politico said the exemptions are less about placating China than they are an effort to provide relief to some U.S. companies who say they have been harmed by the tariffs.
Meanwhile, on a quiet day on the U.S. economic front, St. Louis Federal Reserve President James Bullard released a statement explaining his preference for cutting interest rates by 50 basis points at the Fed meeting earlier this week.
Bullard cited signs that U.S. economic growth is expected to slow in the near horizon as well as continued indications of low inflation.
?In light of these developments, I believe that lowering the target range for the federal funds rate by 50 basis points at this time would provide insurance against further declines in expected inflation and a slowing economy subject to elevated downside risks,? Bullard wrote.
He added, ?It is prudent risk management, in my view, to cut the policy rate aggressively now and then later increase it should the downside risks not materialize.?
Stocks saw moderate strength throughout morning trading on Thursday before giving back ground over the course of the afternoon. The major averages pulled back well off their highs before eventually closing mixed for the second straight day.
While the Dow dipped 52.29 points or 0.2 percent to 27,094.79, the Nasdaq inched up 5.49 points or 0.1 percent to 8,182.88 and the S&P 500 crept up 0.06 points or less than a tenth of a percent to 3,006.79.
The lackluster close on Wall Street came amid continued uncertainty about the outlook for interest rates following the Federal Reserve's monetary policy announcement on Wednesday.
The Fed lowered interest by 25 basis points as expected but indicated officials are mixed about whether the central bank should cut rates again before the end of the year.
While seven participants expect another rate cut before the end of year, five expect rates to remain unchanged and another five expect rates to be raised back to 2 to 2-1/4 percent.
The central bank reiterated that it will "act as appropriate" to sustain the economic expansion, with a strong labor market and inflation near its symmetric 2 percent objective.
CME Group's FedWatch Tool currently indicates a mixed outlook for rate cuts at the Fed's next meetings in October and December.
On the U.S. economic front, the Labor Department released a report showing a modest rebound in initial jobless claims in the week ended September 14th.
The report said initial jobless claims inched up to 208,000, an increase of 2,000 from the previous week's revised level of 206,000. Economists had expected jobless claims to climb to 213,000.
A separate report from the Philadelphia Federal Reserve showed a modest slowdown in the pace of growth in regional manufacturing activity in the month of September.
The Philly Fed said its diffusion index for current general activity fell to 12.0 in September from 16.8 in August, although a positive reading still indicates growth in regional manufacturing activity. The index had been expected to drop to 11.0.
Looking ahead, the survey's future general activity index moderated but continues to suggest growth over the next six months.
The National Association of Realtors also released a report showing an unexpected jump in existing home sales in the month of August.
NAR said existing home sales surged up by 1.3 percent to an annual rate of 5.49 million in August after spiking by 2.5 percent to a rate of 5.42 million in July.
The continued increase came as a surprise to economists, who had expected existing home sales to pull back by about 0.4 percent.
"Buyers are finding it hard to resist the current rates," said NAR chief economist Lawrence Yun. "The desire to take advantage of these promising conditions is leading more buyers to the market."
Tobacco stocks moved sharply lower over the course of the trading session, dragging the NYSE Arca Tobacco Index down by 2.7 percent. The index tumbled to its lowest closing level in over seven months.
Significant weakness was also visible among steel stocks, as reflected by the 1.6 percent drop by the NYSE Arca Steel Index.
U.S. Steel (X) plunged by 11.1 percent after lowering its third quarter guidance due to a drop in steel prices and deteriorating market conditions in Europe.
Energy stocks also came under pressure as the price of crude oil pulled back off its early highs, while gold stocks showed a significant move to the upside.
The NYSE Arca Gold Bugs Index surged up by 2.3 percent even though the price of gold for December delivery moved lower on the day.
Notable strength also remained visible among software stocks, with the Dow Jones U.S. Software Index climbing by 1.3 percent.
Microsoft (MSFT) posted a strong gain after raising its quarterly dividend by $0.05 to $0.51 per share and announcing plans to buy back up to $40 billion worth of stock.
Achieve Greater Control of Your Assets with a Living Trust
By FBNQuest
Estate Planning is more about gaining control of your assets while you are alive than about one's passing. A Living Trust (an Estate Planning tool) is one way by which individuals maintain control over their assets whilst alive and also have their wishes carried out when they pass on. It is called a Living Trust because it takes effect during the lifetime of the individual who set it up.
Indeed, the power of a Trust is in the control. A Trust left for a beneficiary will be held and managed by a Trust organisation and the assets could then be distributed to the beneficiary in a predetermined way.
The design of the Trust will ensure that other interested parties are unable to change the instruction of the creator of the Trust. With this arrangement, you are able to achieve greater control over what happens to your assets, providing greater security for the beneficiaries of the Trust.
A Trust also allows you to control how the assets in the Trust are managed, ensuring that only those that you specify can stake a claim to them.
A Living Trust can be revocable or irrevocable. A Revocable Trust can be revoked or amended, but an Irrevocable Trust cannot be changed once it is executed. The assets placed into a properly drafted Irrevocable Trust are permanently removed from the Estate of the individual. They are therefore not considered part of the Estate and will not be subject to estate taxes in the event of the creator's demise.
In addition to estate tax savings, a Living Trust can offer you tremendous flexibility and efficiency. It can hold the money for your minor children until they are responsible enough to manage the money themselves. If you cannot trust your children or any other beneficiary with the responsibility of managing your assets after your demise, the Trust can address this concern. The trustee can do so by holding the assets in trust for the Settlor's lifetime and only distribute it to the beneficiary as stated in the Trust.
Placing your assets in the Trust during your lifetime instead of a Will also helps you avoid probate. A Will that is probated as well as other information relating to the assets listed in the Will becomes a public record when you pass on. In contrast, a Living Trust is a private document and the assets listed in it will not be exposed to the general public.
The added benefit of a Living Trust is its usefulness during your lifetime in the event that you become incapacitated. You can arrange for a Trustee to manage the Trust assets on your behalf in the event that you are unable to make decisions for yourself.
Does a Living Trust sound like a good fit for you to gain control of your assets while preparing to gift these assets to a beneficiary? If so, consider reaching out to FBNQuest Trustees. We can help you create a Living Trust agreement that outlines how the Trust assets are to be managed and distributed.
Our team will also walk you through the process of transferring assets to the Trust. The process may take less time than you think.
C&I Leasing Drops Centurion Registrars Limited
By Aduragbemi Omiyale
Centurion Registrars Limited has been dropped as the registrar of C&I Leasing Plc, a statement from the company has confirmed.
Centurion Registrars was replaced by C&I Leasing with Cordros Registrars Limited, a notice signed by the company secretary, Mbanugo Udenze & Co, stated.
It was disclosed that the appointment of the new registrar became effective from January 1, 2022.
"C&I Leasing Plc hereby notifies Nigerian Exchange Limited (NGX), its shareholders and the investing public of the appointment of Cordros Registrars Limited as its Registrars, share registration and data management service provider.
"Cordros Registrars Limited replaces Centurion Registrars Limited and takes over the register of members of C & I Leasing Plc effective January 1, 2022," the disclosure stated.
C&I Leasing is one of the companies trading its shares on the Nigerian stock exchange. It provides both operating and finance leases and other services.
Its principal activities include the extension of structured operating and finance leases to the productive and other sectors of the economy.
The company was established in 1990 as a private organisation but was converted into a public company listed at the Nigerian stock exchange in 1997.
The Ghanaian subsidiary of the group; Leasafric Ghana Plc is the largest provider of fleet management services in Ghana.
The fleet management, which is managed along with the Hertz car rental franchise in Nigeria, is adequately supported by C&I leasing's own service centre and their Citracks Telematics solutions making the fleet management business a one-stop brand for fleet management services.
Over the weekend, in a chat with newsmen, its chief executive, Mr Ugoji Ugoji, said the firm was planning to explore opportunities in the digital space to grow its revenue on a sustainable basis despite the pandemic.
He also stated that C&I Leasing will retool its fleet business and focus on vehicle fleets due to increased opportunity in the space.
Nigeria's December 2021 Inflation Jumps to 15.63%
By Dipo Olowookere
For the first time in nine months, the inflation rate in Nigeria increased to 15.63 per cent year-on-year in December 2021, data released by the National Bureau of Statistics (NBS) on Monday stated.
In the previous eight months, the inflation rate in Nigeria had slowed, declining to 15.40 per cent in November 2021, according to the stats office.
In the report released today, the NBS said when compared with the corresponding period of 2020, inflation, which is a measure of the consumer price index (CPI), moderated by 0.13 per cent as it stood at 15.75 per cent a year ago.
The stats office further disclosed that increases were recorded in all COICOP divisions that yielded the headline index and on a month-on-month basis, it rose by 1.82 per cent last month, 0.74 per cent higher than the 1.08 per cent recorded in November 2021.
In addition, the percentage change in the average composite CPI for the 12-month period ending December 2021 increased by 16.95 per cent from 16.98 per cent over the average of the CPI for the previous 12-month period recorded in November 2021 down by 0.03 per cent points.
As for urban inflation, it increased by 16.17 per cent (year-on-year) in December 2021 from 16.33 per cent in December 2020, while rural inflation jumped by 15.11 per cent in December 2021 from 15.20 per cent in December 2020.
On a month-on-month basis, the urban index rose by 1.87 per cent in December 2021, up by 0.75 the rate recorded in November 2021, which stood at 1.12 per cent, while the rural index also rose by 1.77 per cent in December 2021, up by 0.73 the rate that was recorded in November 2021, which was 1.04 per cent.
Business Post reports that in the period under review, the composite food sub-index rose by 17.37 per cent compared with 19.56 per cent a year ago, indicating a decline by 2.19 per cent.
The NBS attributed this to moderation in the prices of bread and cereals, food product, meat, fish, potatoes, yam and other tuber, soft drinks and fruit.
On a month-on-month basis, the food sub-index increased by 2.19 per cent in December 2021, up by 1.12
Per cent from 1.07 per cent recorded in November 2021.
It said the average annual rate of change of the food sub-index for the 12-month period ending December 2021 over the previous twelve-month average was 20.40 per cent, 0.22 per cent lower than the average annual rate of change recorded in November 2021, which stood at 20.62 per cent.
Latest News on Business Post