Yuguda Resumes as SEC DG, Promises Investor Protection
By Modupe Gbadeyanka
The newly appointed Director-General of the Securities and Exchange Commission (SEC), Mr Lamido Yuguda, on Monday, July 6, 2020, resumed as the Abuja office of the commission.
Mr Yuguda resumed alongside the Executive Commissioners namely: Mr Reginald Karawusa, Mr Ibrahim Boyi and Mr Dayo Obisan.
At his resumption, he said the capital market has a lot of potentials for growth and development of Nigeria post-COVID-19 and beyond.
According to him, the capital market remains a very crucial component of any economy, noting that the agency has over the last two decades worked with other relevant stakeholders to introduce and implement various initiatives targeted at improving the regulation and development of the market.
He said the capital market master plan launched in 2014 has the objective of positioning the capital market for an accelerated development of the national economy.
"Many of the plan's initiatives have been successfully implemented while many others are Work in Progress in line with its objectives.
"Therefore, the continued implementation of the plan will be one of the major focus of the incoming management, while we also seek possible ways of strengthening it for enhanced impact. We would equally work towards improved market regulation, surveillance and general development."
He stated that in order to do this effectively, "we will need to develop relevant capacities and foster collaboration in achieving our mandates."
Mr Yuguda assured that the new management will work to the best of their abilities to uphold things on the ground and consciously seek ways to improve them to the benefit of all stakeholders.
"Together we must set our sights on achieving those milestones that are capable of making the capital market a powerful engine of growth for the Nigerian economy, with God's help and our collective resolve and dedication, we shall succeed," he added.
He further stated that investor protection would be at the centre of the initiatives of the new management warning that any operator that short-changes investors would not go Scott free.
"We want to assure investors that this market is for them and we are ready to do everything to ensure that we increase investor enlightenment through education, robust regulation and fair dealing.
"For those that want to defraud investors, there would be no respite because we are ready to fight market manipulation to the last, anyone that flouts our rules will be made to face the consequences of their actions," he stated.
In her brief remarks before the handover, the outgoing acting Director-General of SEC, Ms Mary Uduk, said the commission has in the past few years undertaken key reforms and achieved some regulatory millstones and expressed the hope that the new management will build on achievements recorded so far.
According to her, "In implementing the commission's mandate of regulating and developing the Nigerian capital market, most of our recent activities are guided by the Capital Market Master Plan (2015-2025).
"This is a 10-year plan with over 100 initiatives to position the capital market for accelerated development of the national economy.
"It has an implementation governance structure (CAMMIC) to drive advocacy and ensure national buy-in. Through this, a series of engagement has been made with many of the Plan's initiatives achieved."
AfDB to Establish Onion Commodity Exchange in Sokoto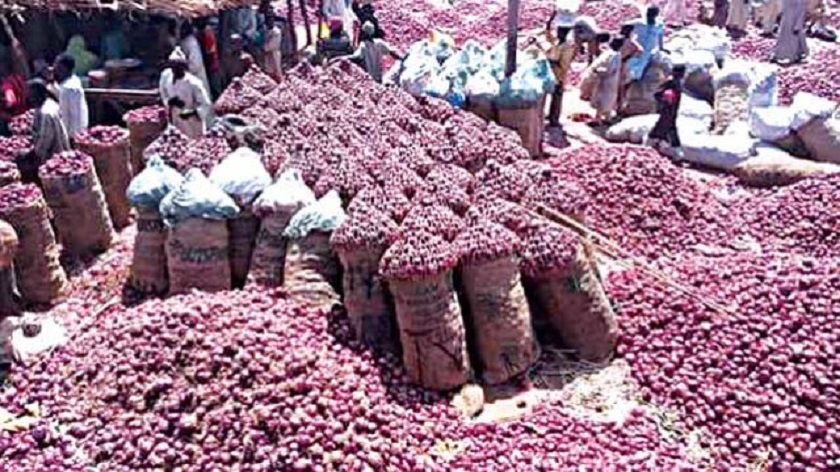 By Adedapo Adesanya
The Sokoto State Governor, Mr Aminu Waziri Tambuwal, has revealed that the African Development Bank (AfDB) will soon facilitate the establishment of an Onion Commodity Exchange in the state.
According to the Governor, this was part of the outcomes of a high-level meeting he and some of his Commissioners had with the management team of the bank last week in Abidjan, Côte d'Ivoire.
A statement signed by his media aide, Mr Muhammad Bello, said the Governor made this known at the closing of a three-day training for budding entrepreneurs in the state last week, adding that his administration was dedicated to supporting indigenous farmers.
The realisation of the plan will make such an establishment the 15th of its kind in Africa and the fourth in the country after the Abuja Securities and Commodity Exchange, Lagos Commodities and Futures Exchange; and AFEX Commodities Exchange Limited.
In economic parlance, trading in exchanges includes derivatives contracts, such as forwards, futures, options and spot trades- focusing on immediate delivery.
It could also be traded on interest rates, foreign exchange futures, freight contracts instruments and environmental instruments.
According to the statement, Mr Tambuwal revealed that "during our visit to the AfDB, we had engagements with them and agreed that an Onion Commodities Exchange will be established in Sokoto with the help of the bank on the framework and technical support."
He said the potential for onions trade abounds in the state, thus putting it in the topmost position of states cultivating the commodity in the country.
He cited an example of an individual in Abidjan, who transacts over N2.8 billion onion trade annually from Sokoto-Côte d'Ivoire, elaborating that the result of a survey he commissioned has revealed that from onion trade alone, the state engages in an annual transaction of between N250 and N300 billion.
Over the past few months, several stakeholders have been looking at how to push the onion species produced in the country to one of the best in the world.
Experts note that because of its strong pungency, it is exported to many countries including France, Japan, India, Niger Republic, Ghana and others.
GSK Consumer Healthcare Business Not Worth Than £50bn—Unilever
By Dipo Olowookere
Unilever Plc has said it will not increase its £50 billion bid for the acquisition of GSK Consumer Healthcare business owned by GlaxoSmithKline, which was earlier rejected by the company.
In a statement issued last Saturday, GSK confirmed that it "received three unsolicited, conditional and non-binding proposals from Unilever" for the acquisition of its consumer healthcare arm, which is jointly owned by GSK and Pfizer, with GSK holding a majority controlling interest of 68 per cent and Pfizer 32 per cent.
According to GSK, the acquisition value of £50 billion comprising £41.7 billion in cash and £8.3 billion in Unilever shares was below the true value of the business.
The offer was rejected, according to the company, because the consumer healthcare business was "fundamentally undervalued" as the business has great "future prospects", which was not factored into the proposals.
"The board of GSK is strongly focused on maximising value for GSK shareholders and has carefully evaluated each Unilever proposal.
"In doing so, the board and its advisers assessed the proposals relative to the financial planning assessments completed to support the proposed demerger of the business in mid-2022, including the sales growth outlook," a part of the statement noted.
But reacting to the rejection in a statement on Wednesday, Unilever said it does not feel that the value of the GSK consumer business is worth more than its £50 billion valuations and because of that, it would not increase it.
"We note the recently shared financial assumptions from the current owners of GSK Consumer Healthcare and have determined that it does not change our view on fundamental value," the statement said.
Unilever said, "Accordingly, we will not increase our offer above £50 billion," noting that it will continue to maintain "strict financial discipline to ensure that acquisitions create value for our shareholders."
"Unilever also reiterates its commitment to continuing to improve the performance of its existing portfolio through its ongoing focus on operational excellence, its upcoming reorganisation and by rotating the portfolio to higher growth categories," it added.
Unilever and GSK both have subsidiaries in Nigeria and are also listed on the local stock exchange.
Business Post reports that on Wednesday, shares of Unilever Nigeria closed flat N13.20, while GSK rose by 0.84 per cent to N6.00 from N5.95.
Airtel Africa, Others Lift NGX All-Share Index Above 45,000 Points
By Dipo Olowookere
The Nigerian Exchange (NGX) Limited appreciated by 1.73 per cent on Wednesday amid interest in some blue-chips equities trading on the platform, including Airtel Africa.
The stock price of the telco rose by the maximum 10.00 per cent at the midweek session to close at N1,155.50 and was trailed by Cornerstone Insurance, which gained 6.00 per cent to trade at 53 kobo.
Courtville appreciated by 5.26 per cent to quote at 40 kobo, Union Bank rose by 4.46 per cent to N5.85, while Seplat improved by 4.36 per cent to sell for N720.10.
On the flip side, FTN Cocoa topped the losers' chart yesterday with a price depreciation of 7.69 per cent to trade at 36 kobo, Consolidated Hallmark Insurance lost 7.25 per cent to close at 64 kobo, Regency Assurance fell by 6.67 per cent to 42 kobo, Japaul depreciated by 4.76 per cent to 40 kobo, while Jaiz Bank went down by 4.55 per cent to 63 kobo.
At the close of business, a total of 16 stocks appreciated in price while 17 stocks depreciated in price, indicating a negative market breadth and a weak investor sentiment.
Business Post reports that only the consumer goods sector ended bearish as it dropped 0.02 per cent as the industrial goods sector closed flat, with the energy, insurance and banking counters appreciating by 2.21 per cent, 0.59 per cent and 0.50 per cent respectively.
When the closing gong was beaten by 2:30 pm yesterday, the All-Share Index (ASI) rose by 774.25 points to 45,430.14 points from 44,655.89 points, while the market capitalisation expanded by N417 billion to N24.477 trillion from N24.060 trillion.
It was observed that the activity level improved on Wednesday as investors traded 252.9 million stocks valued at N8.9 billion in 4,218 deals as against the 235.2 million stocks valued at N1.9 billion transacted on Tuesday in 4,151 deals, indicating an increase in the trading volume, value and number of deals by 7.53 per cent, 365.28 per cent and 1.61 per cent respectively.
GTCO emerged as the most active stock of the session with a turnover of 25.5 million units valued at N649.4 million, followed by Dangote Cement, which commenced its share buy-back scheme during the session with the sale of 24.5 million units worth N6.5 billion.
FBN Holdings traded 23.1 million shares for N277.2 million, Fidelity Bank exchanged 21.1 million equities worth N57.2 million, while FCMB exchanged 12.9 million stocks for N38.8 million.
Latest News on Business Post