CIS Extends March 2017 Professional Exam Registration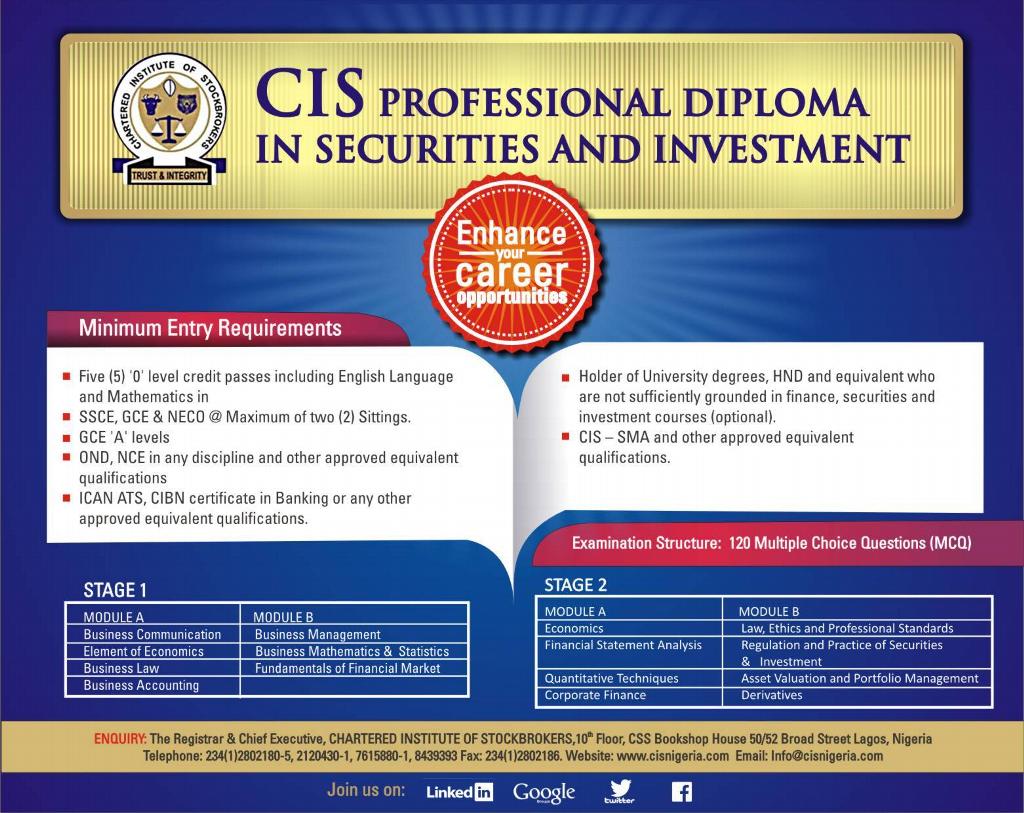 By Modupe Gbadeyanka
The March 2017 Professional Examination Registration of the Chartered Institute of Stockbrokers (CIS) has been extended, Business Post has learnt.
Our correspondent gathered that the exercise has now been extended till Tuesday, March 14, 2017.
Every year, the CIS conducts professional examinations for stockbrokers in March and September.
The professional examinations are tightly scheduled and highly structured, student-centred programmes.
Applicants are required to "possess a minimum qualification of first degree (HND/B.Sc) or equivalent qualification, and complete a compulsory Online Student Registration Form."
On completion of the Online Student Registration Form, applicants are prompted to pay the required student membership fees of N10,000 through any of its online payment engines like Quickteller, E-tranzact (cash or card) and Interswitch.
For more information, applicants can reach the institute via the following mobile numbers; 08033373004, 08033288343 or 08025244544.
Airtel to Accelerate Digital Learning for Nigerian Children
By Modupe Gbadeyanka
Nigerian children have been reassured of the commitment of Airtel Nigeria to accelerating digital learning in the country.
As part of activities to commemorate World Children's Day, the telecommunications service provider partnered with UNICEF to host Augusta Anuguo (Esther), the differently abled child star featured in Airtel's latest TVC, Esther.
During the ceremony at the Airtel headquarters in Ikoyi, Lagos, Miss Anuguo had the rare privilege to function in the capacity of Airtel Nigeria's CEO and MD, Mr Surendran Chemmenkotil, as she emerged CEO for the day.
Using this privilege and executive powers as CEO, she remarkably led an advocacy campaign for Nigerian children, especially the differently abled, as she signed a policy for Airtel Nigeria to continue to pursue opportunities that will accelerate digital learning for all children in the country, regardless of ethnicity, location, or ability.
Impressed with her performance, Mr Chemmenkotil awarded the sum of N1.5 million to Miss Anuguo to support her education and her advocacy for Nigerian children as a key influencer.
"I am also happy to offer Miss Anuguo a scholarship of N1.5 million to support her education. This gesture is to encourage her to continue her advocacy for differently abled children as she champions their cause as a key influencer. Thank you for all you do, Anuguo," he said.
The Airtel Nigeria boss also stated that, "Airtel Nigeria joins UNICEF and the entire world to mark World Children's Day. As a company, Airtel is committed to Nigerian children and will continue to support initiatives that will create a better future for all children.
"We are happy to mark this day with Esther as well as all Nigerian children, and we shall continue to support platforms and initiatives that will lead to a better future for all children in our dear country, Nigeria."
World Children's Day was first established in 1954 as Universal Children's Day and is celebrated on November 20 each year to promote international togetherness and awareness among children worldwide and improve children's welfare.
Egbeyinka Elizabeth Shines at 8th Glorious Vision University Convocation
By Modupe Gbadeyanka
A student of the Department of Chemical Science of Glorious Vision University (GVU), Ogwa, Edo State, Miss Egbeyinka Elizabeth, was the cynosure of all eyes at the institution's 8th convocation ceremony held recently.
Miss Egbeyinka emerged as the best graduating student with a 4.82 Cumulative Grade Point Average (CGPA), sweeping several awards and cash gifts at the event.
Business Post gathered that the brilliant student went home with the Vice-Chancellor prize for Overall Best Student, TACN Remo Area prize for Best Graduating TACN Member Student, and Departmental prize for Best Student in the Department of Chemical Sciences.
She also won Professor (Mrs) May Foluso Ogbe prize for Overall Best Graduating Female Student, Professor (Mrs) Olusola Omueti prize for Overall Best Graduating Student in Bio-Chemistry, Deaconess (Dr) P. A. Akpan prize to the Best Graduating Science Student, and Dean, COLBAS prize for Best Student in the College of Humanities.
At the programme, Miss Egbeyemi was commended for her brilliance and charged to continue to be a good ambassador of the institution by imbibing the knowledge she has acquired from the school.
In his speech at the convocation, the Visitor and Chancellor of Glorious Vision University, Pastor Emmanuel Segun Awojide, congratulated the graduating students, saying the accomplishment was worth celebrating.
He also tasked Nigerians to keep praying for the country, especially as the nation prepares for the general elections in 2023, stating that Nigeria, especially the church, is in dire need of the right leaders to steer the ship of the country to the Promised Land.
The cleric, who doubles as the National Vice President and LAWNA Territorial Chairman of The Apostolic Church Nigeria (TACN), emphasised that Nigerians must cry out to God, who he said owns Nigeria.
The man of God, represented by the Vice Chairman of LAWNA Territory, Pastor Okpako Uyeh, also used the occasion to thank members of the church for supporting GVU, which used to be known as Samuel Adegboyega University (SAU).
"Let me thank all sponsors and members of The Apostolic Church Nigeria LAWNA Territory for their overwhelming support to the growth and development of the Glorious Vision University despite the current economic hardship in the country. This sacrifice will not go unrewarded in Jesus' name," Pastor Awojide, who is also the National Chairman of the Christian Pentecostal Fellowship of Nigeria (CPFN), stated.
A total of 100 students graduated with various degrees at the 2022 convocation attended by several persons. The school, established by TACN, awarded diploma degrees to three students, first degrees to 94 students and second degrees to four students.
Adeniran Praises Makinde for Allocating 18.78% of 2023 Budget to Education
By Modupe Gbadeyanka
The Governor of Oyo State, Mr Seyi Makinde, has been applauded by the Chairman of the Oyo State Universal Basic Education Board (Oyo SUBEB), Mr Nureni Aderemi Adeniran, for allocating more funds to education in the 2023 budget.
Speaking recently on a live programme on the Oyo State Broadcasting Corporation (BCOS) in Ibadan, the state capital, the educationist said this was commendable.
According to him, education has the second largest allocation in the proposed 2023 appropriation bill presented to the Oyo State House of Assembly by Mr Makinde.
He said with a budget of N58.2 billion, the government has recorded an unprecedented affection for education.
Mr Adeniran said Governor Makinde had maintained an unbroken record of allocating huge funds for the overhaul of the sector, especially the basic education sub-sector he supervises.
"Governor Makinde's record of allocating funds for education conforms to UNESCO standards of 15-20 per cent of the budget. In fact, this time, education is 18.78 per cent of the total budget proposal," he said.
Speaking further, the Oyo SUBEB chief lauded the current administration for consistently maintaining an 18 per cent to 22 per cent budgetary allocation.
He insisted that this has helped the state in regular payment of the Universal Basic Education Commission (UBEC) counterpart funding and received matching grants, "enabling us to execute numerous projects in the education sector."
"Oyo State Universal Basic Education Board has so far completed over 56 model schools and constructed and renovated over 700 classroom blocks across Oyo State, among other projects," he affirmed.
He, therefore, appealed to residents of the state to re-elect Governor Makinde for a second term, saying his efforts to make Oyo better could be further actualised with continuity.
Latest News on Business Post