Enetsud Laments Poor State of Education in Kwara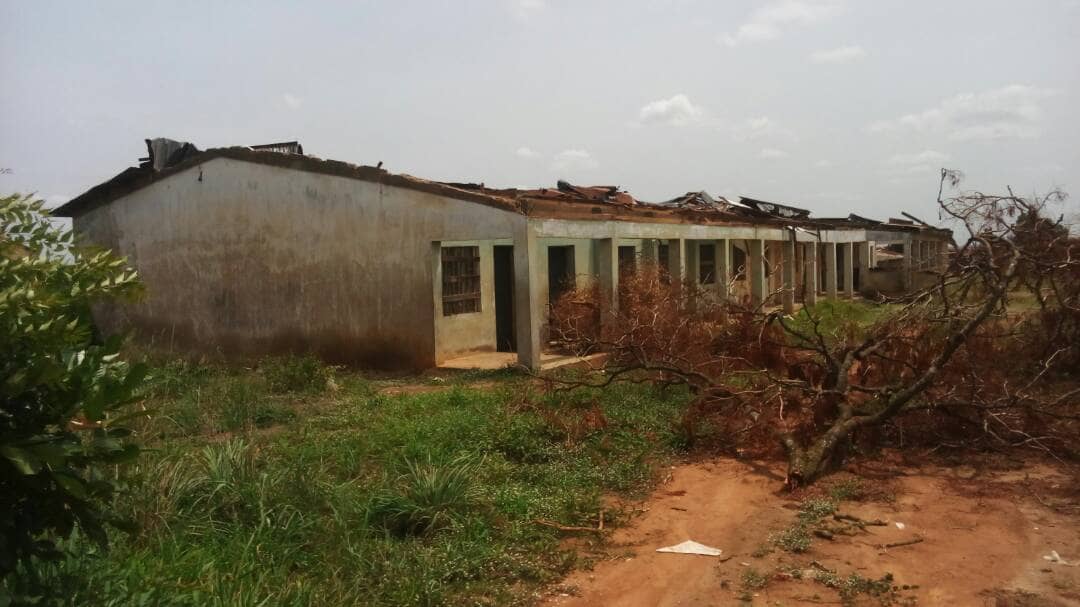 By Dipo Olowookere
A Civil Society Organisation (CSO) in Kwara State, Elites Network for Sustainable Development (ENetSuD), has called on the state government to prioritize funding of the state-owned schools and declare a state of emergency in the educational sector.
The group described most of the public schools in the state as a caricature of their old setting.
In a press statement signed by its Coordinator, Dr Alagbonsi Abdullateef, and made available to journalists, ENetSuD noted that funding of education across the state has been grossly inadequate.
As part of ENetSuD obligation to bringing the state government's attention to areas of public interest that need immediate government's intervention, the group's Directorate of Investigation and Public Petition visited some schools across Kwara state, including Ilorin Grammar School (IGS) Ilorin, Government High School (GHS) Ilorin, Government Secondary School (GSS) Ilorin, Mount Carmel College (MCC) Ilorin, Government Technical College (GTC) Patigi, Islamiyyah College Patigi, Taoheed LGEA Primary School Offa, and over 30 other schools across Kwara state where the 2017 Federal Government Zonal Intervention Projects were located. Our investigation showed that the public schools across Kwara state are in a state of shame.
The deplorable conditions of the schools with dilapidated structures make them unhealthy for effective teaching and learning. This could have been one of the reasons for low patronage of public schools, thereby making privates schools the next option for people who want a befitting school for their children and wards. Due to the negligence by Kwara state government, it is regrettable that the reputable schools in the past that produced virtually all the important personalities in Kwara state are now the options for only the poorest and vulnerable Kwarans who cannot afford to pay the fees of Private schools.
A great scholar once said "If you want to destroy any community, you don't need weapons. All you have to do is to reduce the quality of education. In addition to infrastructural decay, ENetSuD also learnt that staffing is another major problem facing public schools in most communities of Kwara state outside Ilorin. Taking Patigi Local Government as a case study, our investigation revealed that the following schools have only 5 teaching staff as at January 2018: L.G.E.A Matokun, L.G.E.A Esun Dari, J.S.S Edogi Chapa and J.S.S Kpada; while the following schools have only 4 teaching staff Ragada/Likofu L.G.E.A Primary School, Siratal Mustaqim, L.G.E.A Gbaradogi, L.G.E.A Gudugi, L.G.E.A Chitta, L.G.E.A Ekati, L.G.E.A Wodata, L.G.E.A Edogi Chapa, L.G.E.A Ndanaku, L.G.E.A Bongi, LGEA Sakpefu, L.G.E.A Fey and L.G.E.A Echi Ewada. Also, these schools have only 3 teaching staff, Idris Gana Primary School, Patigi, Tswatagi, L.G.E.A Sunkuso, L.G.E.A Gbadokin, L.G.E.A Gbodu, Islamic Sunkuso, L.G.E.A Rifun, L.G.E.A Sheshi Tasha, L.G.E.A Mawogi, L.G.E.A Gada Woro, L.G.E.A Gada Bozuwa, L.G.E.A Mari, L.G.E.A Kpevun, L.G.E.A Chenu, L.G.E.A Kanworo, L.G.E.A Dakani, L.G.E.A Sanchita, L.G.E.A Rani Ndako, L.G.E.A Gbodonji, L.G.E.A Chenegi, L.G.E.A Dzako, L.G.E.A Sakpefu Islamic, L.G.E.A Egwa Mama, L.G.E.A Rogun, J.S.S Rogun and J.S.S Jahada-Deen. Furthermore, there were schools found to have only two (2) teaching staff: Edogi Kpansanako, L.G.E.A Ellah Edozhigi, L.G.E.A Gada Maaji Ndako, L.G.E.A Dina, L.G.E.A Gbangede, L.G.E.A Rani Woro, L.G.E.A Edogi Kpetia, L.G.E.A Dzwajiwo, L.G.E.A Kusogi, L.G.E.A Kokparagi, L.G.E.A Ebu, L.G.E.A Reshe, L.G.E.A Guluka, L.G.E.A Dobo, L.G.E.A Maagi, L.G.E.A Zhitswala, L.G.E.A Wako, L.G.E.A Latayi, L.G.E.A Mamba, L.G.E.A Koro and J.S.S Gada Woro. In fact, many schools are with only 1 teaching staff: Nomadic Kparumagi, Nomadic Rifun, L.G.E.A Agboro, L.G.E.A Lile, L.G.E.A Kakafu, L.G.E.A Gunji Sachi, L.G.E.A Gbafu, L.G.E.A Emiworogi, L.G.E.A Ezhigiko, L.G.E.A Eka, L.G.E.A Pati Wodata, L.G.E.A Duro, L.G.E.A Darulsalam Kpada, L.G.E.A Babogi, L.G.E.A Tsanban, L.G.E.A Sokingi, L.G.E.A Kpatagban, L.G.E.A Jida, L.G.E.A Gakpan, L.G.E.A Kajita, L.G.E.A Lusama, L.G.E.A Nomadic Latayi, L.G.E.A Nomadic Rogun, L.G.E.A Yagbagi, L.G.E.A Suku, J.S.S Kusogi, and J.S.S Sunkuso.
How then, is effective teaching and learning expected to take place in these schools considering the grossly insufficient number of teaching staff. It is also quite worrisome that despite the large number of certified & qualified Kwaran graduates who are yet to be gainfully employed and who could fill up the shortage of staff in these schools so as to promote the standard of education in the state and reduce unemployment, majority of public schools in the state still remained highly understaffed.
ENetSuD had earlier issued statements to call the attention of the state government to the pitiable conditions of Islamiyyah College and Government Technical College, both in Patigi LGA of the state. Responding to the statement of ENetSuD, Governor of Kwara State, Mr Abdulfatah Ahmed, explained through his official Twitter handle on June 29, 2018 that: "the state of this school is one of the reasons I have severally called for emergency reforms in the education sector. A country's development trajectory is firmly subject to the range and quality of its educational system. As it stands, ours require reform urgently. States are expected to fund school infrastructure through matching grants from Universal Basic Education Commission (UBEC). Currently, most States are unable to afford the counterpart funds to access the grants. Also, UBEC grants only cover primary schools and Junior Secondary Schools (JSS). How can we rehabilitate JSS and ignore Senior Secondary School classrooms? We need to reform UBEC to ease States' access to the funds and expand its remit. That is a key way to address education infrastructure at pre-tertiary levels". The governor also claimed to have rehabilitated 400 blocks of classrooms at primary and secondary school levels across the state and promised to do more.
The ENetSuD said it was aware of and commended the construction of classrooms in various schools across Kwara state by federal government as part of the Zonal Intervention (Constituency) Projects nominated by the federal legislators from Kwara state.
"We also commend the state government for the creation of IVTEC Ajase-Ipo, which will definitely promote vocational and technical education in Kwara state.
"However, we totally condemn the consistent lack of maintenance culture by the state government on the already existing schools and their classrooms. Based on the pitiable level of negligence of various schools, we do not have confidence that the state government will also maintain the classrooms recently built with tax-payers money.
"Quality basic education is one of the things that must be provided by any responsible government, which will have direct impact on the lives of all Kwarans. We strongly recommend that the state government provide adequate budgetary provisions for the counterpart funds that will enable it secure the UBEC grants, so as to address the infrastructural needs of our schools.
"Moreover, the state government should totally take charge of the infrastructural needs of the Senior Secondary School, since the Primary and the Junior Secondary Schools have been covered by UBEC grants.
"Overall, we are calling on the Kwara State government to urgently declare a state of emergency in the educational system of the state," the group said.
LuTA Digital School to Revolutionise Education System in Africa
By Adedapo Adesanya
LuTA, an education technology platform, has launched its operations to spur digital education in Africa with plans to make the continent competitive when it comes to skills relevant to the 21st century.
To achieve this, the startup has built a digital school to be at the forefront of digital education in Africa to unlock global opportunities, marketability and talent with code and no-code tech skills.
The company currently has more than 11,000 applicants, and projections show that it is on its way to training five million students annually across Africa within the next five years.
The African online education market will be worth $77 billion by 2026, but this is affected as more than 900 million Africans do not have access to quality education due to broken, expensive, outdated and archaic knowledge, curriculum and teaching method that have stalled growth in Africa.
However, with a growing internet penetration on the continent set to reach 1.24 billion in 2025, the opportunities are boundless and LuTA with its digital school hopes to capitalise on this to bridge the gap and unleash the potential and ingenuity of youths across the continent.
According to the founder and Chief Executive Officer (CEO) of LuTA, Mr Kolawole Akinsumbo, the school will help revolutionise the education system in Africa as well as promote inclusivity for people based on their various skill levels.
"We are building a digital school to change the African narrative and to make digital education accessible in Africa to unlock global opportunities, marketability and talent with code and no-code tech skills.
"Poverty, exclusion, and skill chasm is already pilling pressure on the ability for people to be educated. Africa is bedevilled by many issues. In some places, conflict is not allowing children and youths to go to school, some were heavily impacted by the coronavirus, and even in places with relative peace, there is one strike or the other making it difficult to get the proper education.
"So, we can see that this only points to the fact that the current education system is not working and we want to eliminate these barriers with our digital school offering which will train about five million people in the next few years," he said.
Entries for Ecobank National Essay Competition Close Saturday
By Dipo Olowookere

The national essay competition organised by Ecobank Nigeria Limited to commemorate Children's Banking Month is gradually gaining momentum, especially as the window for the submission of entries draws closer.
According to the financial institution, all entries are expected to be filed to AllENG-ConsumerProductsTeams@ecobank.com, with the contact details of the parent/guardian on or before Saturday, May 21, 2022, at 12 noon.
Results would be sent on all entries by Wednesday, May 25 at 12 noon and winners will be celebrated and given their gifts on May 28, 2022, as part of activities to mark the International Children's Day.
The contest is for children between the ages of 13 and 16 and the topic is What will you consider as the future of banking. Participants are required to write the essay in 400 words, in font size 12 with one and a half line spacing. Winners would be given laptops, educational tabs, and several consolation prizes.
The Head of Consumer Banking at Ecobank Nigeria, Mrs Korede Demola-Adeniyi, in a statement made available to Business Post, explained that the bank initiated the competition to expose children to financial education early in life, adding that it is also part of the lender's commitment towards the Nigerian child.
According to her, "the month of May is set aside by the bank to celebrate childhood and how our children enrich our lives. We acknowledge the importance of our customers, young and old, to Ecobank's ongoing success story. The bank, whose vision is to build a world-class pan-African bank and contribute to the economic development and financial integration of Africa, sees educational development as a fulcrum for positive integration."
Mrs Demola-Adeniyi called on school proprietors, administrators, parents, and guardians to encourage their students, children, and wards to participate actively in the essay competition, stressing that beyond the prizes, the competition is also part of the process to push the frontiers of academic excellence among the young ones in society.
She stated that Ecobank has a MyFirst Account which caters for children and young ones, noting that, "This is our savings account specifically designed for children and teenagers aged between 0-16 years old."
"If you are a parent, the account allows you to save money in your child's name, which they can redeem when they are older. It is the perfect way to save for their education or kickstart a fund for future projects. It gives your child the best start in life," she added.
Stanbic IBTC Funds University Education of 100 Students
By Modupe Gbadeyanka
A total of 100 students will receive funding support for their university education in Nigeria from Stanbic IBTC Holdings Plc, a member of Standard Bank Group.
Each of the undergraduates in 33 universities across the 36 states of the federation and the FCT, will receive scholarships valued at N400,000, which would be disbursed in tranches of N100,000 across four academic years.
The beneficiaries were chosen through the scholarship scheme of the financial institution designed to provide financial aid needed to fulfil their educational needs and pursue their dreams.
The 100 Nigerian youths selected this year excelled in the University Tertiary Matriculation Examination (UTME) organised by the Joint Admissions and Matriculation Board (JAMB).
Asides from the first tranche of disbursement, subsequent disbursements would be subject to beneficiaries maintaining their enrolment in their respective universities and degree programs they were admitted into, adhering to the academic and administrative policies of the university, and the provision of a letter of good conduct issued by their respective departments.
Also, beneficiaries would be required to maintain a Cumulative Grade Point Average (CGPA) of at least a second class upper range, amongst other requirements.
Commenting on the initiative, the chief executive officer of Stanbic IBTC Holdings, Mr Demola Sogunle, stated that it was borne out of the need to empower hardworking and diligent young Nigerian undergraduates, who aspired to pursue their tertiary education in any state or federal university in Nigeria.
"We believe that everyone deserves a chance to access quality education and we believe in rewarding students who have shown remarkable academic excellence.
"This initiative will go a long way in easing the financial burdens of these undergraduates who participated in the UTME and gained admission into various Nigerian state and federal universities for the 2021-2022 academic session.
"We are pleased to announce the 100 winners of this year's scholarship scheme for undergraduates in 33 universities across the 36 states and the FCT. We wish them great success in their academic journey."
Mr Sogunle further added that education remains one of the keys to facilitating a nation's prosperity, hence the introduction of the scholarship initiative.
Stanbic IBTC remains committed to driving value-added initiatives like the university scholarship programme to contribute to the educational development of the Nigerian youth.
The scheme, which commenced in 2019, now has had almost 200 recipients. The beneficiaries were chosen across the six geo-political zones in Nigeria through fair screening processes.
Latest News on Business Post