Oyo Applauds JCI Ibadan Elite for Renovating School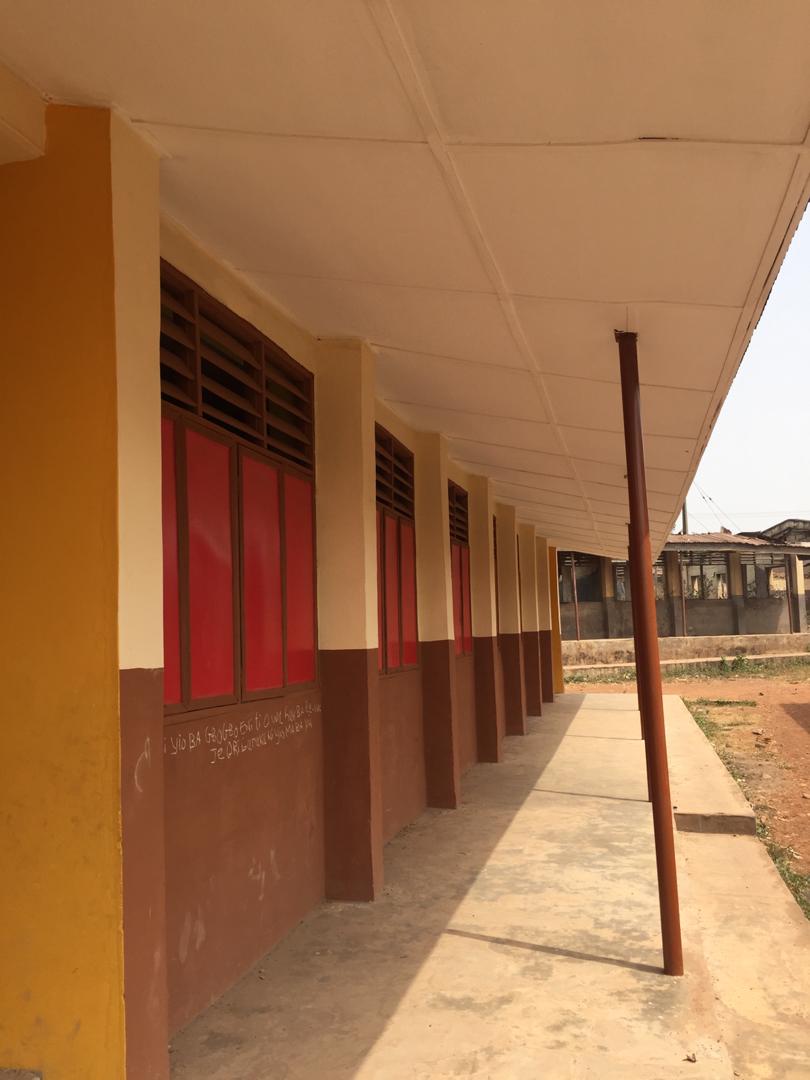 By Dipo Olowookere
The adopt-a-school project of the Oyo State government is already yielding good results as a non-profit organisation known as Junior Chambers International has renovated two blocks of classrooms in the Seventh Day Adventist Primary School, Ibadan.
The organisation also renovated the school's dilapidated walls to enhance security, according to the President of JCI Ibadan Elite, Mr Sanmi Abiodun.
At the commissioning of the project, Mr Abiodun further disclosed that plans were underway to build and equip a library for the school so as to improve the quality of education in the state.
The Executive Chairman of the Oyo State Universal Basic Education Board, Dr Nureni Adeniran, who was at the event, lauded the NGO for the initiative, which he said would go a long way to enhance the assimilation of the pupils.
According to him, the efforts of the group is commendable and should be emulated by all well-meaning Nigerians as government alone cannot solve the accumulated problem in the education sector.
"The government of Engr. Seyi Makinde is doing a lot to redeem the education sector of the state. We have been doing more in the construction and renovation of school buildings.
"However, kind-hearted Organisations, as yours may support the government, for the sake of our children's future. There is no support that is too small," he said.
In another development, the board has promised to provide the Basic Education Quality Assurance Offices, (QAOs) under the State Universal Basic Education Board with necessary supports that would further make quality education accessible to every child.
Dr Adeniran said this while handing over new motorcycles and some office tools including laptops and printers to Quality Assurance Officers across the 33 Local Government Universal Basic Education Authorities.
The gesture, according to him, was in line with the state government's determination towards ensuring that Oyo State pupils receive quality education.
He advised the QAOs to make good use of the tools, adding that the pieces of equipment were provided to ease their duties of primary schools monitoring, while also enhancing the delivery of quality education in the State.
On his part, the Executive Secretary of OyoSUBEB, Mr Olusanjo Adeniyi while urging the QAOs to make good use of the tools handed over to them, also acknowledged the roles played by the state government and all other relevant agencies in making Quality Assurance monitoring a priority in the state.
What You Need to Know About Education Trust
By FBNQuest
There is no doubt that the joy of parenting beats the responsibility of raising children. However, poor planning can make this obligation harder than it needs to be.
Planning for your child's future can be expensive. Paying for necessities, school fees, hobbies, family vacations, and unexpected events in life quickly adds up.
If you are a parent, then these expenses are either in your present or your future. Putting a child through formal education often represents regular rising fee payments over about 16 years if they enrol in a tertiary institution.
To limit the stress related to financing your child or children's education, it is best to start planning for it early. An Education Trust provides an innovative and efficient way to do this.
Rising tuition prices could mean that many families struggle to afford their children's secondary and higher education without borrowing money or taking out loans. In addition, to relieve future stress, creating an Education Trust for your child presents a vehicle into which family members, guardians and close friends who would like to support a child can make their contributions.
An Education Trust is overseen by a Trustee, who can ensure that the Trust is used for educational purposes only. Through the Trust instrument, the Trustee can be directed to handle the funds in virtually any manner you wish as the creator of the Trust.
In addition to addressing costs associated with a beneficiary's education, the Trust could specify periodic payments of set amounts to the beneficiary and prescribe the usage of the Trust's assets upon the completion of the beneficiary's education. They may also be designed to provide for children that you may have in the future. Education Trusts can be operational immediately or upon the demise of the creator of the Trust.
Contemplating financing your child's future education while catering to your current financial obligations need not be a hassle, there are several options for how your own financial and physical assets can be incorporated into an Education Trust.
FBNQuest Trustees can guide you through creating an Education Trust for your loved ones to make life easier for you as a parent and for the children/ward.
We are happy to advise you on how to combine assets that you own now with those you will earn in the future into an Education Trust that caters to the needs of the beneficiaries in line with your wishes.
23,000 Nigerians Benefit from Chevron Scholarship
By Adedapo Adesanya
Chevron Nigeria has disclosed that 23,000 Nigerians have benefitted from its scholarship programmes since its inception, including postgraduate scholarship in Nigeria and foreign universities.
The Chairman and Managing Director of Chevron Nigeria and Mid-Africa Business Unit, Mr Rick Kennedy, said over 16,500 students from all the 36 states in Nigeria have benefitted from the Medical and Engineering Professional Scholarship programme, put together by Chevron and her JV partners in Agbami field, since 2009.
The Chevron boss explained that from the 16,500 Medical and Engineering Professional Scholarship, 715 students have graduated with first-class degrees.
CNL's General Manager, Policy, Government and Public Affairs, Mrs Esimaje Brikinn, quoted the company's boss explaining that Chevron and its deepwater partners have continued to invest in education infrastructure, and has executed over 25 libraries across the country.
"Chevron companies in Nigeria have continued to support education development in the Niger Delta region and across the country through the development of education infrastructure, capacity building and scholarships.
"The scholarships include; the NNPC/CNL JV national university scholarship and the community scholarship program which caters for students in both secondary and tertiary institutions from communities in CNL's areas of operations (GMoU and non-GMoU communities).
"Additionally, CNL awards scholarships to visually-impaired students to enhance their access to quality education.
"Over 23,000 people have benefitted from the company's scholarship programs which include scholarships for community postgraduate scholars in Nigeria and foreign universities. Six of the over 180 community postgraduate students graduated with distinction.
"CNL also deploys the Science Teachers project meant to boost science education in remote secondary schools in the Company's areas of operation.
"The program ensures the posting of National Youth Service Corps science graduates to serve their mandatory one-year period as science teachers, with Chevron providing extra incentives to NYSC members for the duration of the program.
"Since the inception of the Agbami Medical and Engineering Professional Scholarship programme in 2009, over 16,500 students from all the states of Nigeria have benefitted from the scholarship, out of which 715 students have graduated with first-class degrees.
"Chevron and its Deepwater partners have continued to invest in education infrastructure. As of today, the parties have executed 39 Science laboratory complexes and 25 conventional and hybrid libraries across the country.
"Also, Chevron and its partners embark on a wide range of activities to encourage students to develop an interest in key subjects of science, technology, engineering, and mathematics and, ultimately pursue STEM courses and career," she said.
Contestants to Win N7m in MTN Spelling Bee Contest
By Ashemiriogwa Emmanuel
Over N7 million in cash prizes, laptops, phones and mPulse goody bags would be won at the 2021 mPulse Spelling Bee organised by telecommunications company, MTN Nigeria.
The contest, which is opened for primary and secondary students in Nigeria, comprises three rounds as the first round is currently being run alongside the ongoing registration.
The acting General Manager, Consumer Marketing, MTN Nigeria, Mr Idowu Adesokan, noted that the deadline for the registration has been extended to Sunday, October 24.
"We took the mPulse Spelling Bee competition online to advance digital literacy and guarantee safe participation from students across Nigeria regardless of their location.
"We believe that every child qualified to participate should have the opportunity to and our extension of the deadline accommodates and encourages this," he explained.
According to Mr Adesokan, the first 1,000 students who come out with the highest scores in the first round will then proceed to the second round.
Explaining the healthy and competitive nature of the challenge, he stated, "Students have the opportunity to compete in this online competition from anywhere in Nigeria, with a chance to win cash prizes, laptops, smartphones and many more gifts for themselves; while their teachers who supported them in preparing to get rewarded with cash prizes and devices too."
To participate, students across the country in Primary and secondary schools must be within the age bracket of 9 to 15 years.
He said that interested participants can still register in the MTN Spelling Bee contest on the website (https://mpulse.mtnonline.com/).
However, to do this, they need to migrate to a current and active mPulse plan which can be done by sending impulse text to 344 or dialling 3441# on their MTN line.
The grand finale of the previous edition, which took place virtually on Saturday, December 12, 2020, saw the emergence of Snow George, an SS3 student of Starville School, Abuja who received a scholarship grant worth N2 million, a laptop, and a smartphone among other gifts.
Latest News on Business Post